Some of you readers may ponder the question "Does Argentina have beaches?" Well, the beautiful and passionate land of Argentina may be best known for its sultry tango, exquisite beef, and fine wines, but the country also has a three thousand one hundred mile long coastline of pristine beaches that entice visitors from all over the world with their sheer beauty, and abundant choices of beach activities.
Argentina has it all, from animated beach resort towns entrenched in lovely European-influenced architecture, to secluded quiet beaches, where the only sounds you hear are the ebbs and flows of the waves. The country's diverse geography and rich culture makes it one of the best places to visit for a family vacation!

Whichever beach you decide to visit, you'll surely encounter the locals and foreigners alike enjoying the refreshing waters. Contrary to popular belief, there's more to the Atlantic coast side of South America than Brazil's beautiful beaches.
Whether you are in this South American country on your own or with friends and family, check out some of these beautiful Argentinian beaches. It's nearly impossible to go wrong in selecting the right beach destination, as they are all magnificent.
10. Necochea Beach – Buenos Aires, Argentina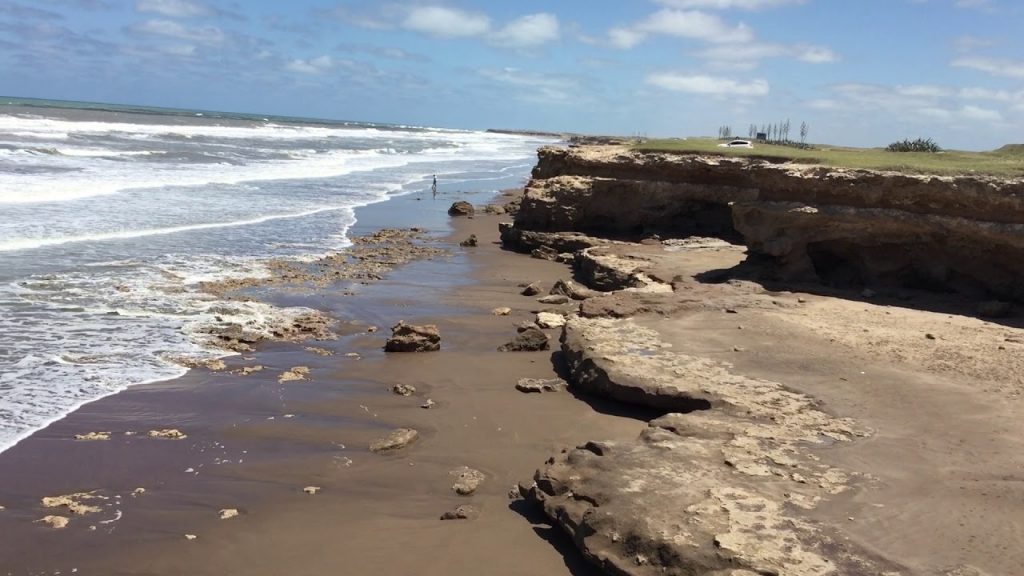 With forty miles of central-Atlantic coastline, the port town of Necochea Beach is one of the best beaches of Argentina near Buenos Aires and is the longest beach in the country.
If you're looking for something to do besides beachin' it up, there are 4x4s available to rent. And, for those of you that are nature enthusiasts, Miguel Lillo Park is located nearby where you can enjoy an afternoon picnic, with plenty of hiking and biking paths, and you're guaranteed to see the native flora and thousands of acres of pine and eucalyptus trees that adorn the Atlantic coast.
This is also the spot to be for windsurfing and kitesurfing alike, and this is also a surfers haven due to the clean wave breaks.
If you're feeling extra adventurous and want to go kayaking or rafting, nearby Rio Quequen Grande leads to stunning waterfalls- you can find out the juicy details of this excursion downtown.
Toward the Northern end of the town, you can peek at the sand dunes that roll all the way down the shore.
Necochea has a mild temperature year-round, with cool Summer evenings.
You won't run out of places to stay, as there is an abundance of apartments, houses, beach-front rentals, and private cabins to choose from.
9. Mar Del Plata – Mar Del Plata, Argentina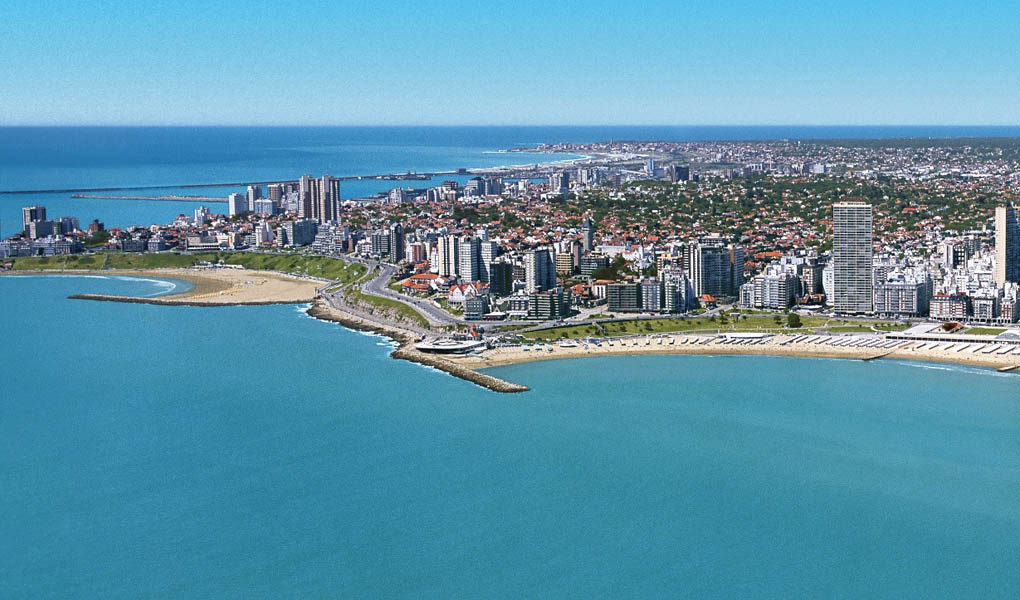 The lively city of Mar Del Plata is undoubtedly one of the most well-known and largest beach vacation towns tourists vist in Argentina for recreational activities such as scuba diving and competitive fishing. This town (also known as the "happy city") is a cultural center point of the country like Buenos Aires is, with a smaller population of about five hundred and sixty thousand people- for those of you that don't like crowds.
Equipped with all the amenities you'd expect from a beach resort town, you are able to rent a chair and an umbrella if you are so inclined, and renting a tent is even an option. You can take a boat trip to see the city's coastline from afar or have some fun at the city's golf course.
If you truly want to be a free spirit, about fifteen miles away is a nude beach called Playa Escondida – to each their own, right?
Aside from the beach, you can entertain yourself by seeing a movie at the theaters, going out to a bar to enjoy a glass of Malbec, admiring art at the museums, or dancing your heart out at the discotheque. There are also various restaurants to dine at with very fresh seafood such as calamari, on the menu
8. Puerto Madryn – Patagonia, Argentina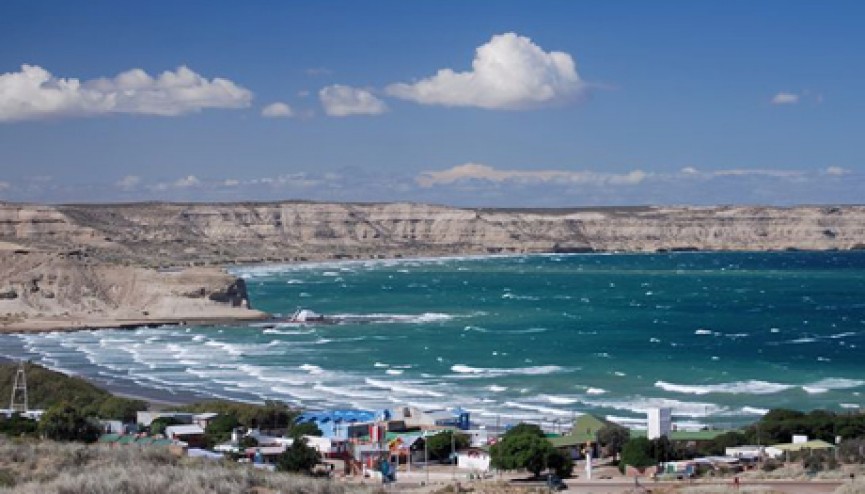 This best beach town in Argentina – Puerto Madryn, is situated next to the Valdés peninsula, where you can watch penguins and elephant seals seizing the day, and sometimes you can even spot whales from your nook on the beach. If you're going specifically to spot whales, June to December are the best months for this.
There's a great three-story museum museum, the Ecocentro Madryn, located next to the beach that has several interactive exhibits of the local marine life, library, and a tank with live sea creatures!
If you are interested in swimming with sea lions (don't worry – they're not as aggressive in the water as they can be on land) or going on a diving excursion, Lobo Larsen is a dependable company.
If kiteboarding and windsurfing are activities that appeal to you, this is the best beach to visit.
If you would like to observe the sea lion colonies going about their day, Punta Loma Nature Reserve is located close to Puerto Madryn. Bring your binoculars, or pay a fee to view them from a lookout point.
When dinner time rolls around, there are many restaurants in Puerto Madryn that feature dishes ranging from steak to risotto, to divine seafood options such as grilled octopus. There won't be any hungry mouths on this vacation!
If you're searching for a place to have a romantic dinner with your sweetheart, "En Mis Fuegos" is a recommended spot to enjoy an organic, multi-course meal.
7. Las Grutas – Patagonia, Argentina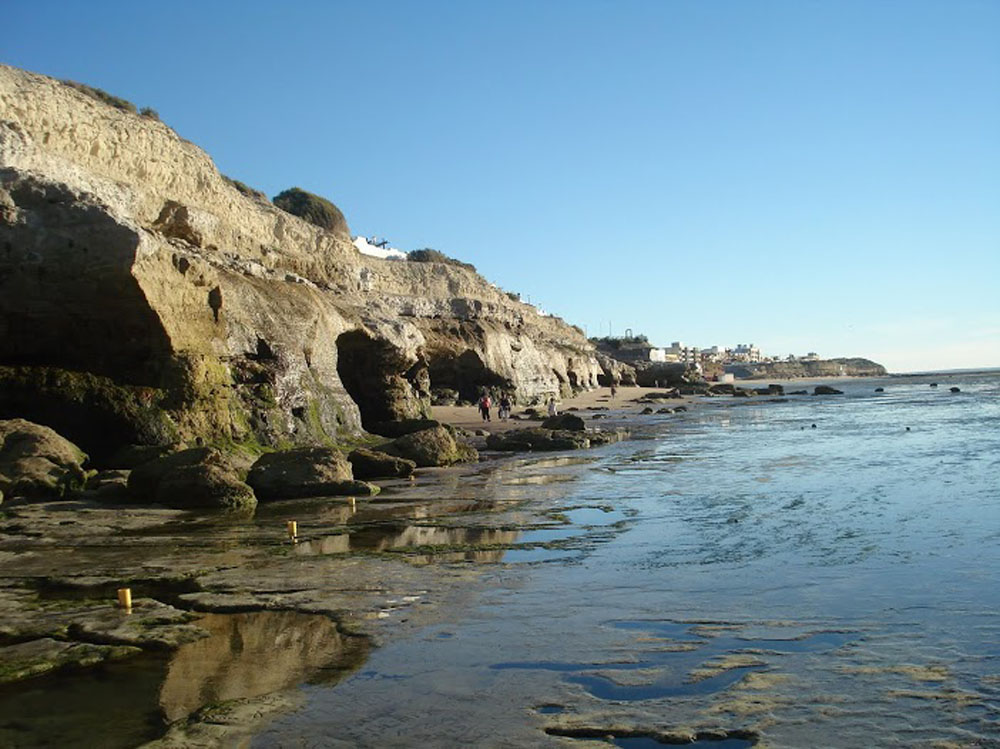 If you're craving tranquility and ultimate bliss, a trip to one of the best secluded beaches in Argentina – Las Grutas would be ideal for you. Las Grutas refers to 'The Caves,' that is, the caves that pepper the coastline.
This Argentina beach with warm, transparent waters is truly unspoiled by humans and does not feature a whole lot else other than endless miles of white sand. It is truly a paradise and one of the best beach stretches for a secluded experience. This definitely is not a "fiesta" or party beach – it's a sort of "you're at the end of the world" type of beach.
If you're interested in traveling to Puerto Madryn at any point in your trip, Las Grutas beach is located a little over ten kilometers away from the port city of San Antonio Oeste for easy transit to Madryn and is also a famous stopping-off point to spend the day.
For those of you that are looking to indulge in some Patagonian cuisine, the fisherman catch cornalitos – tiny silverfish that are typically sprinkled with flour and fried whole, to sell to the restaurants. It might be a bit of a shock to see an entire fried fish on your plate in front of you – but it's all part of the experience, right? The peak of the cornalitos-catching season is during the coldest months of June and July, if you want to enjoy it as fresh as fresh can be.
If you're craving a romantic adventure, there are white horses available to rent for a night under the full moon. Or, during the day if that's what suits your fancy!
Lastly, if you are arriving in Buenos Aires, Las Grutas is about a sixteen-hour overnight bus ride away, arriving just in time to savor an empanada for lunch.
6. Pinamar – Buenos Aires, Argentina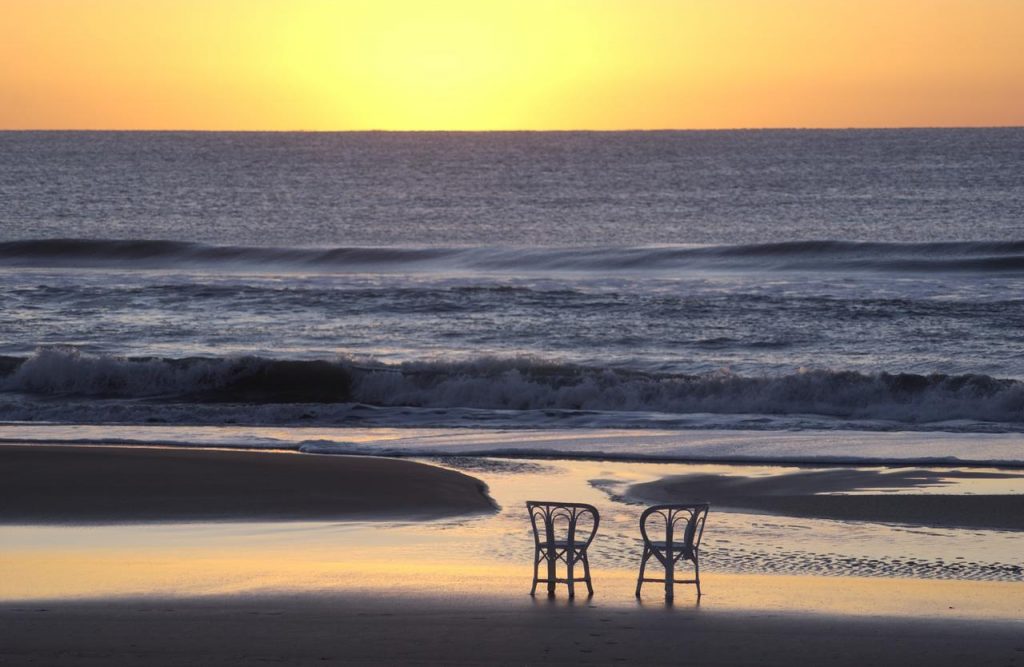 Located North of Mar Del Plata and covered in pine forests that were at one-time sand dunes, exotic Pinamar Beach is one of the best beach vacation spots in Argentina, with resorts nearby that are not lacking in luxury.
If you're searching for a place to take the family without having to deal with crowds, Pinamar is a peaceful option, with plenty of activities for the family.
If you are visiting the beach during Summer or Spring, the waters will be at a pleasant temperature, whereas if you travel in the off-season, the Atlantic waters may be a little chilly. Regardless of when you decide to travel, the beauty of Pinamar is worth a visit.
There are plenty of fun activities to dabble into, such as windsurfing, dolphin, and whale- watching, and limitless seafood options are available at restaurants. In addition, there is a multitude of great-quality restaurants, designer boutiques, spas, and of course, white sandy beaches for walking barefoot.
If spending the day out on a fishing boat appeals to you, or if horseback riding is more up your alley, there are numerous tourist agencies in town.
As far as dining is concerned, Viejo Lobo is a lovely beachside restaurant, that features fresh-caught seafood dishes, if you're tired of eating Argentine beef.
Lastly, if you are arriving in Buenos Aires, Pinamar is very close. Perhaps, if you're not too tired from your flight, it'd be feasible to go out on the town for a night in Buenos Aires before heading to Pinamar, as there is a-hoppin' nightlife and plenty of bars. If you want to spend the day in Buenos Aires, there are many museums, art galleries, and also the "Casa Rosada" – Argentina's version of the White House, essentially.
5. Miramar – Buenos Aires, Argentina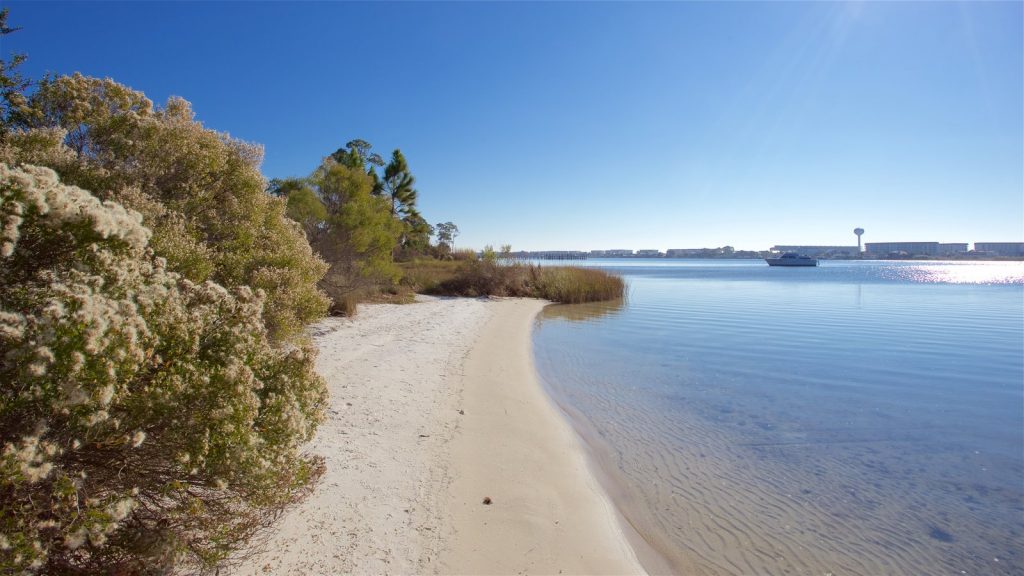 A surfer's paradise and boasting twenty kilometers of shoreline, Miramar is a quieter Argentine beach that's located a little less than an hour away from Mar Del Plata. The atmosphere here is more of a "lounge-around" kind of feel, as opposed to party city.
If you have never surfed before and would like to learn how there are surfing schools toward the end of town. Miramar has some of the best wave breaks in the country, and you'll often find many locals ridin' the waves, too!
This beach has a mild, slightly humid climate that is perfect for sun-tanning, playing some volleyball, or fishing along the deep blue coastline waters.
If you are a biker, there is a cycling trail that runs parallel to Miramar, and plenty of fresh sea-salty air to breathe in.
The hotels and eating nooks are pretty fairly-priced, so if you are planning on taking the whole family, this option won't put too much of a dent in your checkbook. There are all sorts of places to stay for the night, so if you didn't book in advance, rest assured that you'll have a pillow to rest your head on for the night.
If you are looking for a cabin of an all-inclusive resort-style status, Puerta del Bosque offers it all, with an on-site restaurant, swimming pool, a spa, massage options, and even a solarium if you like to sunbathe. If you would like a secluded spot, they offer tucked-away cabins as well.
This being one of the best beaches of Argentina, consider Miramar, if you're looking for a unique beach experience with ample amounts of shoreline for activities and forests to hike in nearby.
4. Bahía Blanca Beach – Buenos Aires, Argentina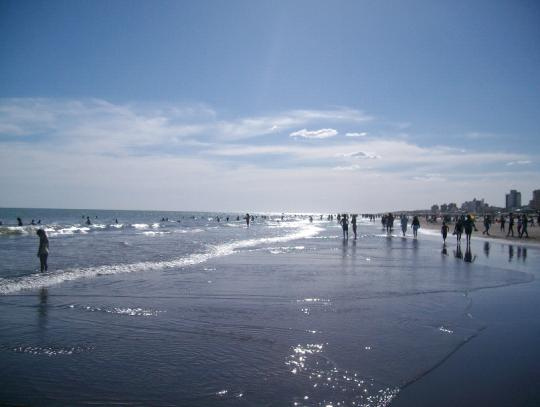 A naturally beautiful and wild beach, Bahía Blanca Beach is tucked away in the Southwest part of the Buenos Aires province, where you can find mountains about an hour away from the beach. It's a port city, where many Spaniard, French, German, and Italian immigrants infiltrated during the early 1900's- many of them primarily worked on the docks.
This is one of the top beaches Argentina offers that isn't beaming with tourists, so you can rejoice in the fact that you'll have plenty of room to hop, skip, and jump around the beach.
If it's a hot day out on the water, you can find a bunch of ice cream parlors around the city. Seeing as how Italians were one of the major immigrant groups to be introduced to this city, they have since left their one-of-a-kind ice cream legacy.
If you'd like to take a stroll around the city of Bahía Blanca, you'll be able to admire the grandiose European-influenced architecture on every corner.
If you want to learn about the history of Bahía Blanca, the museum called "Museo de Puerto" has a variety of exhibits that feature what life was like for the arriving immigrants and also educates you on the type of food that was eaten, and the styles of clothing that natives wore. If you manage to make a trip to this museum on a Saturday or Sunday, you can sample the foods that the immigrants introduced to the land, and even have the opportunity to talk with some of the immigrants descendants, if you're feeling like picking their brains on a certain subject.
About one hundred kilometers East of Bahía Blanca, you'll find the beach town of Monte Hermoso, where the sun both rises and sets above the ocean and boy, is that a marvel to see! You can choose to dine in one of many quality restaurants, and afterward, you can camp on the beach with that full belly if you're so inclined!
3. Villa Gesell – Buenos Aires, Argentina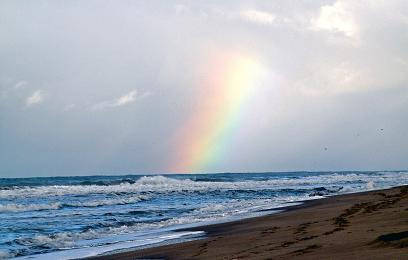 This alluring ten-kilometer long virgin beach, Villa Gesell, located in the Buenos Aires province, is one of the beach resorts in Argentina where you have endless alternatives of recreational activities at your fingertips.
There is a lighthouse to the South, and a nature reserve nearby with a neighboring zoo, if you want to see what animals are endemic to the country. If you're feelin' some movement, there is also a golf course and a dance club. If you need some "TLC,"  there are a number of luxury spas and similar facilities available for use.
During the high season, you'll see lifeguards on duty, which can be comforting if you have little ones running around.
The founder of the town, Carlos Gesell's house is available for a guided tour – it's nestled in a forested area with many trees and native flora. Inside of the house, all of the memorabilia has been preserved, including photographs depicting what life was like back in his lifetime.
If you're looking to have a memorable hostel experience, consider Balneiro Afrika, that allows you to pick where exactly on the beach you want a tent set-up to spend the night in. You can even receive waiter service right to your tent window, but if you'd like to cook something yourself, just ask for a stovetop to use. Complimentary wi-fi is also provided, and a personal lifeguard is present to watch over you for any concerns.
There are also organized swimming and soccer activities for the family, as well as Latin and Salsa dancing opportunities for your teenager or yourself.
If you want to try a new activity, there are nearby sand dunes for sandboarding.
For handcrafted creations to take home with you, you'll notice that hippies hang out to sell their trinkets in the main market. 
2. Mar de Ajó – Buenos Aires, Argentina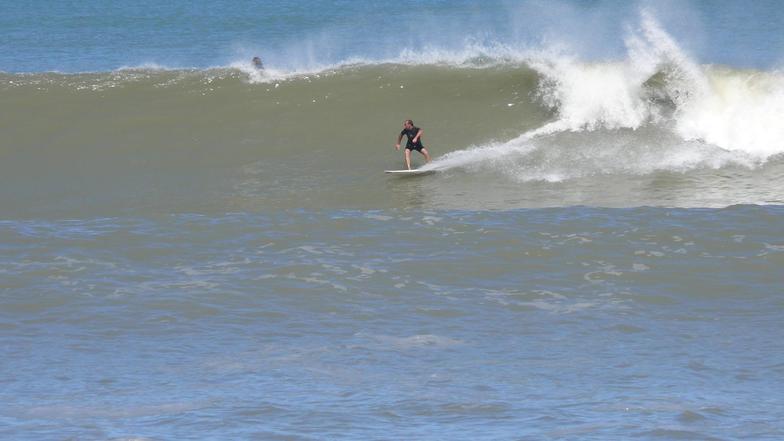 Located about five hours away from Mar Del Plata, and originally founded as a fishing village, one of the clean, beige, sandy beaches at Argentina, Mar de Ajó is home to a small population of about twenty-five thousand people.
The climate here is a bit warmer than Mar Del Plata, as it's located farther North up the coast. There are, however, pleasant winds that can come through, creating waves that are great for surfing, kitesurfing, and even bodysurfing.
When the tide is low, you might catch a glimpse of the shipwrecked remains of the Margaretha, a German vessel that ran aground in 1880.
It's noteworthy that this is one of the beaches of Argentina with a pier – fishermen will often catch stingray and seabass to fry up for a decadent meal.
Come evening time in the town, you'll see many folks walking the streets, as there are plenty of choice outing options. You could grub out at the pizza parlor, pop into an ice cream shop, watch street performers, enjoy a film at the movie theaters, and if you're feeling lucky – a casino won't be hard to find. Antiquated hotels, shacks, and apartments line the city streets, giving you a glimpse of the town's history.
While relaxing on the beach, you might be offered a maté (traditional herbal tea that is drunk from a special cup called a bombilla) or a donut from the various vendors that meander their way through the beach-goers.
1. Cariló Beach – Buenos Aires, Argentina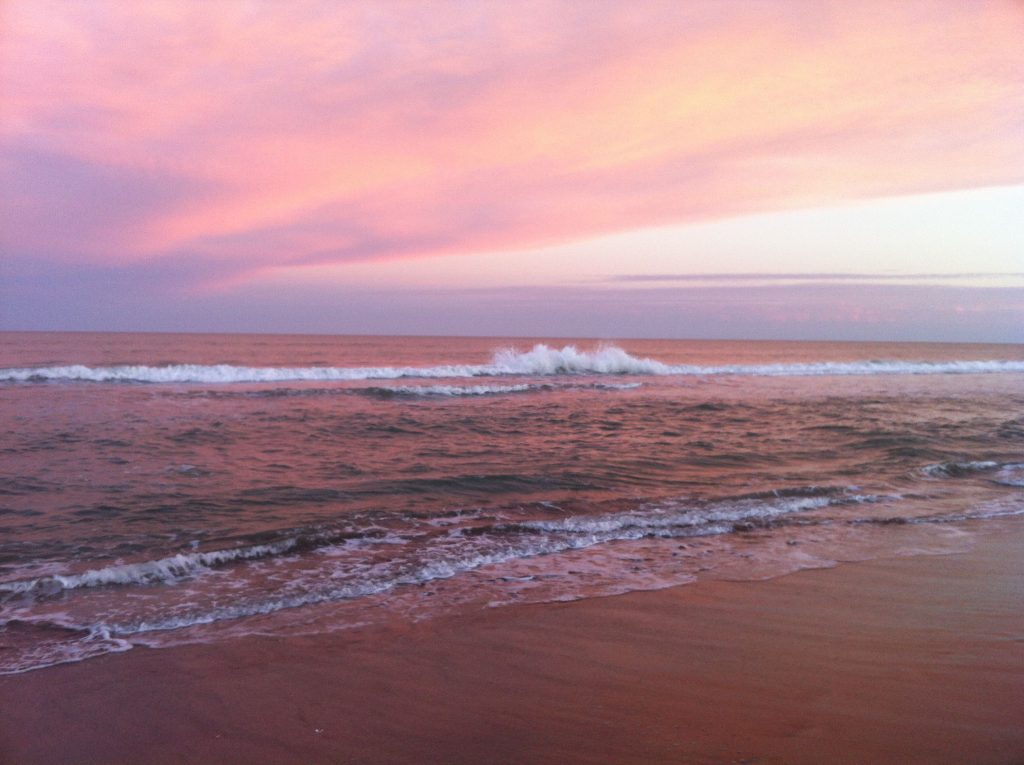 Cariló Beach, known in the Mapuche language as the "Green Sand Dune", is one of the best beaches in Argentina where many locals like to travel to in order to breathe in generous wafts of fresh air. It's essentially a pine forest situated alongside the beach.
In 1917, the landowner Hector Guerrero planted over seven hundred thousand trees and plants, which undoubtedly purify the air, and are Carilos's lungs, so to speak.
If you venture to the Guerrero family's Dos Montes ranch, you'll find an eighteen-hole golf course, as well as clay tennis courts.
If you like to birdwatch, you might see woodpeckers and hawks going about their daily business in the sky. You can also spot some seals in the months of January and February when the tide is low.
If you're feeling sore from the flight, there are many places to get massages, and if you're hungry or thirsty afterward, Tante tea house features unique cakes and nourishing teas. If you want to chow down on something a little heartier, you can find freshly fried squid rings at local restaurant joints.
If you're trying to avoid crowds, Cariló is home to about three hundred families, so it's not buzzing with too many people.
For those of you that are planning on heading South to Villa Gesell, you can drive a quad bike the six kilometers for the scenic route, or you can travel via horseback. What awaits is a spectacular panoramic view that helps classify this special part of the world as one of the country's best stretches of coastline.
If you find yourself arriving during Wintertime and don't want to be outside at the beach, you might inquire about a membership at "The Village," depending on how long you're staying. There is a jacuzzi, a sauna, and two swimming pools located indoors for you to relax in.
Argentina Beaches FAQ
When are the warmest months to go to the beach?
While the beaches can be visited anytime of the year, November to March are the warmest months in which to visit Argentina beaches, as the Southern hemisphere seasons are reversed.
Do I need a VISA to travel to Argentina?
Certain countries are obligated to pay a reciprocity fee to enter Argentina for a period of ninety days, of which cannot be paid at the airport. Thus, it is important to check on the immigration website to see whether or not you would be required to pay this. If you do not pay this, it could result in you having to hop on a return flight home. If you desire to stay longer than ninety days, you can extend this one time by paying a fee.
How easy is it to navigate Argentina without speaking Spanish?
Even if you just know a little bit of Spanish, you'll be able to get by just fine. Of course, there are tourist agencies and rental companies that have English-speaking employees, if you don't know much Spanish. These agencies are likely to charge more but will give you peace of mind in regards to effective communication with others. Generally, someone is bound to know English after you talk to enough people.
What should I consider if I want to take a taxi at night?
If you're traveling alone during nighttime hours, it is preferable to take a taxi as opposed to walking. As far as reliable taxis are concerned, radio taxis (with a listed phone number) or ubers are ideal, if you're in one of the larger cities. Just don't openly flaunt any valuables you might have on you once inside the taxi. Obviously, avoid isolated streets and less-crowded areas if you do decide to walk.
Do I need to receive any immunizations prior to entering Argentina?
No, there are no immunization requirements to enter the country. If you are traveling to the Northeastern regions of Argentina near Iguazú falls, it's recommended to get a Yellow Fever vaccine. If traveling near Bolivia and Paraguay, it's advised by the CDC (Centers for Disease Control) to bring anti-malaria medication with you.
Do I need an adapter to charge my electronics?
Yes, you will need a plug adapter. A converter that changes the voltage to two hundred and twenty volts is what you want to take along with you. Electronic items like hair dryers or hair straighteners that might operate at a lower voltage will become fried. A universal adapter is a great option, as it's able to be used worldwide, and this way, you won't have to lug around multiple types of converters.
What should I bring with me if I plan to kayak at the beach?
It's recommended to bring sunscreen or coconut oil – which has a natural SPF (Sun Protection Factor) of thirty. You may want to bring some sort of bag that will keep your camera or phone dry. Wear comfortable water shoes, and a wetsuit if need be. Also, if you plan on being seaboard for a while, consider bringing a snack.
Are there any recommendations as far as carrying around Argentine currency is concerned?
Carry coins on you, especially if you plan on taking the bus system – as they only accept coins! Also, when handling hundred pesos, also known as "cien" pesos, ensure they are not counterfeit when receiving them, and also try to get change whenever you can, as some shop owners may not always have change. Few businesses accept credit cards, so it's best to have some cash or coins.
What should I do if I encounter stray dogs?
You are pretty much guaranteed to see at least one stray dog while on your travels in this country. They loiter around bus stations, and you'll find them in the central plazas, too. Eventhe most beautiful beaches are free from local strays. They are typically harmless, and some might even tag along with you and become your friend for the day if you allow for it! The main concern is to avoid stepping in dog poop.
How much of Argentina would be feasible to see in one trip?
Argentina is an enormous country – one of the largest in the world. It really depends what you are looking to do, and what beach areas appeal to you most. Flights would allow for quicker travel and more distance coverage, but they can be pricey. The bus systems are much cheaper, and you're able to see the beautiful scenery as it passes by. You might choose to go for a shorter vacation, or make a ten-month backpacking journey out of it!
Are there any standard tipping customs?
While it is not required to tip, a ten percent tip is suggested at restaurants, cafés, and bars. It will surely bring a smile to the face of whoever is receiving the tip.
What part of Argentina should I travel to if I want a more tranquil beach experience?
No matter what type of traveler you are, Argentina will have the best beach for you. To the North and South of Mar Del Plata along the Buenos Aires coastline, lie the smaller beach towns of Pinamar and Miramar, where you are able to experience the beaches in a more intimate, relaxed fashion. If you're looking to escape the hustle and bustle of Buenos Aires, this is the area in which to travel.
Are the beaches around the Patagonia tip of Argentina warm enough to ever swim in?
The Patagonia zone tends to be too cold to swim in year-round; However, the natural landscape is breathtaking and worth the visit. If you're looking to vacation in cooler temperatures and with fewer crowds, consider traveling in Spring or Fall. Patagonia begins underneath the province of Buenos Aires and spans all the way down to the bottom of the Earth.