With over two hundred miles of coastline and nearly five hundred islands that are referred to as the 'Cayes', Belize is quite the exotic destination.
Located beneath Mexico, with Guatemala's border to the South and the Caribbean Sea to the East, this nook of the world is a sort of heaven on Earth.
Belize is the most scantly populated country in Central America, with a population of about four hundred thousand, of which most of the inhabitants are multiracial, mainly of either Mayan or European blood.
Following the Great Barrier Reef, the Belize Barrier Reef is the second largest on the planet, and is home to many unique ecosystems that house unimaginable species you won't find anywhere else.
You can explore over one thousand remnants of Mayan ruins that are sprinkled throughout the country, too!
Belize City is a fun city to experience too, but if you're looking for beaches in Belize City, you will be disappointed. While on the coast, Belize City beaches aren't anything to write home about compared to what you can find just outside of town!
Bet you didn't know this is the only Central American country with the official language designated as English – after all, it was previously a British colony. You will still hear Maya, Creole, and Spanish being spoken, as well.
Whatever it is that draws you to this country, whether it be the culture, the people, or the endless activities that await under the sand, sun, and sea, check out these best beaches in Belize. Which caye is the best caye Belize has to offer?
10. Turneffe Atoll – Belize Barrier Reef, Belize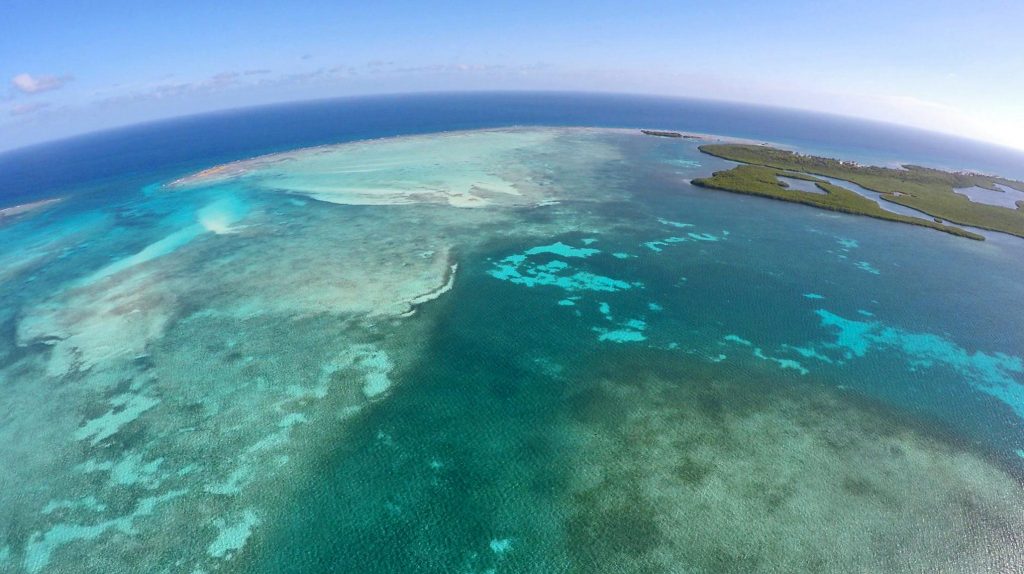 One of the beaches of Belize that is actually part of a small chain of small Carribean islands, Turneffe Atoll is situated Southeast of Caye Caulker and twenty miles from the coast of Belize.
This is one of three islets in the Belize Barrier Reef and it's thirty miles long! It's also the largest, most biologically diverse coral outlet in the country, which makes snorkeling very popular here.
This haven is home to a very small population, mostly of local fishermen. It also houses many endangered species and marine creatures such as stingrays, large fish species, and various turtle species.
Activities such as sport fishing, diving, or kayaking (which you can do at almost any resort) are all wonderful ways to pass the time.
The saltwater flats, creeks, and over one hundred and fifty mangrove islands are excellent locales to observe crocodiles, lobster, conch, and other invertebrates.
This atoll is surrounded on all sides by deep coastal waters- picture nothing but ocean and sky as far as the eye can see.
You might choose to stay in one of the islands' private resorts or seaside bungalows, many of which are located very close to excellent diving sites. Don't be alarmed if you come across any reef or hammerhead sharks- this is their home, too. Odds are they're more afraid of you than you are of them.
From Belize City, you can take an hour and a half long boat ride to the Turneffe Islands, or you can opt for a fifteen-minute private charter flight.
If you don't feel like staying for an extended period of time, you can take a day trip and leave from Ambergris Caye, just keep in mind that certain tours do require a minimum number of guests.
9. Placencia Beach – Belize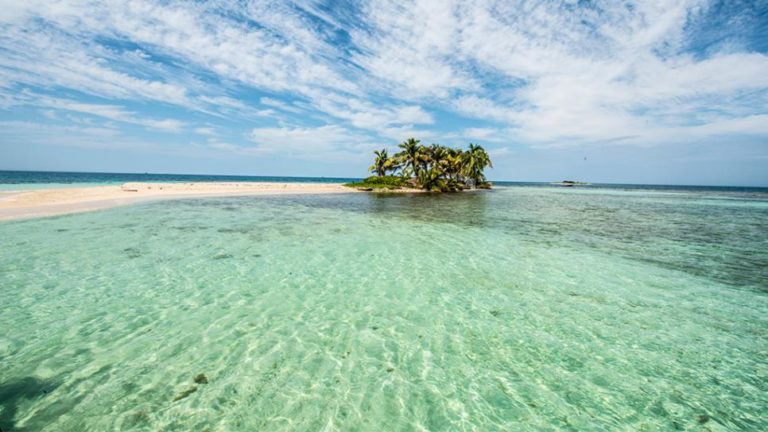 One of the top beaches in Belize, Placencia Beach is a quick half-hour flight from Belize City.
Located on the Placencia Peninsula, this Belize beach is nestled between a lagoon on the West and the Caribbean in the East.
The inhabitants that reside near this beach are culturally diverse, ranging from American expats to those of Maya and Mestizo (Mixed) descents, that are generally of a good-humored disposition, perhaps because they have chosen to live in paradise.
One of the Belize beach resorts that have been built on over two hundred acres of land, Naia Resort and Spa is a comfortable and intimate hotel, where you'll wake up to the sounds of the palm trees swaying against each other in the breeze. You might decide to swim at the pool if you get tired of the salty ocean water.
On Naia's hotel grounds, there are a handful of restaurants that source local ingredients. In addition, there is a watersports center that rents out gear for paddleboarding, kayaking, and snorkeling. It's one of the best places to stay in Belize on the beach!
If you want to switch up your daily activities, you might choose to go on a daytime adventure to the cacao farm of Ixcacao, where you can learn all about the history of chocolate and have the chance to sample some creamy, authentic hot chocolate.
If you want to connect with your potential spirit animal, Cockscomb Basin Wildlife Sanctuary and Jaguar Preserve is the only jaguar preserve on the globe. You might also hear, or be lucky enough to see some black howler monkeys gliding from tree to tree.
If you would like some delectable typical cuisine, you could choose to dine at a restaurant called 1981, that features dishes such as grilled octopus and curried cauliflower purée. Or, you could just choose to indulge in a drink like the Spicy Cantaloupe Colada made with pineapple ginger rum.
8. Silk Caye – Belize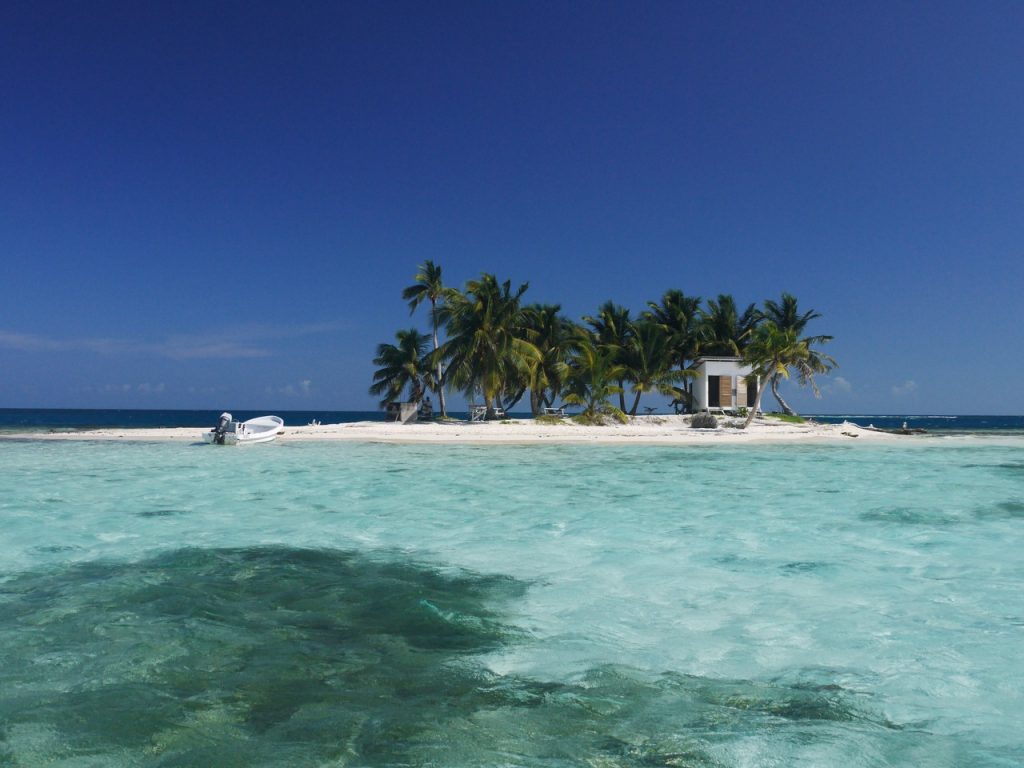 Also known as Queen Caye, the white sand beaches of Silk Caye are located about thirty-five kilometers East of Placencia Village that offers panoramas of endless sea.
From Placencia, Silk Caye is a short forty-five-minute boat ride. Heck, you could even rent a boat and sail there yourself, if you know how.
Snorkeling and diving are memorable activities to be enjoyed here, as there is a plethora of marine life that resides in this refuge, like Whale sharks and Hawksbill turtles.
You won't find any places to stay for the night here, so the only option is to take a day trip to this small island.
If you decide to travel to this Belize beach, expect a sort of 'Castaway' experience, as you may feel truly isolated under the shade of the coconut palm trees.
Silk Caye was declared a protected zone about ten years ago by the government, which accounts for the unspoiled territory, with much of its natural beauty preserved.
This hideaway is home to some of the Earth's oldest natural aquatic formations such as the Staghorn and Elkhorn coral reefs.
You might choose to have a picnic on the beach, and just soak in the awe-inspiring beauty that abounds.
Any time of year is perfect to travel to Silk Caye. Whether it's sunny or whether you have to deal with a few raindrops, this beach paradise is sure worth a visit.
7. Ambergris Caye – Belize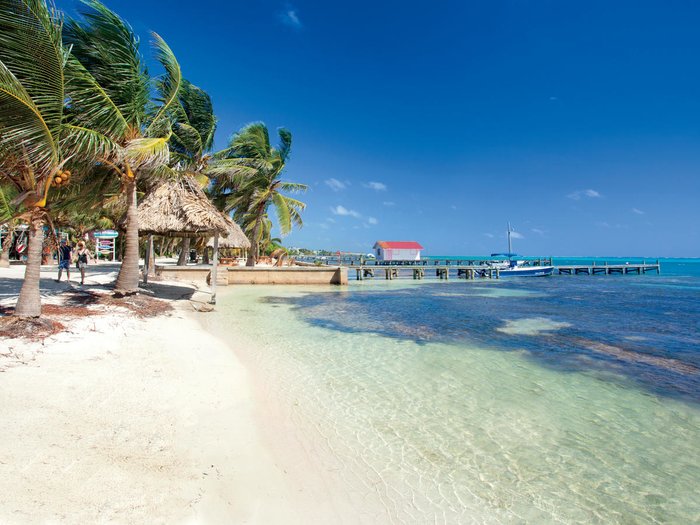 One of the best beaches in Belize, Ambergris Caye is encompassed by the Caribbean ocean, and offers nothing but relaxing vibes.
Ambergris Caye barrier reef is a world-class diving site, where people from all over the world visit to explore the depths of the waters.
You might try your hand at scuba diving or at a water sport, like paddleboarding or kayaking while you're here. It's never too late to try something new!
The main town at Ambergris Caye is San Pedro which is situated in the South- where you can find a wide variety of shops, restaurants, and places to stay.
A restaurant that offers a breakfast that will truly gratify your stomach, Estel's by the Sea will not disappoint. Another great option for dining out is Elvi's kitchen that features a Mayan buffet.
Despite this area being one of the tourist hotspots, its surprisingly not teeming with crowds, and maintains its atmosphere of peace and quiet.
For those of you that arrive at Belize's Phillip Goldson International Airport, you have two ways of reaching this beach of Belize. You can choose to take the more affordable route and board a boat to San Pedro, which takes about an hour and a half. Or, you can go the pricier way, and take a short twenty-minute flight with Tropic Air or Maya Island Air to Ambergris Caye- expect breathtaking views of the reef from your window seat.
6. Glover's Reef Atoll – Belize

Named after the seventeenth-century pirate, John Glover, who used this location as his home base to raid Spanish pirate ships that were full of riches from the New World, Glover's Reef Atoll is one of the best beaches in Belize.
This atoll, or ring-shaped reef, measures in at roughly eighteen miles long and boasts the most abundant variety of marine life in the whole Caribbean. You might encounter aquatic critters such as the parrot fish, Southern Stingray, fan coral, or spiny urchins.
If you're attempting to get wet and wild, you might choose to go diving at the Wall- a world-renowned diving spot, that features an underwater cliff that's three thousand feet tall, reaching within about forty feet of the water's surface. Due to the exceptional quality of this ecosystem, it's been declared a National Marine Reserve and is a World Heritage Site.
You might decide to do a self-guided kayaking trip, and explore some of the eighty-five thousand acres of coral surrounding the island.
For accommodation, you might decide to camp on this island or stay at a luxury resort- it's up to you!
If you're interested in seeing the most profound ocean drop in the world, check out the Caiman Trench that descends fifteen thousand feet into the depths of the ocean.
This Belize beach is about an hour and a half away from the city of Dangriga, and you guessed it- the only way to travel here is via boat. Talk about isolation!
5. Hopkins Village – Belize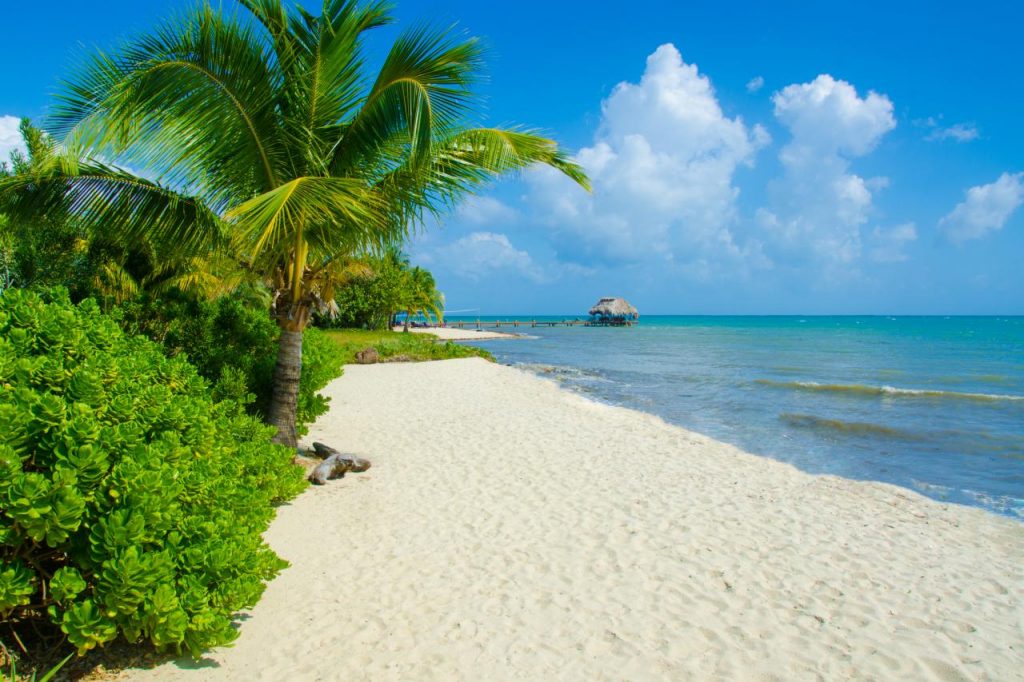 One of the beaches in Belize that was established in the nineteenth century, the divine Hopkins Village, known as the friendliest village in the country, is surrounded by lush Maya mountains and cerulean blue Caribbean waters.
Situated on the Southeastern coast of Belize, this homely beach town was traditionally a fishing village, and has expanded a bit over the years to cater more to tourists.
The current population totals one thousand five hundred residents, many of whom are fishermen or are employed with the hotel industry, and are of Garifuna (an Afro- Caribbean people that originally inhabited the island under the British domain) descent.
If you're interested in a beachfront accommodation, consider The Lodge at Jaguar Reef. It's been up and running for twenty years, and features amenities such as a full-service spa, an on-site restaurant with a view of the beach, a heated infinity pool with a bar you can swim up to, and gear rental for almost any water activity you can think of. It's one of the best Belize hotels on the beach, and consistently features in lists!
As a cheaper alternative, you might decide to book a few nights at the Funky Dodo Hostel, where you can lounge in a hammock and read an enticing book.
For lunch, you might want to feast on some conch fritters– that have been dipped in flour and fried. Depending on the restaurant you dine at, you'll experience a different type of house sauce to pair with these fritters. You might even make the decision to collect your own conches, and bring them to the chef to fry up.
4. Caye Caulker – Belize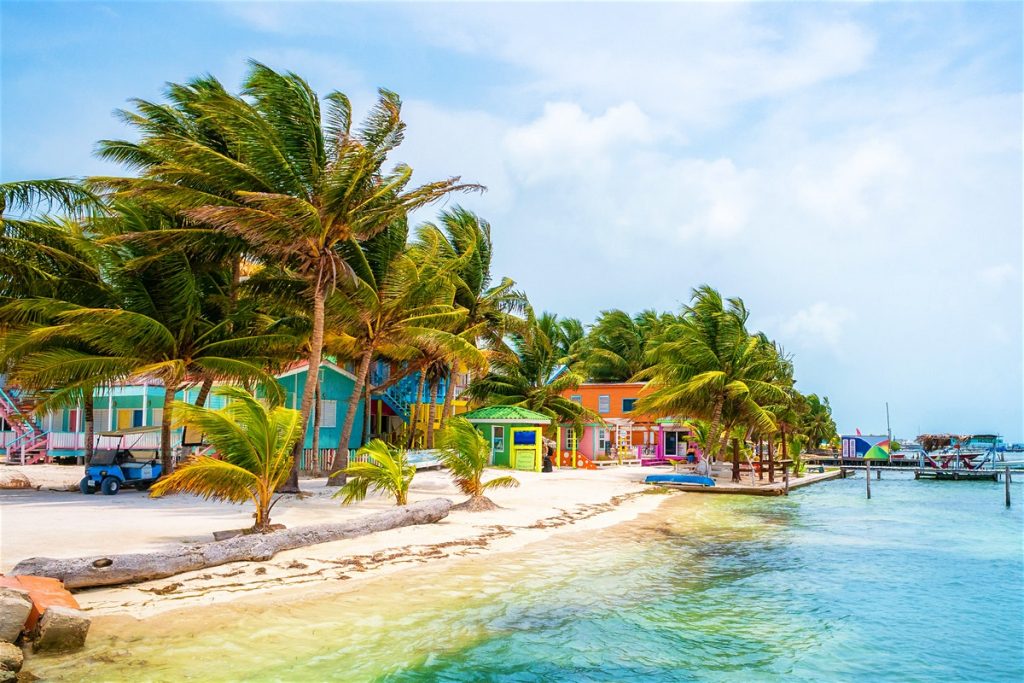 One of the best beaches in Belize, Caye Caulker is an island found about twenty miles Northeast of Belize City, and is where the majority of visitors come for their first experience in Belize.
Caye Caulker is technically two islands that are divided by a small channel of water known as 'the cut.' The island was split in two by Hurricane Hattie in 1961. The Southern portion is the developed part, and the Northern section is a marine reserve.
Swimming and snorkeling opportunities can be limited because of the patches of seagrass, but snorkeling is possible on any part of the archipelago. This island is very popular with divers- and there is not a shortage of businesses that offer diving tours.
If you arrive on the weekend and are feeling like you want to celebrate by going out dancing, there are certain hotels that feature groovy DJ music. If a game of volleyball is more up your alley, there are courts to play on.
Yuma's House is a hostel option for those of you that are on a low budget, and if you want to splurge, the number of pricier hotel choices is expanding.
You'll find many islanders either walking or riding their bike- it's feasible to take a stroll instead of catching a taxi for places you might want to experience on Caye Caulker, as there are only three total roads- all of which are unpaved. You could explore the whole island in two hours if you were so inclined!
For dinner, Happy Lobster is a restaurant that offers great quality seafood, and strong coffee (with complimentary refills!) to supercharge you for your time in paradise.
3. Goff's Caye – Belize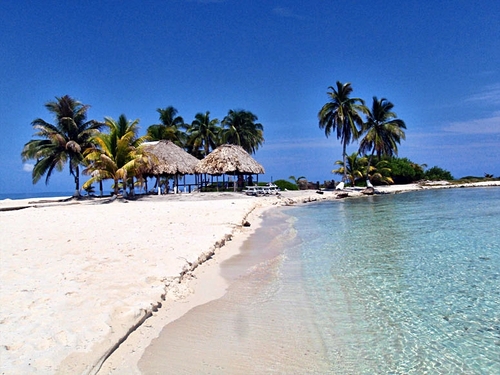 One of the top beaches in Belize, and one of the top beaches near Belize City, Goff's Caye might be small, but it's magnificent blue-green waters that caress the white sand make up for any lack of acreage.
Goff's Caye is a twenty-minute boat ride (you can catch a domestic charter or tour company boat) from Belize City and is found on the Northern side of the English Channel.
There are not any hotels or places to stay on this island, so plan to make a day trip here if you decide to go. Unless you want to brave the ocean and camp out on your floatie- just kidding!
One of the best beaches in Belize, Goff's Caye weather is warm, with the sun shining at all times of the year. From May to November, there may be the off-chance that a storm will hit, but it's not typically anything that would ruin a vacation.
You might spend the day with your family building sand castles, or sunbathing under the palm trees, with a picture-perfect view in front of you.
This beach is home to many alluring coral reefs- you might want to even consider bringing a lightweight underwater camera to capture the luminescent sealife, or forever remember the moments as they come.
If you're looking for seclusion, you may want to make plans to spend time on this Belize beach.
2. Ranguana Caye – Belize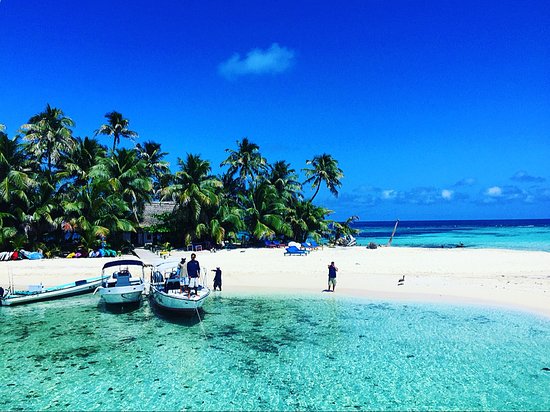 One of the best beaches in Belize, Ranguana Caye is a two-acre, isolated island with white sands, that's a mere two miles from Placencia, Belize.
For beach activities, you might opt to paddleboard, take an afternoon slumber in a hammock, snorkel in the transparent waters, take a shot at Bully's Beach Bar, or enjoy a barbeque on the sand.
You might choose to spend the night in an oceanfront cabin and feel the refreshing ocean breeze sneak in through the window.
If you're scouting out a honeymoon destination or for a vacation spot to bring your family, Ranguana Caye's landscape is seemingly straight from a postcard.
This best beach of Belize doesn't vary a whole lot in temperature, with the humidity making it feel a touch hotter than it really is. If you aren't a fan of humidity, consider arriving in any month other than January, as that is when the humidity levels are at their highest. June, May, and August are the warmest times to travel here.
1. Hol Chan Marine Reserve- Ambergris Caye, Belize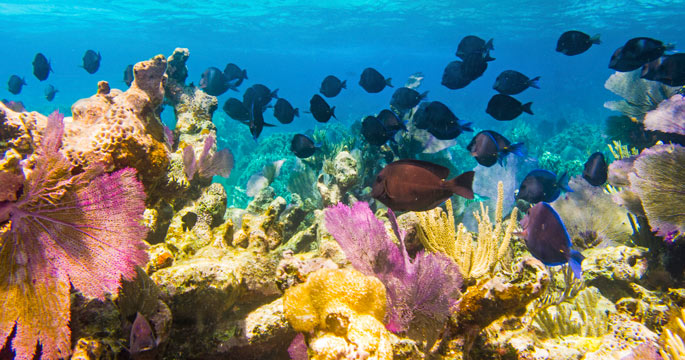 One of the best beaches in Belize for snorkeling, Hol Chan (Mayan for 'little cut') Marine Reserve is an unforgettable retreat of the world, and Belize's oldest reserve. It's a five-mile underwater park near the coast of Belize, and off the Southern tip of Ambergris Caye.
For you adventure-seekers, there's a thirty-foot deep channel with coral-adorned walls, where you can find Moray eels, giant looking Black Grouper fish, and over five hundred different species of other fish.
Hol Chan houses an entire array of marine habitats, ranging from mangroves in the West, to seagrass beds to deep blue seas in the Eastern part of the atoll.
If a snorkeling or diving excursion in a glass-bottom boat sounds like a unique experience to you, there are boats that leave from San Pedro and Caye Caulker two times a day.
You'll find the absolute most peaceful waters in the month of May, but any time of year is splendid to go.
If you are a shark fanatic, you'll want to contemplate doing the 'Wreck Dive,' where a thirty-foot long sunken boat is stationed eighty feet underwater. A gathering of nurse sharks have established this site as their permanent home, and are guaranteed to circle around you if you are brave enough to do this dive. These sharks are much larger than you would expect, so put on your big girl panties for this excursion, and revel in the experience- odds are you'll never experience this again.
Belize Beaches FAQs:
What is the entry requirement for entering Belize?
If you are from the United States, Canada, or Europe, any of the Commonwealth countries, Mexico, Costa Rica, or Austria, a visa is not required to enter the country. If you have a U.S.A. visa that is valid for at least six months, regardless of your country of origin, an additional visa to enter Belize is not mandatory, either. Otherwise, you will need a visa to be granted access into the nation.
Do I need an electrical converter to operate my electronics?
Belize runs on the same electrical current as Canada and the United States, at one hundred and ten to one hundred and twenty volts, with identical plug types. So, if you are not from a North American country, you'll need to buy an electrical converter prior to arrival, or scope one out when you land.
What is the unit of currency in Belize?
The unit of currency is the Belize Dollar. One U.S. Dollar is equivalent to two Belize dollars.
How is the climate in Belize?
Since the country is near the equator, it's similar to the climate of other tropical nations. There is a definite wet season and dry season. The dry season is from November to May and the wet season lasts from June to October. If you find yourself in the mountains, the weather will be slightly cooler.
No matter what part of Belize you decide to travel to, you'll encounter sunny skies year-round.
What should I pack for my trip?
You might consider packing a sunhat, a swimsuit, an umbrella for both the sunshine and the rain, a light sweater and jogging pants, more socks than you would think if you plan on doing lots of hiking, and a pair of water shoes for walking around the ocean floor.
As far as hiking gear is concerned, one of our top Belize travel tips is to bring a pair of binoculars for the mind blowing views! On top of that consider bringing a water bottle, insect repellent or some citronella essential oil to repel mosquitoes, a guidebook, or a notebook if you like to journal your travel experiences to remember later.
Is Belize a safe country to visit?
Yes, it's a relatively safe country in which to travel.
Out of the hundreds of thousands of travelers that explore Belize, the number of petty thefts and crime that occur is very small. It's still a developing country, so use your senses and be aware of your surroundings- this goes for wherever you are in the world. If your gut is telling you that something might be fishy, then listen to that feeling. After all, your gut is sometimes referred to as the second brain, so those intuitive feelings do have validity behind them.
You can take comfort in the fact that tourist police do patrol certain metropolitan areas.
Are Belize beaches nice?
The beaches of Belize typically have narrow strips of sand that are excellent for spreading your towel out onto and sunbathing on. The crystal clear waters are refreshing to wade in, and are relatively shallow, so if you have little ones, it can be fairly easy to keep an eye on them. Sometimes the ocean floor can be a bit mucky, but it's nothing a pair of water shoes can't handle.
You may sometimes find a little bit of garbage on the beach that can be brought in from the tides and boats, but that's easy to overlook with the overwhelming beauty of the waterfront. Overall, the beaches are bewitchingly beautiful and worth the visit.
How should I plan on traveling around Belize?
You might decide to rent a car that would enable you to travel to more remote areas – you'll just have to pay for gas. If you want a true Central American experience, you can decide to ride the local buses for a very reasonable price, just be prepared for many stops, and maybe a chicken or two sitting next to you.
If you're planning on traveling great distances and can afford a little more, it might be best to consider flying. You can also elect to be transported via a taxi, however, this can be costly, too.
If you plan on traveling popular routes, shuttles are another option that can be much more affordable than a taxi.
What about beaches in Belize near the cruise port?
Most cruise ships drop passengers off at the Tourist Village, which is quite close to Belize City. Luckily, great beaches are within easy reach.
The man-made Old Belize park is nearby, but we recommend getting out and taking a water taxi to Caye Caulker or Ambergris Caye.
If I want to go on a fun adventure while in Belize, what activities are offered?
You might choose to go kayaking around the Caribbean, explore the deep sea scuba diving, or naturally, you might choose to do some plain ol' swimming. For those of you that are thrillseekers, zip lining in the jungle is an option, or a rainforest hike might appeal to you.
A popular destination for snorkeling and diving is the Hol Chan Marine Reserve Shark Ray Alley if that sounds like your cup of tea.
Río Blanco National Park is a wonderful area for kayaking- you'll see a mighty twenty-foot waterfall and an incredible swimming hole. If you want a taste of ancient history, you might choose to hike around the Mayan ruins of Cahal Pech.
What kind of wildlife can I expect to see while traveling in Belize?
With Belize's countless protected areas, you're guaranteed to see bouts of unique wildlife.
If you find yourself in the Maya mountains, you'll see many birds such as hummingbirds, woodpeckers, and keel-billed toucans, in addition to various species of monkeys gliding from tree to tree.
Hol Chan Marine Reserve is an excellent spot to see manta rays and sharks, and a boating tour is a surefire way to see them.
How much will it cost me to visit a National Park or Reserve in Belize?
The majority of parks and reserves on the mainland charge anywhere from five to fifteen dollars entrance fee for visitors.
If you opt to travel to Belize's cayes, or islands, the fee will typically be a bit more, depending on what type of tour you would like to do. The South Water Caye is a famous example of these exclusive islands.
The Belize Barrier Reef, particularly the Blue Hole area, is also a hoppin' area to see whale sharks, dolphins, killer whales, octopuses, and even seahorses.
Where can I find the best areas to surf?
Glover's reef is the sole spot in the country for worthwhile surfing. The beaches on the reef are not public, so you would need to make special arrangements with the surf company there.
There are other fun aquatic activities in which you can immerse yourself into such as windsurfing, snorkeling, and kayaking. Or, you can always choose to pass the day chillin' in a hammock and listening to the soothing waves.