We can't think of anyone who has never dreamed of spending their summer at a paradisiac beach. If the thought of relaxing under the sun overlooking blue, warm waters has crossed your mind, then we recommend planning a trip to the best beaches in Central America.
Central America is a region that's bursting at the seams with life and excitement. The seven countries that make up the continent have so much to offer to those who are willing to fly down there. Belize, Costa Rica, El Salvador, Guatemala, Honduras, Nicaragua, and Panama have some of the most beautiful beaches and natural landmarks in the world.
Although Central America has hundreds of worthwhile attractions, most tourists make a direct bee-line to the beaches. We can see why they skip out on all the other things Central America has to offer when they have so little time to visit the region. After all, Central America beaches are breathtakingly beautiful.
If you're looking for a place that has untouched natural beauty, stunning postcard-like beaches, friendly people, and mouth-watering foods, Central America is the place for you. It's perfect for solo travelers and for anyone going on a group. Whether you're visiting these countries on a backpacking trip or on a planned excursion, we're sure that you'll have the time of your life.
But you might be wondering, "How do I know which beaches to choose? Aren't there thousands of beaches in Central America?" The answer to that is simple: with our help! In order for you to not spend hours doing research, we've compiled a list with our top picks of the best beaches in Central America. No matter what you want out of your vacation, we're sure that you'll find the perfect place to spend your break.
1. Otto Beach, Little Corn Island, Nicaragua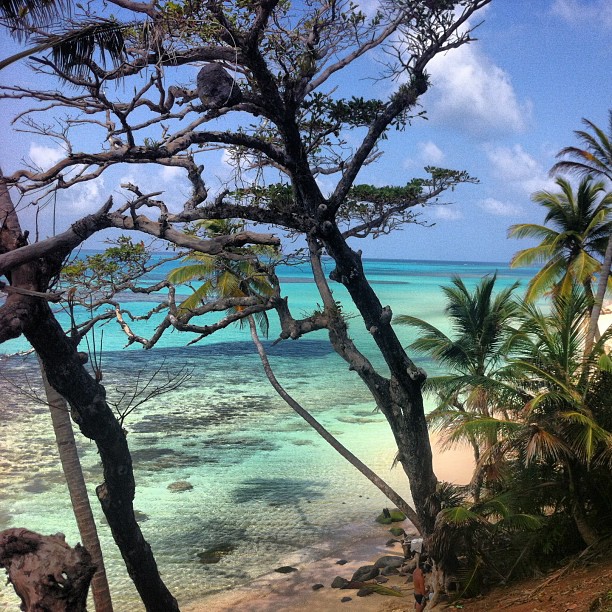 One of the most popular beaches in the beautiful country of Nicaragua, Otto Beach is a gem Nicaraguans treasure greatly.
Located on the northwestern portion of Little Corn Island, Otto Beach is a super popular and gorgeous beach off the coast of Nicaragua. You can get there by walking for around 30 minutes if you start your journey from the main pier in town. The walk will lead you up the hill that sits on the middle of Little Corn Island and through a stunning jungle. It's definitely worth the effort of walking for half an hour in hot weather.
Once you arrive in Otto Beach, you'll see why so many people rave about it. The beach itself is lined by coconut trees teeming with young and old coconuts during harvest season, has fine and soft sand, and gorgeous shallow turquoise waters. The first thing you'll want to do is take your clothes off and go for a refreshing and relaxing swim!
There's so much you can do in Otto Beach. You can go for a swim in the calm waters, search for underwater life with your diving or snorkeling equipment, lay on the sand and enjoy the sun, watch the locals head out to sea on their boats and go about their days, or even grab a drink from the nearby hotel. Whatever you do, your day will definitely be well-spent.
2. Playa Estrella, Panama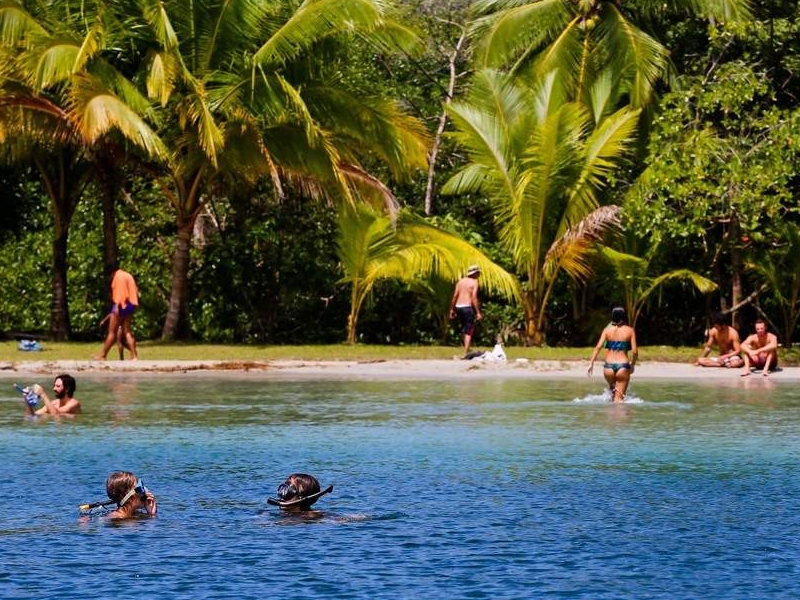 Playa Estrella is located on a remote side of Isla Colón. It's part of the Bocas del Toro archipelago and one of the most stunning and unique beaches in all of Panama.
Hundreds of people come here from far away to see why this beach is so deeply loved by tourists and locals. The Bocas del Toro archipelago was declared a UNESCO World Heritage Site for its unparalleled beauty, which you can easily see here in Playa Estrella.
The name of this beach literally translates as "Starfish Beach." And as soon as you see some pictures, you'll see why we think it's so aptly named. You can see dozens and dozens of starfish living on the sea bottom here at Playa Estrella. Because the water is so clear, it's very easy to spot these fascinating underwater animals.
The beach itself is also very charming. The fine sand and the thick jungle that encloses the beach make the perfect picture to show your friends back home.
If you're a lover of animals, you're going to love diving off the coast of Playa Estrella and its neighboring beaches. The reefs here are unlike any others and you'll be able to see large colorful schools of tropical fish that call Panama home. Bring your snorkeling and scuba diving equipment and get ready to see some of the most colorful fish you've probably ever seen.
Reaching Playa Estrella from the rest of Isla Colón isn't hard. From Playa Del Drago to Playa Estrella it's a 20- to 30-minute walk full of mouth-dropping beautiful scenery. Alternatively, you can get a boat ride from Playa Del Drago and be dropped off right here on this stunning beach.
Being in the Bocas Archipelago means you can also see other beautiful beaches. Red Frog Beach (on Isla Bastimentos) is very popular with the surfer crowd, Bocas Town (on Isla Colón) is a famous stop among visitors, and you have the smaller and less visited islands of Cayo Agua, Cristóbal, and Cayos Zapatillas.
Playa Estrella easily takes the cake when talking about the best beaches in Central America.
3. Isla Perro, San Blas, Panama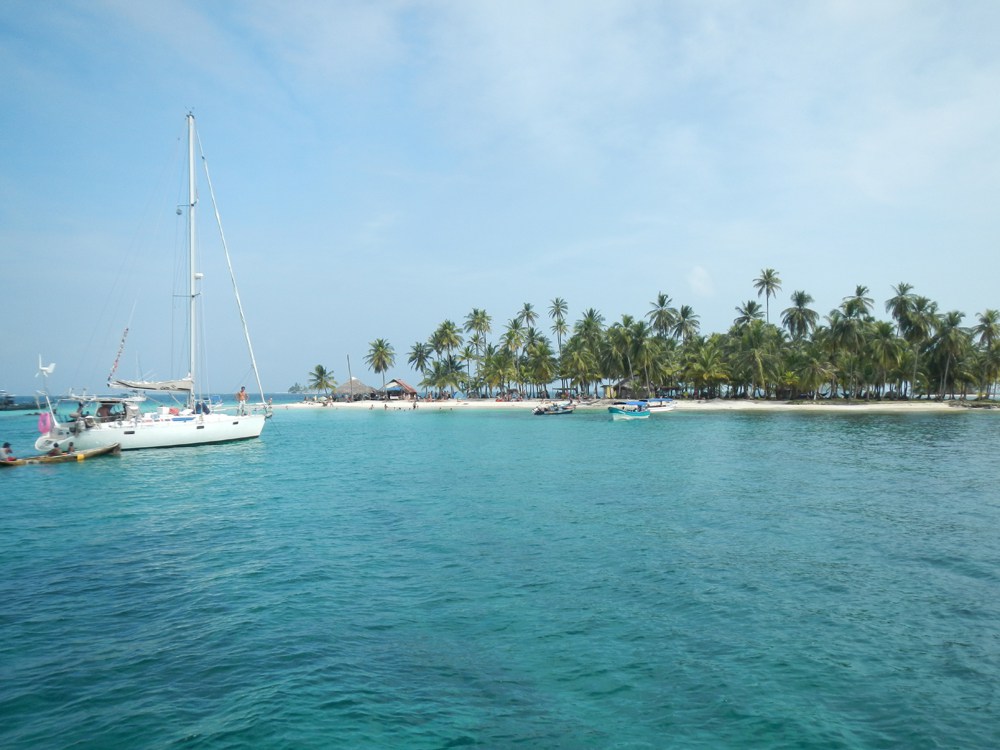 Isla Perro Beach and the San Blas Islands are places like no other in the world. They're one of the last places on earth owned by indigenous tribes where the government doesn't own the land and can't control it. Isla Perro is an untouched beach that enchants all visitors.
Isla Perro Beach, or Dog Island Beach in English, is the most famous tourist destination in San Blas — and understandably so! The powder-like white sand and the crystal-clear turquoise waters are enough to make all travelers want to come back.
An interesting fact is that the San Blas islands, including Isla Perro Beach, are owned by the indigenous Guna Yala people. They run the island like they have for centuries but have adapted it slightly to welcoming tourists. Did you know that the Panamanian government isn't allowed to step foot on these islands without the Guna Yala's permission?
The waters here are calm and warm, perfect for a swim! Since there are no currents and the waters are relatively shallow, they're great family fun for swimmers of all ages and skill levels.
Snorkeling is also deeply encouraged here. The crystalline waters make seeing what's hiding under the surface a piece of cake. Just 50 meters off the coast of Isla Perro Beach is the shipwreck site of a gunboat. It's been there for decades now and nature has taken over this site. Hundreds of colorful exotic fish swim around the boat that is now their home. Seaweed and other underwater plants are easily visible on the sides of the boat. Crustaceans can also sometimes be seen playing around here. If you're lucky (or unlucky) you might see some bigger fish hunting and hiding around in the ship — but don't worry, humans aren't on the menu!
Being one of the top snorkeling destinations means that it attracts considerably-sized crowds. However, Isla Perros Beach is always beautiful and every visitor that comes here does not regret it one bit.
4. Silk Cayes Beach, Belize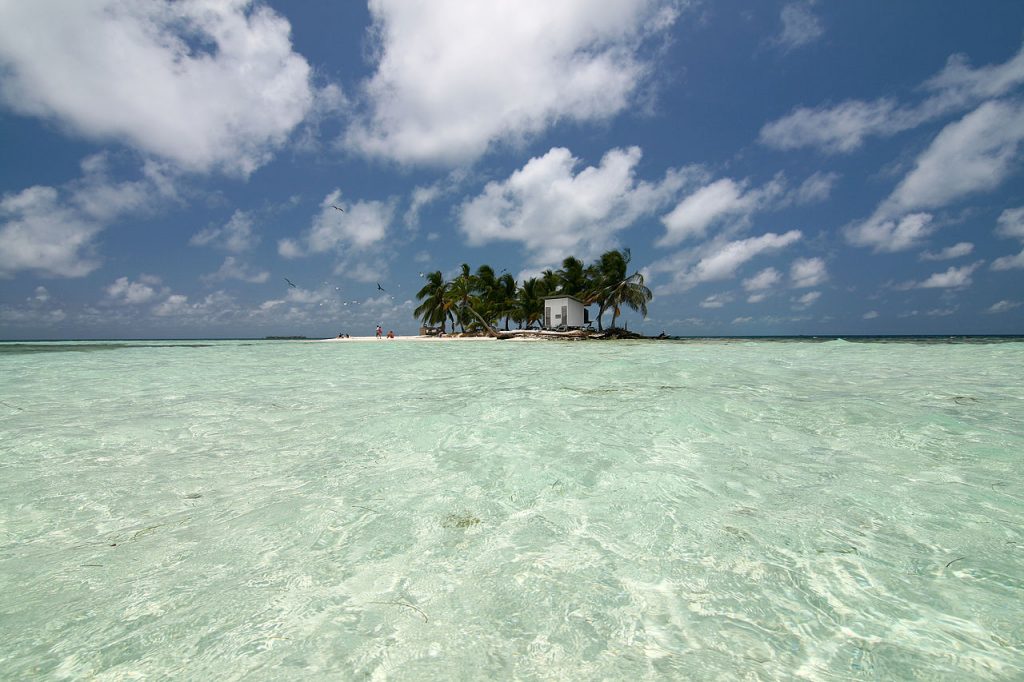 Silk Cayes Beach is the ultimate castaway experience. With no places to check into and barely any infrastructures, it's an experience you won't be afforded in many other places on earth.
Getting here starts with a 45-minute-long boat ride departing from Placencia Village in the Placencia Peninsula. There are no docks: boats stop right there on the beach. On the way, you get a stunning view of the Placencia shore and of the vast, neverending turquoise Ocean.
The sand on Silk Cayes Beach is silk-smooth (get it?) You'll be reminded of sugar once you see how white and fine it is! To make the beach even more beautiful, the calm turquoise ocean envelops the entire beach and gives you the feeling that you're alone in the world. Sometimes that's just what you need when life back home gets so chaotic!
Don't forget to pack your snorkeling and diving equipment. You can swim from Silk Cayes Beach to a dazzling coral reef if you're an experienced swimmer. The Belize reefs are some of the best in the world. They're circle-shaped and pre-date humans. These reefs are home to thousands of exotic and colorful fish that make the turquoise waters even more beautiful. If you're in luck, you'll see more than just fish. There are three kinds of sea turtles living near Silk Cayes Beach and even Whale Sharks!
You should pack a lunch as there are no bars and restaurants here where you can get a meal. It only adds to the castaway experience that you'll probably never have again! Swimming and diving equipment should also be on your list.
5. West Bay Beach, Roatan, Honduras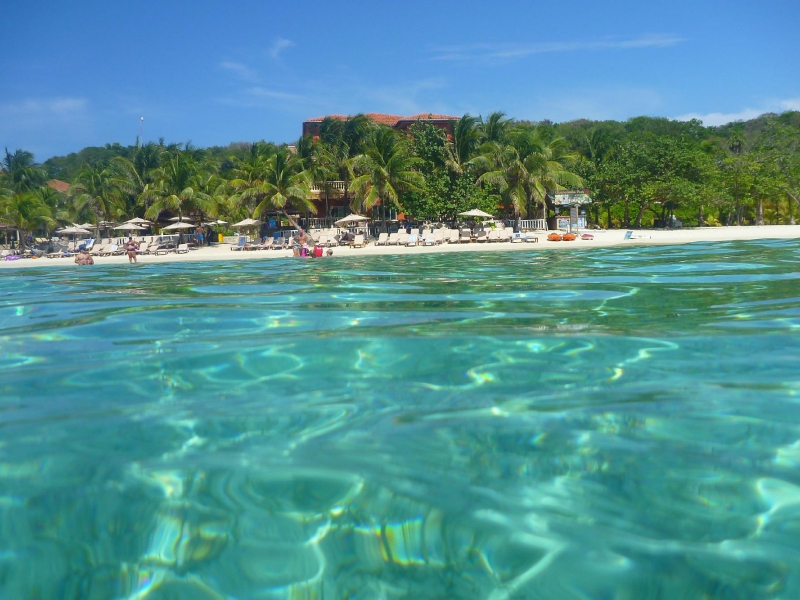 West Bay is, simply put, heaven on earth. Its sunny and hot summer days, its fine white sand, its crystal-clear blue-tinted Ocean waters, and its thick surrounding jungle easily make it a must-go-to spot for eager travelers.
Located on a less developed side of Roatan Island, the largest island in Honduras Bay, West Bay Beach is a pleasant escape from the hustle and bustle of day-to-day life. It's usually uncrowded, has a chill vibe to it, and very tranquil.
Stretching out for a mile from end to end, West Bay Beach is a white-sand beach that's perfect for long walks. Walking from one end to the other with your feet in the water is hard to beat. But if you want some more action, you can always go into the glass-like waters.
You'll have a hard time finding a better place for a swim than West Bay Beach. The currents aren't strong, the waters are warm, there are no waves, and the water is so clear that you can see everything below the surface. It's how the beach is set up against the winds and currents of Roatan that makes it this peaceful.
Fans of marine biology will love West Bay Beach for its scuba diving and snorkeling appeal. A few yards offshore is a beautiful coral reef that's home to many species. This snorkeling and dive site is known as Mary's Place and you'll surely spot colorful schools of Honduran fish species there. If you're looking for a bigger reef, the world's second-largest barrier reef is located not too far away, and there are some excursions leaving from around West Bay Beach.
There are many more things you can do in West Bay Beach and in the West Bay are, but we'll mention just a few. If you like waterskiing, sailing, horseback riding, kayaking, or parasailing, West Bay offer all that to you. Being one of the most lively neighborhoods and having one of the best beaches in Central America on it has its advantages!
6. Playa El Tunco, El Salvador
El Salvador isn't the first country that comes to mind as a beach destination in Central America. And we're not complaining about it one bit! We're completely fine with keeping Playa El Tunco a (relatively well-kept) secret.
Playa El Tunco doesn't see many foreigners every year. Since it's mostly only locals that come here, it's remained an untouched, underdeveloped, and massively underrated beach. Forget any ideas you may have of a bustling nightlife and of touristy attractions and signs. El Tunco is all about living life slowly, not rushing into anything, and enjoying the smallest things nature has to offer.
One thing you can count on is there being plenty of good waves waiting for you here. Playa El Tunco is known in the local surfing community as a relaxed place to ride some waves and see them break on the shore. It also means that the surfing community is tight-knit but always welcoming to fellow surfers from all over the world.
The beauty of this Pacific coast beach is unparalleled. Everything from the awe-inspiring sunsets to the fine white sand is worth a trip on their own.
Foodies will also be impressed by the food quality here — and by their prices! El Tunco is still a cheap place to eat and drink. Why not finish your day at the beach with a beer in hand and a good meal in your belly?
7. Playa Manuel Antonio, Costa Rica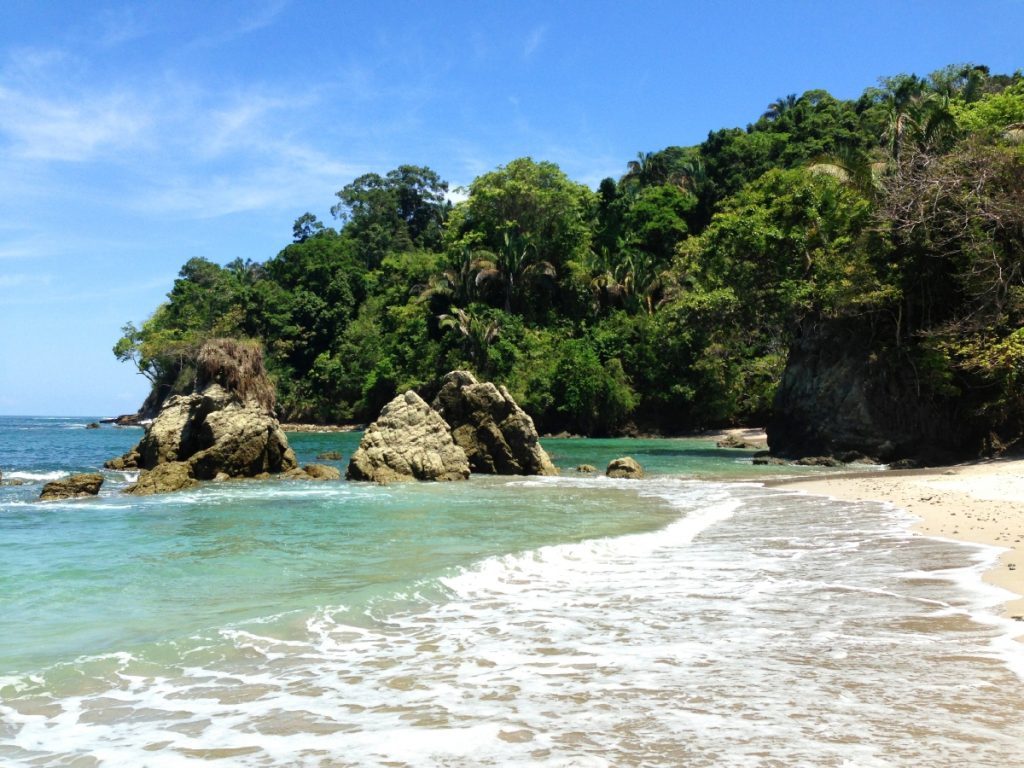 We dare you to look up the best resorts in Central America and not come across Playa Manuel Antonio. It's that insanely popular. But as soon as you see this jungle-lined white-sand beach, you'll understand why.
All lovers of the beach must go to Playa Manuel Antonio at least once in their lives. Every year thousands of tourists come from all over to world to see one of the most beautiful beaches in the world. We'd say that it is just as interesting as it is crowded.
If the main beach gets too full of visitors for your liking, you can walk to any of the smaller (but equally as charming) neighboring beaches. There are trails leading from Playa Manuel Antonio into the other ones.
The short thirty-minute hike to get to this beach may be as charming as the beach itself. It leads you through the renowned Manuel Antonio National Park — in this case, it's both about the destination and the journey.
But the best part about coming to Playa Manuel Antonio is seeing the wildlife. The thick jungle of the National Park is home to hundreds of plant and animal species. You'll be lucky enough to see exotic animals in their natural habitats. There are white-faced monkeys, howler monkeys, iguanas, and the endangered squirrel monkeys. How many people can say they've seen these animals while on their way to the beach?
But the stunning wildlife doesn't end here. There's plenty to explore underwater as well. The nearby coral reefs and the warm, calm, and crystalline waters of the Pacific Ocean make this beach perfect for snorkeling and scuba diving. You can count on seeing hundreds of colorful exotic fish swimming about.
We can't think of a better word than "paradise" to describe this amazing family-friendly beach destination.
8. San Juan del Sur, Nicaragua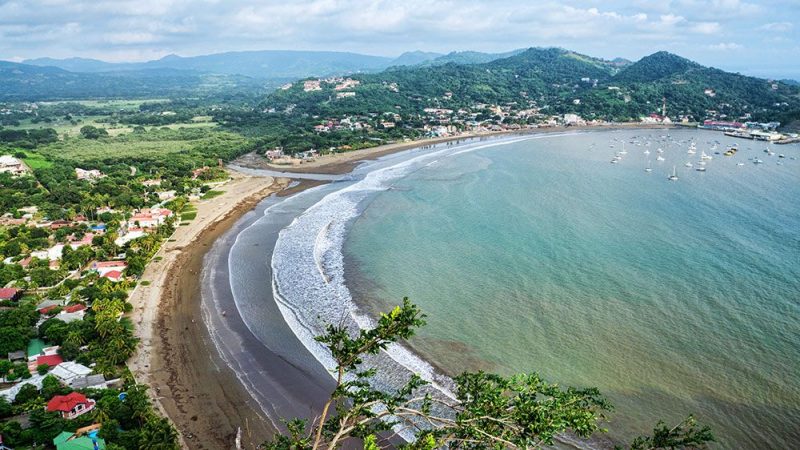 This popular (and crowded) beach is also one of the best resorts in Nicaragua. Don't be scared off by the crowds of locals and tourists who come here — there's still plenty of beauty in San Juan del Sur.
During the day, San Juan del Sur is just another vast gold-sand beach in Central America: beautiful and serene. But as soon as the sun goes down, the atmosphere changes completely. The party scene here is unbelievable. Young adults gather around the bars to socialize with their friends. Adults go out for drinks after a long day of work. The mood in the town goes from quiet to vibrant very quickly.
But this isn't to say that this crescent-moon-shaped beach is anything short of awesome while the sun is up. There's quite a lot you can do during your day at the beach. Playa Maderas is one of the beaches that make up Playa San Juan del Sur and it's a well-known surfer paradise. The sea bottom here is rocky and the currents tricky, so watch out when heading out to sea.
You could also lay in your towel and perfect your tan. If staying quiet in the sun for long periods of time isn't why you came down to Nicaragua, you can go for a long walk on the beach. The coast stretches out for quite a bit, so on your walk, you'll get to feel the smooth sand on your feet, see the involving mountains, and the vast, blue waters.
If you're young and looking for the perfect mix between dream-like beach destination and a vibrant party scene, look no further. This vibrant beach will entertain you just as much as it did to all the other travelers who have been coming here over the years.
9. Playa El Zonte, El Salvador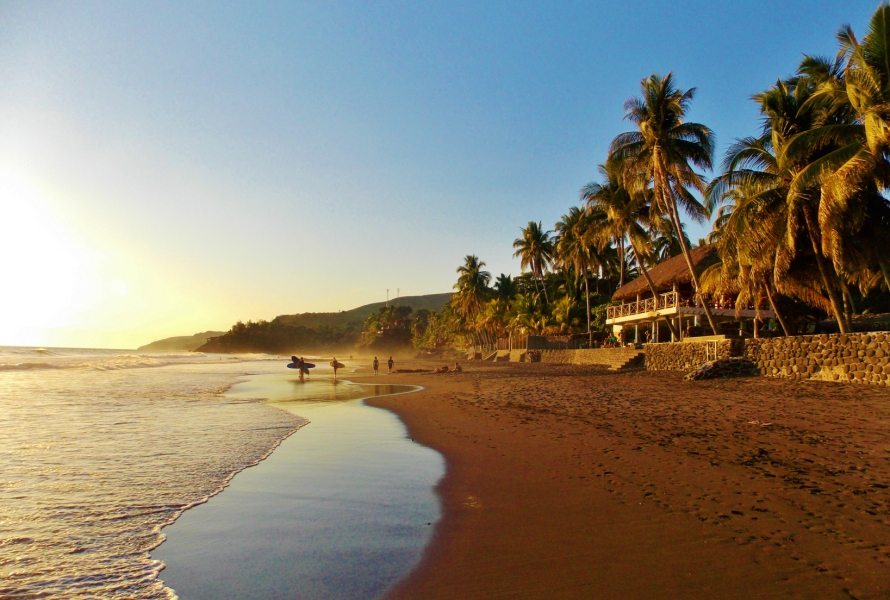 Another haven for surfers, Playa El Zonte is a beach left out by many travelers who come to regret it once they read about it. Even if you're not a surfer, you'll enjoy your time here.
Located on the lengthy El Salvador coast, Playa El Zonte is most popular among young people who like to brave the waves. You'll find locals and foreigners bonding over their love of the ocean and of surfing here, as locals are very friendly and the vibe in Playa El Zonte is one of relaxation.
The black-sand beach is one of the most stunning (and quiet) in El Salvador. It's not too far from the more well-known Playa El Tunco that we've talked about and, in our opinion, just as worth visiting.
There are no big bars or a major party scene here at Playa El Zonte. Life is all about going to the beach, riding some waves, meeting up with friends, and being happy you get to spend another day at the magnificent beach.
It's needless to say that the waves here are awesome. Otherwise, surfers of all ages wouldn't meet up here and would instead head to some other sandy beach. But there's something about how quiet and peaceful Playa El Zonte is that keeps drawing the lucky visitors that do make the journey here back every year.
If you're backpacking, traveling on a budget, a fan of surfing, or simply want to see one of the most charming beaches in El Salvador, make sure you come here soon.
10. Monterrico, Guatemala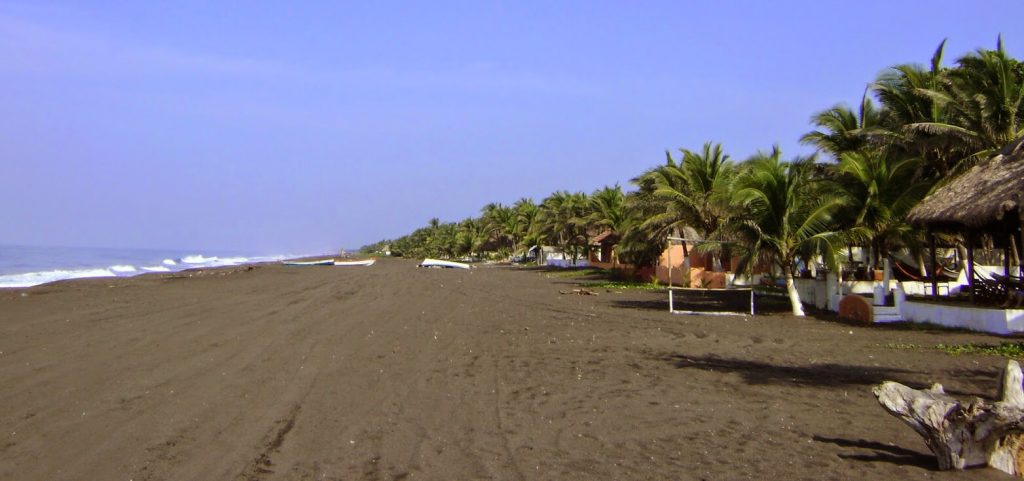 Some might consider this beach a little on the rough side, but that's the charm of this Guatemalan gem. Located on the country's Pacific coast, Monterrico is a famous surfing hotspot.
Monterrico is perfect for travelers who want to switch things up a little bit. Since almost every visitor that comes here is from Guatemala, you'll get to be immersed in the vibrant culture of this Central American country. It's one of those places that still hasn't lost its authentic spark.
The most striking thing about Monterrico is the fact that the sand here is of volcanic origin, meaning that it is black and fine. Since you'll find mostly white sand beaches in travel guides, this one is definitely unique. Come to see a vast black-sand beach and stay for the awesome waves of the Pacific Ocean.
The strong tides here mean that swimming isn't recommended. Instead, if you're a fan of water sports, you'll be pleased to know that surf is king here. Lots of local surfers of all ages flock here during the weekends to ride the best waves in the country. Even if you don't know how to surf but love the sport you'll have a ton of fun watching the amateurs brave the choppy waters.
An interesting event that takes place every year is the hatching and nesting of turtles. Hundreds of sea turtles make their way from the Pacific waters inland to lay their eggs on the beach. Stealing eggs or hurting the turtles is illegal, but you can take a seat back and watch this magnificent show put on by Mother Nature herself.
11. Placencia Beach, Belize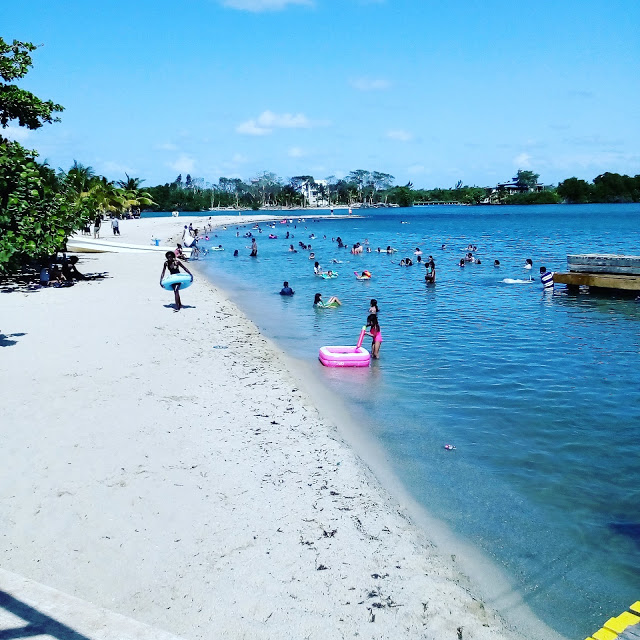 Located in a tiny peninsula in the south of Belize, Placencia Beach is a relaxed beach that's bathed by the Caribbean Sea. If your idea of a perfect vacation is laying down in a lounging chair and perfecting your tan, Placencia might be the perfect place for you.
This beach is one of the most popular travel destinations in Belize. It sits on a small and beautiful fishing village on the peninsula of the same name. On one side, it's washed by the gentle waters of a mangrove-lined lagoon; on the other, it's the warm Caribbean waters that enchant visitors.
Being just half a mile wide is no impediment to it being a great Caribbean beach. Because it measures a whopping 19 miles from one end of the beach to the other, there's plenty of space for eager sunbathers to lay down their towel under the blazing sun.
The most amazing thing about this beach is that it still retains its charm, even after thousands of visitors have come and left Placencia Beach. Every single morning, fisherman still get on their small and colorful boats and head out to sea to fish and bring food to the village. And every day you can see the locals walk around the "main street." This three-quarter-of-a-mile-long street is lined by colorful and inspiring hand-created murals and does not allow cars. It's the perfect place to people-watch and soak in the Belize culture.
While there are only 2,000 people living in the entire Placencia peninsula, many more creatures populate the waters. This is a place known all over the world for its excellent fishing, scuba diving, and snorkeling. There are hundreds of tropical fish living in the clear waters, including Whale Sharks!
Perhaps the most memorable thing about Placencia Beach is how laid back it is. You'll see visitors and locals around walking around barefoot and smiling while talking to their neighbors and friends. That's another thing that amazes locals when they come here: just how friendly and welcoming the locals are.
It comes as no surprise to anyone that this beach has been used for hundreds of weddings before. Nor that it makes the perfect honeymoon destination or a great spot to vacation with your entire family.
Frequently Asked Questions About the Best Beaches in Central America
What are the top beaches in the region?
That totally depends on what you want out of your vacation. If you want to see marine animals in their natural habitats, you should head to Bocas del Toro, Panama to see thousands of exotic fish. If it's surfing you're after, you should try your luck with Playa Maderas, Nicaragua or with Playa Tamarindo, Costa Rica.
It will also depend on whether you're traveling with children or just as a solo traveler. Are you on a honeymoon and want a private romantic vacation? Then getting off the beaten path and heading out to Little Corn Island, Nicaragua might be a great idea.
Are there Central America all inclusive beach resorts?
Yes, there are! Central America and South America are known for their awesome all-inclusive luxury beach resorts that are just a one – to two-minute walk from the sand. Do a quick search of luxury all-inclusive resorts once you've decided where you want to vacation and voilà! Costa Rica has the highest rate all inclusive resorts Central America has to offer, but there are plenty of others to choose from! The best Central American vacations are only a flight away!
Are there nudist beaches in Central America?
Central America has a reputation for being somewhat reserved and conservative when it comes to going full commando. But there are still some nudist-friendly beaches.
El Salvador, Guatemala, Nicaragua, Belize, and Costa Rica have no designated beaches for naturists. And on these beaches, even going topless is frowned upon.
But if you're planning on going to Panama or Honduras, there are a handful of beaches in each country that allow you to strip down to your birthday suit.
Just make sure to stick to the regulations of the beach. If it says you must be clothed, then you'll have to suck it up or pick a more lifestyle-friendly beach.
Is drinking allowed on beaches?
Since Central America isn't just one country, different countries have different regulations on alcohol on beaches. To make sure you're not committing anything illegal on accident, ask around the accommodation you're staying at whether drinking is legal.
What are the best beach towns in Central America?
There are a lot of different beach towns in Central America. Some are packed with tourists and love to party, while others are sleepy and serene. We think that Puerto Viejo is one that is certainly worth paying a visit to. It's close to Punta Uva Beach and has a very laid-back vibe to it.
When is the best time to visit Central America?
These seven different countries have different weather year-round. While Costa Rica, Panama, and Nicaragua rarely get hit by hurricanes, it's another story for the other countries.
In Panama, Nicaragua, and Honduras have their dry season from November to April. All the other countries go through their dry season from January to March.
Keep in mind that February is peak season for cruises departing from the United States (Florida, New York, etc).
We'd say that the best time to travel would be during the dry season but also not during peak season. This way you'll get the best weather and not pay through the nose for accommodation and flights.
Can I swim in Central American beaches?
Some beaches are safe to swim in, while others aren't. As always, stay away from beaches that have rip currents and a reputation for luring swimmers and surfers to their deaths. Note that not all beaches have a stationed lifeguard.