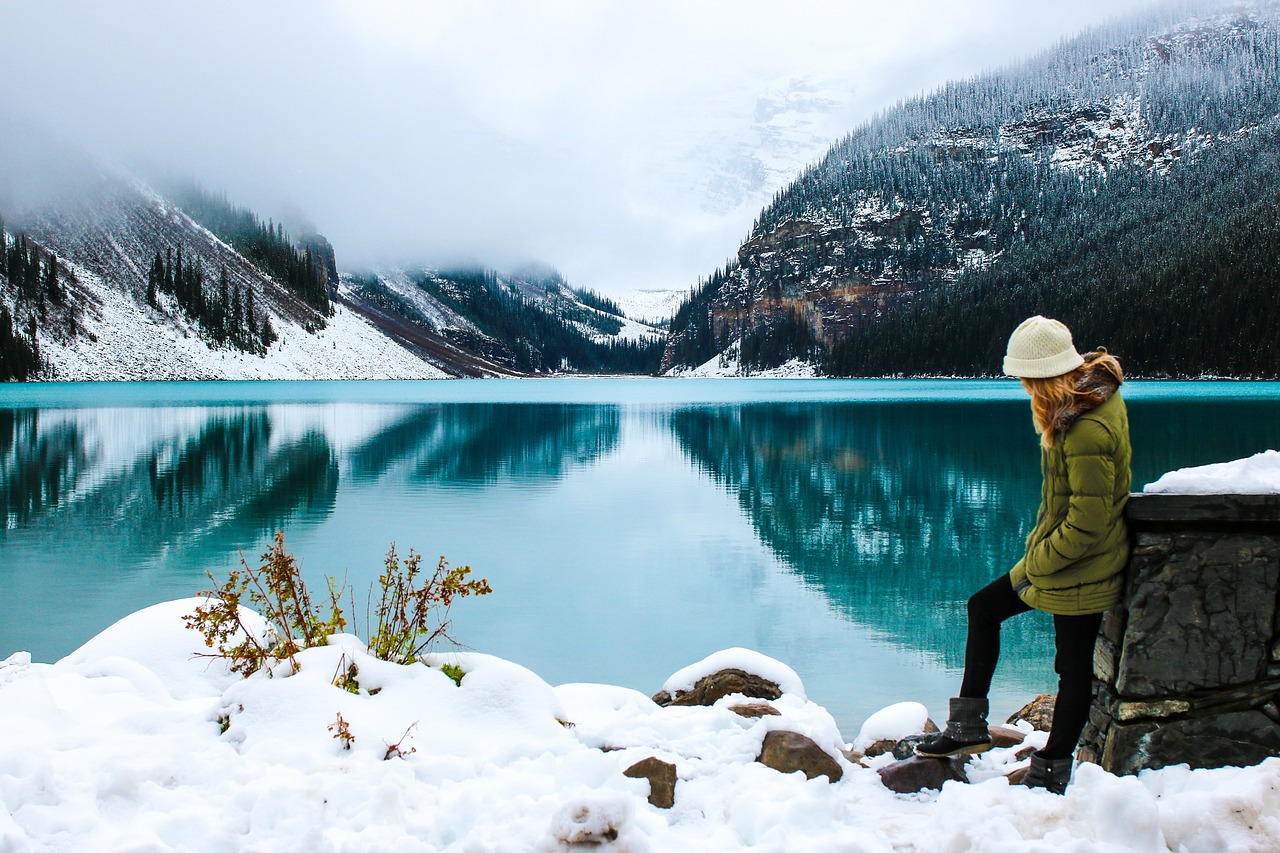 A Canadian adventure is, without a doubt, one of the best ways to satisfy a strong case of wanderlust. The best places to visit in Canada span from the Pacific to the Atlantic coast and are aplenty. The vast North American country stretches wide consisting of ten provinces and three territories in the north. It hardly needs to be mentioned that the country's geography is as diverse as its people which is why visiting Canada in summer or winter are equally as exciting. Canadian soil features everything from cozy seaside fishing villages to jaw-dropping mountain ranges, to pancake-flat Prairie lands and the world's largest freshwater basins. Of course some of the best places to go in Canada are its vibrant cityscapes too.
A true wanderer would be satisfied in any of this country's prettiest corners but for the traveler with extra cash and time on their hands, a cross-country trip through the true north will be the experience of the lifetime. Truthfully, the reason why Canadians are so pleasant is because they are spoiled with some of the most beautiful scenery in the world. Go see for yourself! Book a trip to any of these places up north to see what we're talking about. Oh, and don't forget to sample some maple syrup and Canadian craft beer during your stay! If you're wondering where to visit in Canada, prepare yourself for an education!
1. Bay of Fundy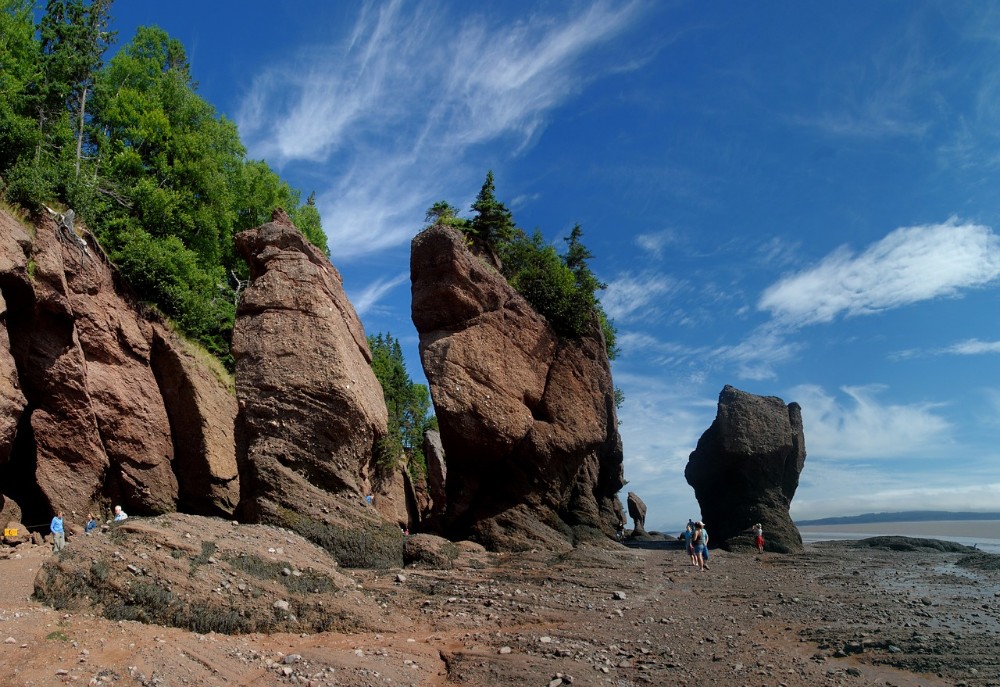 The Bay of Fundy is a section of sea wedged in between the provinces of Nova Scotia and New Brunswick. This iconic Canadian destination is especially beautiful in the summer but also worth visiting in the spring and fall if you're planning to visit places in Canada in April or October. It's world famous for its high tides that can reach the heights of a five-storey building and is one of the seven wonders of North America. Fun fact: it's also located exactly halfway between the equator and the north pole. When planning the trip after arrival, make sure to observe the sea caves, captivating rock formations and bird species that live there. The Bay of Fundy's national parks, museums and UNESCO sites make it a top place to visit in Canada.
The Hopewell Rocks in New Brunswick and Cape Split in Nova Scotia are particularly iconic and fascinating spots here so don't miss out. To make the trip even more special, stay in one of the region's cute bed and breakfasts or cozy seaside cabins. Accommodations like these won't fail to provide the real easy coast Canadian experience.
2. Halifax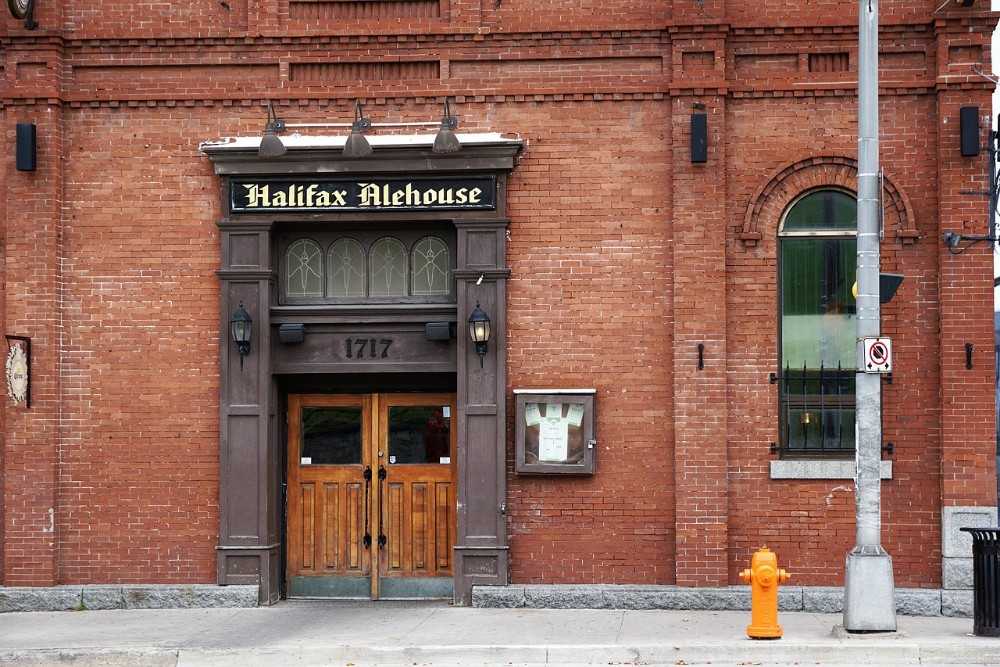 Atlantic Canada is a real treasure and Halifax exhibits many of the region's best traits. Canadians definitely have a reputation for being incredibly polite and kind. The Maritime region is where that's the most true. Really, one will recognize the pleasant manner of the locals and the east coast hospitality only minutes after arriving. Because of this, booking a stay in a quaint bed and breakfast would be advisable. (We're willing to bet that if you do, your host will have introduced you to her family, best friends and neighbors within the first two days.)
Halifax has a lot going on: a rum distillery tour, a visit to the Alexander Keith's brewery and seafood dinner at the waterfront are a must. For dessert, sample a beaver tail. This sugary pastry is absolutely delicious and one of Canada's best (and most stereo-typically named) creations. After a night on the town, make your way to Pizza Corner. (Yes, it's actually called this.) This intersection earned its name because it originally hosted three pizzerias. Now, it's a popular spot especially among students because it has plenty of cheap and quick delicious eats available late at night. It's pretty much a major selling point to anyone who stops in town for a while…
On a sunny afternoon, venture just outside the city's limits to Fisherman's Cove at the entrance of the Halifax Harbor. This 200-year-old fishing village is the definition of quaint and will make you want to stay. The relaxed vibe of Halifax will have you not wanting to return home. The only rule to follow here: don't dare board your return flight without getting your fill of lobster, shrimp and clam chowder.
3. Gros Morne National Park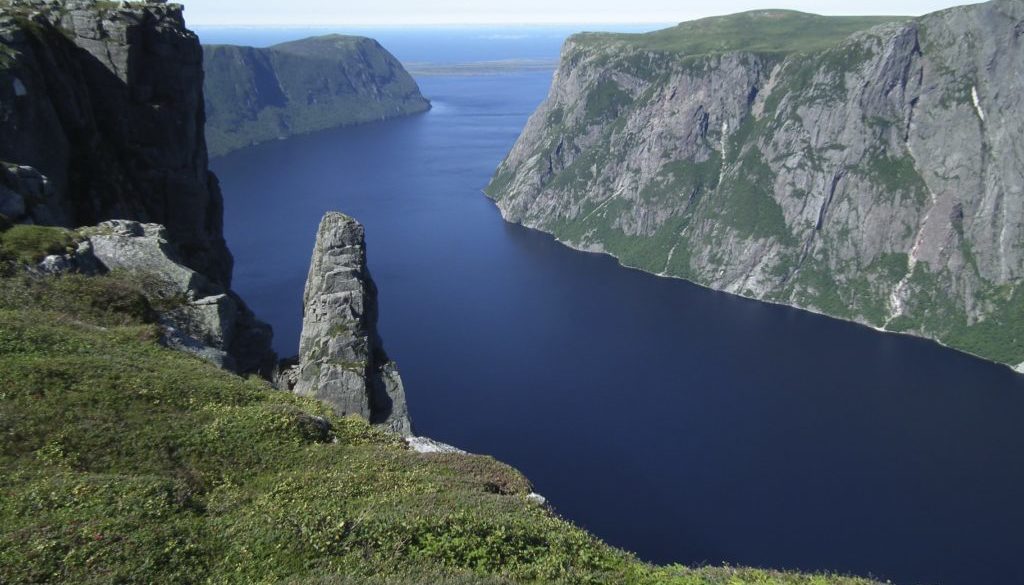 A UNESCO World Heritage site located on Canada's east coast, Gros Morne National Park will truly take the breath away. The national park is comprised of 1,805 square kilometers and is an outdoor adventurer's heaven to say the very least. Here, curious wanderers can explore by boat the gorgeous fjords carved by glaciers. If hiking and experiencing nature from the trail is more your thing, there's no shortage of marked and unmarked walkways and a suitable number of guides to show the way. Climb to local summits to drink in the views of this true Canadian beauty, sign up for a boat tour and pack the appropriate outdoor gear for the camping trip of a lifetime.
For an action-packed day trip, plan a hike in the Long Range Mountains up to the summit overlooking the Western Brook Pond Fjord. For a more chilled out day, bring the beach bag and picnic to relax on the sandy beach of Shallow Bay. Enjoy a day of unwinding on a beach that stretches out for miles along the sea. The Tablelands is a must-visit when finding yourself in Gros Morne National Park. A rare sight, this red landscape is actually from the earth's mantle as a result of the shift of tectonic plates. Now that's a way to impress the nerd in the group.
4. Montreal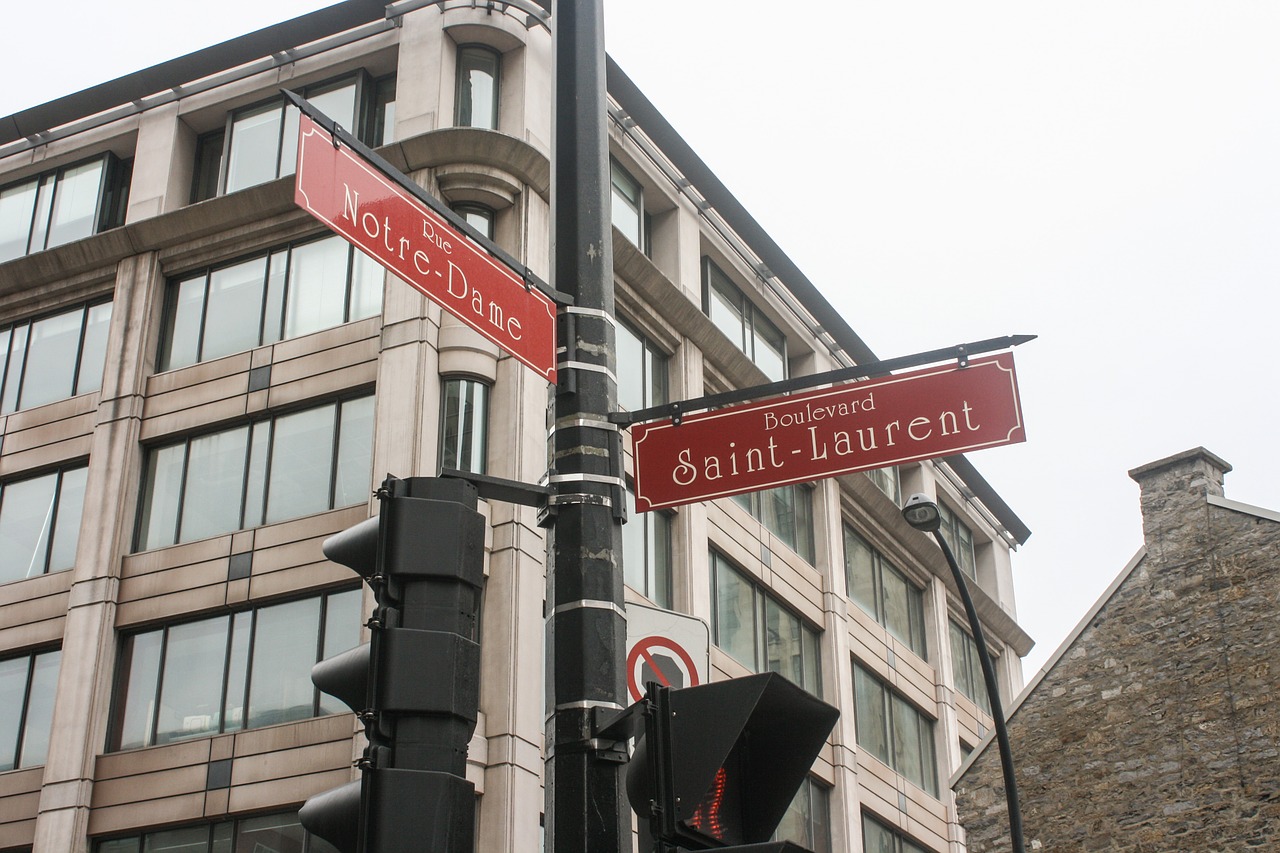 Montreal has so many features that makes this French-Canadian city one of the best places in Canada. Travelers who find themselves wandering along Montreal streets will surely be charmed by the cobblestone walkways of the Old Town and the curly walk-up staircases that lead to homey dwellings. Montreal is home to some of the most delicious bagels in the world (though a New Yorker may be tempted to rebuttal this point) so make sure to stop by St. Viateur to sample one or three. (A trip to Montreal, by the way, is not the time to go gluten-free.)
French-speaking Canada does comfort foods extremely well. The French-Canadians staples you're going to want to try include Montreal smoked meat, any sort of maple dessert and Canada's most famous dish: the poutine. (Fries soaked in gravy, cheese curds and toppings of your choice.) If booking a lengthier stay in the city (we advise you do), check out the wine route that exists just outside of Montreal. This spot is one of the top Canada places to visit in the summer because wineries are open offering their best wines and the gorgeous weather will invite you to lounge an extra while on their patios. Visit this region in the fall to spot pumpkin patches and grab yourself and your travel buds a nice bottle of red wine to mull on a chilly evening.
5. Mont Tremblant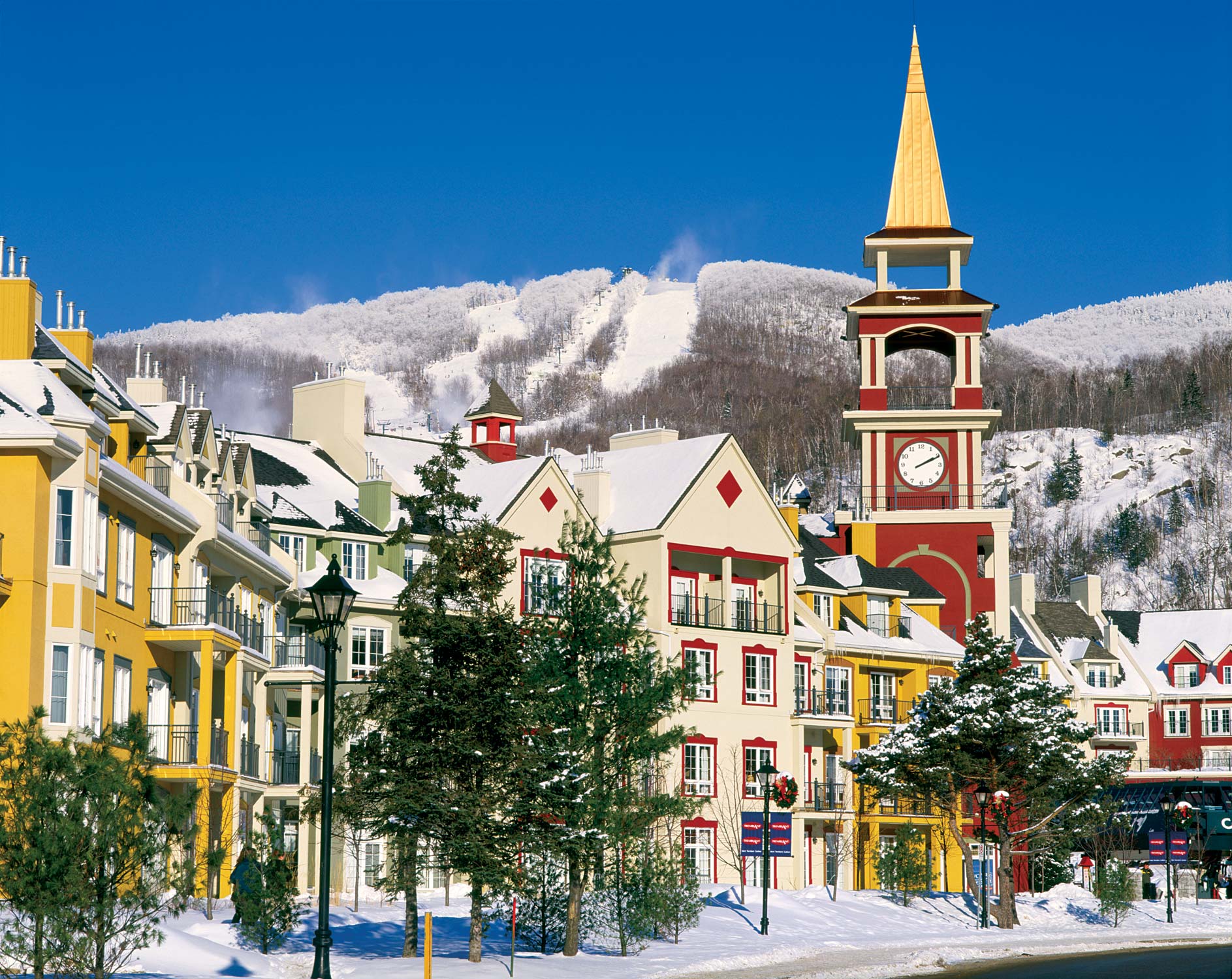 If looking for the best places to travel in Canada for December, January or February, Mont Tremblant should absolutely be a top contender. The ski resort town nestled in the mountains in the province of Quebec provides an action-packed getaway in the snow.
Mont Tremblant has it all: cozy chalets, mouth-watering and hearty meals, spas and of course, groomed runs and powder snow. A winter trip to Mont Tremblant is perfect for the active individual looking to get in a full few days of skiing or snowboarding while also getting an immersive experience in French-Canadian culture.
Less than two hours of a drive away from Montreal and six hours from Toronto, Mont Tremblant is accessible and an easy location to add to a trip to either of these urban hubs. When there, make sure to snap several photos. With its snow-capped trees, super cute lodges and Christmas-card perfect town, Mont Tremblant is a Canadian destination basically made for Instagram. Easily, it's also a best place in Quebec for visiting. Just saying!
6. Toronto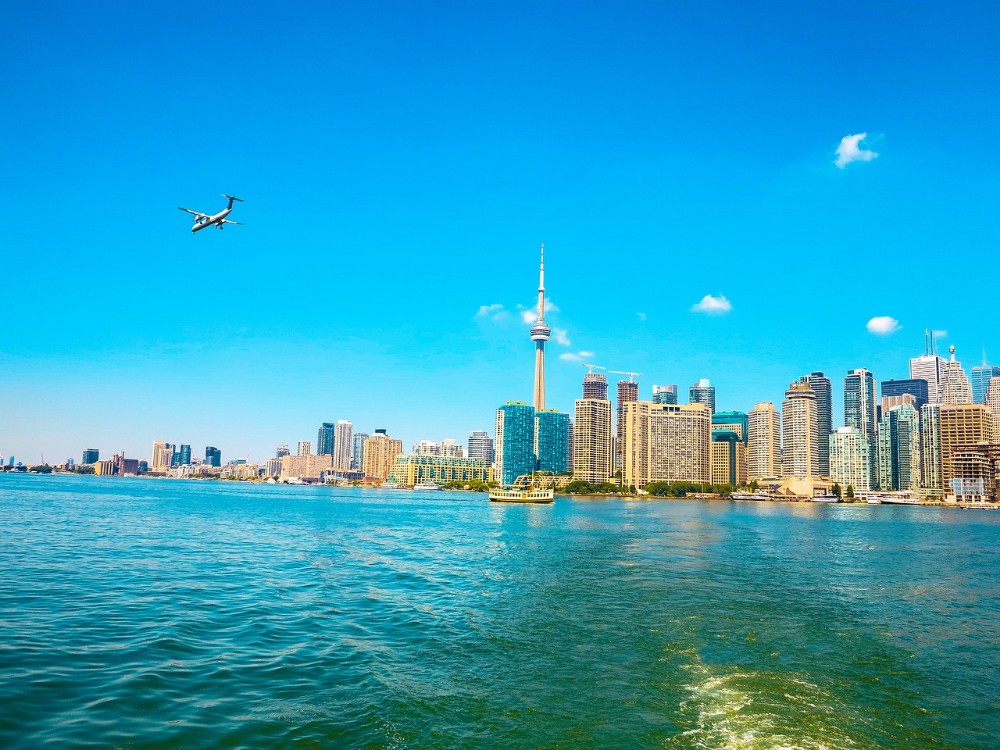 Arrive in Toronto with an empty stomach and an open mind towards ethnic cuisines, new food trends and creative culinary fusions. Food is one of the things Toronto does best and since it's Canada's largest city (note: it is NOT the capital, Ottawa is), it is home to folks of so many different cultures and creative backgrounds.
Explore the city's nightlife, green spaces, theaters and galleries. Venture outside of the downtown core to the west end to experience live music and adorable cozy bars. Maybe even take in a live jazz night or show of a local musicians – there are tons. On a sunny day, board the ferry on the downtown docks and experience a beach day on one of the three islands. Centre Island is a great place to go with the family, Wards offers a more low-key vibe and Hanlan's Point is good for the brave tourist who dares to bare it all. Note that the three islands are connected so if you wish to visit all, go for it.
For the traveler who like to shop, Bloor Street is host to boutiques of high-end designer goods to get your Prada, Gucci or Burberry fix. A more thrifty traveler will easily fall in love with the eclectic bohemian neighborhood of Kensington Market where stalls sell fresh produce and shops that smell like incense sell cute vintage finds. It's a city staple. Pro tip: don't dare leave the city without ordering at a good burger or plate of tacos and definitely do not miss one of the city's brewpubs that Torontonians are especially proud of. Bellwoods Brewery and Burdock are two favorites.
7. Tobermory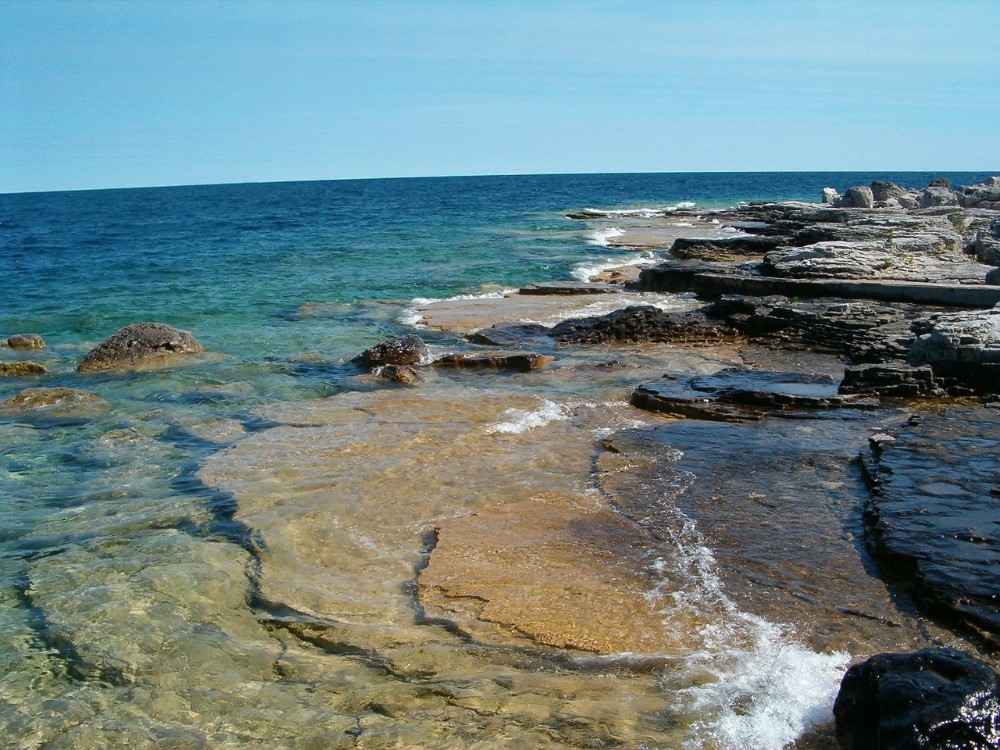 Tobermory has a lot of offer for a group of tourists scoping out Canadian geography but if adding this one to the bucket list, make sure to visit between late-May and early-September when the weather will be warm and the restaurants and ice cream shops are open for high season.
Tobermory is located in the province of Ontario and while many locals to the province know this summer destination well, it remains a hidden gem among foreign crowds. This town, situated along the Bruce Peninsula in what locals refer to as "cottage country" is a great spot to unwind while taking in stunning sunsets and a lakeside view. Outdoorsy visitors can rent kayaks or canoes to explore tiny islands dotted in Georgian Bay. If venturing out on the water, ask a local to point you in the direction of a shipwreck to explore from above. For the hiker in the group, the Bruce Trail earns Canadians bragging points. This unbelievably beautiful trail on the Niagara Escarpment leads fit groups right to the tip of the peninsula. If staying for more than just a few days, head to the docks and board the Chi-Cheemaun ferry for a mini trip to Manitoulin Island which, sitting in Lake Huron, is the largest freshwater island in the world.
8. Niagara-on-the-Lake
If you're heading to Toronto, chances are you're also adding Niagara Falls to the itinerary. Niagara Falls is one of the great wonders of the world and any Canadian will tell you that the horseshoe falls on the Canadian side are way more awe-inspiring than the falls residing on American land. (No offense to the Americans…)
Most tourists already know what makes the falls a must-visit during a Canadian adventure: the gallons of water that endlessly pour off the sheer drop are equal parts terrifying and stunning. Plus, the region is extra lush and a beautiful Canadian destination in the summertime. Most tourists tend to flock to the shops, casinos, restaurants and haunted houses on the bustling Clifton Hill which is, in a sense, Canada's answer to Las Vegas.
Visitors who are seeking a more tranquil vibe however should venture to Niagara-on-the-Lake. Downstream from the powerful falls, this town is the definition of quaint and charming. A night or two in a local bed and breakfast will easily be the trip highlight. If visiting for the day, head to a winery or consider having a picnic by the water.
This town really does look like a page from a fairy tale and while souvenir shops close to the falls will boast having the best trinkets to bring home, the best gift for a loved one back home is a bottle of Niagara wine. Niagara Falls is the best place in Canada to sample wine since the constant mist in the area provides lush vegetation. And in the wintertime, many vineyards collect frozen grapes to make sweet and syrupy ice wines to pair with desserts of potent cheeses. If you want a true Canadian creation to satisfy the palette, that's it.
9. Churchill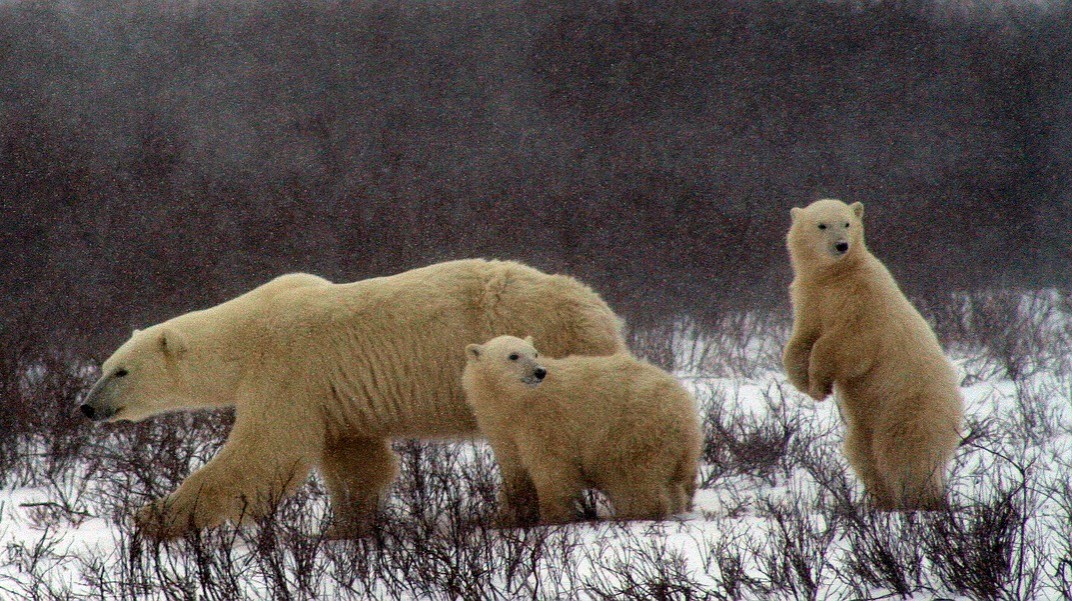 Manitoba is often an overlooked and underrated Canadian province and for those who let it slip their radar, they're really missing out. Let it be known that this is a top winter destination in Canada for sure. (And considering that it's so far north in the country, winter is one of the only seasons on offer.)
Churchill is located in Manitoba in the middle of the country and rests in one of the northernmost corners of the province along the shores of the iconic Hudson Bay. While located quite far out of the way for many travelers, Churchill has a couple claims to fame that makes it a must-see destination particularly for the adventurous type. This town has a subarctic climate and is known as the polar bear capital of the world and one of the top three spots to observe the northern lights. Starting in October, this spot is home to a large population of polar bears which can be viewed on tours in tundra vehicles. (Those with time on their hands can even do a multi-day polar bear excursion.)
If attracted to the great white north to view the incredible aurora borealis, book your flight somewhere between January and March where the colors of the lights are at their most vibrant and the skies are extra clear. Later in the year, when the ice breaks a little, beluga whales can be spotted. Visiting Churchill is for a certain kind of traveler. If outdoor activities and frigid temperatures don't phase you, it's a go. During the visit, expect to stay in a wood-fire lodge and maybe even take in the Itsanitaq Museum which displays stunning Inuit art.
10. Canmore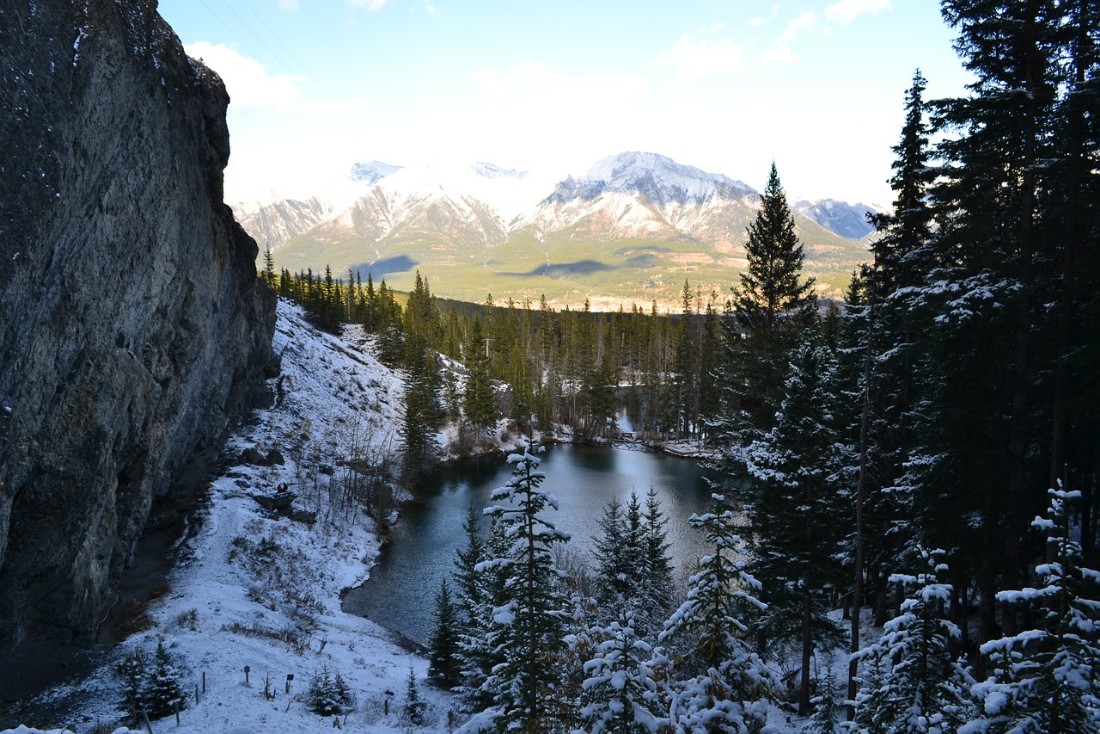 Canmore, Alberta is the kind of place a tourist can appreciate year-round. This mountain escape is picturesque and just the place to go for rejuvenation and outdoor fun. Canmore is located in the Rock Mountains so someone stopping by for the first time can expect crisp, fresh air, the scent of pine and that classic Canadian charm. Visit in the winter and a group should absolutely plan to ice climb or strap on a pair of cross-country or downhill skis. Animal lovers who love the snow will also love to know that dog sledding tours are offered in town (that will be an experience to write home about). In the summer, locals like to climb, golf, fish and hike.
After a trip to Canmore, expect the fitness level to improve. Of course, on lazy Sundays or nights when chilling and relaxing are the only thing on the agenda, Canmore has plenty of spas and restaurants serving delicious comfort foods to choose from.
11. Vancouver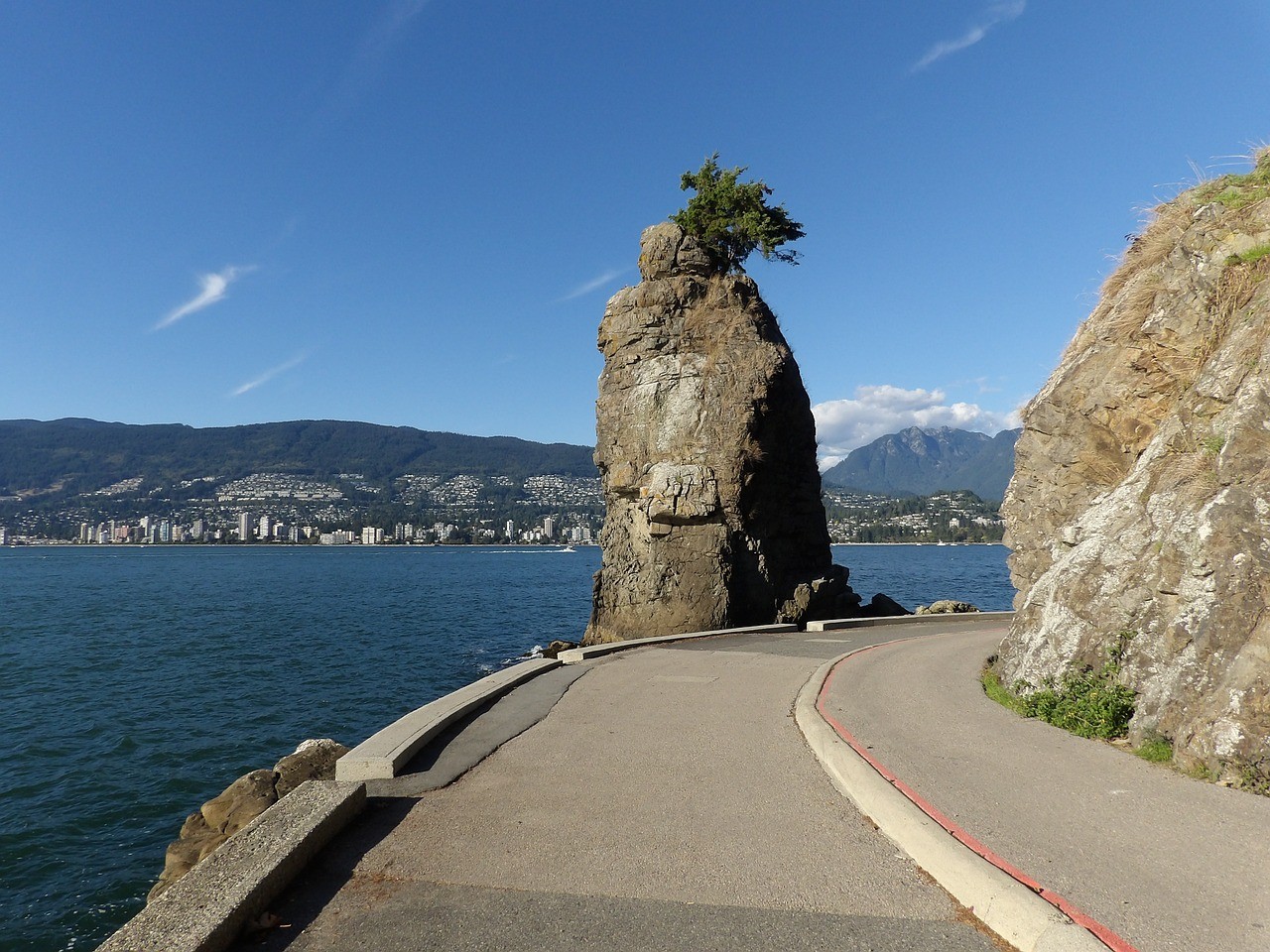 Vancouver is one of western Canada's most popular hubs for for citizens and foreigners alike. If you're looking for both a big Canadian city and a place to explore the great outdoors, it doesn't get better than Vancouver.
Van City offers mountains and beaches with scenery so pretty it's hard to believe it's actually real. Those who live in Vancouver generally have an active lifestyle and garages full of bicycles, kayaks, camping gear and paddles because this city truly is a playground for those who love to immerse themselves in nature. Visitors should follow suit and there's no shortage of ways to do it. Definitely plan a day or two exploring Stanley Park and marveling at its massive redwood trees and expertly-carved totem poles. The 400 hectares of park in the west coast rain-forest has been ranked one of the top 25 parks in the whole world and when traveling here, it's easy to understand why.
For an active morning, plan a run or walk along the 5.5-mile seawall route. Afterwards, take the ferry to Granville Island for a meal of fish and chips. If there's energy remaining, sea kayaking in these Pacific waters in an experience that you won't forget. A trip in Vancouver is a great way to blend hiking along mountain trails with sampling the food and nightlife scenes in neighborhoods like Gas Town and Commercial Drive. Of course, plan for a beach day. Spanish Banks is a gorgeous area to bask in the sun as is Kitsilano and the not-so-creatively-named Third Beach in Stanley Park.
12. Yoho National Park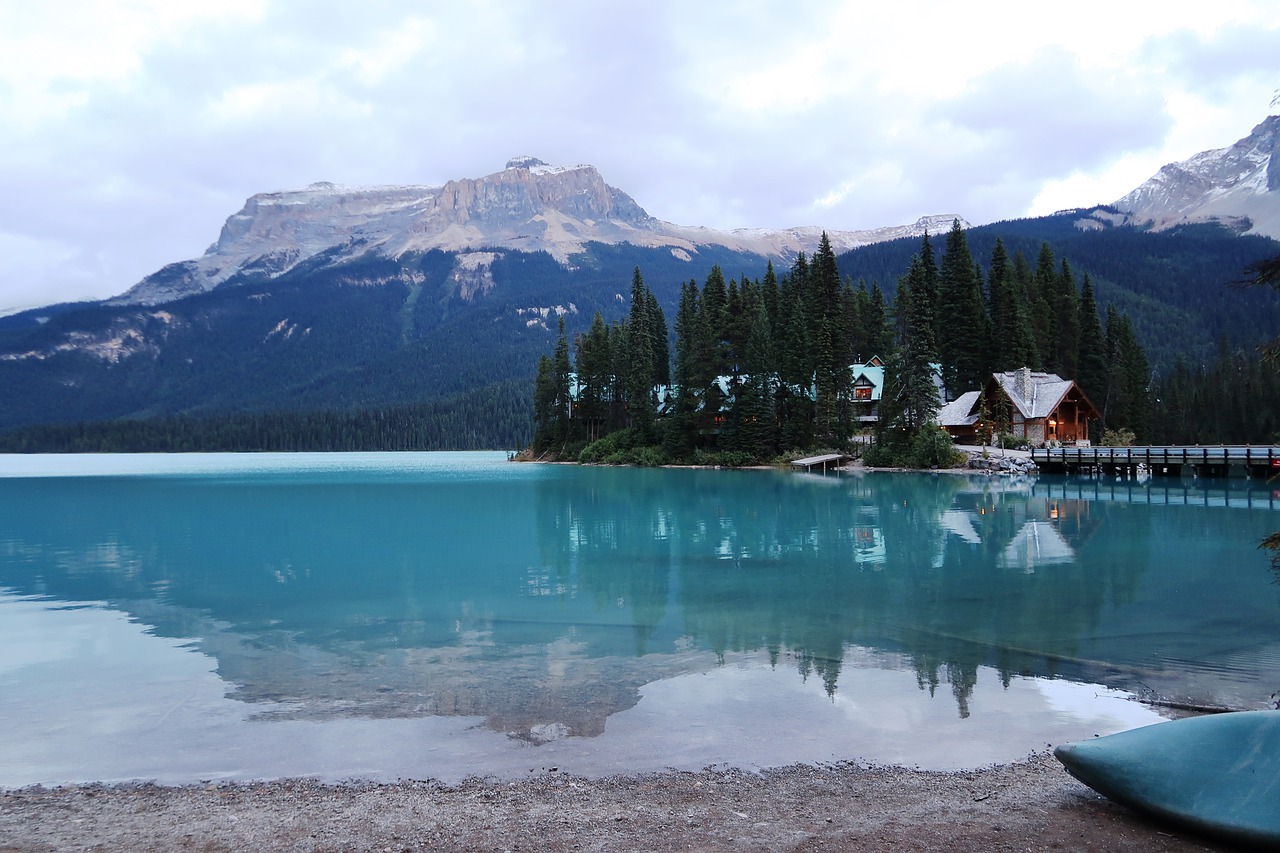 Yoho National Park is easily one of the prettiest places in all of Canada – and in a country so vast, that's saying something. While tourists and new Canadians may have all heard of iconic parks like Banff National Park and Jasper, Yoho is a treasure located in British Columbia in the Canadian Rocky Mountains that is perhaps more worth your vacation days.
Yoho (meaning "awe and wonder" in Cree) is the place to go for anyone who craves a great backcountry camping experience or hikes in some of the prettiest natural terrain the world has to offer. Note: if sleeping in a tent isn't your style, huts are also available for rent.
The park has about 250 miles of trails worthy of exploration. Within its boundaries, it also has 61 lakes and ponds, 28 mountains peaks, waterfalls, rock faces and heights of 9,800 feet. Hiking the Yoho Pass is a two-day adventure that links visitors with Emerald Lake and Takakkaw Falls. Emerald Lake is one of the park's most treasured points of interest and the biggest of the lakes that reside in Yoho. Yes, it's also just as majestic as it sounds. Other points of interest include Ice River, Yoho Valley, Laughing Falls, Amiskwi Valley and Kicking Horse Pass. Come with the camera ready.
13. Tofino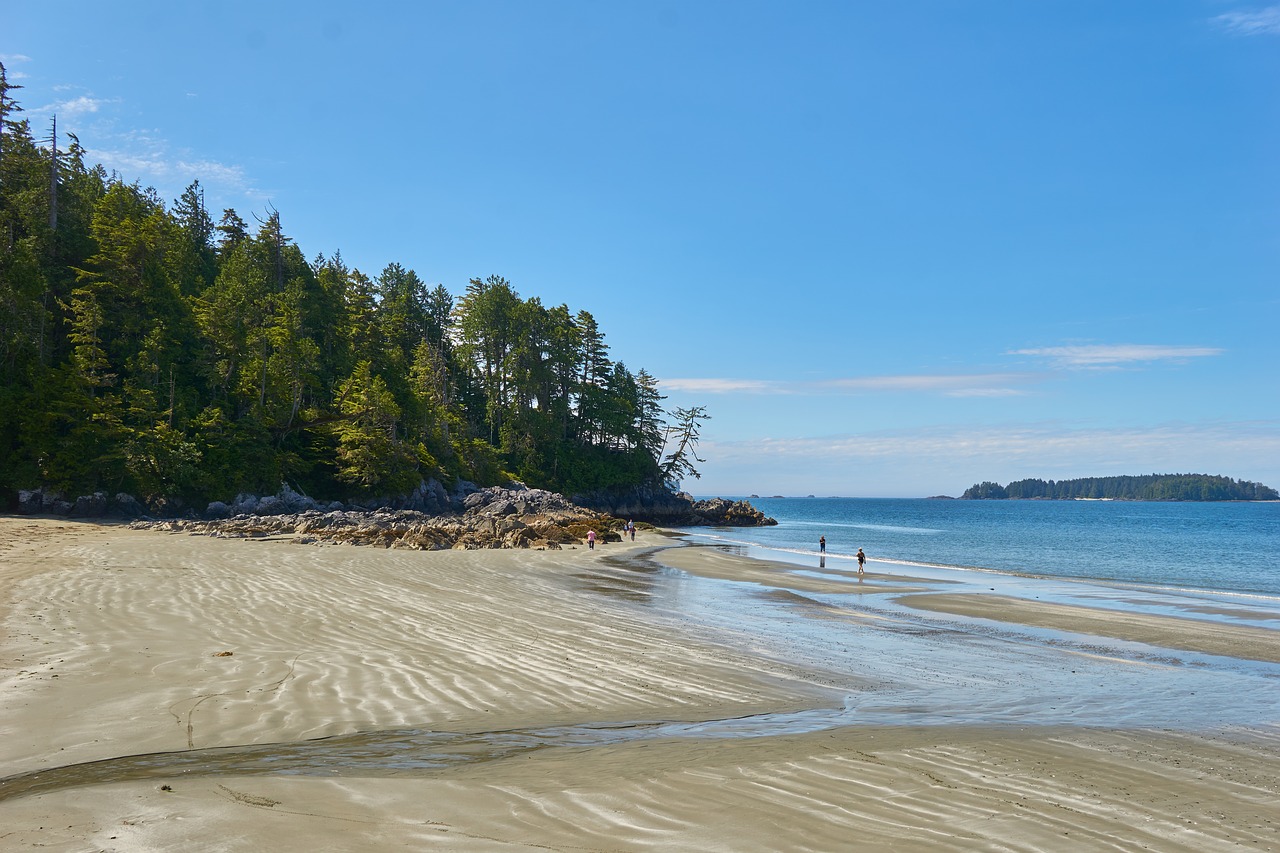 Located on the Pacific Coast, Tofino is a paradise for beach bums and surfers alike. This spot is known among Canadians for being one of the best spots to visit in Canada not just in summer but year-round thanks to its mild climate. (Though, don't expect hot temperatures past September.)
This dreamy surf town sits on the west side of Vancouver Island and is a rather majestic place to unwind and recharge after stressful spells at the office. With its moody skies, massive waves, stretches of sandy beach and lush forests that look like something out of a fantasy movie, Tofino is a destination to remember. It is, after all, a UNESCO biosphere reserve. Its surfing is the main attraction. Staying here for a few days, travelers have a chance to put their surf skills to the test. A stay in Tofino is best for the adventurer who enjoys a good workout and is ready for days full of action.
After burning all those calories, replenish your body at one of the town's many restaurants and cafes. Yes, Tofino is small but the food scene is not. Expect to be tempted by the many pizzerias, tacos spots, bakeries and, of course, fish and seafood joints. Real foodies can even sign up for a food tour during their stay.
14. Dawson City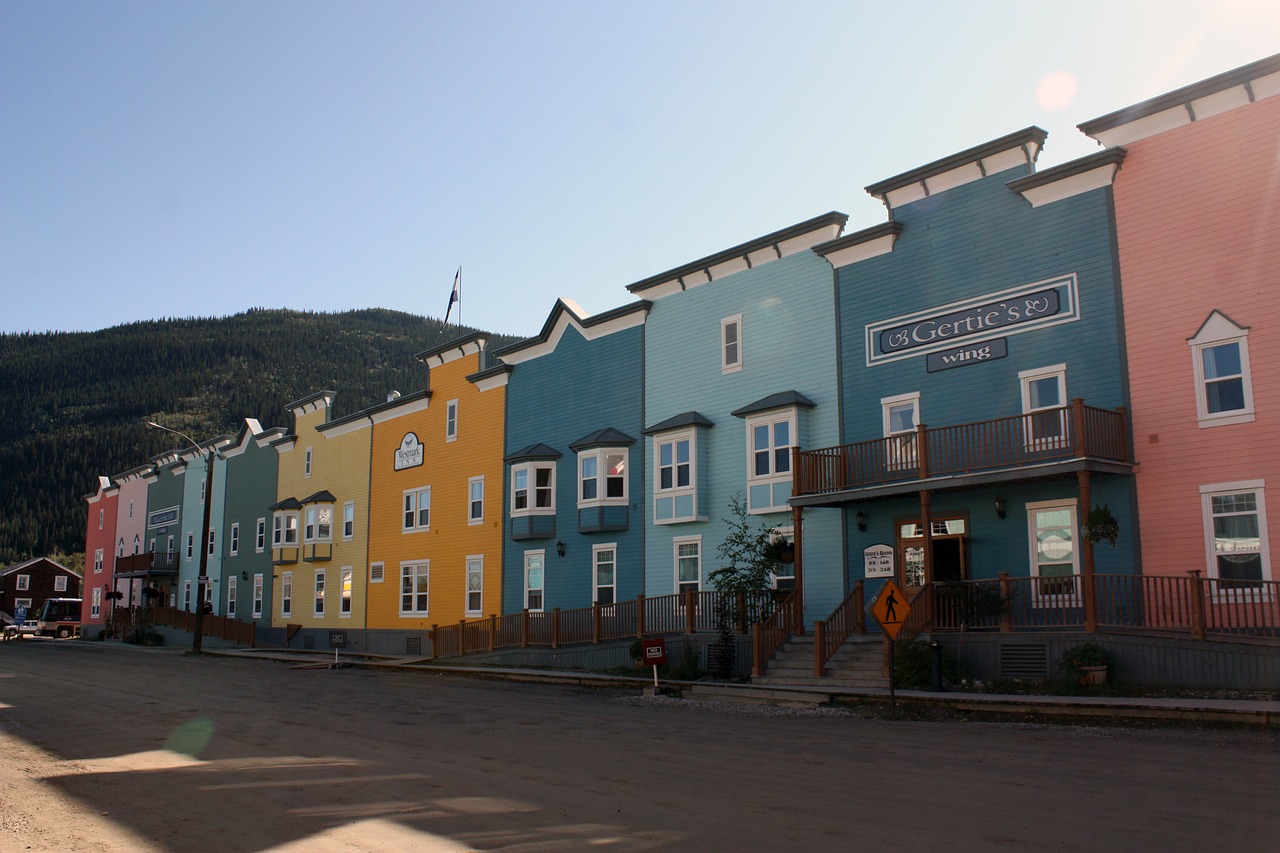 Dawson City, located in the Yukon in the Canadian north, is one of the most original and unique towns in the entire country of Canada. (Note that it's named Dawson City however its small population of 1,375 definitely qualifies is as being a town, not a city.)
This northern hub that sits on the banks of the Yukon River was made famous as a spot that thrived during the gold rush era of the late-1800s and early 1900s. It's a Canadian National Historic Site and going for a jaunt in this Yukon town, its gold rush roots will certainly be revealed. Surely upon visiting this obscure Canadian town, a visitor will fall in love: the streets are lined with old-school saloons and storefronts that give away its history.
Today, Dawson City is a unique haven for artists and miners alike and if you're into exploring nature, the geography can offer a lot. The Yukon River, for example, is the fourth longest river in the world at 2,200 miles and Tombstone Park is home to black bears, grizzlies, caribou and moose. In other words, bringing a pair of binoculars and camera gear is a smart idea.
Oh, and if there's a daredevil travel buddy in the mix, there's one rather grotesque challenge waiting at the Downtown Hotel. There, bartenders serve brave patrons a "Sourtoe cocktail." It is quite literally a cocktail containing a floating, mummified toe that has been a weird bar tradition since 1973. "Toe time" is between the hours of 9:00 and 11:00 p.m. and if the toe goes missing on your watch, there's a steep fine of about $2,500.
Best place to visit in Canada FAQs:
When is the ideal time of year to visit Canada?
When planning a Canadian vacation, time of year is an important factor to consider. Since Canada has four very distinct seasons, visitors need to know if they should be expecting winter, spring, summer or fall conditions. If cold weather isn't your thing and you prefer sunny, hot days for beaching and park lounging, plan to go during the summer months (June to mid-September).
If you're hoping to see a true Canadian winter and perhaps try your hand at skiing in the Canadian Rockies, December through to March is the best time to go. Of course, don't overlook the fall season when trees in the country turn shades of yellow, red and orange. If hoping to see this glorious phenomenon, October is the best time to book a trip.
What languages are spoken in Canada?
English is the main language in Canada and is spoken in most parts. The second language however is French and is mainly spoken in the province of Quebec. Big cities in this province (like Montreal and Quebec City) will be mostly bilingual so visitors will be fine if they don't speak French. If planning to check out more rural areas or small towns in Quebec, brushing up on your French is not a bad idea.
What activities should I make sure to take part in?
If you and your travel buddy are visiting Canada in the summer, don't miss out on the picturesque hiking available. Super outdoorsy people should make it a priority to pitch a tent and camp in one of the country's national or provincial parks. (A long weekend of camping is kind of a Canadian right of passage.) Another summer gem: canoeing in one of the country's many gorgeous lakes.
If visiting in winter, try skiing or tobogganing and don't forget to warm up with a hot cup of apple cider as a reward for braving the cold. Activities like skating or going for a walk in a snowy forest are also popular among Canadian folk. Take into account what you want to do on your trip before deciding where to go in Canada!
Which city is the best one to visit in Canada?
Canada has plenty of vibrant cities full of great restaurants and rich culture. For tourists, the two most popular cities are Toronto and Vancouver. The country's capital city however is Ottawa (located in the province of Ontario) so if you're planning to stop by Toronto for a few days, make a point of taking a bus to Ottawa as well. Ottawa is one of the coolest places in Canada, but it loses out to some of the nation's other cities. However, if you're visiting, check out Parliament Hill, the Rideau Canal, ByWard Market, and the awesome Canadian Museum of History too!
Which months are the coldest in Canada?
If frigid temperatures are rather intimidating and something you wish to avoid during your travels, know that the coldest months are January and February. A white Christmas in Canada is almost certainly a given and when the calendars turn over to the new year, the temperatures are at their coldest. This northern country has a reputation for being cold and it absolutely will be from late-November to mid-April. That said, it's not icy all year. In summer, it's going to be just as hot as many places in South America, for example.