Located in Western Europe in the South Balkan peninsula, Greece is a country that's considered to be the bassinet of Western civilization, having had a tremendous impact on philosophy, art, and politics as we know it. From its pristine island beaches (that number over two thousand!) to the capital of Athens, to its mountainous landscapes, Greece and the Greek islands have become a popular tourist destination for those around the globe.
When is the best time of year to visit Greece? Well, depending on the season in which you choose to travel to this mystical land, the experience can be vastly unique according to the season. Regardless, this country is beautiful to see year-round.
So, let's help you make a decision as to when you want to visit this land of the ancient Gods by diving into what to expect weather-wise in regards to the best time to travel to Greece!
Spring in Greece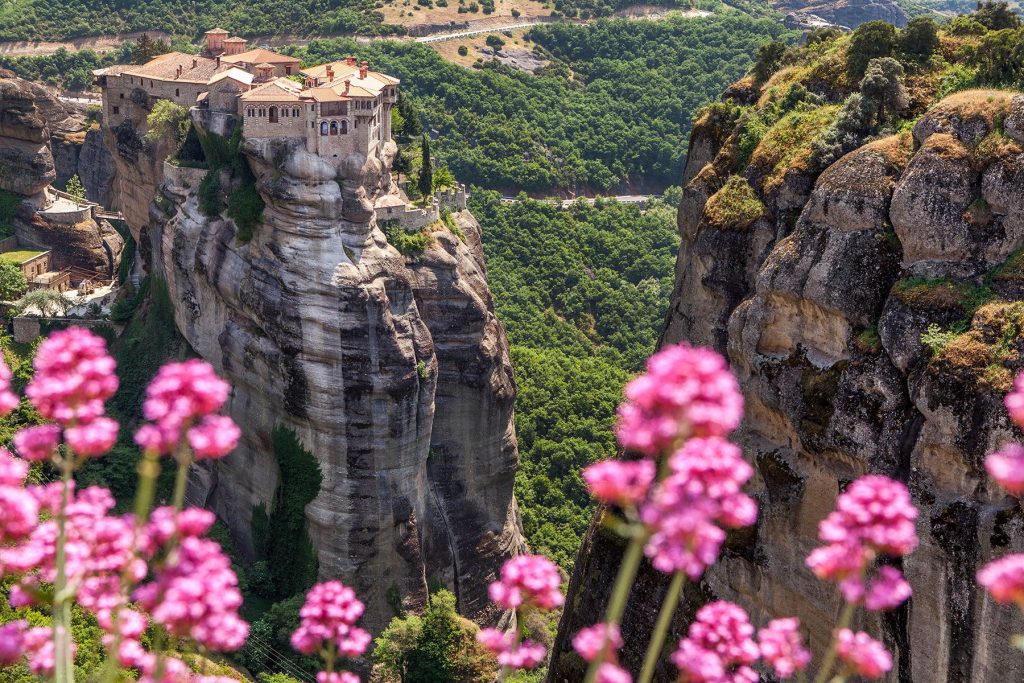 April to June are the Springtime months in Greece that give rise to the blossoming of the wildflowers that paint stunning scenery as far as the eye can see, amidst perfect weather.
Springtime in Greece proves to be rather peaceful, as most tourists have not yet arrived.
April and May in particular offer an abundance of fresh vegetation, warm water, and overall pleasant weather- it's the most fitting time for sightseeing, without the sweltering heat. You'll even see the lizards start to emerge to bask in the sunshine.
May 25 is one of Greece's major holidays – Independence Day, a significant celebration which also commemorates the beginning of Spring. Another highly esteemed festivity by the Greeks is Orthodox Easter – just know that Easter time can be busy with many locals traveling the country during Holy Week. Also, some main tourist attractions may not be open during your trip to Greece.
The beaches in Greece are worth a visit in Spring due to the lack of crowds and mild temperatures. If you are intent on going for a swim, try one of the Greek islands – Crete, the Ioninan Greek Islands, or Peloponnese for an outstanding excursion.
March and April feature temperatures in the sixties, that warm up to the low seventies by May. This jaw-dropping weather is why many consider Springtime to be an ideal time to go to Greece.
When is the best time to visit Athens, Greece? From May to June, you'll experience ideal weather, in addition to the college students classes being in session, which frees up space on the beach for you to relax on.
The weather actually stays quite warm in Athens all the way up until the beginning of September – so you have more than one option when it comes to choosing a great time to visit Athens, Greece. This is a good scene for enjoying lunch at an outdoor restaurant, exploring the city and countryside, and for hitting up the beach.
*This season is the best time to visit Corfu, Greece, home to charming villages, winning beaches, and a plethora of historical museums.
Summer in Greece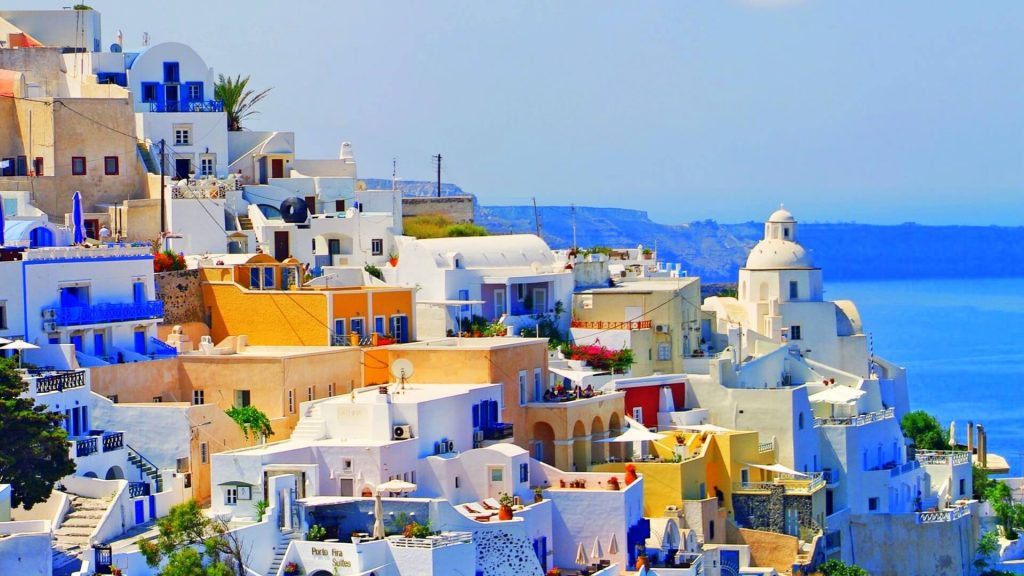 The sweet months of Summer in Greece range from July to September, where you can expect temperatures of ninety degrees Fahrenheit on the regular during daylight hours, and cool, dry, nights.
Summer is high season for tourists, where the weather is generally cooler and not as windy, and when the waters are at their warmest.
When is the best time to visit Greece? Well, Summer is the best time to visit one of the most popular Greek islands, Santorini, where millions flock to party at night and soak up the sun during the day. Bring the social, fun vibes if you plan on booking your trip to visit this city.
June (and September!) is the winning time to visit Greece or the Greek islands for honeymoon affiliated shenanigans. Who says you can't make your own honeymoon plans any month of the year, though, during your vacation in Greece?
Summers are famous for being hot – think 40 degrees Celcius, or 100 degrees Fahrenheit. So, remember to pack a hat and sunscreen for this peak season. The warmest interval of this period is typically the last ten days of July and the first ten days of August. So, if you can make it through that, you've made it through the worst.
If you like the idea of a neverending Summer, this is the best time of year to visit the Greek island Crete, Greece, for Summer seems to last the longest here.
This is also the best time to visit Mykonos, Greece, as it's one of the Greek islands prime locales for hoppin' nightlife and sultry shorelines. Bring the party vibes, though, for this city is renowned for hosting gatherings around the clock.
*Visit the Acropolis Museum in Athens – try having a cup of coffee on the top floor of the museum and soakin' in the view during this prime time to go to Greece.
Autumn in Greece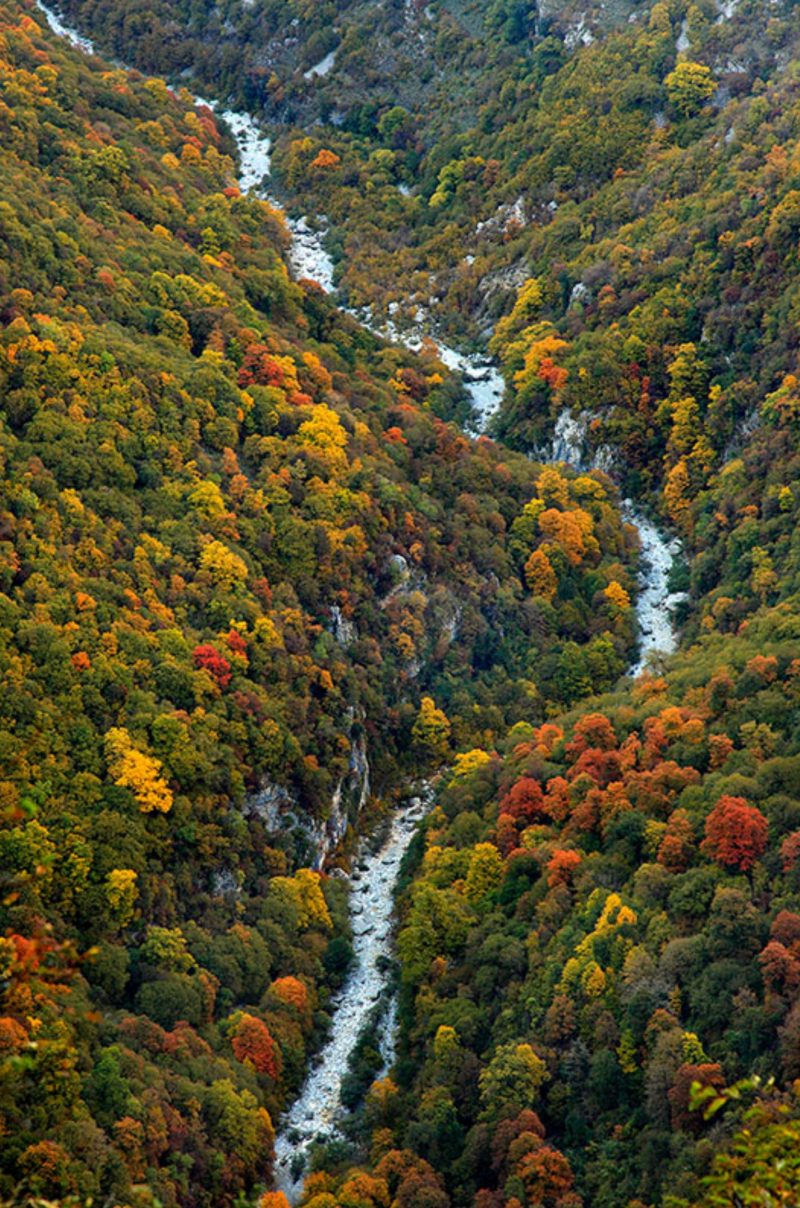 Fall is peak harvest season in Greece, so it's an ideal time to visit this part of Western Europe if you love fresh fruit and the many shades of red and orange that make their debut as the leaves change color.
Autumn in Greece is considered by some to be the most beautiful season, even more so than Spring.
The first rains arrive in mid-September to early October, but do pass rather quickly and open up to clear skies. You won't have to concern yourself too much with windy weather conditions in Greece, as it's just not an issue.
Many say that Autumn is the best time to visit Greece weather-wise, as the temperature is relatively warm and enjoyable. It's an enjoyable time to go hiking, and to explore the golden autumnal colors all around. In early September to mid-October, provided it's not raining too much, you may even still see folks swimming in the warm sea. And yes – it's warm, just not quite as warm as it was in Summer.
If you find yourself near the Greek islands during the season of change, expect to enjoy the warm weather, and be on guard for possible drizzles during September.
Earth's bounties return full-circle come Autumn. If you are a fan of wine, September is grape-harvesting season, so it'd be a superb time to check out the country's wineries. Come October and November, you might be able to see locals collecting their olives from the groves.
*Try the zest of Fall. Snack on some ripe walnuts and chestnuts, pomegranates, quince, or persimmons. If you are lucky enough to be in the mountains, you'll have access to wild mushrooms that you can cook up, if you so desire!
*Or, visit and saunter around the old town of Chania with its celebrated fortress and intriguing lighthouse that are available to tour.
Winter in Greece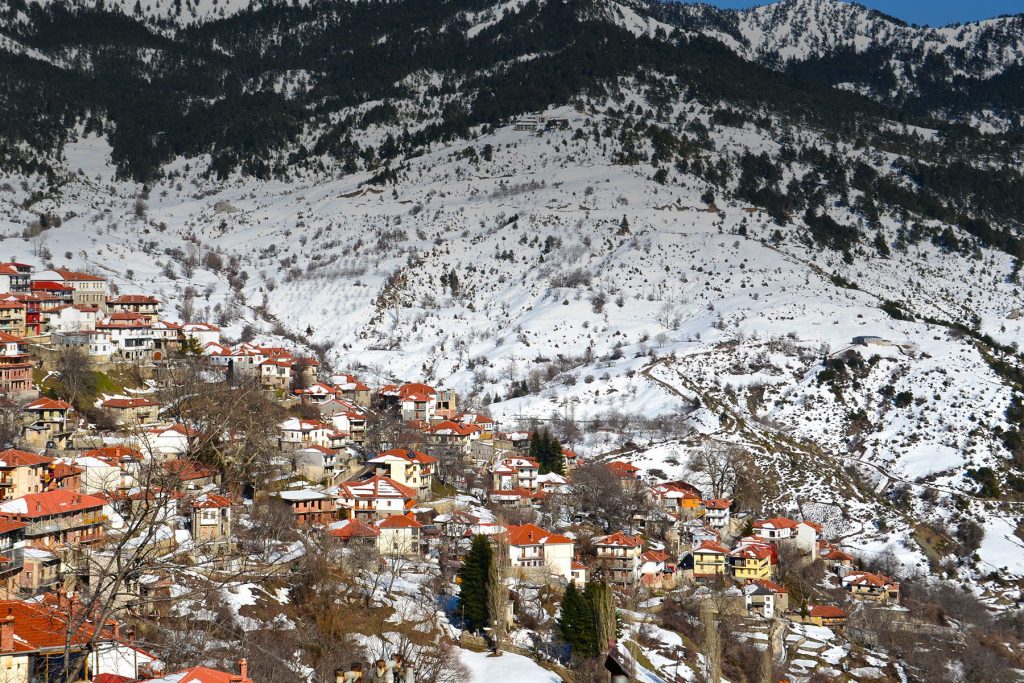 Greece experiences a Winter of temperatures in the upper fifties (in Fahrenheit) for most of the season, and weather that fluctuates from being dry and sunny to overcast and drizzly throughout the season.
Considered by many to be the best time to visit Southern Greece, the temperatures can reach up to sixty-four degrees Fahrenheit during November and December. It's almost too good to be true!
This is certainly the least crowded time of year to visit Greece, so it tends to be a bit quieter, if you're looking for a more placid stay.
Bear in mind some of the shops and services will be closed for the season if you decide to travel at this time, but some still consider Winter time to be a perfect time to visit Greece, nonetheless.
If you are a fan of skiing, winter is an excellent time to visit the mountainous regions of Greece, and if you come during January – it's the height of ski season.
Perhaps you have contemplated travel to the Greek islands during these seemingly colder months. If you decide to bite into this apple, know that the weather really won't be that cold. It won't be warm enough to go for a swim, but it will be a pleasant temperature for an afternoon stroll or a sunset picnic. It can be just as memorable to walk the shoreline as it can be to swim in the waters with the white edifices of the Greek islands, and your trip would be cheaper, overall!
Despite it being Winter, temperatures still stay pleasant in the cities along the coast, and is undoubtedly the best time to travel to Greece if you're looking for no-hassle weather.
*If you find yourself in Northeastern Greece during this time of year, check out one of the most well-known Santa Claus villages on the planet – Oneiroupoli. It's a theme park in the municipal gardens of Drama that offers things to do for the whole family, like the chance to explore small wooden houses, take a train ride, or sample Christmas treats and drinks.
FAQs:
When is a great time of year to visit Greece on a budget?
If you decide to visit Greece during the months of March, April, May, October, or November, expect to find reduced hotel fares. This is perfect for those of you trying to bring the whole family, while still being mindful of how much you're spending while on vacation. Even if you're just planning a solo trip, this could be a great time to visit Greece if you'd like to be able to save on a hotel, while splurging on other items.
If you're planning on visiting the Greek islands, plan to go during a time other than July through September, as prices can double, particularly in Santorini and Mykonos, as the number of visitors can exceed the available hotel beds.
As for booking flights, keep in mind these handy travel tips – high season in Greece is June and July, so expect fares to be a bit on the pricier end, whereas if you wait until January to buy, they will be significantly cheaper.
So, if you want the lowest fare, January would be the best month to visit Greece.
When is an ideal time to visit Greece beaches?
As far as beaches are concerned, the best time to tour Greece is in June and September. The water is considered to be a bit on the colder side in May (but some travelers do find the water to be an acceptable temperature to swim in). As for July and August, it can become a bit crowded with beachgoers. If you're okay with this – go for it!
If you just can't make it to Greece between June and September, be mindful that October weather conditions can sometimes be favorable for those of you that have your heart set on swimming.
June to August is an excellent time to visit the Greek islands, as the weather is hot and basically asking you to swim in the cool beach waters!
When is the best off-season time to visit Greece?
If you're looking for the best time to visit Greece to avoid crowds, May and September are ideal months to plan your trip. This is the best time to appreciate Greece's natural beauty, without an overwhelming number of travelers.
Most people have either not arrived in the country yet, or are departing for the season, leaving ample space for touring the streets, leaving more hotel room vacancies during these Greece seasons.
What's the best time of year to visit Greece?
The determining factor depends on what you intend on doing activity-wise.
Any time of year can be the best time to visit this country and the Greek islands, depending on your perspective and plans.
Summer is the busiest time for tourism, so avoid travel during this season if you're trying to avoid crossing paths with other gallavanters.
So, your decision is purely a matter of your personal preference and intentions.