Cape Cod, Massachusetts is, for many, a much-deserved getaway from all the stress of daily life. Boasting more than 27,000 acres of breathtakingly beautiful beaches and landscapes, Cape Cod is a gem of the United States and has some of the best beaches in the country.
Every year, thousands of people make their way from all over the country to Cape Cod beach resorts, Cape Cod beds and breakfast rentals, and even family homes. Vacationing in Cape Cod has become a tradition for many families who fallen so deeply in love with the area that they return religiously.
The beaches aren't the only thing that draws families here, though. Although it is true that the beaches are ample, have soft sand, and awesome weather during the summer, you can't forget about all the other amazing reasons to visit the unique Cape Cod.
There's a reason why so many people love the food here. Cape Cod has a very interesting and rich past. With hundreds and hundreds of years of fishing history, it's no surprise the seafood here is out of this world. You can count on restaurants in the area always serving fresh catch and it tasting delicious. As they say, you come for the beaches and you stay for the lobster.
But because everyone dreams of a different vacation, we're here to help you pick out the perfect Cape Cod beaches for you. Depending on what you want to do while you're in the Cape, you should pick a Cape Cod beach that fits your lifestyle. But beware! People plan their vacation up to a year in advance, so book your stay fast!
1. Craigville Beach, Centerville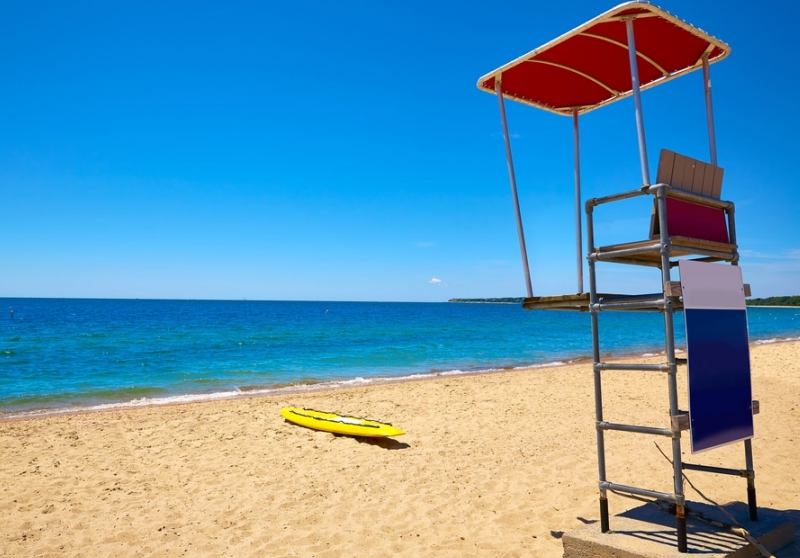 Located in Nantucket Sound in Barnstable, Craigville is popular among all kinds of beachgoers. Being one of the most crowded (and famous) beaches in the area puts it on the list of best beaches in Cape Cod for people-watching.
Craigville Beach is a well-known meet-up spot for people spending their vacation in Cape Cod. During Spring Break, you'll see flocks of muscly and well-built college students come here to take a break from all their school work. This is why many have nicknamed this beach as "Muscle Beach."
But it's not just young adults who get to enjoy the amazing Craigville Beach. This is an incredibly popular beach among families with children. The beach is very large, so children can have a lot more space to run around and play. The water is also calm and shallow, so even the less confident swimmers can try playing in the waters of the Atlantic here.
In the summer months, kitesurfing and swimming are very popular. You can rent some equipment nearby and try your luck with the sport.
However, none of this does justice to the charm that Craigville Beach has. With colorful chairs and umbrellas and a lot of interesting people around, a day at Craigville is never boring. Here, you'll see lots of different individuals having fun in their own ways at the beach. Why not spend some time people watching or striking up a conversation with a stranger, like in old times?
Lastly, accessibility to the beach is very easy. There is a parking lot that is open to residents and non-residents alike where you can leave your car when you get to Craigville. Fortunately, even if you're bound to a wheelchair, that won't be ruining your fun, as there are disabled access paths that lead to Craigville Beach.
2. Race Point Beach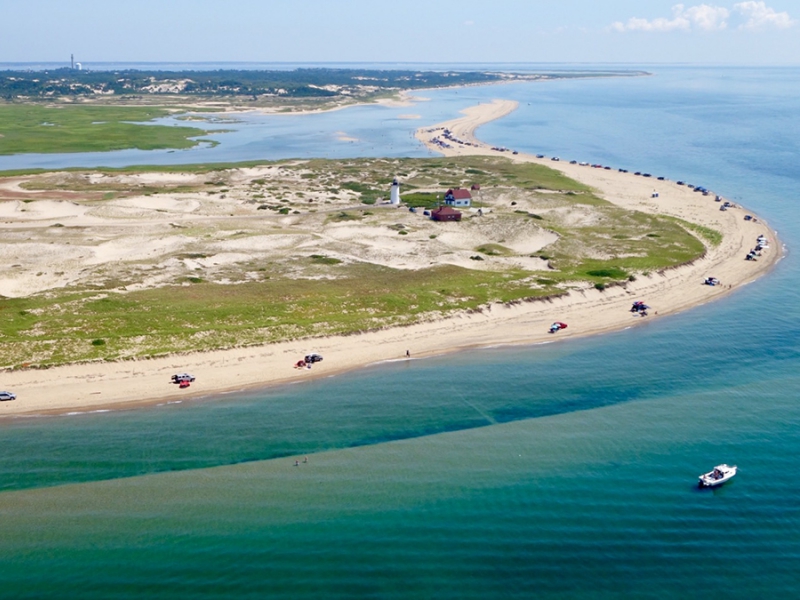 Did you know that Race Point Beach recently made it to TripAdvisor's 25-best-beaches list in the United States? It was right up there with tropical beaches in Florida and Hawaii! Even if you live near the northeast of the country, there's no excuse not to go to a beautiful beach.
This stunning beach is located right at the tip of the Cape Cod National Seashore beaches, way up past Cahoon Hollow Beach to the end of the cape. This means that the waters are a little more turbulent and faster. Be very careful when heading out to swim and mind the underthrow.
But even if you don't want to risk getting into the water because you're not the best of swimmers, don't worry. There's still much more you can do to make the most of your day here. The vast stretch of sand is soft and very comfortable, so you can lay down your towel and sunbathe here.
Alternatively, you could bring your pair of binoculars and try and spot the whales that pass through here during their migratory course.
If you're a fan of adventure and of exercise, why not rent a bike and explore the bike paths? The Province Lands Bike Trail is very close to the beach and it will lead you to Seashore Beach and to Herring Cove. You can also explore the sand dunes that you can see behind the main stretch of sand of Race Point Beach. Just remember not to step on them to avoid killing the plants that keep these makeshift mountains in place.
3. Nauset Beach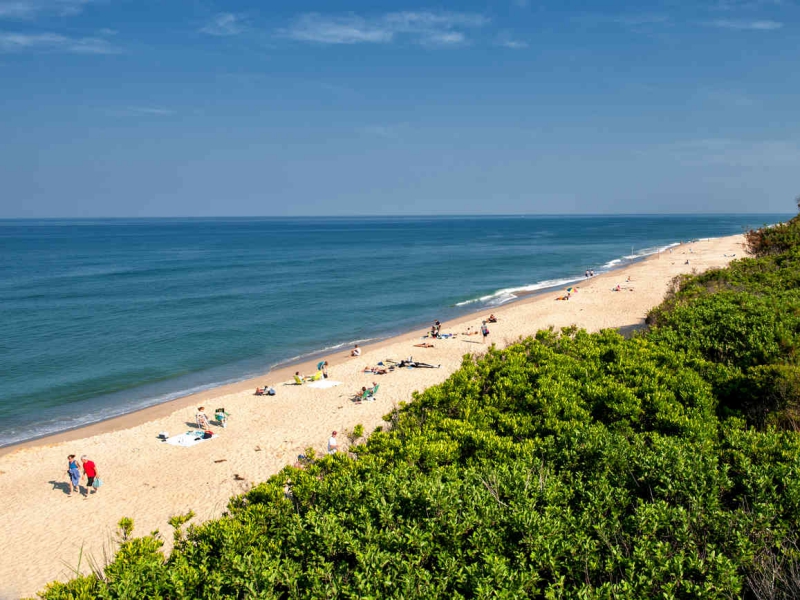 Located on the Atlantic side of Cape Cod, Nauset Beach has enamored travelers from all over the United States. But never was the beach more accurately portrayed than when National Geographic described it as "nearly perfect."
Nauset Beach is a popular, yet not-too-crowded beach. It's popular among people of all ages, especially those who are looking for a beautiful beach where they can spend a relaxing day in the sun. From early-risers to night owls, this amazing coastline has enchanted thousands of visitors.
The waves at this beach are perfect for sports practiced with a board. Be it bodyboard, surf, kitesurf, or windsurf, the Atlantic waves will put on a show and make sure you have a great time.
If you're more of a land creature, you'll love this beach's sand. It's one of the finest and softest in all of the beaches in Cape Cod MA, and definitely inviting to building castles or laying in the sun.
Fans of wildlife will be more than pleased to know that there's a diverse cast of animals that call this beach home. There have been sightings of eiders, seals, and even white sharks!
There are several bars and hotels right outside the beach. They serve local delicacies and drinks to tired and hot beachgoers. Visit one of these establishments and try their amazing onion rings, ice cream, or seafood.
4. Mayflower Beach, Dennis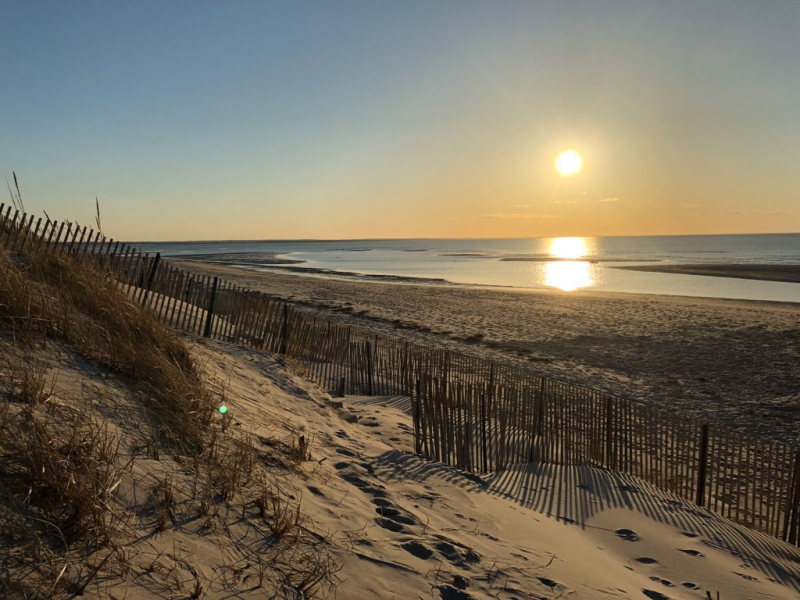 Loved and visited by many, Mayflower has the reputation of being the most scenic and stunning beach in Dennis. We'd even go so far as saying that this is one of the most beautiful Cape Cod beaches!
Mayflower Beach has a charming name that pays homage to the English ship that got to the shores of Massachusetts in the 17th century. While the ship Mayflower docked in Plymouth, it's the setting sun that seemingly docks in Mayflower Beach. This is one of the most photographed beaches at sunset in the United States, and with reason.
When the sun sets, Mayflower Beach seems to bloom. Every little thing that already looked beautiful during the day gets amplified and reaches the peak of its beauty. The golden sand shines, the calm Cape Cod Bay waters reflect the colors of the stunning sunset, and the birds start gathering in their nests. Mayflower is one of the most peaceful places at this time.
While you wait for the sun to set, there's a lot you can do. We highly recommend taking a long walk on the sand or on the boardwalk that cuts through the dunes. Look closely and you'll see how diverse they are and understand why everyone wants to protect them so badly. The sand dunes here really are their own little ecosystem.
When the tide is low, tidal pools are exposed. They're great for the little ones to play in under the watchful eye of an adult and have warmer water even for the pickiest kids. Marine biologists and basically anyone who is interested in the life teeming under the surface will get a kick of them too. Here, you'll see many underwater animals waiting for the tide to come and wash them away once again.
This is, without a doubt, one of the best beaches in Cape Cod.
5. Breakwater Beach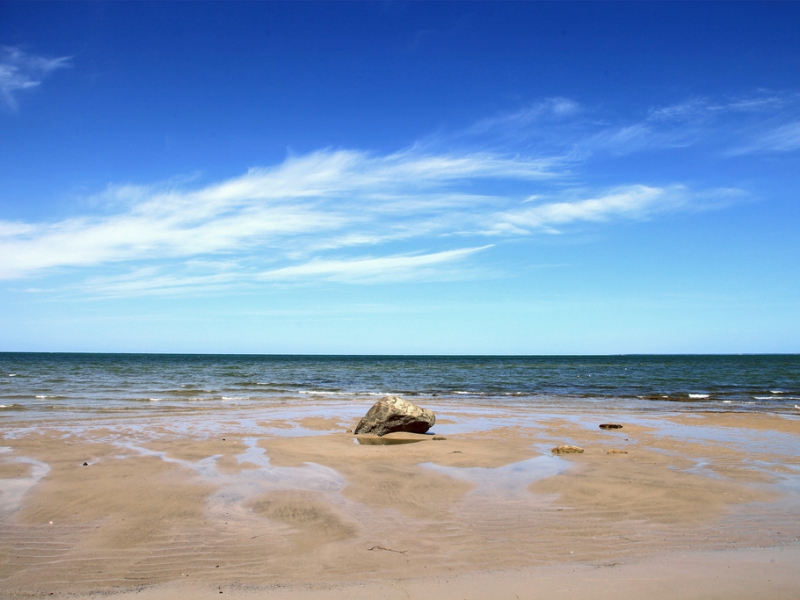 Sitting right on Cape Cod Bay, Breakwater Beach is one that is loved by many families. Stretching out for a mile, it's a great place to go for a swim and eat some ice cream after a long day in the sun.
The waters of the Cape Cod Bay are quite pleasant during the mid-summer months. They stay at a temperature of between 65 and 70 degrees, which makes it very inviting for a swim. Because they're also calm and there aren't rip currents hiding under the surface, swimming here is not only fun, but it is also safe — despite there not being a lifeguard.
Sand dunes line the seashore and draw a dramatic and beautiful portrait of Breakwater Beach. Looking for the small animals hiding in the dunes makes for an entertaining activity. The sand floor is also riddled with small seashells and picking it up to bring back home as a souvenir is a great pastime for the little ones.
To entertain your children, there's a jungle gym at the top of the beach. There, they can play around with their friends while you enjoy a peaceful day at the beach.
While it's not the largest of beaches in Cape Cod, it's certainly one where you can spend a lovely day either exploring or doing nothing, just sunbathing.
6. Town Neck Beach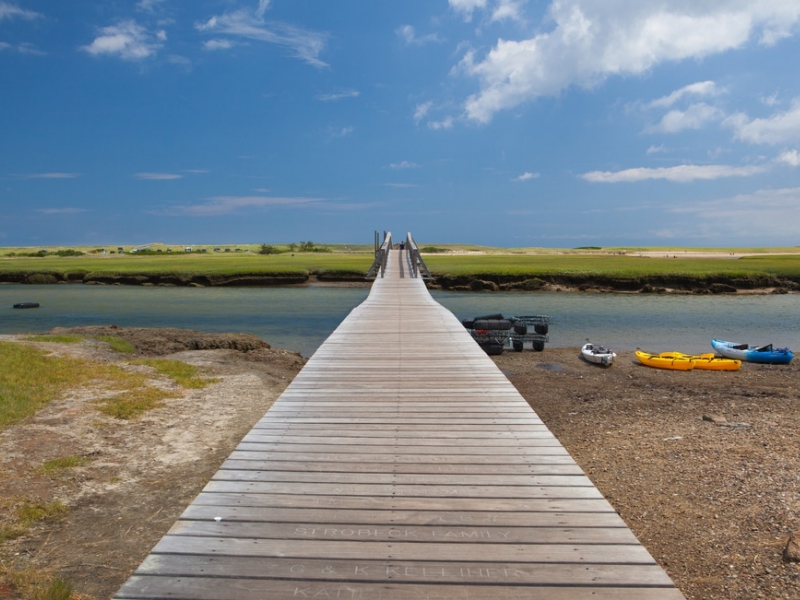 Town Neck Beach is located in Sandwich and is bathed by the waters of the Cape Cod Bay. If there is a beach more adequate for swimming in the Cape, we don't know what it is. Although this stretch is enjoyed mostly by youngsters, everyone is invited to come and have a great day out in the sun.
There are two main attractions that bring people to the Sandwich area. The first is the many sand dunes that line this beach. While the beach itself is rocky, the golden picture-perfect dunes that surround it make up for it.
The second attraction is the Sandwich boardwalk that stretches out for quite a bit. It even stretches over water for a portion of its length. Because of this, it's a common rite of passage to jump out from the boardwalk into the warm waters of Cape Cod Bay.
Since the waters here are clear, calm, and pleasantly warm, this beach is perfect for all swimmers — even those starting out! There are also attendants on lifeguard duty to protect anybody who might see themselves in trouble in the water.
But even if you choose to stay in your beach chair, you won't be disappointed. You'll be able to see some boats entering and exiting the Cape Cod Canal heading to and from the picturesque town of Sandwich nearby.
7. Old Silver Beach, Falmouth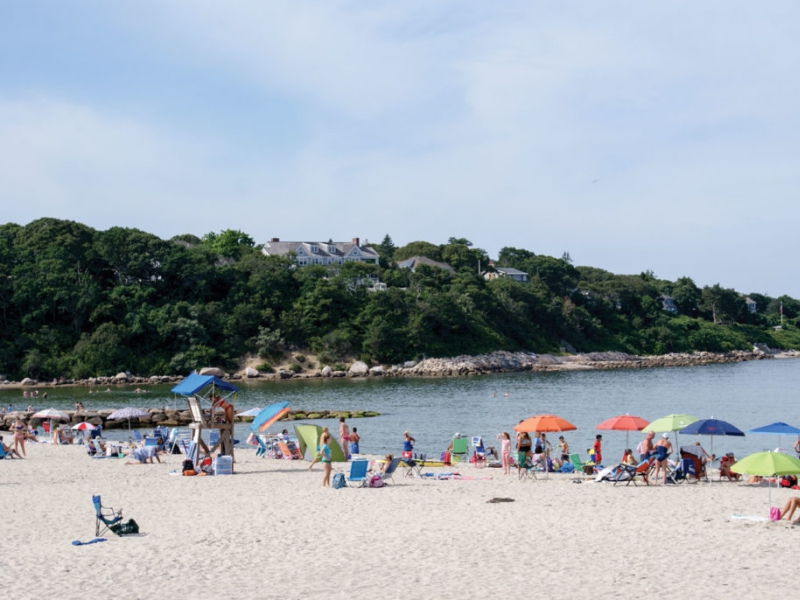 The place where the sand is white and fine and the water is crystalline and blue is Old Silver Beach. Located in the town of Falmouth, this is a longtime favorite that is divided into two areas: one for residents and another for visitors.
Old Silver Beach is bathed by the warm waters of Buzzards Bay. To the south, there's the Falmouth Cliffs, and to the north, there's a long stretch of sand where beachgoers gather. Not only are the cliffs beautiful, but the view you get of the bay is also fantastic and worth the visit.
When you come to Old Silver Beach you can go on long walks on the beach, whether it's high or low tide. The sand is soft, making it super comfortable to walk on it. There are also minimal shells on the sand, so you can walk during low tide without hurting your feet.
During high tide, it's common to see a lot of children boogie-boarding with their friends. You can also swim here to your heart's content.
If you get hungry, there are small beach restaurants and bars that serve delicious meals. Foods such as the all-classic BLT sandwiches, authentic Italian gelatos, and Mexican tacos can all be easily found at Old Silver Beach.
Keep in mind that because the beach is split into two, unless you're a resident, you may have to stick to the most crowded side of Old Silver Beach. It's no surprise, really, that the parking lots nearby get full early in the morning. Old Silver Beach is, after all, the closest to a tropical beach you'll get in the state of Massachusetts.
8. Chatham Lighthouse Beach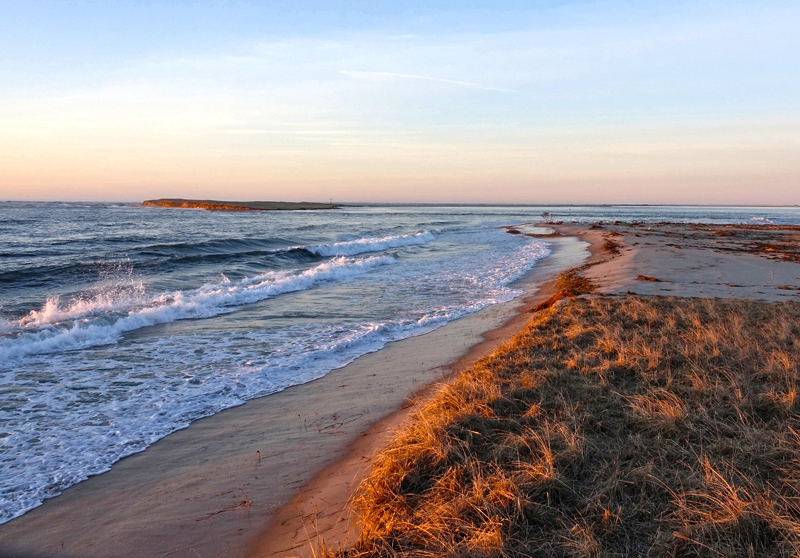 If you're looking for a beach area with sandbars and blue waters galore, you should come to Chatham Lighthouse Beach. A little further away from other famous beaches, Chatham is worth the drive.
Chatham Lighthouse Beach sits under the watchful eye of a lighthouse at the Coast Guard Station that gives the beach its name. This lighthouse is still active, and it helps ships travel the waters of Chatham in safety. During the summer months, you can even go up to the lighthouse and visit it. We promise the views will be worth it. Plus, it's free!
The beach is located just one-and-a-half miles from the downtown area. Coming here means that you'll have a great day in the sun with great views. Chatham Lighthouse Beach is one of the most important migration points for seals, which means that with a little luck you'll be able to spot them swimming about. You'll also see small fishing boats making their way through the waters every once in a while. Lastly, you'll have a great view of the long, sandy North Beach Island, a place where there are nature walks organized daily.
It's a good thing that there are so many things to do out of the water. The Chatham waters are very dynamic and not good for swimming. The currents are strong and swimming is not advised, as there are no lifeguards on duty. If that wasn't enough, there have also been shark sightings in the beach…
9. Marconi Beach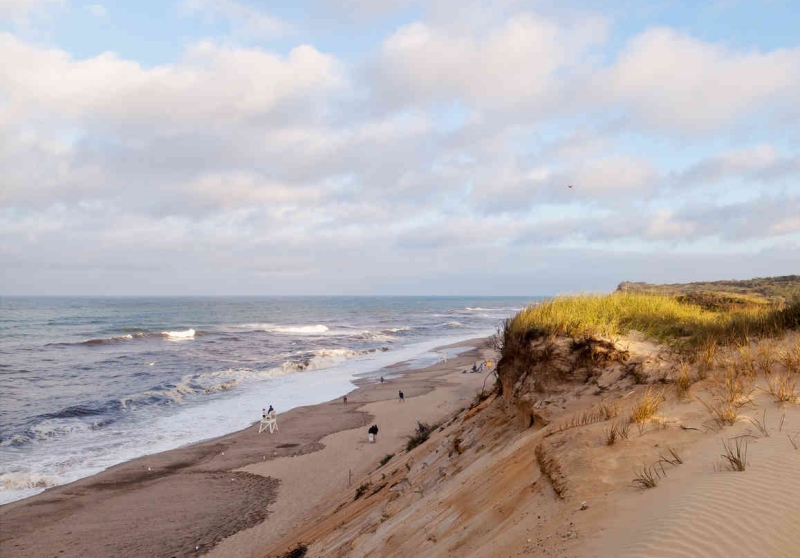 Marconi Beach is another Cape Cod gem we couldn't avoid talking about. Loved by many people who come here for a weekend getaway from Boston, Marconi Beach is definitely a Cape Cod sweetheart.
This beach is a part of the Cape Cod National Seashore, a long stretch of Atlantic beach that includes many beautiful stretches of coastline, such as Cahoon Hollow beach. An interesting fact about this hallmark of the Massachusetts coast is that President John F. Kennedy loved this area so much that he signed a bill authorizing the creation of the park. In fact, it was the first time that a national park was created from privately-owned land.
But history aside, Marconi Beach is a stunning place. The sand stretches out for miles and you get awesome views everywhere you look. The beach is lined by tall and imposing sand dunes on one side and by the crashing waves of the Atlantic Ocean.
To get to the beach, you'll first have to face the many steps that lead to it. But don't be discouraged, the fun day you'll have at the beach will be enough to alone convince you to get that bit of cardio in.
Another advantage this beach has over others is the fact that it is dog-friendly year-round. Finally, you'll be able to bring your puppy with you and let them enjoy a day at the beach in true Cape Cod style.
10. Coast Guard Beach, Eastham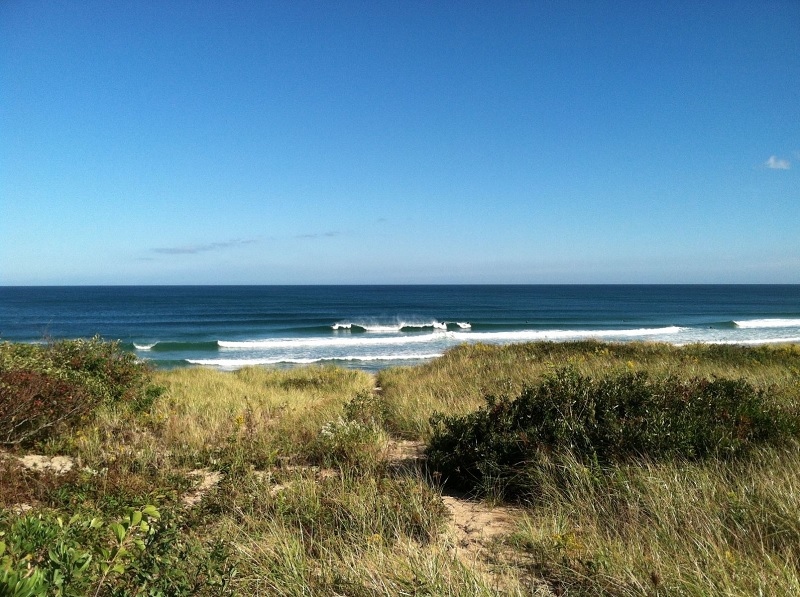 Located at the opposite side of the bay to Sandwich's Sandy Neck beach, Coast Guard beach stands proud as one of Cape Cod's most attractive beaches. Though Coast Guard beach is a 'top list' mainstay, it's still far from being overrun by tourists, and visitors can still enjoy that desolate and secluded feeling that the region's beaches are famous for.
Coast Guard beach is particularly famous for its big waves and big beach feel, making it popular with surfers, skimboarders, nature lovers, hikers, and sports enthusiasts. The abundance of local flora and fauna is a particular draw for wildlife lovers thanks to the diverse species of animal life that hide in the area's marshlands and sand dunes, and of course, there's the local seal population that often put on a show for the tourists.
Although it's equipped with a fine parking lot built by the National Park Service, the spaces fill up pretty quickly, so we recommend you look for public transport options to get there. Failing that, seek out the Little Creek parking lot nearby and take the regular shuttle bus up to the beach instead.
Frequently Asked Questions About the Best Beaches in Cape Cod
Where is Cape Cod located?
Cape Cod is located in the North East of the United States, in the easternmost part of the State of Massachusetts. It's a popular tourist destination, famed for it's rugged beaches, wild coastline, and historic sites.
Can you drink on Cape Cod beaches?
You're not legally allowed to drink on any Cape Cod beaches. A lot of these beaches also ban glass containers, so keep that in mind as well.
Are beaches in Cape Cod free?
Cape Cod beaches are not free. To enter, you must have either a resident's sticker or you must buy a beach pass in advance. Typically, charging to get into some Cape Cod beaches stops at 4 pm when most people start packing up to leave. But this isn't a set rule, as in, there's no fixed time from which going to the beach in Cape Cod is free.
How much do beach passes cost in Cape Cod?
That would depend on which beach you're trying to enter. Some beach passes, the ones valid for only one day, cost $25 for non-residents, while others cost up to $50. Do a little research before you go so you're not surprised by the prices.
Keep in mind that there are several discounts available. If you're an active member of the military, for example, you won't be asked to pay anything. Or, if you're a senior, you'll have a beach entrance discount.
Which Cape Cod beaches have sharks?
While shark attacks are very rare, they do sometimes happen. In August of 2018, two beaches in Cape Cod were closed because of shark sightings (Race Point Beach and Meadow Beach). More recently, there was a shark related fatality in the area, on the stretch between Cahoon Hollow Beach and Newcomb Hollow, near Wellfleet.
Technically, any of the beaches that border the Atlantic may have sharks. However, it's extremely rare for sharks to even come close to humans.
Which Cape Cod beaches allow dogs?
If you dream of bringing your dog to your Cape Cod vacation, read up on the rules before you get there. Each of the towns in Cape Cod has their own regulations concerning dogs. It's also worth noting the distinct definition of a public beach and an off-road beach. For example, Sandy Neck Beach allows dogs on the off-road beach and beach trails all year round, but only on Cape Cod public beaches in the off-season. Sandy Neck Beach isn't the only place with rules like this, but they all vary so much!
They're all different, so it's hard to sum them up. But in a nutshell, the vast majority of beaches with only a few exceptions doesn't allow dogs during the peak season. If it's low season, however, you may let your dog run free off-leash depending on the area.
Are Cape Cod beaches warm?
The beaches on the outer Cape are generally colder than the ones on the Cape Cod Bay. If you're looking for relatively warm waters, make sure to head to the bay where the water is also clear and calmer than out in the ocean.
Are Cape Cod beaches safe?
Swimming is not advised on every single Cape beach. Some beaches have unpredictable currents that can trick even the most experienced swimmers. Another thing to take into consideration is that not all beaches have a lifeguard on duty who can help swimmers in trouble.
On top of all that, there's also the added risk of a shark encounter. Although very rare, there have been sightings of Cape Cod sharks and even attacks by great white sharks in some beaches. The best beaches in Cape Cod for swimming are the ones with no dangerous currents or nearby shark populations.