Surely you've heard of the Cayman Islands before. If for nothing else, you've heard about their world-famous rum and as an appealing offshore financial haven for the wealthy. But did you know that the Cayman Islands beaches are some of the best in the world?
There are three islands that make up the Cayman Islands. The most famous is Grand Cayman, followed by Cayman Brac and Little Cayman. This British Overseas Territory has a long history of dazzling its visitors. And for good reason! From untouched nature to dozens of marine animal species, all the way to white-sand beaches, the Cayman Islands are a must when visiting the Caribbean.
Both tourists who enjoy checking into resorts and those who prefer to stay off the beaten path will enjoy themselves on the beaches here. These three islands have plenty to offer, and we couldn't not highlight how beautiful their beaches are.
1) Seven Mile Beach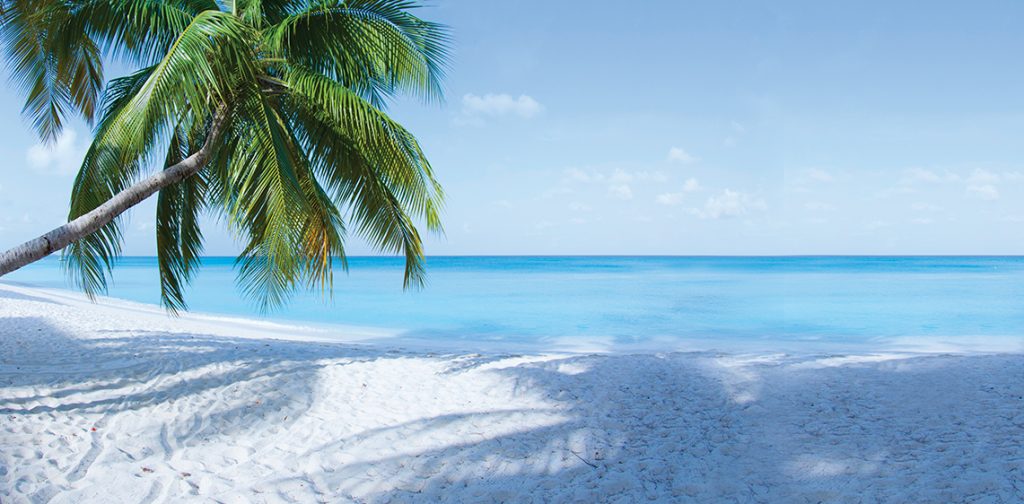 It would be impossible to write an article on the top beaches in the Cayman Islands without mentioning the Seven Mile Beach. After all, there's a reason why it's the most sought-after and blogged-about beach in the archipelago!
This beach sits on the western coast of the island of Grand Cayman, stretching from Spotts beach in the south to the West Bay public beach in the north. It has won several awards for its quality. Once you look at pictures of the sand and water here, you'll see why. The white sand and the clear, turquoise waters have put this beach on the map.
Because it's a public beach, you can walk from one end of the beach to the other without hindrance. You'll see five-star beach resort establishments, award-winning restaurants, and numerous beach bars. This is one of the most well-frequented beaches. You can have just as much fun walking along the waterfront as you will relaxing on a lounge chair on the soft sand.
All in all, the Seven (or 7) Mile Beach is a stunning must-visit attraction on the Grand Cayman Islandbeach. You can see fish swimming below the surface because of how clear and clean the water is. The white, hot sand is the icing on the cake. You can rent lounge chairs and sunshade parasols. You can even go for meals when you get tired of being out in the sun! What's more, you can always escape to West Bay or Governer's Point if you need to!
You'll find the best resorts in Grand Cayman here, and some of the best hotels in the Cayman Islands too.
2) Rum Point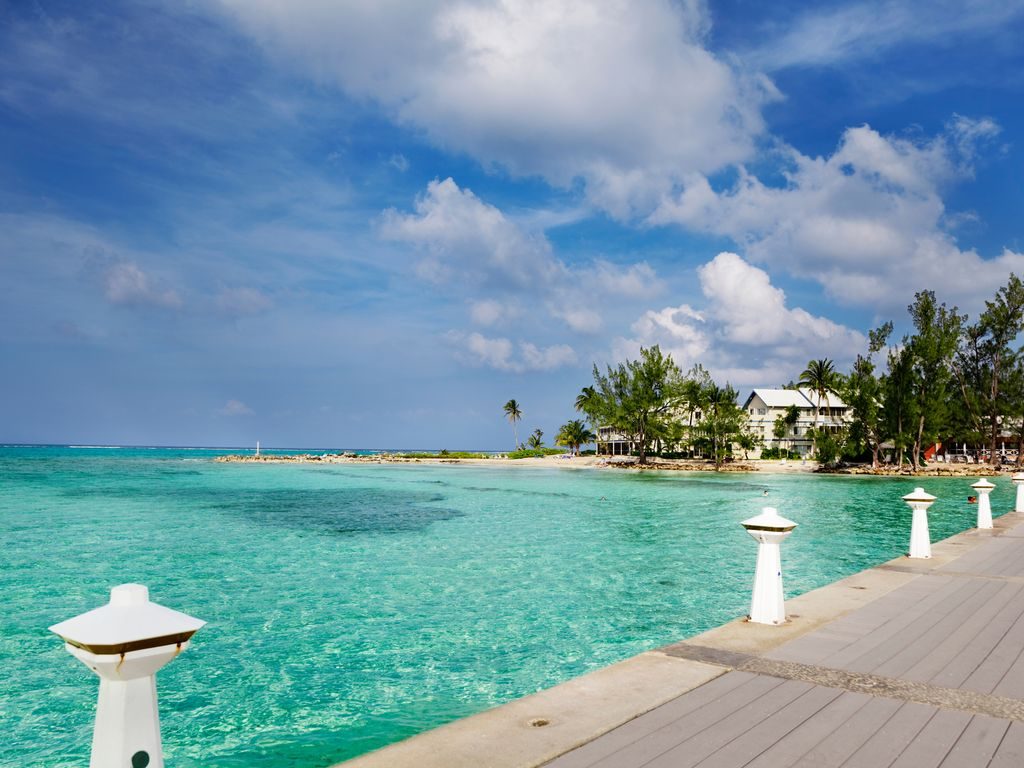 If you're a fan of less-crowded Grand Cayman beaches instead of more mainstream ones, Rum Point beach is the perfect one for you. It's located on the north side of the island and it sits forty-five minutes away from most resorts and restaurants. Rum Point is definitely a hidden gem.
Rum Point is a family-oriented beach. The water is shallow and the little ones can play to their heart's content without having to worry about deep waters. Like other Cayman Island beaches, the sand is white and sparkles when the sun hits it.
The clear and turquoise waters are great not only for swimming but also for seeing fish and stingrays. If you love snorkeling or if you'd like to give it a try, Rum Point is the place for you. You can see the beautiful underwater fauna the Caymans are famous for.
But the main attraction to this beach is how calm it is. It's perfect for a romantic getaway if you want to ditch the crowds and the mass-tourism that plagues the Cayman Islands. Getting here isn't too difficult either. You can take a bus or a catamaran if you're staying at a nearby hotel or have just gotten off a nearby cruise ship.
3) Smith Cove
Smith Cove has been a haven for tourists looking for a beach with a more upbeat vibe to it. If you prefer beaches where you can meet new people and you tend to stay away from completely hidden beaches, this friendly cove will sweep you off your feet.
This Cayman Island beach is located in the outer regions of Georgetown. You can get from the bustling city to the relaxed sandy beach by public transport or you can rent a car and head off on a road trip. Once you're there, you can choose between kicking back on the white sandy beach or visiting some nearby attractions.
The crystalline waters of the cove are protected by limestone formations and by coral reefs. This, coupled with the fact that the water is very clear, means you'll be able to spot countless species of fish and other marine animals. There are no waves, which helps put this calm little cove on the map as a terrific snorkeling destination.
If you get hungry, you can have a picnic on one of the many tables that this beach has to offer. Alternatively, you can also go to a seafront bar or restaurant to stave off hunger. On top of all these amenities, you'll also have access to public restrooms and even showers.
It's no wonder this beach is such a favorite among tourists and locals. After all, it has everything you need to have a care-free relaxing day under the sun.
4) Governor's Beach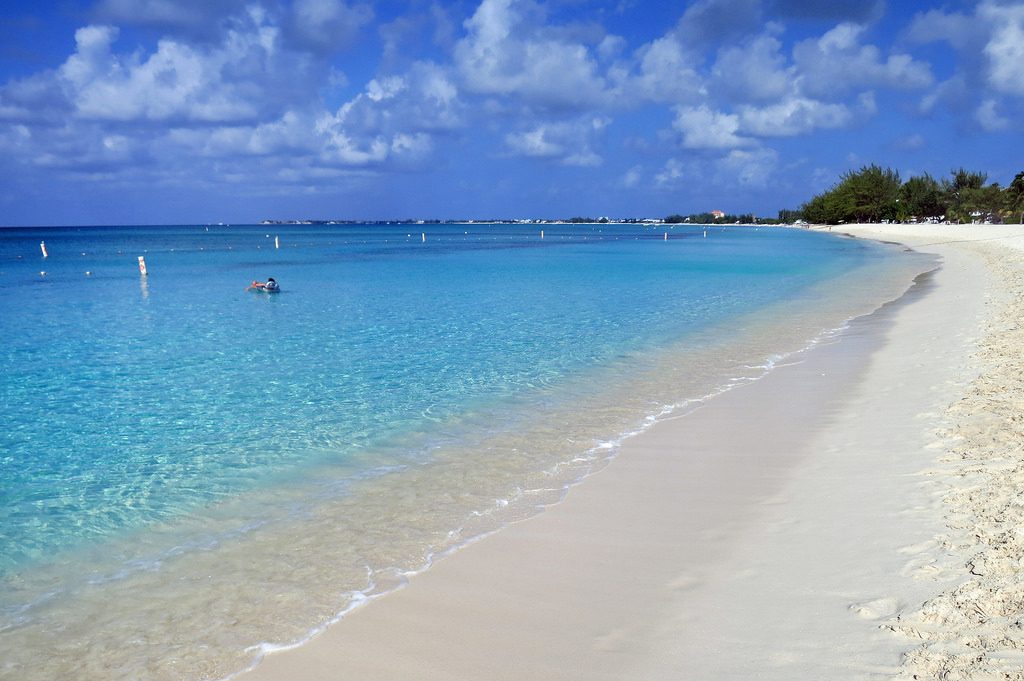 Governor's Beach sits within the Seven Mile Beach. But don't be fooled, this is a unique spot in of itself. Many families love coming here in the hottest months of the summer because it has everything that makes a family happy.
Beachgoers can enjoy a number of fun activities while spending their day at the beach. They can catch some sun while laying on a lounge chair, swim in the clear waters, or walk alongside the shore. But this isn't all that you can do. If you're a fan of snorkeling, Governor's Beach has you covered. You can rent out equipment and dive to bask in the beauty of the sea creatures that call the island's waters their home. You can also play games in the afternoon, as other locals and foreign families team up for a fun evening.
When you get hungry, all you have to do is go to the shade and enjoy a nice, family-shared picnic. In the months of June and July, delicious grapes fall from the trees. You can even enjoy them as a snack!
Governor's Beach is also a must for people who love sunsets. Here, you'll be able to see the most magnificent sunset in the entire Cayman archipelago. It's truly a sight to remember.
5) Cemetery Beach and Reef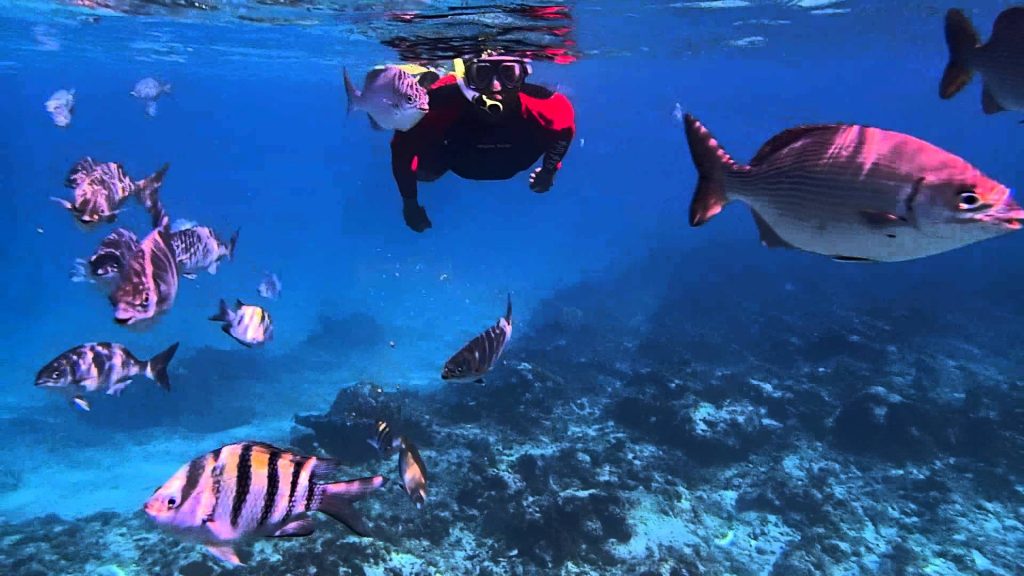 Head off the beaten path and spend a relaxing day on the Cemetery Beach and Reef. This unspoiled beach sits behind a cemetery and hasn't yet been touched by major tourist resorts. Because of this, you can enjoy a quiet and peaceful day under the sun.
Its close proximity to the reef means that you'll see plenty of fish and other sea animals swimming around. The clean, clear, turquoise water makes this biologist's dream all the more memorable. Even if you're not a big sea-animal connoisseur, you'll surely love seeing the schools of tropical and colorful fish swim past you. The coral formations are also a wonderful sight. Here at Cemetery Beach and Reef, you'll find the perfect place to go snorkeling — whether you're a beginner or a pro.
Because there are no on-sight restaurants and bars, you'll need to pack a lunch. Eat your picnic in the shade of the tropical palm trees and marvel at the beauty of the hidden gem that is the Cemetery Beach and Reef. There are only a handful of places as beautifully untouched by humans as this one.
6) Starfish Point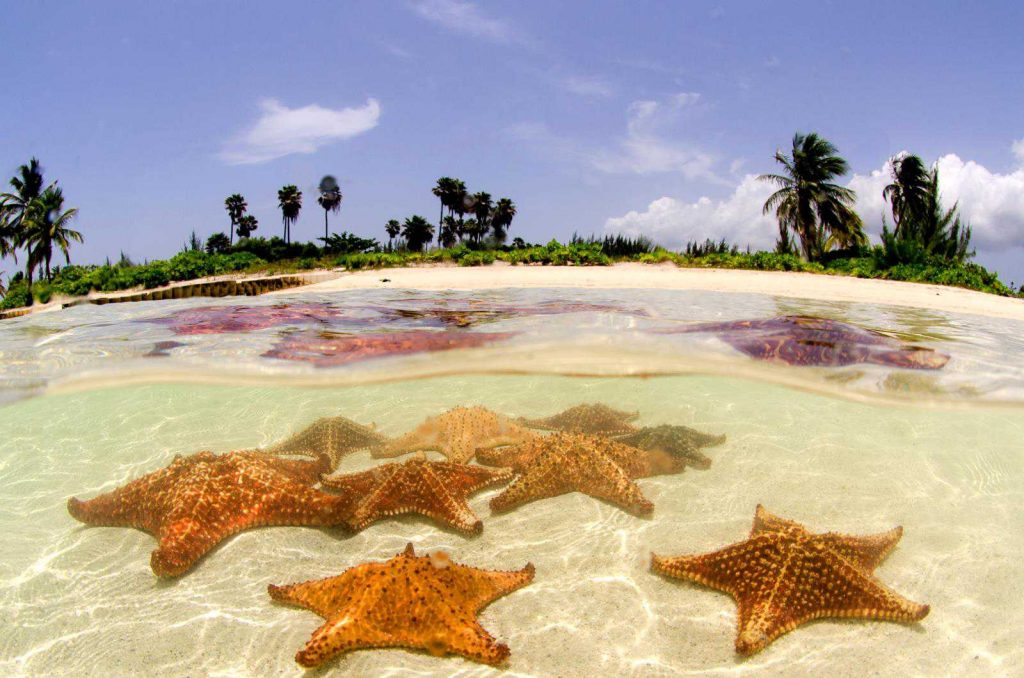 The Starfish Point is the most famous beach in Grand Cayman for spotting — you guessed it — starfish. Because there is no admission fee, this beach has been rising on a lot of people's bucket lists, together with how beautiful the beach itself is.
The beach overlooks North Sound and has very clear and shallow waters. You can walk for quite a while until you notice the sea level begin to rise. This is why it's so easy to spot wild starfish in this area. For people who have only seen these animals in movies and tv shows, they'll surely be taken aback.
These protected sea creatures are much loved in the islands. Because of this, it's strictly forbidden to do them any harm. You're free to look at the starfish and to gently touch them, but keep in mind that they can't survive outside of the water. Take as many pictures as you want for your social media feed and your memory book, but respect the beautiful wild starfish.
Although you can't see many more animals other than the starfish, you can still have plenty of fun. The shallow and clear waters let you take beautiful underwater pictures and even go for a swim!
7) Point Of Sand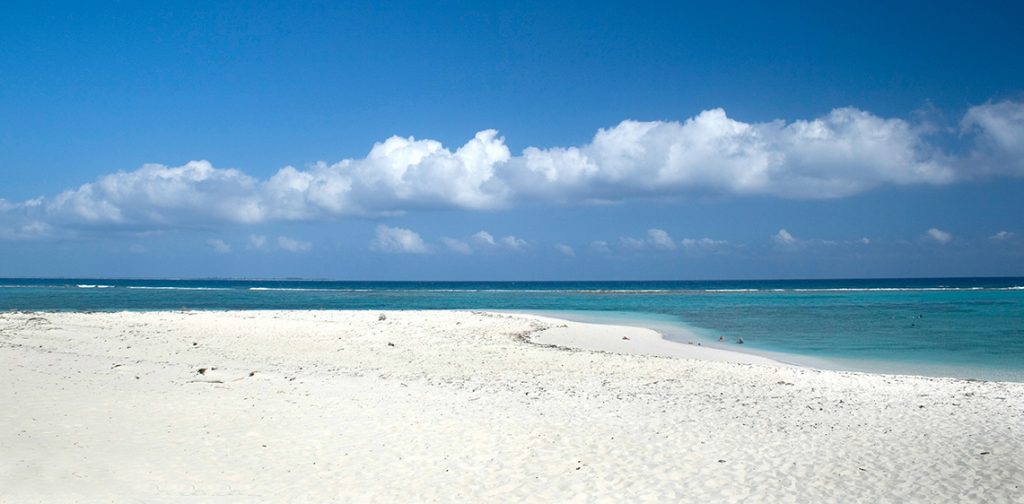 Point of Sand is known to be a secluded paradise where beachgoers go to spend the day. It's located in Little Cayman and its astounding beauty attracts visitors every summer. The water is shallow for about fifteen feet and then gradually gets deeper. Because of this, you can lay out in the sun but still keep cool in the water.
You can also snorkel or swim in the deeper waters, but keep in mind that the currents here are stronger than in other beaches. If you're a good swimmer, however, it's truly worth diving and admiring the different species of reef fish that call Little Cayman home.
When you get sick of the hot sun, you can go in the shade and have a picnic. Because there aren't bars or restaurants nearby, you'll need to bring your own food. But don't worry! There are plenty of picnic tables where you can have your delicious meal.
Many travelers have written reviews saying that being in Point of Sand feels like being on a serene deserted island. With not many places like this in the world, it's definitely one to visit if you're around Little Cayman.
8) Owen Island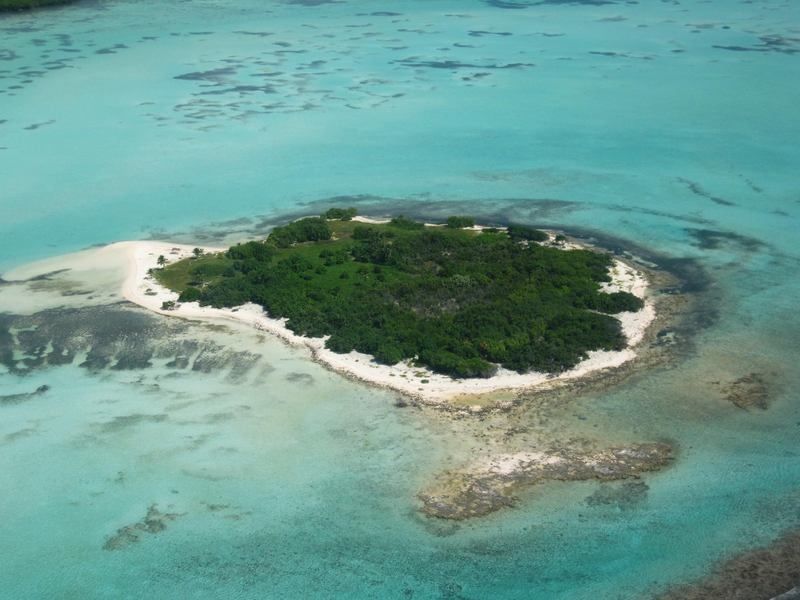 Owen Island is an uninhabited island off the coast of Little Cayman and the place to go if you enjoy water sports. It's the place you think of when you think of paradisiac Caribbean islands and beaches. To get here, you'll need to paddle a kayak for around 10 minutes from the closeby cross club.
Once you're here, you can go for a swim in the warm and crystal-clear waters. You'll be almost completely alone on the island, or, at most, you'll spot one or two couples also taking in the sun. If you're looking to snorkel, you can head to the barrier reef located on the side of the island. The sea is a little choppy, but if you're an experienced swimmer you shouldn't have any problems.
Something visitors also love doing is going for a walk around the island. You can see the entire Owen Island in only 45 minutes on foot. This lets you appreciate all the untouched and unspoiled beauty of the place. All this puts Owen Island on the map as a place not to be missed if you're a fan of quiet and serene white-sand beaches.
9) Cayman Kai Beach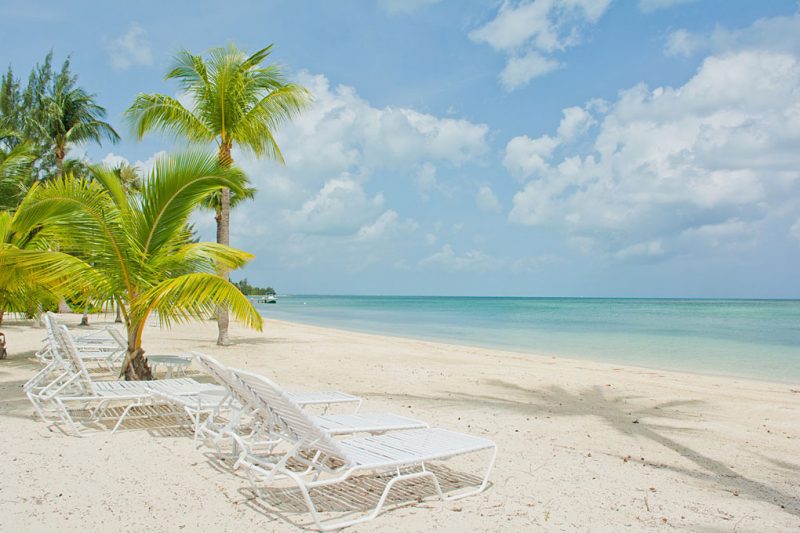 Cayman Kai spans over a whopping 400 acres on the north of the Grand Cayman island. This area has jaw-dropping beaches, award-winning hotels, and dazzling bars and restaurants. In recent years, it's become more of a competitor to other beaches in the area — but with fewer tourists, more serene and peaceful!
The Cayman Kai beach sits on an area surrounded by luscious nature. When you see pictures of this beach, you'll notice how paradisiac it looks. It's the quintessential Caribbean beach with its whiter-than-white sand, clear and turquoise waters, and tropical palm trees.
Cayman Kai has more than six miles of awe-inspiring beaches where you can swim, snorkel, play volleyball, sail, and much, much more. It's no wonder so many experienced travelers are booking their next holidays here! Because Cayman Kai is located so close to a coral reef, you can spot dozens of beautiful colorful tropical fish swimming in the shallow waters.
Besides the stunning miles of beach and palm trees, Cayman Kai has beach resorts, restaurants, and bars to make every beachgoer happy. There's even a tennis court, a dive shop, and a grocery store nearby. It definitely has all the amenities any tourist could ask for.
10) Spotts Beach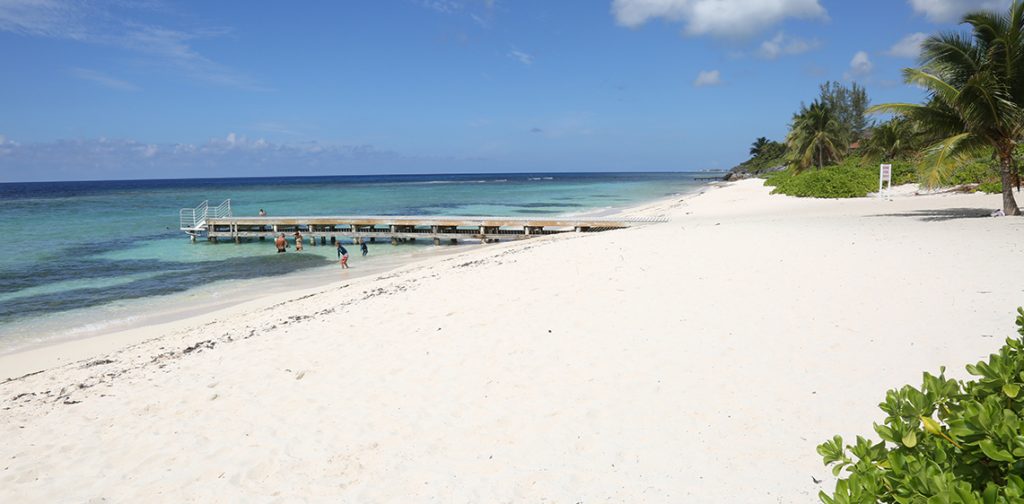 We recommend you grab your spot at Spotts Beach, located on the south side of Grand Cayman. It's the perfect family destination, especially if your family is a fan of snorkeling and swimming in crystal-clear waters. This beach is also the perfect destination to have a good barbecue on the beach or a picnic feast!
This Cayman beach is more off-the-beaten-track than other beaches on Grand Cayman. But this doesn't take any of its merits away. This place is the perfect balance between the crowded 7 Mile Beach (Grand Cayman) and the isolated Owen Island. You'll need to bring your picnic, but you can eat on the picnic tables and hide from the sun under the palm trees or in the cabanas.
One of the most exciting things this beautiful spot has to offer is the snorkeling. If you bring your diving gear, you might get lucky and catch a glimpse of the turtles that meet on the beach to feed on the turtle grass. It's a once-in-a-lifetime experience for many people, and definitely something you don't want to miss if you're around the Grand Cayman island.
Because this beach faces south, getting there early or camping during the night will allow you to see the most amazing sunrise. We can guarantee that seeing the sun come up from under the turquoise waters will be a memory to keep forever.
Frequently Asked Questions About the Cayman Islands Beaches

Have we convinced you to book a trip to one of the three islands that make up the Cayman Islands yet? If you still have some questions about this paradisiac gem of the Caribbean Sea, we have some answers for you.
When is the best time to visit the Cayman Islands?
Considering all the factors, the best months to pay a visit to the beaches in the Cayman Islands is between March and June. This is when the hotel prices are lowest and when the weather is the best.
Although they are warm year-round, the months between May and October are known to be very rainy. In fact, those months make up the rainy season of the islands. Showers last a few hours at a time but can be unpredictable and ruin your plans for the day.
As far as hurricanes are concerned, these islands are relatively sheltered by other islands from being hit too hard. The hurricane season lasts from June to November.
If you're not too concerned about prices, you should visit the islands in their dry season, which goes from November to April.
Is it safe to visit the Cayman Islands?
The Cayman Islands lead year after year the "safest Caribbean getaways" list. It's generally very safe for visitors and definitely not as dangerous as other neighboring Caribbean islands. Petty crimes do sometimes occur, like they do everywhere else, but they're not common. The same thing goes for violent crimes.
What kinds of places can I check into in the Cayman Islands?
The Caymans have many different types of accommodations, but hotels and beach resort setups are the most popular. Regardless of your budget, you're bound to find a perfect place to check into and enjoy your magnificent holidays on Grand Cayman, Little Cayman, and Cayman Brac.
Where is Grand Cayman?
Grand Cayman is the largest of the Cayman Islands, a small group of islands located south of Cuba and east of Belize, in the Caribbean Sea. All in all, it's about 480 miles south of Miami in the United States. Grand Cayman, is the most easterly of the islands, with its capital, George Town, located on the east coast of the island. Air travel is the best way to get to it.
What are the top Grand Cayman Activities?
Thanks to the island's beautiful beaches and waters, the top activities in the Cayman Islands revolve around nature. Snorkeling, diving, swimming with turtles, hiking and bird watching are popular things to do. Of course, sunbathing, shopping, dining, and sampling the famous rum are essential activities too.
Are there nudist beaches in the Caymans?
If you're a fan of going to the beach au naturel, the Cayman Islands aren't the place for you. It's forbidden to be topless or nude on every Cayman Island's beach. This is actually considered against the law, as it's seen by the authorities as "indecent exposure."
Are campfires allowed on the beach?
It's very common to see campfires during the Easter celebrations being lit on the beach. But is it allowed? If you want to build a campfire on the beach you'll need a permit that will cost you $25. You need to request it at least 48 hours prior to the time when you want to light the bonfire. After you've had the permit, the fun can begin. Just remember to not burn any waste!
Is it legal to camp on the beaches of the Cayman Islands?
Yes! Camping during the Easter celebrations is a very popular Caymanian tradition. It's a great way for friends and family to get together and spend quality time together. It's perfectly legal to camp on public beaches or private land (as long as the owner has granted you permission). But you'll have to comply with the strict rules that the government has put in place.
You must bring all waste with you when you're done camping, need to camp near a Porta-Potty or a public restroom, and have permission from the owner to camp there if you're on private property. There are also more rules about when to light a fire and how. You can learn all about it by doing a quick Google search or by checking the local laws in your travel guide. If all else fails, we recommend booking a camping experience at West Bay, in the famous Barker's National Park.
Are there sharks off the coast of the Cayman Islands?
The island's beaches are popular destinations among divers and marine-wildlife lovers. It's no wonder you can find eight different species of sharks. These include the Great Hammerhead, the Nurse Shark, the Lemon Shark, the Caribbean Reef shark, the Blacktip Tiger shark, the Oceanic Whitetip shark, and the Silky shark.
Indeed, there are some shark bite accidents every year. But this shouldn't deter you from visiting the stunning Cayman Islands. Shark attacks are very rare and don't usually happen unless you purposefully provoke one.
All in all, it's clear to see why the Cayman Islands are such a popular holiday destination. The Cayman Islands beaches are awe-inspiring and paradisiac, to say the least. Whether you're traveling alone or with your whole family or group of friends, you'll surely have a great time.
There are so many things you can do on these beaches and on the islands as a whole that you won't be bored for a single second. You can go scuba diving at the Bloody Bay Wall, snorkeling along West Bay, or swim with turtles, fish, and stingrays in the many coves. If water sports and marine wildlife aren't exactly your thing, the white sandy beaches and the dazzling sunsets are always waiting for you.