Costa Rica is the most visited country in all of Central America. It's well-known for its booming tourism sector and, above all, for being one of the best ecotourism destinations. Millions of people are attracted to Costa Rica every single year, and many travelers keep coming back year after year.
Once you see some pictures taken in the many of Costa Rica's natural parks and in Costa Rica beaches, you'll see why this is a gem in Central America.
Costa Rica is one of the most diverse places in the world in terms of nature and wildlife. Because Costa Rica is bathed by the Pacific and Caribbean Sea, you'll find different kinds of beaches. But it's not just the temperature and color of the water that makes Costa Rica so diverse. You'll find black sand beaches, gray, yellow and even white sand beaches in Costa Rica!
There are hundreds of coral reefs near the shores of Costa Rica. Not only does this mean that the sand will be different across the country, but it also means that it's the perfect place to scuba dive and snorkel. Costa Rica beaches also offer the most adventurous travelers a chance to get moving. You will find that you can go horseback riding, hiking, sport fishing, diving, and surfing here.
If all this wasn't enough, the beautiful lush tropical vegetation impresses any visitor. From tropical birds to colorful exotic schools of fish, Costa Rica is any biologist's dream.
Everyone who loves the beach and is passionate about nature should visit Costa Rica at least once. The country has so much to offer that you're bound to find something that's perfect for you. In this article, we'll go over the best beaches in Costa Rica to help you plan your trip to Central America's gem.
1.Playa Manuel Antonio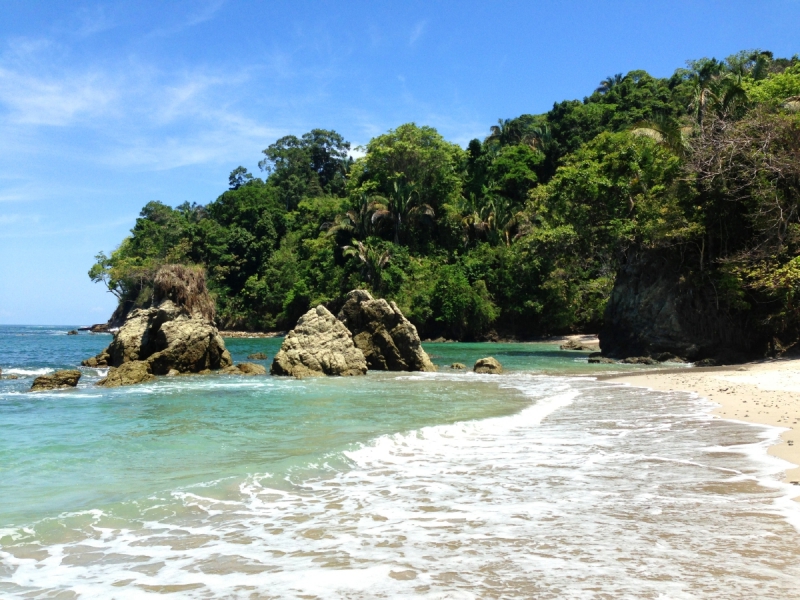 You can't look into the top beaches in Costa Rica and not come across Playa Manuel Antonio. It's one of the most sought-after beach destinations in the country and attracts thousands of tourists every year without fail. If you're a lover of wildlife and of rainforests, Playa Manuel Antonio has to be on your bucket list.
The beach is accessed through the world-famous Manuel Antonio National Park. A short thirty-minute hike will lead you from the lush greenery around you to the fine white sand beach. You get the best of both worlds: a walk through a rainforest and to lounge in the sun looking at the calm Pacific Ocean.
The highlight of this beach is the wildlife that calls the Manuel Antonio National Park home. There, you'll see hundreds of exotic animals such as white-faced monkeys, howler monkeys, iguanas, and the endangered squirrel monkeys.
The Manuel Antonio beach is great for lovers of snorkeling. Because there are coral reefs nearby, you can swim up to them and marvel at how colorful the underwater marine life is. It's even great for families with children since the water is warm and calm!
Lastly, going to Playa Manuel Antonio also means you can visit neighboring beaches that are equally as stunning. There are hiking trails that connect these beaches, making this a perfect trip for those who like long walks.
2. Tamarindo Beach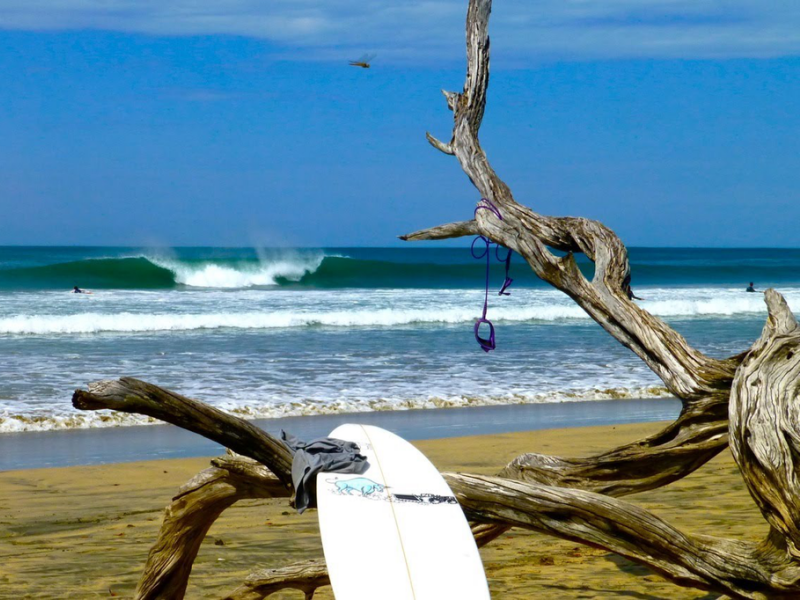 Tamarindo is mostly chosen by travelers who want to be in the center of the action and catch some waves. It's a beach with a very young feel to it and the leader in the surf spots in Costa Rica.
Tamarindo beach is great for surfing. Because of where it's located and how the winds and currents work in the region, the waves here are something else. Tamarindo is, in fact, one of the best beach towns in Costa Rica and well-known among the surfing community. But don't be intimidated! Even if you've never given the sport a shot, you can learn to surf here. All level surfers are welcome at Tamarindo to improve their skills and have a blast in the sun.
The nightlife is also nothing short of exciting. With bars and restaurants open after the sun sets, a hip party scene characterizes Tamarindo beach. It's one of the reasons why Tamarindo is so crowded at times, especially during the weekends!
But if you're looking to get away from the water and lose yourself in the tropical vegetation, you can too! Visit the Las Baulas National Park to spot tropical species of animals. If you're in luck, you might even spot the sea turtle nesting ritual that happens every year from October to February.
3. Playa Conchal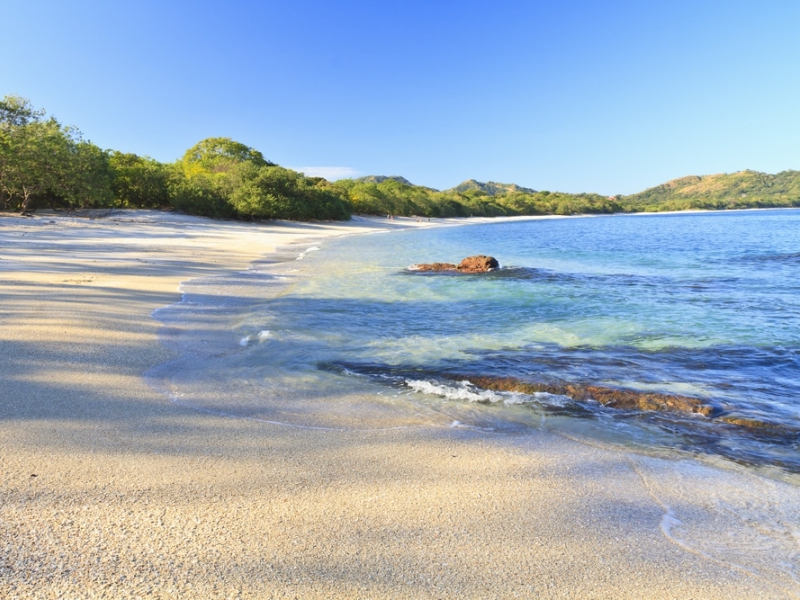 Playa Conchal is located north of Tamarindo on a turquoise bay perfect for swimming, snorkeling, and relaxing in the sun. It's one that's more off the beaten path and less crowded than the neighboring Tamarindo.
The white fine sand and the shining blue Pacific Coast make Playa Conchal paradise on earth. It's the perfect place to set down your beach towel, lay out in the sun, and relax as you hear the birds and the ocean make their delightful noises.
If you're a snorkeling enthusiast, you're also in luck. You should bring your equipment and set off to discover the colorful wonders that lie just below the surface. Since there are no currents, no waves, and no surfers, you will find that it's very easy to spot fish and other marine animals.
Once you're on the beach it'll be hard to remember that there's a luxury, high-end resort near you. Because the beach is lined by palm trees and thick vegetation, the Westin Playa Conchal Resort is tucked away, letting you revel in the idea that you're in paradise.
4. Flamingo Beach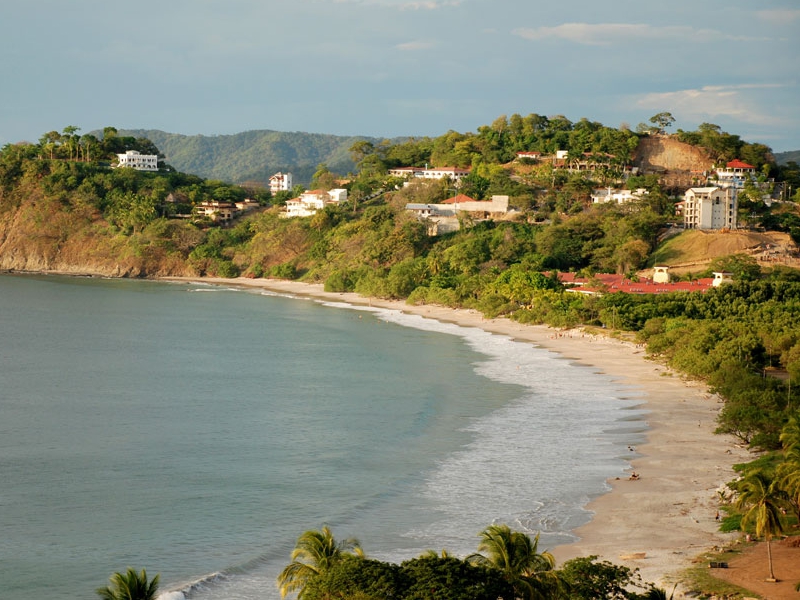 Playa Flamingo is one of the best family-friendly Costa Rica beaches. Its calm waters, picture-perfect sunsets, and comfortable hotels and villas make it the top destination for beachgoers trying to mix tropical beaches with luxury.
Flamingo Beach didn't get its name from being home to flocks of flamingo. Instead, it was the pinkish fine sand that baptized the beach with its name. The sand alone is one of the reasons why visitors come to the Guanacaste region on their vacation. It's unique and you won't find this kind of sand in many places around the globe.
It's also perfect for swimming. Because the beach is tucked away in a bay, the waves are very mellow, and the currents aren't strong. This is great news for families traveling with children, as the little ones will love being able to play in the water.
You can also rent some equipment to go scuba diving, snorkeling, or even sailing. If you set out into the Pacific Ocean by just a little, you'll get a spectacular view of Playa Flamingo and the stunning resorts here.
Lastly, this is the place to go to if you want to take in spectacular sunsets. The weather is great and it only rains for two to three months. Other than that, your vacation on the beach will be accompanied by clear skies and the bright, hot sun.
5. Nacascolo Beach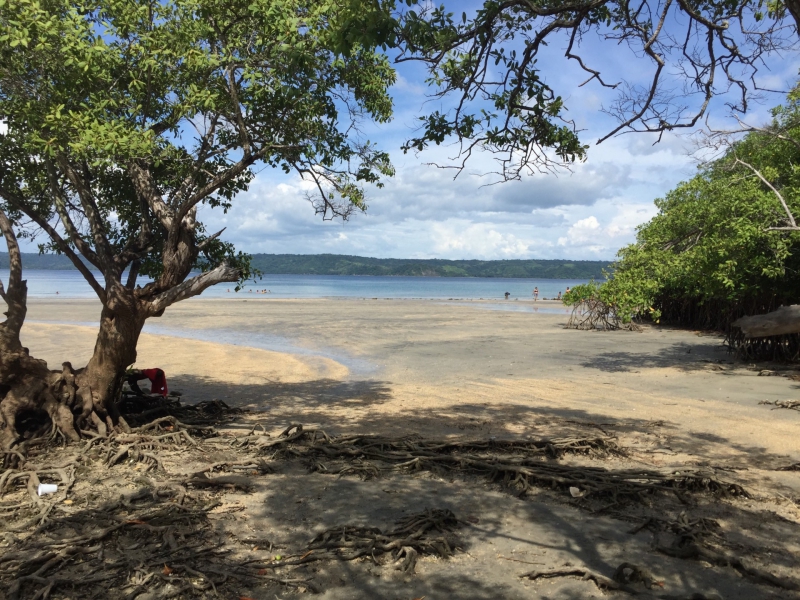 Nacascolo Beach sits on the tucked away Papagayo Peninsula, or, in English, Parrot Peninsula. While there are upscale resorts and hotels nearby, Nacascolo beach is still one of Costa Rica's best-kept secrets.
The main reason why so few travelers know about this piece of paradise is because of where Nacascolo Beach is located. It's not easy reaching the beach if you haven't studied all the steps before. You can either take a shuttle bus service from the Four Seasons Hotel or you can kayak here — but the latter will take you approximately one hour.
Despite the trek that is reaching Nacascolo Beach (or rather, because of it), you won't regret coming here. The sand is white and soft, and the water is crystal clear. There are no currents or riptides, which means Nacascolo beach is perfect for those who want to go for a swim. It's also a great family destination, since the little ones can play around in the water.
But one of the most exciting things about this beach is the wildlife. Right outside of the beach, there is lush forestation home to dozens of monkeys. You'll spot white-faced monkeys and howling monkeys that are just camera-ready. It's an opportunity not to be missed.
6. Dominical Beach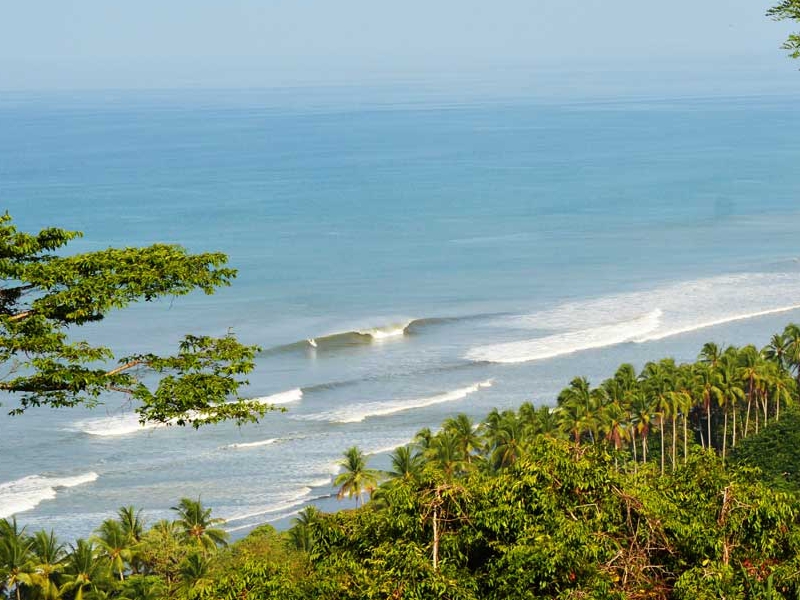 Located off the beaten path on the Costa Rica Pacific Coast, Dominical Beach is a surfing hotspot. While some beaches are perfect for swimming, this one is almost exclusively sought out by surf enthusiasts.
The waves off the coast of Dominical Beach are perfect for experienced surfers. They regularly measure up to 10 feet tall and amuse all surfers. Even the most die-hard thrill seekers will have a blast on Dominical Beach.
Because it's warm year-round, Dominical is a popular surfer's beach town. You'll even see surfers camping out on the beach so they don't miss one second of all the action.
Don't even think about swimming here. Although this is the only beach in the country with year-round lifeguards, the currents are too strong, making swimming dangerous. But don't worry, you can still watch professional surfers put on a show riding the waves. Alternatively, you can explore the region and try some to-die-for traditional dishes in one of the many authentic restaurants nearby.
7. Playa Santa Teresa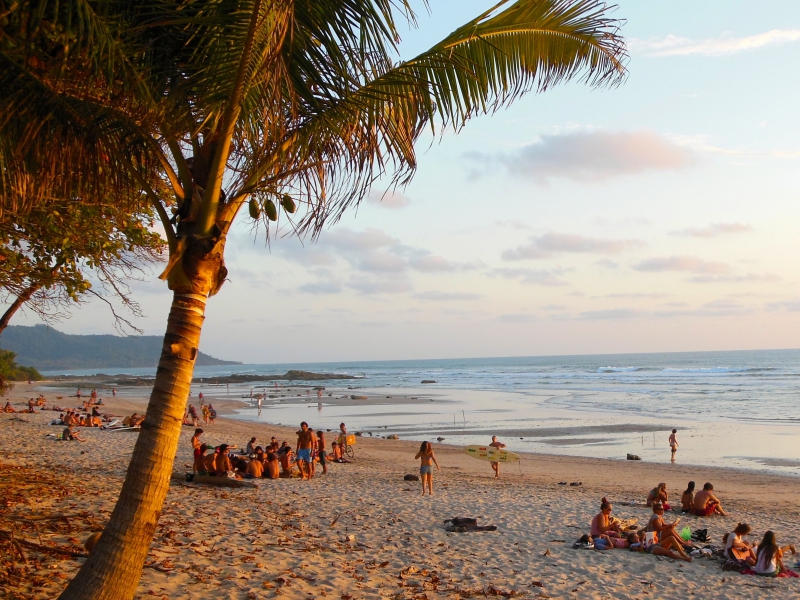 This hidden gem of the Nicoya Peninsula is a favorite of surfers, yogis, and of international top models. Playa Santa Teresa is breathtakingly beautiful because of its natural landmarks, and definitely not to be missed if you want to get off the beaten path.
The sand here is fine, white, and soft, making it perfect for long walks on the beach. While you walk from one end of the beach to the other you can dip your toes in the Pacific Ocean. The water is crystal clear and glistens in the sun.
The lush tropical jungle that lines the beach is also a highlight of Playa Santa Teresa. It makes this one of the most beautiful beaches in the region and makes it feel like paradise.
Luckily, if you're looking to get away from the crowds, Playa Santa Teresa is perfect for you. There aren't many tourists here and you'll mostly see locals and expats. This is mainly due to the fact that it takes some effort to reach Santa Teresa Beach, but it's all worth it in the end.
Here, you can surf, swim, or go snorkeling in the nearby rock formations. Regardless of what you choose to do, you'll have the time of your life.
8. Nosara Beach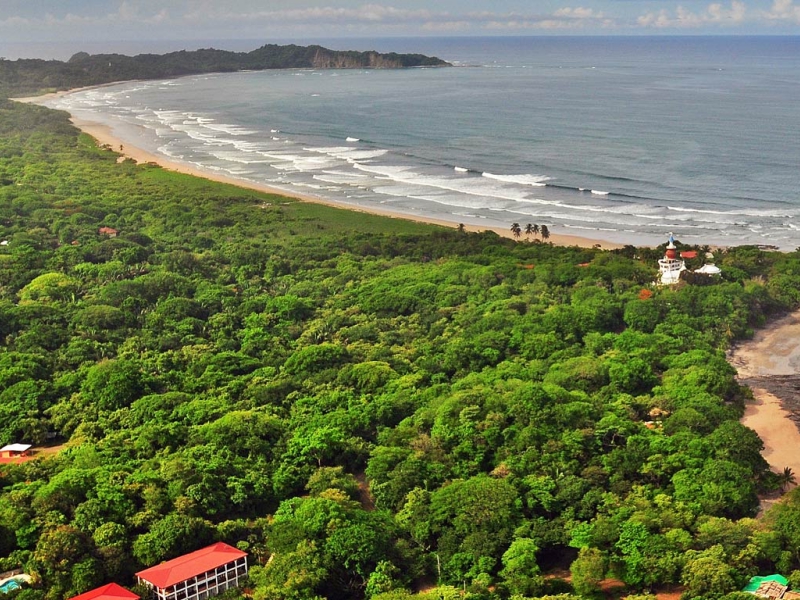 Another great beach destination on the Nicoya Peninsula is Nosara Beach. While it is also famous for being a surfing hotspot, it's still less crowded than Tamarindo Beach.
Three beaches have come together to form the seven-kilometer-long Nosara Beach: Garza Beach, Guiones Beach, and Pelada Beach. You can walk from one end of the sandy shore to the other and take in what these three beaches have to offer.
Nosara Beach has dark sand, something that makes it stand out from other white-sand beaches in Central and South America. It also has big tide pools known for being good snorkeling destinations. Bring your snorkeling equipment and explore the life that is teeming below the surface.
All surfers are welcome on Nosara Beach, regardless of skill level. There are several rental shops where you can rent out equipment and ask for tips on how to brave the vast Pacific Ocean.
9. Playa Punta Uva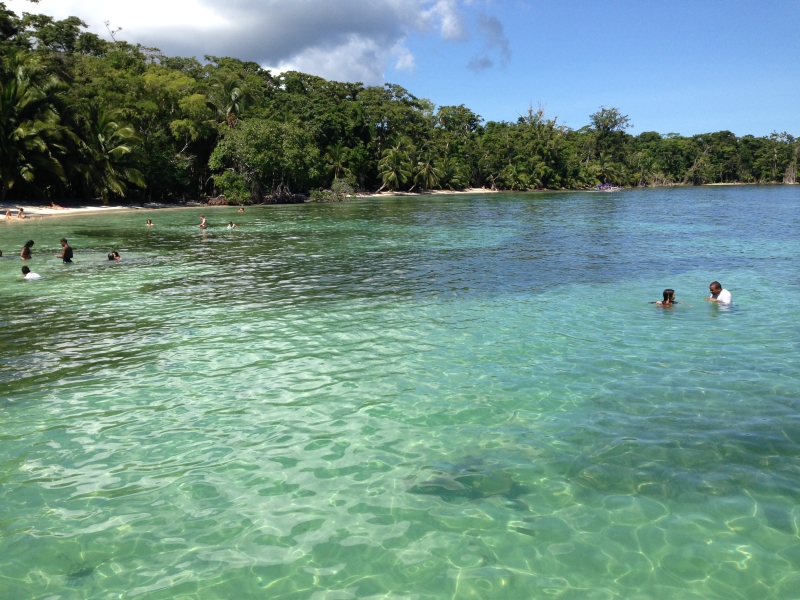 This Caribbean beach destination is perfect for ecotourism. Just south of Puerto Viejo, Playa Punta Uva is located close to the Guandoca-Manzanillo Wildlife Refuge.
Punta Uva Beach has everything that a nature-loving traveler would want out of a beach. The sand is golden and fine that shines in the sun, the water is crystal clear, pristine, and very calm, and the beach is lined by thick tropical forests and palm trees.
You can also go scuba diving and snorkeling in Playa Punta Uva. The nearby coral reefs are teeming with life and movement. You can see schools of colorful tropical fish swimming around in the turquoise-colored water.
In the Playa Punta Uva vegetation, you should try to spot the exotic species of birds that hide behind the leaves. The endangered green macaw species are native to the region but have only recently been introduced to the area.
Punta Uva Beach is the perfect off-the-beaten-path beach destination. Especially if you're a lover of nature and untouched, virgin beaches.
10. Playa Hermosa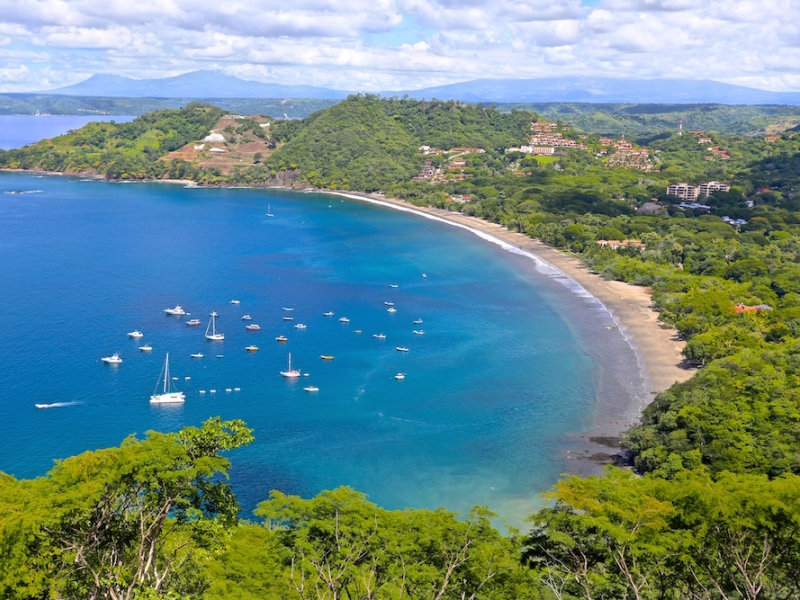 The aptly-named Playa Hermosa, or Beautiful Beach in English, is located in Guanacaste, just twenty minutes away from the Daniel Oduber International Airport in Liberia.
Playa Hermosa stretched out for two kilometers and has won the Blue Flag award for being very clean and safe for swimming. Its black sand, crystal clear waters, neighboring volcanic ridges that can be seen from the beach, and the luscious tropical forests that line Playa Hermosa win visitors over all the time.
This is a perfect place to visit if you like adventure and water sports. Here, you can practice windsurfing, jet-skiing, kayaking, and sailboarding. Your time here definitely won't be boring or tedious. In fact, even if you're a surf enthusiast you can come here. Every year, there are international surfing competitions held in Playa Hermosa.
Frequently Asked Questions About Costa Rica Beaches
Are Costa Rica beaches nice?
Absolutely, no doubt about it! What makes a beach nice is different for everybody, but we're absolutely sure you will love Costa Rica.
Costa Rica has a lot of diversity when it comes to beaches. You can choose between the Pacific Coast and the Caribbean side, depending on what you're looking for out of your vacation. There are white sand, pink sand, gray sand, and black sand beaches. They're all beautiful, so it's all up to you to choose which beach you find the most charming.
Does Costa Rica have white sand beaches?
Yes! Costa Rica has many different beaches and some of them have the picturesque white sand you see on postcards. Take Playa Manuel Antonio or Playa Conchal, for instance. They're some of the most beautiful white sand beaches in all of Costa Rica.
What are Costa Rica beaches like?
There are a lot of Costa Rica beaches, so it's hard to say what they're like. But if we had to sum them all up in just one word, we'd choose "stunning."
Costa Rica has a diversity of beaches. Besides the fact that they can be on opposite sides of the country and have different color sand, there's much more to the diversity. There are beaches perfect for swimming because the water is warm and there are no waves. Then there are surf beaches such as Tamarindo that have high waves perfect for being ridden. Costa Rica also has beaches perfect for snorkeling and scuba diving.
As you can tell, no two Costa Rican beaches are the same. They're all unique in their own ways, but all equally as worth paying a visit to.
Are Costa Rica beaches safe?
Costa Rica is known for being one of the most stable countries in Central America. Unlike a lot of neighboring countries, Costa Rica hasn't had any military coups in their recent history. In fact, it's a very stable country in terms of democracy. Did you know that Costa Rica is one of the very few countries in the world that does not have a military?
But, being a developing Latin American country, the safety index in Costa Rica isn't the same as it is in Europe or Australia. However, traveling to Costa Rica is considered to be very safe. Even in the capital of San Jose, robbery at gunpoint is extremely rare and other violent crimes are scarce.
All in all, if you're traveling to Costa Rica, you can feel assured that you'll be having a safe stay in Central America.
Why are Costa Rica beaches black?
Black sand is the result of the erosion of lava deposits. Given that Costa Rica has more than 50 volcanoes, it's no surprise that there are black beaches in Costa Rica. Go to Puerto Viejo and see how beautiful a black beach can be — and how they're not meant to be overlooked in favor of their white sand cousins! If you're looking for a black sand beach, Costa Rica has 'em!
Which resort has the most beautiful beaches in Costa Rica?
There are dozens of high-end resorts that have their very own stretch of sand. But when there's so much to choose from, it can be hard to pick just one resort and beach.
To know which Costa Rica beach and resort is right for you, think of what you want to do during your stay. Are you interested in hiking, sailing, surfing, jet-skiing, or swimming? If so, look into which is the best beach in Costa Rica for that specific activity. You'll likely find that that beach has an upscale resort nearby where you can check into. Fortunately, because of the central location of the nation's capital, San Jose, and the abundance of coastline, finding a beach resort that suits you will be an easy task!