Ecuador is a nature lover's heaven and is full of diverse ecosystems ranging from the Amazonian rainforest to the Andes mountains. Stunning white sand beaches await and you're likely to discover secluded beaches that you can enjoy all to yourself.
Whether you're looking for a beach to party at, one in which you can surf the waves, or a beach that you can just take it easy on, Ecuador has a plethora of seaside shorelines to choose from, despite it being the second smallest country in South America.
With over five hundred and thirty miles of coastline, there are plenty of other Ecuador tourist attractions than just the Galapagos Islands National Park.
Check out these ten best beaches in Ecuador that will knock your socks off.
10. Playa Canoa – Canoa, Ecuador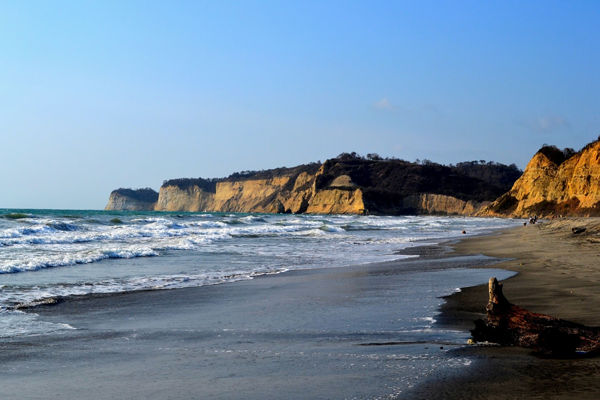 One of the relaxed Ecuador beaches, Playa Canoa is a small, underdeveloped fishing village with dirt roads, and welcoming hippie vibes.
Both beginning and advanced surfing are possible here due to moderate waves. For those of you that enjoy surfing, you can rent a surfboard and gear for anywhere between ten and twenty dollars a day. You also have the option to go horseback riding, simply kick back and relax, or take a ride on the wild side and enjoy a little bit of partying.
If you find yourself at the bluffs at the Northern end of the beach, you can delight in the awe-inspiring view of the coastline and ocean. The Ecuador beach town of Canoa is also a great area for paragliding if that appeals to you.
Quaint and affordable lodging options are plentiful, ranging from hostels and private spots to high-end beachfront house rentals and hotels. 
At seventeen kilometers long, this is the longest beach in the country.
9.  Playa Ballenita – Santa Elena, Ecuador

One of the beaches near Guayaquil, Playa Ballenita is a quiet, long, grey sandy beach on the Pacific coast of Ecuador that doesn't fall short of beach access, and is not touristy in the slightest. In fact, it's more of a residential locale for the Ecuadorians as opposed to a tourist spot.
If you are opposed to the wind or have children that want to swim in calmer waters, the Western end of the beach is protected from any breezes or gusts from the headland.
You can rent umbrellas and boogie boards, choose to enjoy a picnic, bathe in the ocean waters, or take advantage of the crosswinds that are perfect for kitesurfing.
If you've worked up an appetite walking along the beach, there are many cevicherías in which you can enjoy seafood that's as fresh as fresh can be! Ceviche is the term for a raw seafood dish that is 'cooked' in lime or lemon juice.
There are also bodegas, or wineries and restaurants to dabble into if you're looking for entertainment other than the beach.
In addition, there is also a monument called the Fallaron Dillon, which is an interesting combination of a hotel, museum, and a restaurant in one that's situated on the outskirts of town on a cliff. It's decorated in a unique maritime fashion and has a peaceful and very quiet ambiance. Nearby, you'll see beautiful houses that line the coast of Ecuador.
When searching for a spot to stay for the night, Hotel Ballenita Inn is an affordable and well-recommended place to recharge the batteries.
8. Atacames Beach – Esmeraldas, Ecuador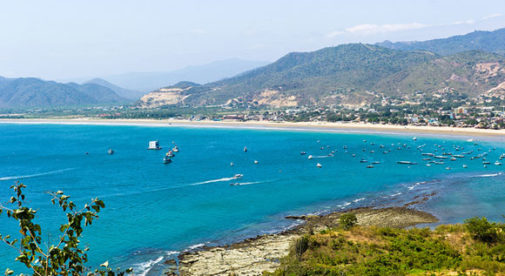 One of the few beaches in Ecuador near Quito, Atacames Beach is located on the Northern coast of Ecuador about lined with palm trees and has five kilometers of beach.
If you're arriving in Quito, this beach in South America is an affordable seven-hour bus ride away from the airport, or if you prefer to fly, you can fly directly into the Atacames airport and arrive at the beach in thirty minutes by taxi. Seven hours may seem like a lot, but in South America, that's a relatively short distance.
The atmosphere of the beach during the week is mellow, while on the weekends you can turn up the volume a notch and groove to reggaeton, salsa, or disco music. Generally, you'll see that the louder a business plays their music, the more people flock to that particular establishment.
There has been a boom in infrastructure here the last several years, so there are many options for all budget-ranges as far as hotels are concerned. If you're a backpacker and would love a cheaper place to stay that's also away from any nightlife noise, consider a hostel on a side street, as they are less frequented.
When your tummy starts to growl, there are a variety of restaurants that feature dishes ranging from pizza to fried lobster, as well as vibrant little shacks that sell lighter snacks that you can find right on the beach.
As far as activities to pass the time, there are beach chairs and hammocks next to coconut trees available to lounge out and take a nap on, as well as beach volleyball, fishing, diving, and snorkeling to participate in.
Remember to bring your sun hat if you plan on being outdoors for a while, or at least some sunscreen if you have sensitive skin.
If you are wary of swimming in the ocean for whatever reason, there is always the option of swimming at your hotel's pool, if it has one.
7. Playa Marianita – Manta, Ecuador
Fifteen minutes from the city of Manta, this small town beach of Playa Marianita, also known as Playa Bonita, or 'Pretty Beach' has lots to offer in the realm of beach activities and wildlife viewing.
At this Ecuadorian beach, you'll encounter year-round warm, tropical air and also feel the breeze on your face that the Humboldt current brings in. However, if you travel about ten kilometers inland, the climate completely changes to daily rains, and if you're a fruit lover- get ready!
This is a paradise of bananas, guanabana, and mangos- galore. You might even be interested in a tour that teaches you how the fruit is harvested.
Hostel Punta La Barca offers kite rentals if you're interested in kitesurfing, and there are also a number of kitesurfing schools if you're curious to learn all about it. In addition, there are stand-up paddle boarding opportunities if that's something that suits your fancy.
Next to Hostel Punta La Barca, there are courts in which you can play a game of tennis or badminton.
For grocery shopping, you won't find any actual large-scale chain supermarkets, but you will see many families that offer food right from their house that they may have harvested from their family farm. Alternatively, you can also find some food like cooked chicken or fresh seafood at a small cabaña that won't cost you an arm and a leg.
If you're here between the months of June and September, you might be lucky enough to see Humpback whales migrating along the Pacific of South America-Santa Marianita Beach is the place to be if you want a front row seat for whale-watching activity.
This being one of the beaches in Ecuador where you can experience the country's wildlife firsthand, you might be able to see some turtles enjoying the beach just like you are!
6. Salinas Beach – Santa Elena, Ecuador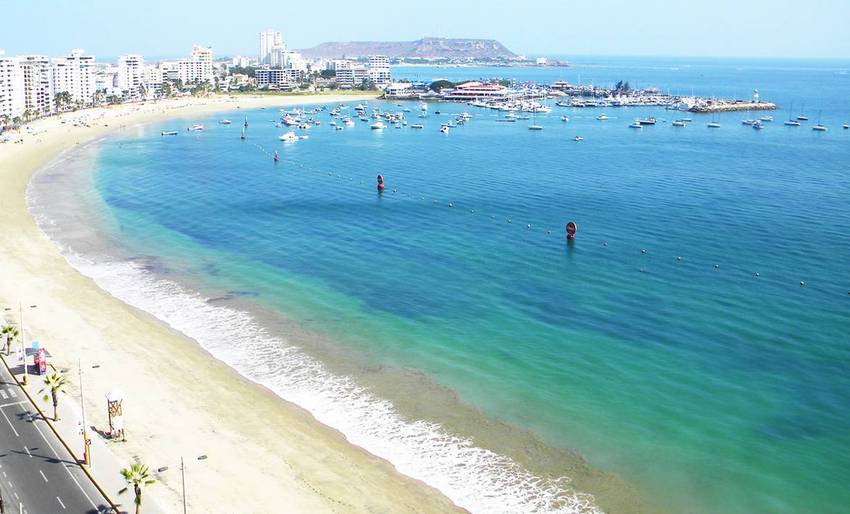 One of the top beaches in Ecuador, this golden sand family-oriented beach, Salinas Beach is not too far from Guayaquil (about ninety miles) and is one of the Ecuador beach resorts that locals flock to as soon as the holiday season begins.
For those of you that love any activity that is aquatic, you can go water-skiing, rent jet-ski's, or go for a swim. You may also choose to go parasailing here.
Salinas Beach has turned into a sort of expat community with about three hundred or so families that have decided to settle here, and have since opened up businesses such as hotels and restaurants.
If you find yourself here in the month of March and want to get some partying out of your system, Carnival is in full swing, so you'll want to be in a celebratory mood! Otherwise, you might not be too amused when you get squirted with a water gun from those energetic partygoers.
There are many clubs to go dancing at that are open year-round, so don't get discouraged if you can't make it in March. And, if you get hungry from all that dancing, there are a surplus of seafood joints to choose from, as well as an authentic New York Pizza restaurant called Dolar Pizza.
If you've soaked up all you can at the beach and want to go on a day-trip, the nearby thermal baths, or Baños de San Vicente, will cost you about ten dollars for a full day of relaxation.
5. Playa Los Frailes – Manabi, Ecuador

This beach is one of Ecuador's finest, thanks to the white sand, picturesque, crescent-shaped bay and warm aquamarine blue waters; Los Frailes Beach is other-worldly to say the least. Located in the Machalilla National Park, near Puerto Lopez, this remote beach is perfect for those in search of peace and quiet.
If you choose to go snorkeling, you'll see many schools of brightly colored fishes darting every which way. You might also elect to go diving off of a boat from the nearby reef.
There are not any restaurants, but behind the car parking lot, you can find a man selling various drinks and ice cream. If you don't think this will hold you over for the day, pack some easy snacks in your daypack.
There is not much shade to be found on this beach, but you can rent an umbrella for a few bucks a day.
This being one of the best places to visit in Ecuador, it can get quite busy during the weekends with locals coming up from Puerto Lopez. So, if you prefer seclusion, schedule your trip here for a weekday. It's noteworthy to remember that the park closes at four in the afternoon- a policy that is rigidly upheld.
For those of you have children that love to swim but are apprehensive about stepping on sharp rocks that they might not see from the water's surface, this beach does not have any rocks, and also has a smooth gradient so your little ones won't get knocked over by any incoming waves.
If you are craving a hike, the Northern facing cliff is a great area for a trek, and also a nice vantage point for whale-watching.
If you're arriving at this Ecuador beach from Puerto Lopez, any bus that's headed toward Manta will be passing through this national park, and the drive should really only take about fifteen minutes.
Fair warning- neither camping nor smoking is permitted at this beach.
4. Mompiche Beach – Esmeraldas, Ecuador

This small fishing village of Mompiche Beach with countless bird species and abundant wildlife is an unforgettable paradise on Earth.
There are a little over one hundred homes made from wood and bamboo in this beach town- However, during the last decade or so, eco-tourism has skyrocketed, and has resulted in many new lodging infrastructures.
This white sand beach is a surfer's paradise, with the best waves rolling in during the months of November through April. Other activities you might enjoy include bird-watching near Río Verde, horseback riding on the beach, or hiking in the jungle.
This Ecuador beach is located near the Mache Chindul Reserve, where you can hear and maybe see howling monkeys and watch the aardvarks go about their day, in addition to seeing a variety of tree species, ranging from oak to ebony.
One of the top Ecuador resorts, Mompiche Beach Resort is a short five kilometers from town, with an unforgettable view. You'll see many colorful fishing boats scattered across the bay, amidst locals and foreigners alike engaging in waterfront activities.
A secluded, beachfront lodging option is the Cabañas Iruña, which can be a little tricky to find, but after you ask around, you'll find that these cabins were worth the trouble to find. Just envision the hammock awaiting you upon arrival to melt away your worries. This lodging option even comes with its own caretaker, Theresa, who doubles as a cook.
3. Las Grietas Beach- Galapagos Islands, Ecuador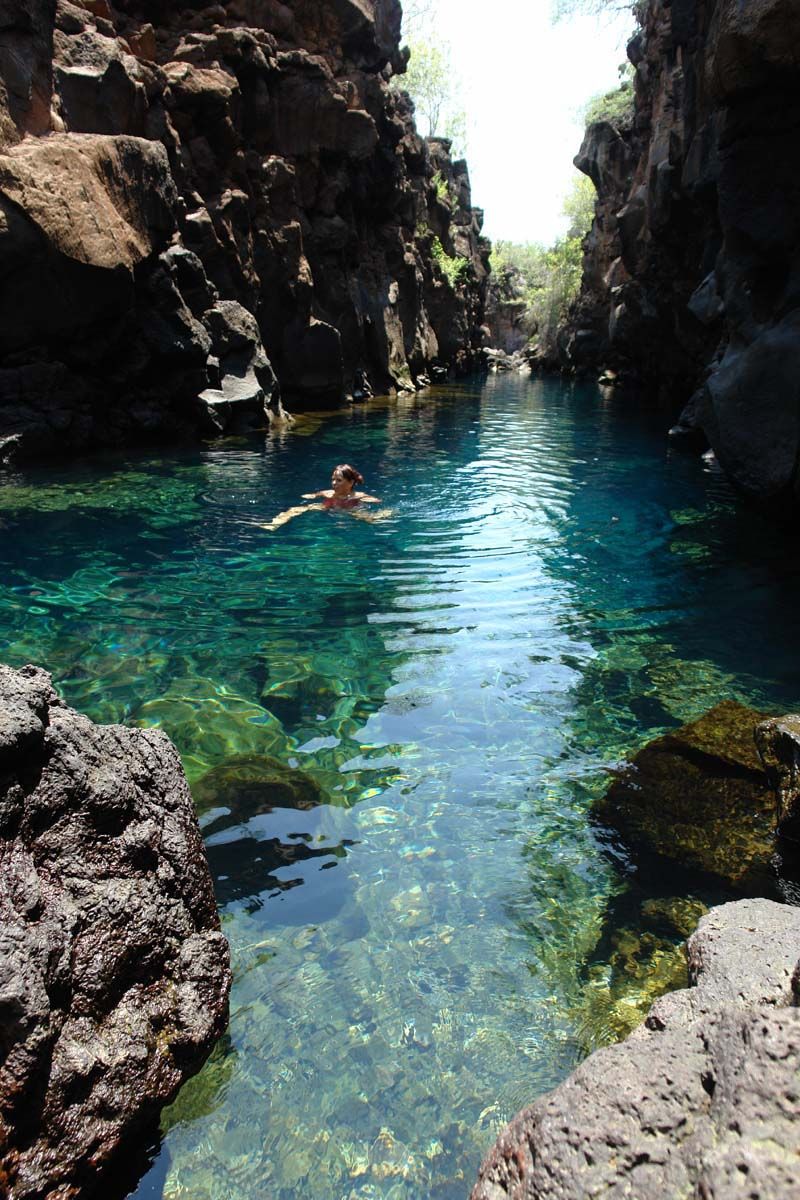 Located on Santa Cruz Island in the Galapagos, one of the beaches in Ecuador with profound natural beauty, Las Grietas Beach is an area where the Earth has opened up like a crevice or a crack, that has cool, transparent, emerald green waters that were made for swimming in. Impressive cliffs made of dark volcanic rock tower over both sides of the waters.
If you like to swim, the waters here are very calm, and you can do cannonballs into the water from the cliffs if you're feeling adventuresome. This is no doubt one of the ultimate swimming holes.
Kayaking is also an option if you are tired of swimming, and is a wonderful way to grasp your bearings of the island's geography.
There is truly abundant wildlife here, including uniquely colored iguanas, sharks, and the famous blue-footed boobies (a type of bird).
You don't need a guide to visit this inlet, like you do in some other places on the island. Although, it is a good idea to head out before sunset, as the trail is not well-lit and can consequently be tricky to navigate.
Pack along a snack and a water bottle, as there are not any convenience stores. It'd also be a good idea to bring a pair of water shoes with you, for effortless walking along the shallow ocean floors.
If you are arriving from Puerto Ayora (a town in Central Galapagos), you can catch a boat taxi for a dollar per person.
2. Playa Montañita – Montañita, Ecuador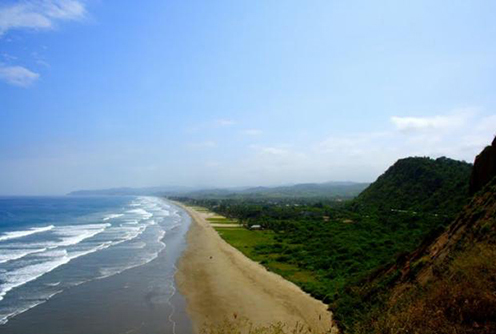 One of the top beaches in the Ecuador, Playa Montañita is located a quick two hours from Guayaquil, and positioned on the Santa Elena peninsula, with all of the modern day travel accommodations you would want- without the crowds. It is home to a melting pot of people from all over the world and is a city that's known to be very tolerant of travelers that might otherwise encounter prejudice in other parts of the world.
This stretch of Ecuador coast is near the equator, so the high humidity levels can make it feel hotter than it actually is. It's all part of the experience, right?
This beach is known for its strong, three-foot waves that almost never subside. In fact, it's a well-known spot throughout the continent for its relentless waves. In the Fall and Winter, don't be surprised if the waves crash in at over six feet! Come February, an international surfing competition is held here, which would be a sight to see.
This is a party-beach, and it's not uncommon to hear music from nightclubs playing until the early morning hours. On the bright side, there is a cliff that serves as a sound barrier to block out any noise, if you want to relax in peace.
Playa Montañita is a wonderful cove for scuba diving and fishing, too. If you would like to do a land-activity, try going for a bike or horseback ride around the hills.
1. Playa Escondida – Esmeraldas, Ecuador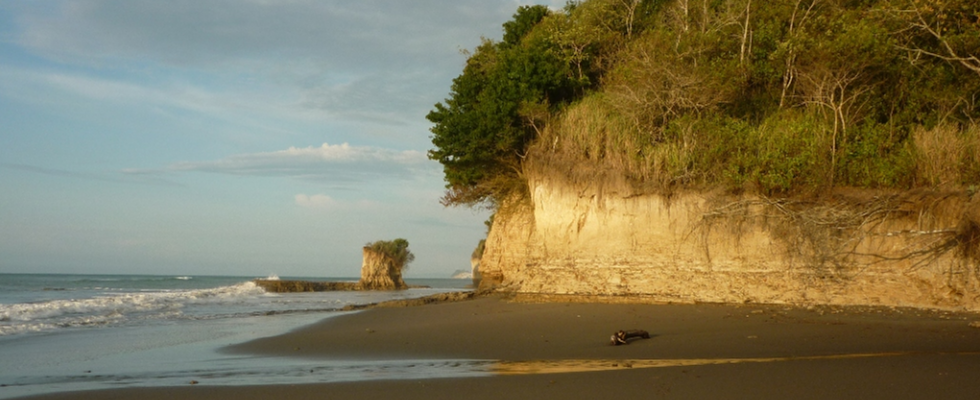 An hour away from Atacames by bus and smack dab in the middle of Mother Nature, one of the best beaches in Ecuador, Playa Escondida is a protected area of one hundred hectares that is devoted to protecting a number of plant and animal species that would otherwise be threatened by mankind.
You'll hear nothing but the sounds of nature all around you and truly have the chance to experience mental clarity on this virgin beach.
If you are opposed to insects, bring some repellent and a mosquito net, as this hideout of the world is teeming with various jungle lifeforms.
If you're a bird-lover, you'll delight in hearing the squawking of the parrots at daybreak, and might even see wild turkeys running around going about their daily business.
If you're feeling audacious and want to camp, that is a viable option. Otherwise, there is an eco-lodge or other places you can choose to stay at.
For a day-trip, there are hidden caves and unique rock formations that are asking to be explored. At low tide, you can take a walk and view the beautiful reef that becomes exposed.
There is no garbage to be found on this beach, as past travelers have diligently cleaned up after themselves, and the locals keep it pretty clean, too.
As far as dining options, there is just one restaurant at Playa Escondida, that has excellent food quality and generous portion sizes. Food options range from seafood like coconut shrimp to locally caught fish with a side of plantains. The interesting tidbit about this restaurant is that there is no actual menu– it's just a matter of what the chef plans to serve that night, so prepare to go with the flow!
Come nightfall, the stars might introduce themselves to you and speak the words unspoken.
Best Beaches in Ecuador FAQs
Do I need a VISA to enter the country?
You do not need a VISA to travel to Ecuador; However, you do need a passport. You'll be granted a ninety-day tourist VISA upon arrival, which you can later choose to extend if you wish.
Will I have the chance to see any wildlife while traveling in Ecuador?
Ecuador has been deemed one of the most 'megadiverse' parts of the world along with sixteen other countries by UNESCO, in regards to bird, plant, and mammal variety. With the country's multitude of national parks, forests, and beaches, it's one of the most biodiverse areas on the globe. Believe it or not, there are almost two thousand bird species alone in this paradise.
Are Ecuador beaches nice?
This country's beaches are some of the most beautiful and ecologically diverse in the world. You won't be disappointed.
Are the bus systems reliable?
The bus systems are well-designed, and the cost of a ticket won't break your bank. For a trip that's slightly over one hundred miles, expect to pay around fifteen dollars. For travel in and around the city, count on paying a quarter or so for wherever you would like to go.
How is the food in Ecuador?
Ecuadorian food varies, depending on what part of the country you find yourself in. In the larger cities, you'll see that there is a decent-sized Chinese immigrant population, so it's common to find many chifa, or Chinese food restaurants. It's also not unusual to see 'cuy' on the menu, otherwise known as guinea pig. Another common Ecuadorian menu item is 'churrasco'- essentially a portion of steak served with rice and a sunnyside egg on top.
Is it true that 'mañana' may not always literally mean tomorrow?
The term 'mañana' is used quite loosely in Ecuador, and all of this continent for that matter. It might mean tomorrow, or it could mean not for a few days. Just clarify if you have any doubt. It's important to go with the flow and not get upset when things don't happen according to your schedule and expectations. Remember, according to South Americans, a couple of minutes may actually mean a couple of hours.
Are there any safety recommendations while traveling in Ecuador?
Generally, this is a very safe country. It's never a bad thing to exercise more caution when you find yourself in larger cities, as theft is unavoidable with so many people in one city. It's not recommended to walk around Guayaquil during the nighttime hours.
What style of clothes should I pack?
This depends on what parts of the country you're planning on visiting. If you're planning on traveling all over, it might be wise to pack for all four seasons. You can always buy clothing when you arrive in Ecuador- alpaca wool is a popular choice (it's lightweight, but keeps you very warm!). If you're planning on laying low by the coast, the climate is pretty mild, whereas if you're going to be hiking in the mountains, the weather is unpredictable.
Am I likely to encounter an earthquake or a hurricane while traveling in Ecuador?
Ecuador is situated on what is called the 'Ring of Fire,' which is a chain of tectonic plates that are able to cause both earthquakes and volcanic eruptions. Hurricanes are not so much a concern as heavy rainfall and flooding are. The El Niño weather phenomenon warms the Pacific waters, and the result this has on the weather can drastically affect the economy, especially that of the coastal cities.
What is Ecuador's currency like?
The unit of currency in Ecuador is the US Dollar, as of the year 2000. So, if you're coming from the United States, you won't have to go through the exchange process. The Ecuadorian coins have different symbols than those on U.S. coins, but it's easy to figure out. If you are going to be in more isolated parts of the country, it would be a good idea to break larger notes.