France is one of the most beautiful (and the most visited!) countries in the world. Millions and millions of people have dreamed of visiting this magnificent European country for centuries. The Art-Noveau-style buildings, the wide 19th-century boulevards and avenues, the breathtakingly rich museums, and the lavish palaces draw in giant crowds of tourists.
But what many tourists fail to see when they visit are the beaches of France. Although forgotten by many travel guides, the beaches are among some of the best in the world. With thousands of miles of coast and bordered by the Mediterranean Sea and the Atlantic, France has a wide array of beaches to offer its visitors.
Depending on which part of France you visit, you'll find different beaches. On one side, Mediterranean beaches with immaculate sand and waters so blue you'll think you're in the Caribbean. The Atlantic coast, on the other side, has rougher beaches more famously known for having played an important part in World War Two.
Being the country of love, we couldn't forget that French beaches are very romantic. In fact, they're the perfect honeymoon beach destination. The serenity of the secluded coves and beaches, the paradisiac setting, and the proximity to hundreds of interesting cultural spots make lovers swoon. From Palombaggia beach on the island of Corsica, to the beautiful bays of the Mediterranean coast, or the rugged beautiful beaches of the Atlantic coast, there's a beach out there for everyone.
Even if you're a solo traveler or bringing your kids with you, France beaches will surely make for an unforgettable vacation. There's so much that the vast coast of France has to offer!
To help you plan your trip, we've come up with a list of the top beaches in France. Hopefully, after reading this article, you can start booking your flights and accommodation — but be fast or you might find that everything is fully booked!
1. Plage de Saleccia, Corse-du-Nord — Corsica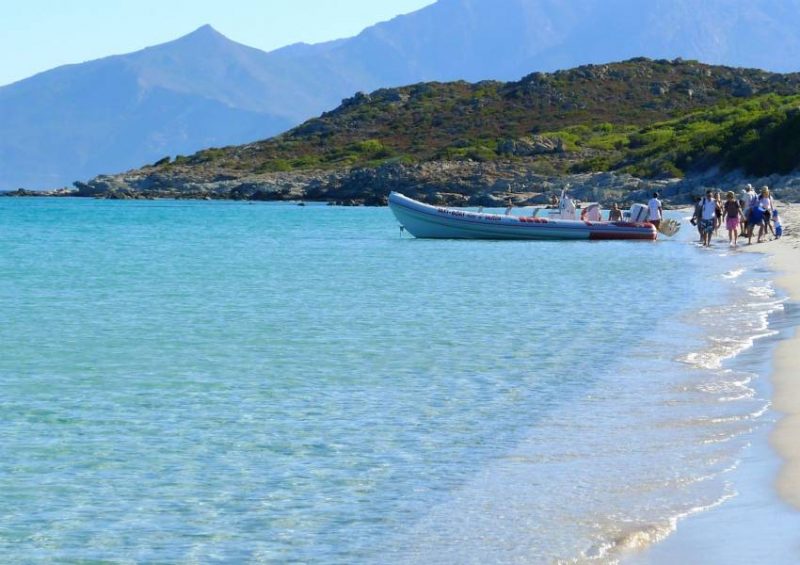 Getting to Saleccia is not exactly an easy process because of how secluded it is. But it is precisely because it's hard to reach that we love it so much. This is a peaceful and quiet piece of heaven right here on earth.
If you don't own a yacht, Plage de Saleccia will be all about the destination — not the journey. You can reach this beach by taking a ferry from the harbor of Saint-Florent or hitch a ride on a four-wheeler from Casta, a village located one hour away.
But if there's one thing that all visitors agree on, is that Plage de Saleccia is worth it all. Once you step into this perfectly-shaped arc of whiteness and purity, you'll see why so many people love this beach. The sand is white and fine, there are grass- and juniper-covered sand dunes, and trees growing from the sand.
In the distance, you can faintly see the outline of the tall and imposing Cap Corse mountains. As for the sea, it's hard to get any better. The waters are crystalline, shallow, and a unique shade of blue.
Located on the underdeveloped northern coast of Corsica, the only sounds you'll hear at the beach are the cicadas and the waves of the Mediterranean crashing on the shore. It's one of those beaches where total peace and quiet is still possible.
This beach was ranked as one of France's top beaches in the TripAdvisor Traveler's Choice Awards 2018.
2. La Grande Plage, St-Jean-de-Luz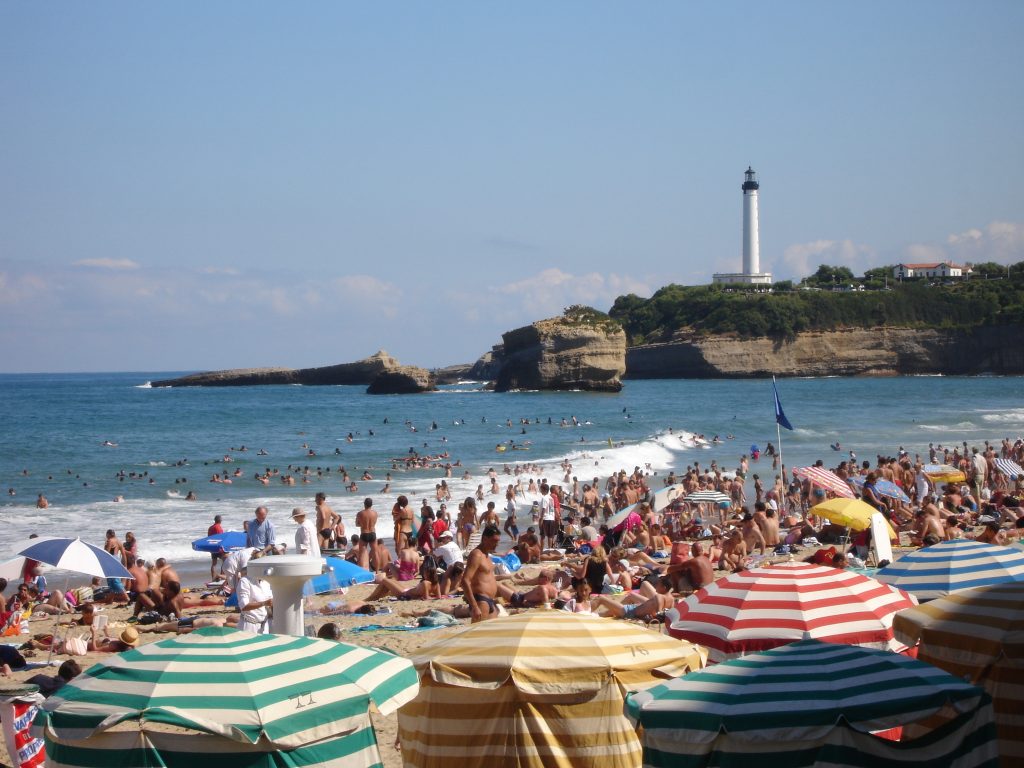 Located in the Basque countyr, La Grande Plage is a less touristy and less crowded beach than the nearby Biarritz, nestled on France's West Coast. If you're after a quiet day at a picturesque beach, this one is definitely for you.
La Grande Plage is still a relatively well-kept secret. There are no yachts or luxury boats docking at the harbor like you'd find along the French Riviera, only fishermen boats carrying large amounts of fresh, delicious fish. The beachfront is also not dotted by souvenir shops or tourist traps. This small fishing village has maintained its charm and is largely unspoiled.
This beach offers some of the most spectacular beach views in Europe. Nothing can beat the tall Pyrenees mountains in the background or the beautiful blue shade of the Atlantic Ocean.
If you're traveling with children, you'll be pleased to know that there's a children's beach club here. You can also dive off the boards set up over the water. Even if you're not a fan of swimming, a long walk on the beach will leave you speechless.
It's a great place to relax, take in the French culture, people-watch, and revel in the beauty of an unspoiled Basque country beach.
3. Plage de la Côte des Basques, Biarritz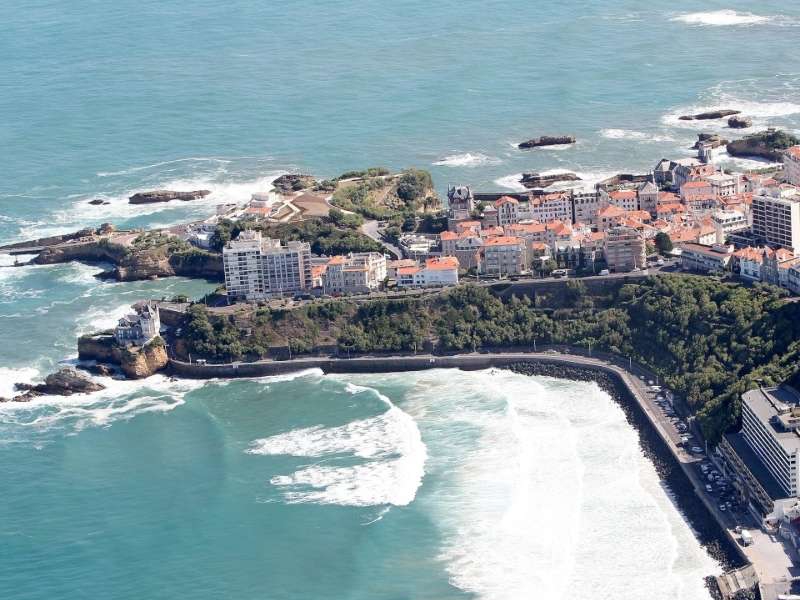 Along the Bay of Biscay sits the ever-famous Plage de la Côte des Basques. Immortalized by Ernest Hemingway in his novel The Sun Also Rises, it's a well-known celebrity vacation destination.
If you're looking for old-money charm meets young-money luxury, the Côte des Basques is the place for you. During summer, this is where you'll find Hollywood actresses, European football stars, and politicians spending their time off under the blazing hot sun.
We're not surprised celebrities have chosen this long sandy stretch of shore. After all, nothing beats the white sand, clear waters, and the dramatic unkempt cliffs. Plus, there's so much you can do here that you'll never get bored.
If laying on your towel perfecting your tan is your definition of a great time, you can do that just here. But if you're looking for some more adventure, don't despair. The waters here are welcoming of swimmers.
But what we recommend the most is going on a long stroll on the beach. Take in the beautiful blue Atlantic Ocean, the view of the Spanish coast and its mountains, and the rugged cliffs. You'll feel like you're on a beach in your dreams.
Not only is this beach highly regarded by most travel guides, this French beach was also ranked as one of the best beaches (South of France) in the Traveler's Choice Awards.
4. Plage de Morgat, Finistère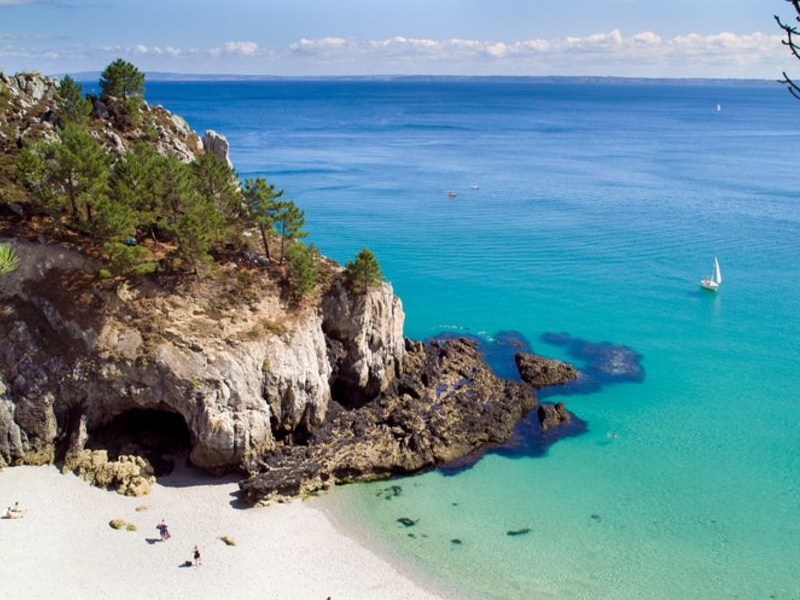 This stunning beach is sheltered from the forces of the rough Atlantic by charming cliffs that fall dramatically into the waters. Not only is the beach beautiful, but the town adjacent to it is worth writing home about.
Located on the Brittany coast of France, Plage de Morgat is surrounded by beauty everywhere. The Amorica Regional Park covers the black cliffs in majestic green shades with trees sloping into the blue surface.
The sand is white and powdery here, much like that of tropical beaches in Central America. The waters are turquoise and crystal clear, but most importantly, they're calm and serene. Whenever the sun gets too hot for you, you can take a dip into these peaceful waters to refresh yourself.
If you're a fan of action, there is a nautical center where you can take sailing lessons in the bay or rent a kayak. Paddle for a few hours from the beach to get a great look at the stunning black cliffs.
The beach and its surrounding areas are also well known for its great rocky coves. Why not go into one of them and explore? They're a beautiful change of scenery from the scalding sun-warmed beach and won't disappoint.
But the most charming thing about this beach is the fishing village that stands right behind it. The colorful houses and boats moored on the calm waters of the bay seem to be taken from a postcard. Here, the feeling can best be described as "picturesque and chill."
5. Pampelonne Beach, Saint Tropez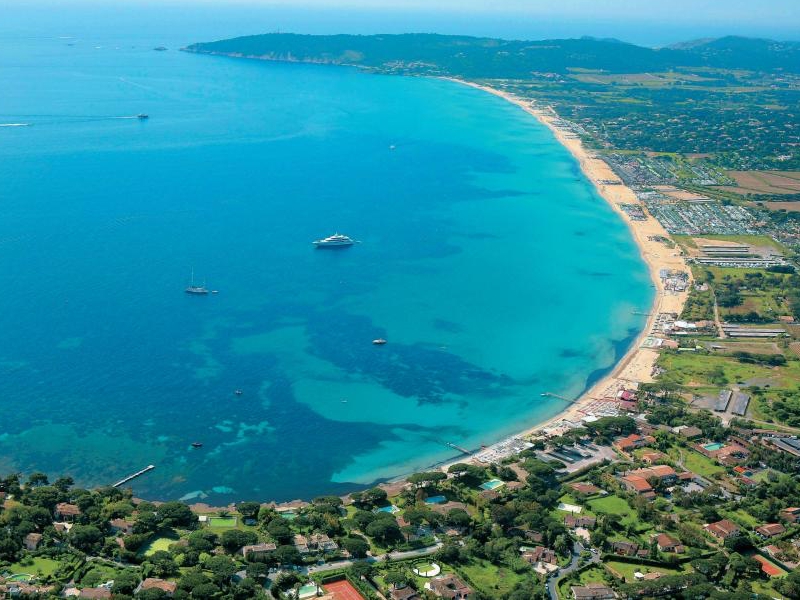 While once a quaint and sleepy fishing village, Saint Tropez is now well used and prepared to host the biggest A-list celebrities of the Western world. But you don't need to be on an invitation list to soak up the sun in this paradisiac beach. Everyone is invited to come and swim and be seen promenading along the French Riviera.
If, when looking at pictures, you thought Plage de Pampelonne was somewhere off in the Caribbean rather than as one of the South of France beaches, you're forgiven. With its beautiful  sand and crystal-clear, calm waters, this wonderful place easily passes off as an exotic beach destination.
From one end of the beach to the other, this beach measures a little over eight miles total. But the best beach is Plage de Pampelonne. This is where you'll see a handful of celebrities who have come here to soak in the sun at any given day during the summer.
Here, even the most common and run-of-the-mill beach activities are made interesting. The white and fine sand feel nice and comfortable on your feet, letting you walk for however many miles you feel like. People-watching here is always a good idea.
Alternatively, you could go for a swim in the calm and clear waters. You're welcomed to swim in your birthday suit at one of the most secluded sections of the beach. Either way, this is one of the top beaches in France.
6. Paloma Beach, Saint-Jean-Cap-Ferrat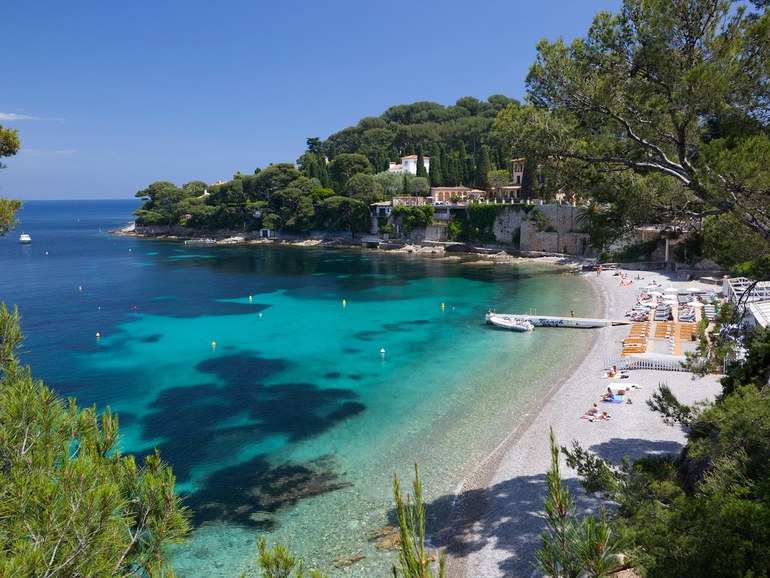 We can't think of a more Instagrammable beach in France. The sweeping wide views you get from the blue ocean and of the gray pebbles make all the bloggers (and other visitors) swoon.
This stunning beach in the even-more-stunning Côte d'Azur is a perfect example of why the region is so deeply loved. It was named after Paloma Picasso, the cubist artist's daughter, in honor of the Picasso family's patronage to the area and close ties with the South of France.
Paloma Beach is a known playground for the richest families in Europe. The beautiful and majestic mansions are here to prove it. But despite it being very well-frequented, everyone is welcome here. The vibe on the beach is family-friendly and relaxed.
Even though this is a pebbled beach and not a long sandy one, you'll have a great time here laying on one of the rented sun beds. If you want, you can also head out to the water and practice some water sports. You can rent equipment for waterski, wakeboard, wakesurf, jet-ski, parachute, and paddle boarding. There's no doubt that you won't get bored of being here.
7. Deauville Beach, Normandy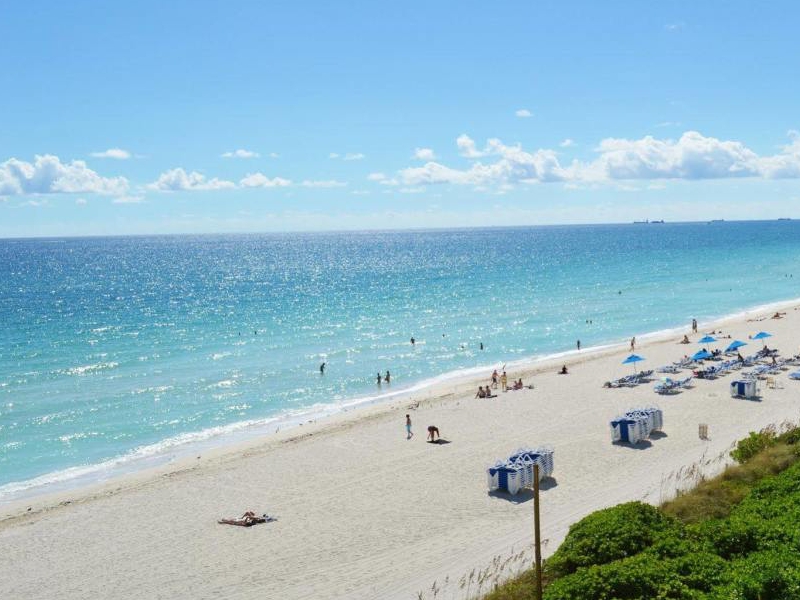 Deauville Beach is known for being the site of the first store every opened by none other than Coco Chanel. This beach, loved deeply by the fashion designer, maintains its charm and chic appearance to this day.
This place isn't just like all other seaside resorts in France. Located on the Normandy coast, Deauville Beach oozes style and leaves visitors wanting to come back. Coco Chanel was inspired by this place to create some of her more iconic looks. Something about the chic and polished vibe of Deauville conquered her heart.
Today, more than a century after the first Chanel store opening, Deauville is still prestigious and classy. Every year, dozens of posh social events are hosted here. The glamorous horse races, polo tournaments, and the annual Deauville American Film Festival are just some examples.
In the 19th century, Emperor Napoleon III half-brother saw the potential that Deauville had. He ordered the marshes in this area to be drained and turned into what you see today: a marvelous beach protected by grass-covered dunes. In less than a decade, Deauville became the place to be in Normandy.
Today you can see the grandiose hotels built during the Belle Époque right before World War One, where the Parisian elite and wealthy families from the Anglophone-world came to spend their summers. These sumptuous buildings are just a sample of the beach's rich past.
Now open and welcoming to all visitors who want to have a good time under the sun, Deauville is still charming. The beach is its main attraction, but the store-dotted wooden boardwalk is a close second. There, you can buy knick-knacks and pieces of clothing. For those who get hungry when shopping, there are ice cream vendors paddling out deliciously creamy ice creams there as well.
History buffs will rejoice in knowing that Utah Beach, the one famed for being one of the landing spots for American soldiers during the famous D-Day, is not too far from here. In fact, it's the perfect day trip and a lovely way of getting to know Normandy better.
Deauville Beach was also another highly ranked beach on the Traveler's Choice Awards 2018.
8. Antibes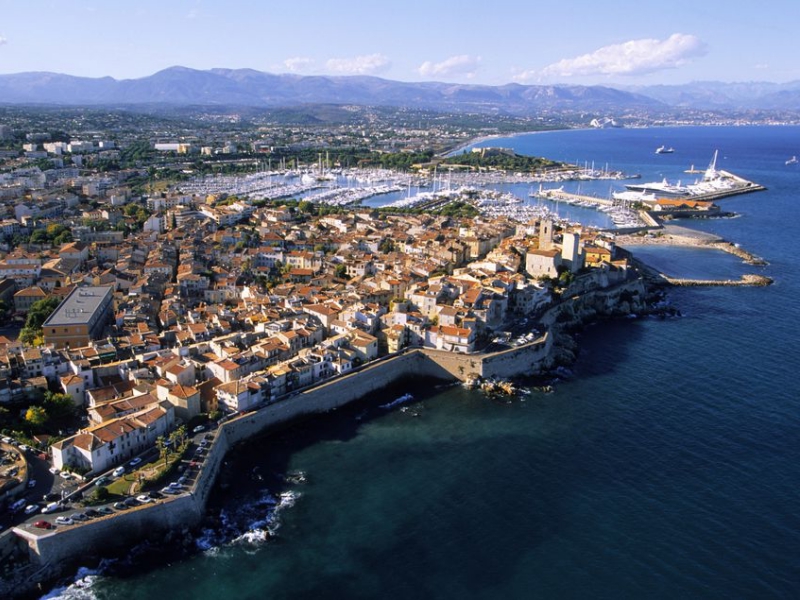 Nestled between Nice and Cannes, Antibes is a less crowded and more charming beach destination where the water is so blue and clear, you'll think you're in the Caribbean.
The peninsula of Antibes sticks out into the warm Mediterranean waters. It's the perfect mix of laid back and stylish for all the travelers who want to get away from the hustle and bustle of the large nearby beach cities. Between high-end seaside resorts and private stretches of beautiful beaches, Antibes is definitely one of the most chic spots in France.
Come for the art museums that house Picasso paintings and stay for the tropical-looking beaches. This peninsula is the place where the pebble beaches end and the sandy ones start. It's bathed by the calm and serene Bay of Angels, also known as the Bay of Millionaires.
The beaches in Antibes are the perfect mix of old-world charm, with its narrow and winding streets and centuries-old churches, and of watersports and elite beach clubs. Where else in the world will you be able to jet-ski while overlooking a Medieval city?
Even if you're not staying at one of the fancy resorts that have stolen stretches of beaches for their guests, you can still walk around on the sand and go for a swim. Plage la Gravette and Plage de la Salis are some of the prettiest public beaches in Antibes, and in the South of France in general.
9. Etretat, Normandy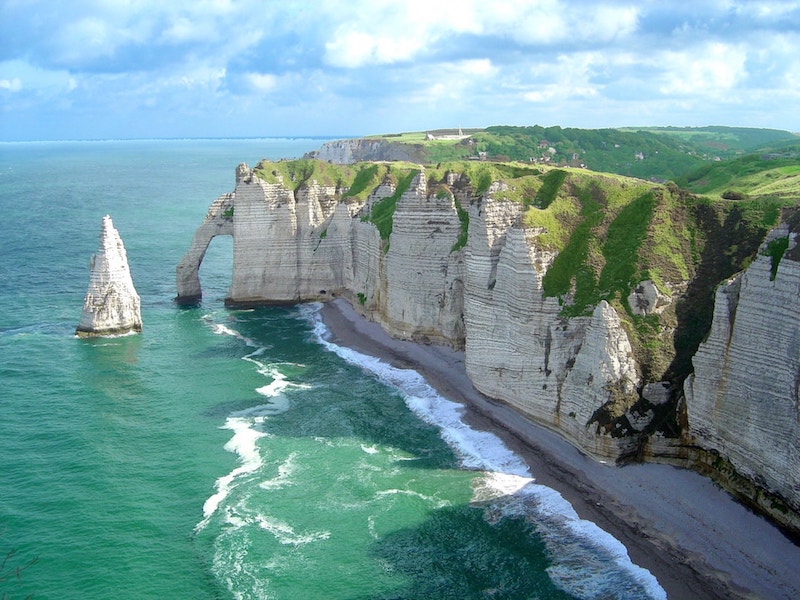 Mother Nature has really blessed this stretch of Atlantic coast that's close to the English Channel. The white cliffs that end abruptly separating land from the deep blue ocean will astonish all visitors.
You might recognize this beach from Impressionist paintings by French and foreign artists. Once they laid their eyes on the beautifully carved out cliffs, they couldn't help but feature them in their paintings. And we could say the same about today's visitors. It's very rare for a tourist to not photograph the clean-cut cliffs.
Tourists come from other places in Normandy just to take in the beauty of this place. They go down to the pebble beach and marvel at L'Aiguille, the three-arch structure that the sea has carved out. It got its name because of the similarity to the head of a needle.
But Etretat won't let visitors only see the pebbled beach and the amazing rock formations. There are extravagant hotels, centuries-old churches, and a stunning wooden-covered market. The charming villa of Les Clos Lupin is a place visitors are invited to explore and discover all its hidden secrets. There's even a golf course set up on top of the cliffs for the most eager players of the sport! The rugged sandy beaches along the Atlantic coast of France is not to be missed!
Frequently Asked Questions About the Best Beaches in France
Does France have beaches?
Absolutely! France has a very long coastline and it's bathed by two main bodies of water: the warm Mediterranean Sea and the choppy Atlantic Ocean, near the English Channel.
You can imagine just how many beautiful beaches France has because of this. And depending on the region where you are, they all have their own charm and appeal.
Does Paris, France have beaches?
Since Paris is not located on the coast, no, it doesn't have any beaches. But getting from Paris to any of the coastal towns (Cannes, Nice, and others) isn't too hard. The railway system in France is quite good and will take you there in a matter of hours. However, if you're looking for beaches in France near Paris, beaches on the English Channel aren't too far away and can be reached within a couple of hours.
Does France have sandy beaches?
France has some sandy beaches. The Basque Country, for example, has a lot of white sand beaches. But the country doesn't just boast powdery beaches. Some have pebbles instead of sand. If you want to visit a pebble beach, head to Etretat in Normandy or to Paloma Beach in the South of France.
Are dogs allowed on the beaches?
Not all beaches are dog-friendly. In fact, the vast majority doesn't let dogs into the beach during peak season (meaning, the summer). The regions of Alpes Maritimes, Var, and Pyrénées-Orientales are the most pet-friendly, but there are still a lot of restrictions on where you can bring your pup here.
Our travel tip is to look up online whether the beach you're thinking of visiting is animal-friendly or not. Take the risk and sign up to a forum with your email address and get the best advice from dog walkers in the region.
Can you bbq on the beaches?
Lighting fires isn't allowed on every beach in France and there are signs up warning visitors of this. Keep in mind that there are fines associated with barbecuing on the beach if it isn't allowed there.
What to wear on French beaches?
France is the fashion capital of the world, but don't feel like you have to dress up all the time to have a good time. While you'll see more chic outfits in beaches close to Cannes and Nice, French people still know how to dress down when the occasion calls for it.
You can bring any bathing suit, bikini, or shorts you want — whether they're couture or budget.
If you're a naturist, then you can bathe naked in some beaches or parts of beaches. There are stretches of sand in Saint Tropez, for example, that allow nude swimming. A quick online search should give you a list of all the naturist-friendly beaches.
Are French beaches safe?
Yes! France is one of the safest countries in Europe, so you won't have to be worried about safety. Just use the same street smarts you do back home and you'll be fine.
As far as swimming goes, not all beaches are the best for it. Currents may be tricky and lifeguards may not be stationed in some parts of France, so always be cautious when entering the water.