One could spend many lifetimes exploring the endless beaches in the Aloha state of Hawaii.
Aside from the Mai-Tais, leis, poké (traditional raw tuna dish with sesame oil and green onions) and the carefree surfer culture, Hawaii is home to some of the best beaches in the world.
From tiny sequestered coves to family beaches, to red, black, and green sandy beaches that caress the Pacific ocean waters, the options you have in which to spend your vacation are bountiful. The icing on the cake is that you can access any beach your heart desires, as they are all open to the public!
You might choose to spend your trip on just one beach, or you might choose to dip your toes into the waters of this volcanic archipelago chain in the Central Pacific ocean.
Oahu has some of the best surfing spots, while Kauai is known for its tropical forests and coastlines with coral reefs. The Big Island of Hawaii is known for its volcanic rock landscape, while secluded Molokai is renowned for its secluded pristine stretches of beach, where you'll encounter many natives.
10. Waikiki Beach – Oahu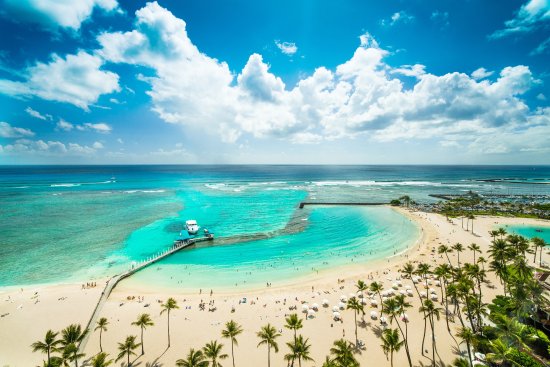 One of the top Hawaiian beaches, and the most popular, Waikiki Beach is a two-mile span of white sand where you can find activities to do around the clock.
Once a playground for Hawaiian royalty who loved to surf on these turquoise waters in the 1800's, it's now one of the most cosmopolitan spots on the isle.
This Hawaiian beach features protected swimming areas and lagoons that are ideal for children to swim in, and they'll surely relish the sights of the catamaran and sailboat activity in the distance.
You'll find many stands that rent gear on the beach like surfboards, boogie boards, snorkels, fins, as well as small boats if that suits your fancy!
You might spend the day swimming, parasailing, snorkeling, or sunbathing and watching the elegant sunset come evening time.
The unique aspect of Waikiki Beach is that everything you could need is within arms reach, including lodging options, over one thousand restaurants, and novel shops.
Waikiki Beach is the ideal beach to try out a surfing or paddleboard lesson, for it's long, rolling wave breaks.
Fun events abound, such as hula dancing, entertaining music events, and canoe and surfing competitions.
If you'd like some animal love in your life and an activity the whole family will enjoy, visit the Honolulu Zoo off of Kapahulu Avenue.
On the Northern part of Waikiki, Ala Moana Beach Park is a lovely one hundred acre park with tons of shade trees, featuring volleyball courts, an extensive bike path, a place you can take 'yoga on a paddleboard' lessons, picnic tables, concession stands, and a strip of beach called Magic Island.
9. Kaanapali Beach – Maui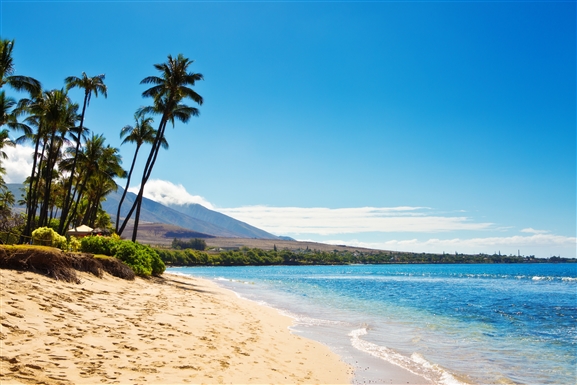 At one time considered the best beach in the United States, three-mile-long Kaanapali Beach has white sands and transparent waters in which you can perhaps catch a glimpse of your reflection.
From Kahului Airport, it's about a fifty-minute drive to this Hawaii beach, and if you do decide to travel via automobile, it costs two bucks per thirty minutes you choose to spend at the beach.
Off the beach's Northernmost cliffs known as Puu Kekaa, you'll see a daily cliff diving ceremony, where a cliff diver will light the torch along the cliff at sundown and dive off the black rock to reenact a feat by Maui's King Kahekili. This happens to be one of the beach's main attractions.
A great company to go with if you'd like to try a ziplining tour is Kaanapali Skyline Eco Adventures, where you'll get to experience a panoramic view of the coastline.
For some retail therapy, the outdoor Whaler's Village is a giant shopping complex with world-class shops and dining joints, and if you'd like a historical treat, there is even a whaling museum to tour.
This beach is also home to championship golf courses, the Royal Kaanapali and the Kaanapali Kai, if you're looking for an extracurricular activity.
Surrounding this beach are resort hotels and condominium villages, where you might choose to lay your head for your time here.
8. Hanalei Bay – Kauai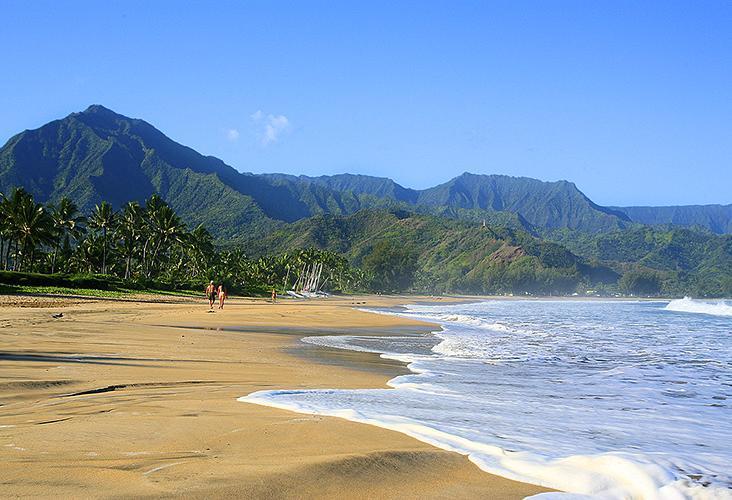 Also known as Hanalei Beach, this stretch is probably the most famous beach Kauai has to offer. Being the largest bay on Kauai, and featuring four thousand foot high mountains overlooking the background (that are teeming with waterfalls if you look closely enough), this beach is so breathtaking that a famous book was written about it called 'Hanalei Bay.' Hanalei is just Hawaiian for 'crescent beach.'
Beginning from Waikoko Beach on the Western end, and ending at Black Pot Beach on the Western end, you'll encounter four main sections within the inlet.
Pu'u Poa Reef can be seen on the left side of the beach and Waikoko Beach on the right end, with tiny patches of coral nestled in the middle, if you're looking to get some snorkeling in.
Some pleasurable activities you might enjoy include yachting, windsurfing, swimming (during the Summer months), and kayaking.
In the winter months, you should expect strong currents, with waves that can get as high as twenty feet tall. If you are a surfer and love big waves, try your luck at a place called Pinetrees (that's situated in the middle of the bay), where you'll see monstrosities of waves crashing against the Hanalei beach shoreline.
7. Lanikai Beach – Oahu
Lanikai Beach, Oahu, is one of the most beautiful beaches on the Hawaiian Islands. Situated on the Eastern side of Oahu, and considered one of the best beaches in the region, Lanikai (Hawaiian for heavenly ocean) Beach can be found in the neighborhood of Lanikai in Kailua.
This beach is perfect to see a sunrise or moonrise with your beloved on its powdery white soft sand.
Kayaking is a great beach activity, for the ocean waters are calm here. It's actually not just the ocean waters that are calm here, but the whole atmosphere is serene.
This cove is excellent for both swimming and snorkeling, as there are patches of reef teeming with marine life to be explored.
Do keep in mind that there are no lifeguards, amenities, or parking spots here. However, if you mosey your way over to the nearby Kailua Beach Park, there are bathrooms, showers, and picnic tables.
From the months of June to September, keep your eyes peeled for the jellyfish that have been named the 'Portuguese Man of War' and the seaweed called 'limu' that stings. A good rule of thumb to note is that roughly nine to twelve days after the full moon is when it's typical to see jellyfish get washed ashore.
If you're coming from Waikiki, take the Pali Highway heading toward Kailua. From there, it's a rainbow away from Lanikai Beach. Mokumanu Drive is the street you want to eventually end up on, and the ocean side of the road is where you can access the beach through small public paths.
6. Makena State Beach – Maui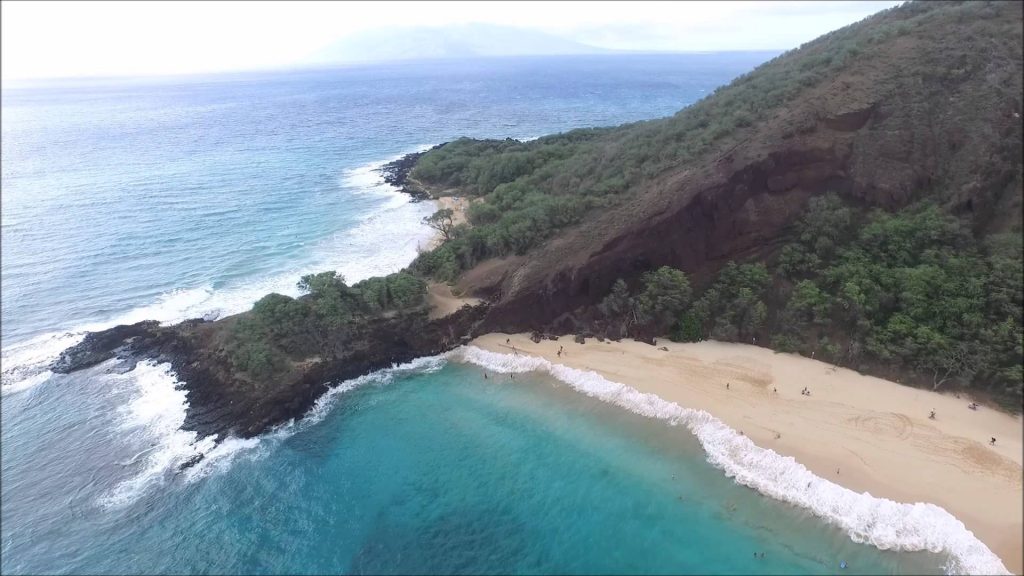 One of the largest undeveloped beaches at Maui, Makena State Beach, also known as Big Beach, is one of the largest in Hawaii, and the best beach Maui has to offer.
Makena offers much protection from the trade winds, as it's located between two lava outcroppings, with fantastic views all around.
You might choose to go bodyboarding, swimming, or go fishing along the shore of this blissful beach.
This Maui beach is split into two areas called Little Beach and Big Beach.
Big Beach is situated South of Wailea and is a more secluded alternative to other more crowded beaches.
North of Big Beach, Little Beach is a small stretch of sand in which you can experience cultural drumming celebrations and fire dancing.
If you want to let it all hang out, you can choose to spend your day in the nude at this beach.
There are picnic tables, and portapotties available to the public. But, do bring your own water bottle, as there is no drinking water available here.
Also, there are lifeguards on duty if you need an extra set of eyes on your little ones, or if you would just like that extra peace of mind.
The ocean can be unexpectedly powerful here, so remember to always keep your eyes on the water.
5. Punalu'u Black Sand Beach – Big Island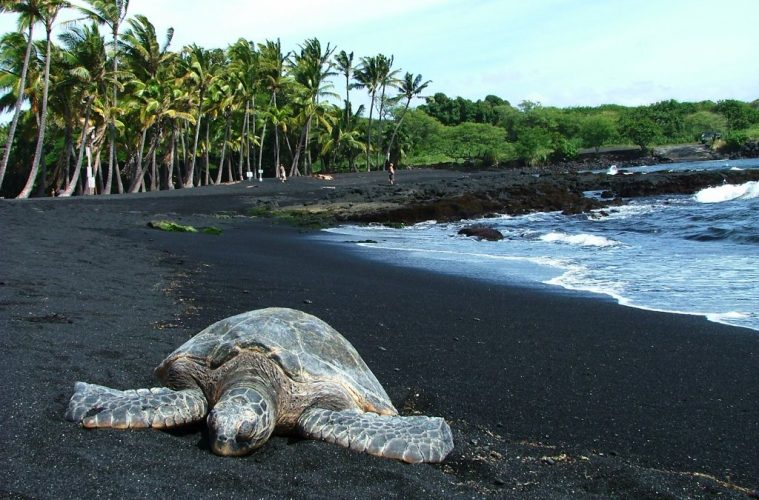 One of the most famous beaches with black sand, Punalu'u Black Sand Beach is a marvel to see.
You'll have the opportunity to watch the endangered Hawksbill turtles going about their day in the water, if you're lucky enough!
You might also see Hawaiian green sea turtles relaxing under the sun on the shoreline here- which is a rarity to be able to see them out of the water. Most of these species of sea turtles around the world don't come out of the water, but it's special that these Hawaiian ones do. Just respect the turtles and refrain from touching them if you do happen to see them.
There are multiple outdoor activities to be enjoyed under the sun such as swimming, snorkeling, camping, and hiking.
You'll see strips of coconut palm trees on the beach, which might be a noteworthy area to relax and recover your toes from the black sand that can get hot during the day.
In Punalu'u Bay, there are underwater freshwater springs that can give the sensation of swimming in water of two temperatures. This is because the water coming from these springs is colder than the ocean water, and it drifts on top of the saltwater, so it might feel like you're swimming in both cold and warm water.
This Hawaii beach is located between Volcano Village and the town of Naalehu, off of highway eleven.
4. Honaunau Bay – Big Island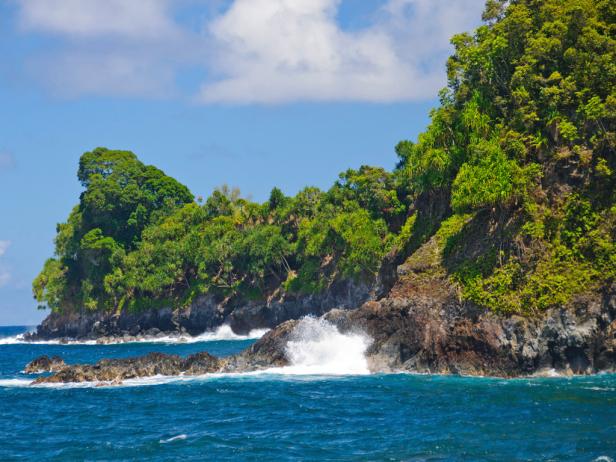 One of the best beaches in Hawaii, Honaunau Bay is a deep harbor where countless fun activities can be enjoyed.
This beach offers some of the best snorkeling in Hawaii with an astonishing coral reef that is overflowing with tropical fish species. The bay typically has calm waters, which makes snorkeling easier, and contributes to the visibility being crystal clear.
The easiest way to access this ocean is via an area known as Two Step, which refers to the way the lava rock has been worn by the waves. This actually makes it one of the best beaches to go snorkeling because you're able to sit down right on the lava rock to put on your fins and gear, and step right into the ocean. Plus, when the sunlight glistens onto the water (especially in the morning), the waters and what lies beneath them become nicely illuminated.
For those that want to get some action-packed fun into their vacation, along the Northern coast of the bay you'll find a trail that starts at the beginning of the one-way street where the street starts curving to the right (next to the lava cave). Keep walking on the trail through the hedges and it will lead you to the coastline, and ultimately leads you all along the bay.
Scuba diving is also a very popular activity to do in Honaunau Bay.
Spinner dolphins are known to come up fairly close to shore- well, close enough to be seen, at least.
This cove is located twenty miles South of Kailua-Kona on State Highway 160. Parking can be limited, so you might want to consider arriving early.
3. Laniakea Beach – North Shore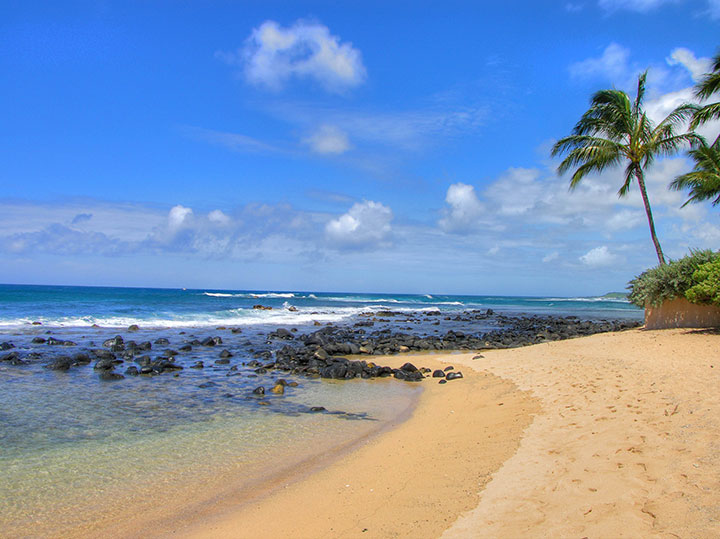 Situated on Oahu's North Shore, Laniakea Beach, also known as Turtle Beach, is a smaller beach that is mainly known for the green sea turtles that relish the sun and lounge out on the sand.
The turtles enjoy eating the seaweed that grows on the beach's rocky shelf and on the encompassing rocks.
Feel free to take as many pictures of them as you want- they aren't camera-shy! They just don't like to be bothered too much. And, it's against the law to hunt them or chase them, as they are endangered. If you have your hopes up about seeing them, the best time is between eleven in the morning and one in the afternoon.
Laniakea Beach is known to get crowded on occasion, so if you want some private time, consider coming early in the morning, or for a nighttime stroll along the shoreline.
Sea urchins can be common to find in the water here, so stay at least ten feet away from them- it wouldn't be too fun to have their spine poke your foot!
This beach may be found on Kamehameha Highway, along with other awesome North Shore beaches such as Sunset Beach and the Pua'ena Point Beach Park.
2. Poipu Beach Park – Kauai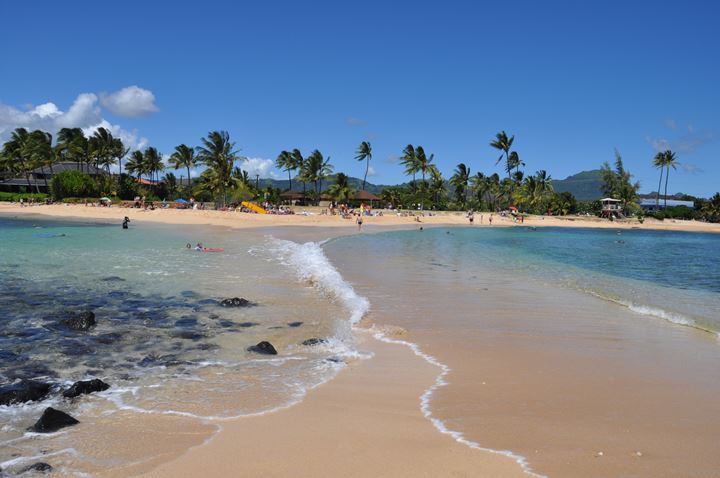 Kauai being the greenest and most ecologically rich island in Hawaii, Poipu Beach does not disappoint with its Jurassic Park-like feel to it. One of the top beaches in Hawaii, Poipu Beach is actually two shores in one, with rugged cliffs in the background and a green lush interior.
Nukumoi Point divides the two bays, which is the particular place where the Hawaiian Monk Seals like to pass the day.
If you are just starting to learn how to bodyboard (or even if you're an advanced bodyboarder), the Western part of the beach is a great place for this activity, as small breaks roll through, ever so smoothly.
For those with families, the left side of the sandbar is a shallow area that's perfect for swimming.
You're likely to encounter many here on the weekends engaged in either a picnic, kids having a ball at the playground, or celebrating a birthday party.
There is gear available for rentals such as snorkel equipment and surfboards.
Note that there are restrooms and shower available for the public on this family beach.
1. Papakolea Beach – Big Island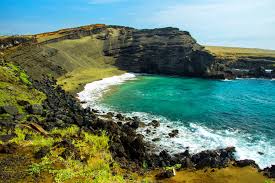 Also known as Green Sand Beach, remote Papakolea Beach is a sight to see! It's, of course, known for its crystalline-like green olivine (a mineral found in the basalt of specific lava flows) sand. The green sand crystals are intermingled with black lava sand and ground up coral shells, so you'll see some areas that are greener than others.
Picture aquamarine blue waters against blue skies, and the unique-as-can-be green sand-straight from a postcard.
There are no facilities here, so pack an easy lunch, and bring plenty of water, as the Hawaiian sun gets ever so intense! Bring your hat and sunscreen as well, as there aren't any shade areas here.
This green sand beach is absolutely charming, and there are only three others on the planet like it.
To get here, hop on the road to South Point between mile markers sixty-nine and seventy on Highway eleven and park on the left-hand side at the small harbor once you reach the end. Expect to see ancient temples on the drive, and jaw-dropping beauty all around you.
You must hike to the beach to reach it by walking from the parking lot out to the water, turning East, and following this path with the sea on your right-hand side for about two and a half miles. Now, you've reached Green Sand Beach.
If you do decide to embark on this hike, it's suggested to do so earlier in the day, as the winds can become quite strong later on.
Swimming is not especially recommended, for the waves can become fierce- however, you might see brave Hawaiians cannon-balling into the waters from the cliffs edges.
Hawaii Beaches FAQs:
What is the weather like in Hawaii?
There are two main seasons in Hawaii- Summer, which ranges from May until October, and Winter that spans from November to April. It's warm year-round in this Eden- but it's just a tiny bit warmer in the Summertime than in Winter. T-shirt and shorts weather can be found three hundred and sixty-five days out of the year. As far as rain goes, it is very intermittent, but June and July are the driest months if you're not looking to have to deal with any rain.
The sun can get very intense from about ten in the morning until four in the afternoon, so if you have sensitive skin, avoid venturing out without sun protection during these hours.
Does Hawaii have black sand?
Hawaii is the most common expanse in the world to find a black sand beach.
Black sand beaches are typically found near volcanoes and are formed by the pounding of the waves on the compacted lava, which creates miniature bits of volcanic glass, or sand.
To find the majority of the island's black sand beaches, travel East along the island chain, following the path of Pele, the Fire Goddess. There are plenty of beaches with white sand too though!
Is smoking allowed on beaches?
Smoking is against the law in all state beaches (and parks!), except Kauai county. This goes for e-cigarettes as well.
What type of clothes should I bring to Hawai?
It's recommended to pack a swimsuit, comfortable shorts, your favorite pair of flip-flops, and lightweight shirts. You can pick up a sarong or a Hawaiian dress when you get there.
You might consider pacing a light sweater and long, lightweight pants for the occasional cool evenings.
Should I expect to encounter any sharks during my trip?
There are more than forty species of sharks in the state; However, it is highly unlikely that one would attack you. Common ones that you might see include the sandbar, hammerhead shark, reef whitetip shark, and the tiger shark.
There are only two to three shark attacks annually, which is minuscule considering millions come to visit each year.
Odds are, you're more likely to drown than to be a victim of a shark attack.
Should I be concerned about any volcanoes?
You may have heard about the Kilauea Volcano erupting in May of this past year that released molten lava flow and forced about one thousand five hundred residents to evacuate.
According to the Hawaii Tourism Authority, there is no reason for travelers to change their vacation or business travel plans. After all, this is one of the most active volcanoes on the globe, so this kind of circumstance is to be expected.
Events like this one are pretty uncommon, so don't be too concerned about something like this happening on your trip. That being said, it's always wise to consult a Hawaii travel website for up to the minute news.
What language is spoken in Hawaii?
English is the official language, as it is part of the United States. Of course, Hawaiian is spoken by many locals.
Do I need a visa to visit Hawaii?
If you are a U.S. resident, you don't need a visa or a passport.
There are thirty-eight countries that are part of the Visa Waiver Program, which allows citizens of these countries to travel to the Hawaiian Islands without a visa, but does require a passport. The catch is you have to be traveling as a tourist, and for less than ninety days.
In general, you must present both a passport and a visa to enter the state, but there are some exceptions.
Canadians do not need a visa – just a NEXUS card in lieu of a passport.
Where should I travel to if I want to see some volcanoes?
The Big Island of Hawaii has many active volcanoes. But, in particular, the Volcanoes National Park is where you can have the opportunity to see active lava-flow up close if you opt to visit. This park is actually the main attraction in the entire state of Hawaii- With Mauna Loa being the largest mountain in the world, and only accessible by a seventeen-mile hike. A fun fact is that it weighs more than California's entire Sierra Nevada range.
Another highlight of this park is the Thurston Lava Tube, which you can actually walk through. But first, you must wander through a fairy-tale like, lush, leafy fern forest.
Admission to this park is ten dollars per vehicle.
How much should I expect to pay for accommodation?
Fair warning – Hawaii is one of the most expensive states in the United States. However, what you end up paying for accommodation ultimately depends on your budget, as options range from hostels that charge fifty dollars per night to upscale luxury resorts and vacation rentals that can charge upwards of hundreds of dollars a night.
Generally speaking, the closer to the beach your lodging is, the pricier it will be.
What currency is used in Hawaii?
The U.S. Dollar is used as the unit of currency.