Although New England is more well-known for being the perfect fall break destination, you shouldn't overlook how beautiful the area becomes in the summer. With its white sand stretches, calm waters in some parts and choppy in others, and its beautiful scenery, New England is the perfect beach weekend getaway, especially for those looking to escape the bustle of New York.
What we call New England is, in fact, a group of six states. Vermont, Massachusetts, New Hampshire, Maine, Connecticut, and Rhode Island get together to form the cool and breezy part of the USA. The area's quaint, little seaside towns and the endless orchards enchant any visitor to the area, but you can't forget about the beautiful beaches!
A New England beach isn't like the tropical paradises you see in postcards from Hawaii or Florida. The best northeast beaches of the United States are like hidden gems: unique and rare. You won't see any palm trees swaying from side to side, but you'll see small colorful fishing boats grazing the waters, seals and sharks swimming around, and tall, majestic sand dunes.
Besides the dreamy beaches, the region has much more to offer. From great, fresh, and filling seafood dishes to a lot of history and culture, it's no surprise that this stunning region is featured in many travel guides.
If the promise of great beaches, amazing food, and interesting culture is enough to entice you, know you'll be welcomed on these shores. Although this area is insanely popular among people living in nearby big cities such as Boston, the area also has many visitors coming from all over the United States!
The best way to enjoy all that these beaches have to offer is by choosing the right beach for you. To save you the hassle of spending hours researching them, we have put together a list of the best New England beaches. That way, you can rest assured you'll find one that fits your lifestyle perfectly!
1. Hampton Beach, New Hampshire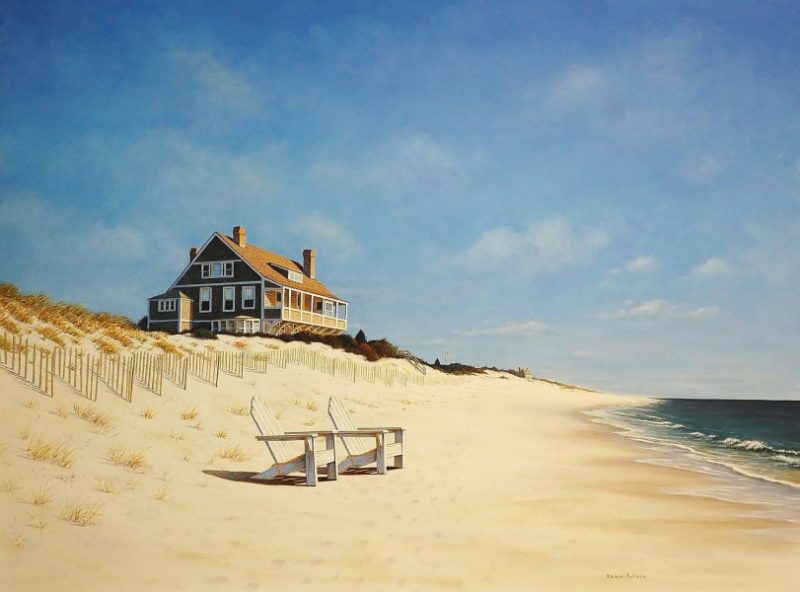 Who can think (or write!) about the best beaches in New Hampshire and not mention Hampton Beach? No one! Not only is this one of the most blogged-about and coveted beaches in the state, but it's also in the top three beaches in the United States!
Located in the city of Hampton, this is a beach destination with a long history and reputation for being luxurious. You'll find countless references to spending a summer here in pop culture and in literature. If you're looking for a stylish, yet somehow relaxed, beach vacation, then this is the place for you.
What makes this gorgeous beach stand out the most is how clean the water here is. Year after year the beach wins awards for having clean and safe-to-swim-in water. Here, the Atlantic shows its true, most beautiful colors. The sand here is fine and clean and inviting to long walks by the water on the beach.
Close to the beach, you'll find the Hampton Beach State Park and the Hampton Salt Marsh Conservation Area. These national parks were created to protect the area's unparalleled natural beauty. They're home to many species of plants and a haven for birds seeking a place to make their nests and hatch their eggs.
Another attraction to this beach is the long boardwalk. This wooden boardwalk is in the top ten boardwalks in the country and a place where locals and visitors come to stretch their legs and take in all the beauty of this beautiful region.
The summer months are the busiest in the Hamptons. Thousands of people check into cozy New England vacation rentals, picturesque hotels, and bed and breakfasts to spend quality time under the sun and clear skies of New England. Even children love coming here, especially in mid-June when the local Sand Sculpture Competition is held.
If you're looking to get a break from swimming and laying in the sand, you can visit the Casino Ballroom that's close by. There are also countless restaurants and bars on the beach serving delicious meals and cocktails.
2. Ogunquit Beach, Maine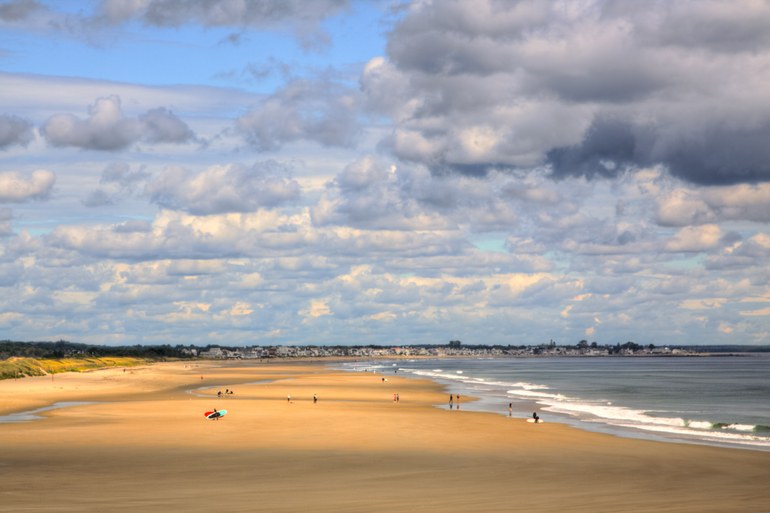 Ogunquit Beach is none other than one of the best beach getaways in Maine. Stretching over three-and-a-half miles, this beach is a natural beauty that is easily reached by car from the biggest cities in Maine, New Hampshire, and Massachusetts. It's located south of Portland and the Old Orchard Beach, it's a must-visit bay in the region.
Once you get to Ogunquit Beach, you'll notice just how vast it is. It seems to stretch out endlessly, bathed by the Atlantic Ocean and sheltered by tall, sandy dunes. These natural landmarks make the beach all the more beautiful and have succeeded in placing it in the top 25 beaches in the country.
This sandy beach is a great place to get a tan. The sand is fine and comfortable, perfect for naps under the sun. Even those who love a little more action during their vacation will be happy here. Ogunquit Beach is ideal for swimming, body boarding, and bodysurfing. The waters are calm and clear, and yet dynamic in some places and during certain times of the year.
Long walks on the beach here are unmissable. The sand is fluffy, you'll get great views of the grass-covered dunes on one side and of the chilly Atlantic Ocean on the other, and there are beautiful seashells here and there at the beach.
If walking is something you enjoy, we highly recommend going up to Marginal Way. It's a mile-long cliff walk that gives hikers some of the best Atlantic vistas in the world.
And the best thing about this state beach? How accessible and convenient going to the beach is. There are public restrooms, plenty of parking space, lifeguards, and boat ramps for small vessels here.
3. Chatham Lighthouse Beach, Massachusetts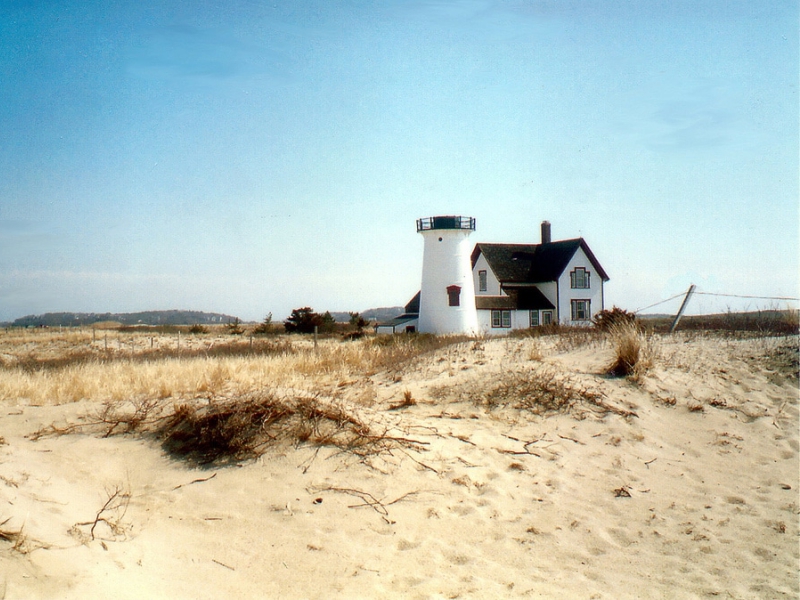 Chatham Lighthouse Beach lies under the watchful eye of an active lighthouse that aids ships navigating the waters of the Atlantic. This is a must-see beach in the beautiful Cape Cod.
The dynamic and often choppy waters of Chatham in the Atlantic Ocean are sometimes dangerous for boats. And this being an area that is deeply connected to the ocean, dozens of brave men head out to sea every night. When they need some help in navigating the rough waters, they ask the Chatham Lighthouse for help, also known as the Coast Guard Station.
The beach itself is stunning. Anywhere you look, you'll see sand stretching out into the distance. The actual beach stretch is enclosed and sheltered by tall and majestic-looking sand dunes, which are home to dozens of species of animals. Walking close to them makes for a great little hike on the sand, just make sure to not step on them and damage this important ecosystem!
There are also walks and hikes organized from Chatham Lighthouse Beach to the nearby Monomoy Island. The hiking trails there delight visitors with awe-inspiring views of colorful small fishing boats and of the wildlife in the area.
Chatham Beach is an important point in the migratory path of seals and some sharks. If you're lucky, on a good day, you might even see these beautiful creatures swim past the beach!
Although this Cape Cod beach is open to the public for swimming, there are no lifeguards stationed here. The waters are often choppy and dynamic, so going for a swim may not be the best idea. But that doesn't have to mean your day at the beach is ruined. There are so many fun things you can do out of the water that you won't even be bothered by the tricky currents.
This is easily one of the best beaches in Massachusetts.
4. Narragansett Town Beach, Rhode Island
Narragansett Town Beach is a busy beach if we've ever seen one. More than ten thousand people visit it every day during peak season, and many of them keep coming back year after year. So why is it so popular?
A possible explanation is that this is known as the best surfing beach in New England. If you're looking to ride some waves, this is definitely the best beach for you. Hundreds of surfers come here every day from morning to sunset to practice the sport they love. On the edges of the beach, the waves can reach four feet, perfect for recreational surfers.
Since the beach is crescent-moon-shaped, you'll find that the beach isn't all the same. The waters in the middle of the beach are much calmer and children-friendly than on the edges. This beach is a great place to let your kids run around with their friends and play in the water. We guarantee they'll have a great time here.
If you get hungry, you can grab the famous chowder at one of the beach-side restaurants. To wash it all down, why not buy a lemonade from one of the trucks parked in the lot? We can't think of a better way to get refreshed.
5. Easton's Beach, Rhode Island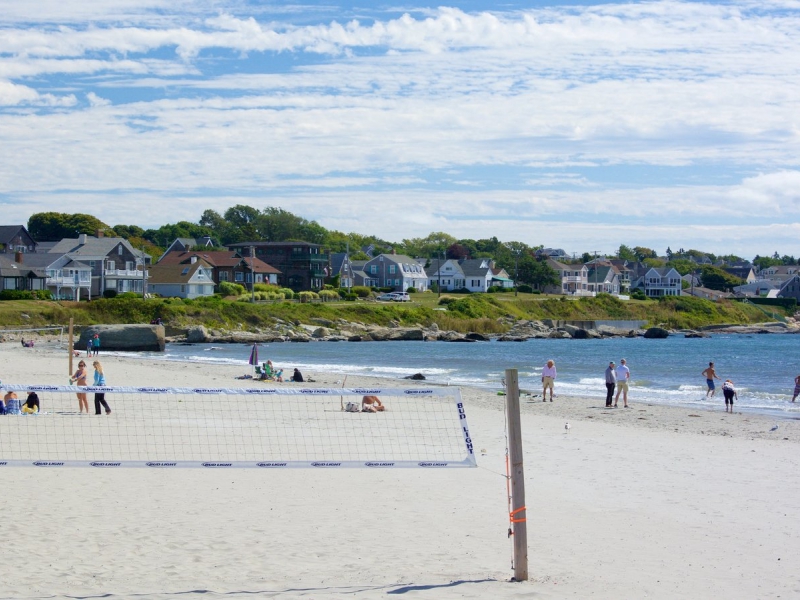 Located in Newport, Rhode Island, Easton's Beach is relatively small, measuring less than a mile in length. But don't let its size fool you. This is still a very active and popular New England beach among locals.
What puts this Rhode Island state beach on the map is its long boardwalk. It stretches out from one end of the beach to the other and is a great place for walks at sunset. Come by yourself or with a loved one and enjoy the beautiful views of the Atlantic Ocean right when the sky turns a pink-and-orange-ish color.
Easton is also famous for having a lively and eclectic surfing scene. You'll find amateurs of all levels trying their luck riding the waves here. If you're a lover of the sport, we're sure that you'll have a great time watching them surf and maybe even joining them!
Because of how beautiful the white sand looks, this is a beach popular for weddings. From ceremonies hosted on the beach to the photos being taken by the sea, as soon as you get to Easton's beach you'll understand why so many brides choose this exact beach for their special day.
The beach is lined by small stores and rental huts that supply beachgoers with beach essentials. Things such as sunscreen, buckets and shovels for the little ones, boogie boards for the adventurous, and umbrellas and lounging sun chairs for those who like to lay out in the shade and sun are available.
Lastly, the nearby Save the Bay Exploration Center and Aquarium makes a trip to the beach even more exciting. You can head here when the hot sun becomes unbearable and still have a great time. If you'd prefer, there's also a beautiful 1950s carousel here. We're sure little kids will love going for a ride!
6. Sand Beach, Maine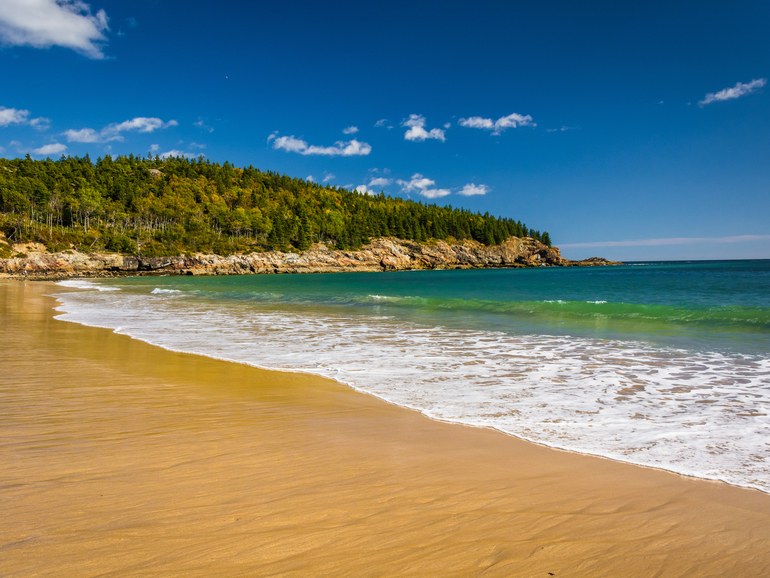 Located on a small inlet bordered by the granite mountains of Mount Desert Island, Sand Beach is one of the most gorgeous places in the area.
Created in 1961 by President Woodrow Wilson near Bar Harbor, Acadia National Park was the first of its kind on the East Coast. Its richness and natural splendor draw in millions of visitors every year without fail, and a lot of them make Sand Beach one of their stops.
The Acadia National Park is a treasured gem of Maine. Mountains, conifers, birds, and small mammals all meet the ocean in this stunning park. You'll find the most spectacular things that Maine has to offer here by walking through the trails.
If you're one of the attentive visitors, you'll notice a very small, pink-sand cove nestled in the park. While it only measures 290 yards in length, Sand Beach is one of the most beautiful of New England's beaches.
The soft, pink sand found on this New England beach is completely different from the kind you'd find anywhere else in the area! Besides being pretty, it's also comfortable to walk on — perfect for a (short) walk on the beach at sunset. The waters are also breathtakingly gorgeous. They're sapphire colored and calm, perfect for a swim if they weren't so cold! The water temperature rarely goes past 55 degrees in the summer, so you may be better off just admiring the beautiful waters of Newport Cove from your towel…
7. Sandy Point in Ipswich, Massachusetts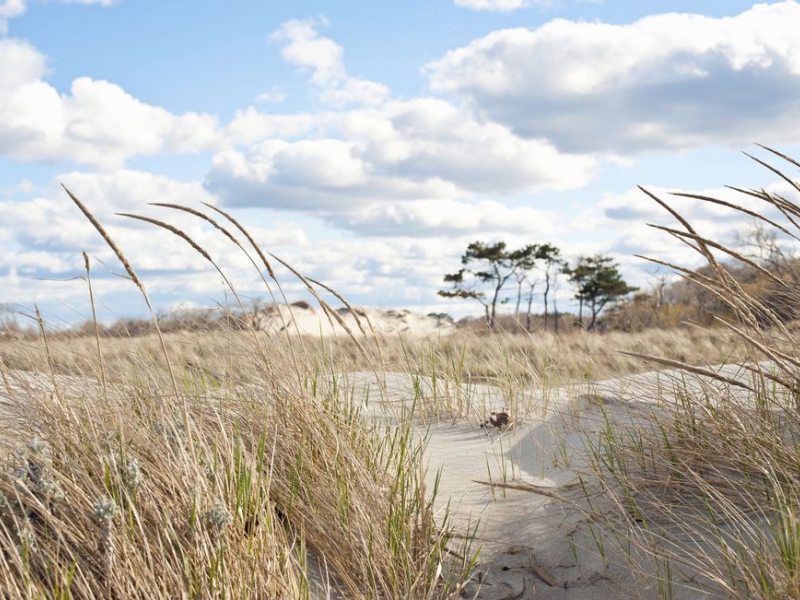 Sandy Point is a very small and very private beach in Massachusetts. Located on the southern tip of Plum Island, prepare to get up early to reserve a spot at the beach and get your much-deserved peace and quiet.
The fact that there are only fifteen parking spots at the beach means that not a lot of people can lay their towel here. If you want to get a good spot and enjoy your day, you should wake up early and park your car before the lot gets full.
If you're one of the lucky fifteen people to snag a spot, you're in luck. A day of stunning views and relaxation is ahead of you. You can lay in your towel and enjoy the wonderful Massachusetts sun, as well as the breathtakingly beautiful views of the sapphire waters.
Located close to the beach is the island's most famous attraction. The Plum Island's Parker River National Wildlife Refuge is an important habitat haven for over 300 species of birds. Every year, hundreds of flocks of birds start their migratory trip and make a stop at Plum Island. If you're an avid bird watcher, make sure to head here and pack your camera.
8. Hammonasset Beach State Park, Connecticut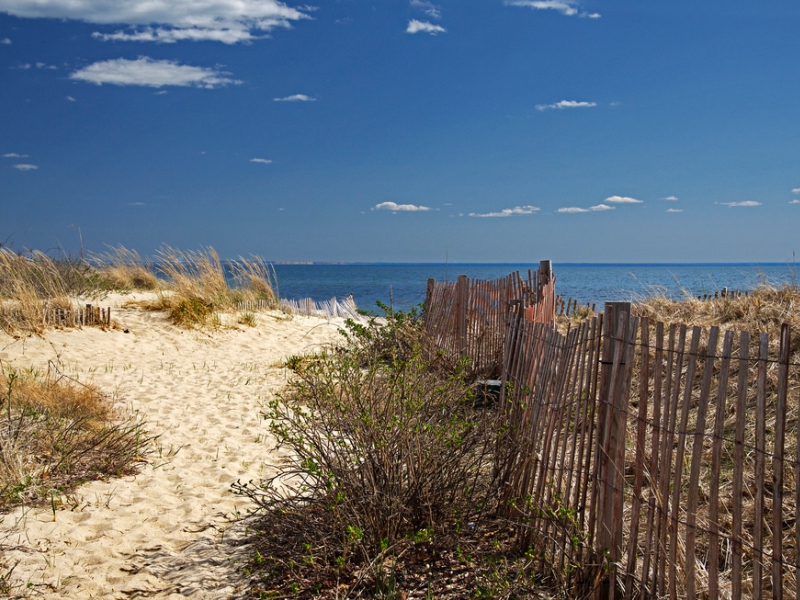 Hammonsasset Beach State Park is the largest public beach in Connecticut, and also the most loved. This powdery-white-sand stretch is bathed by the waters of Long Island Sound and any active beachgoer's dream.
The beach at Hammonasset is equally as packed as it is loved. People drive from the biggest Connecticut cities to here in the hopes of enjoying the sun while it lasts. Summers here in Connecticut are perfect, and a great contrast to the harsh winters of the region.
One of the reasons many people love this beach is its powdery white sand. It not only looks great on pictures that will later end up in family albums and on social media, but it's also very comfortable to walk on. Because there are no broken and sharp shells, long walks on the beach are the best way to end a day at Hammonasset.
If you want to make sure your vacation doesn't mean you turn into a couch potato (or a beach potato in this case), there are lots of things you can do here. You can go for a run, jog, or walk on the Hammonasset Beach boardwalk. Alternatively, you could go hiking on any of the trails open to the public.
If you're drawn to the water, you'll be pleased to know you can swim in the Long Island Sound waters. They're calm and relatively warm, just don't get the idea that you'll be swimming in tropical waters! You can also bring your fishing gear. At the south end of the beach, you can catch blackfish, winter flounder, bluefish, summer flounder, scup, weakfish, and striped bass.
Another fun activity that children, in particular, will love is going to the nature center. Recently opened in 2016, the Meigs Point Nature Center offers plenty of family fun. They organize nature walks daily and teach you and let you interact with marine and reptile wildlife!
9. Goose Rock's Beach, Maine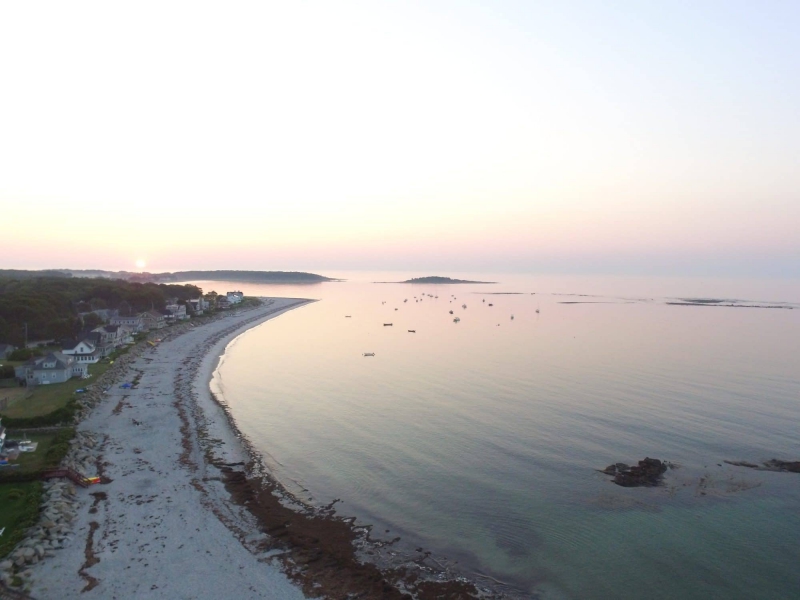 Goose Rock's Beach is one of the few in the area that has a barrier reef and is shaped in an odd way. Because this is such a special beach, we thought it would be a great idea to close off our list of the best New England beaches with this gem.
This beach is located in Kennebunkport, Maine. Like many of the best New England beach towns, this one is small and idyllic – and where the Bush family vacations, too. The town really comes alive during the summer, when the houses and hotels nearby get packed by eager beachgoers. If the beauty of the town itself wasn't enough, it's nestled between an authentic fishing village and an elite coastal community.
Stepping into Kennebunkport and into Goose Rock's Beach feels like traveling to another world. Here, the stress of daily life gives way to the relaxed summer vibes that come from the sea. People love hitting the white-sand three-mile-long beach when the sun shines the brightest.
When the tide is low, you can spot the Goose Rocks barrier reef peeking from under the surface. This is what protects the beach during even the harshest of winters and ensures that the currents aren't too dangerous for swimmers. You will also see plenty of tidal pools where small marine animals (such as crabs and little spiders) can be spotted.
Best Beaches New England: FAQ

What are the best beaches in the area?
It completely depends on what you want to do! With thousands and thousands of miles of coast, we're sure that you'll find a beach perfect for you  — but you'll have to do some research.
If you're a nature enthusiast, we recommend Chatham Lighthouse Beach and Sand Beach. History lovers might enjoy taking a trip to Block Island off of the Rhode Island coast. If you're more of a surfer, then you'll probably love the beach at Narraganset Town. For those needing to day trip from transport hubs, somewhere like Old Orchard Beach near Portland might be for you.
As long as you find a beach that fits your lifestyle, you'll have the time of your life.
Are the beaches safe?
The Atlantic Ocean isn't always safe at every beach. The sea gets choppier in some spots, certain beaches are notorious for having deceiving currents, and on top of that, there aren't lifeguards posted at every beach.
Before you go for a swim, always do your research online. Also check if there is a green flag in the air — if so, the waters are safe.
In terms of crime, the regions is very safe. Spending your vacation here means relaxing and not stressing about being mugged or anything like that.
What beaches have sea glass?
New England is a good place to find sea glass. The beaches near the Acadia park (around Bar Harbor) and in the Downeast region, especially, are abundant in sea glass. Some beachgoers report picking up 15 pieces per hour here!
Are the beaches family friendly?
Very much so! Generally speaking, the best New England beaches cater to families and know that small children have different needs. This is why a lot of beaches (especially the largest ones) offer public restrooms, shower stalls, and good, low-impact access points.
What is there to do on the beaches of New England?
There's a lot to do on a New England beach! You can go for a walk on the beach, hike the nearby trails, swim, surf, bodyboard, and much more. No matter what you choose to do, we know you'll have a terrific time.
Can I drink on the beaches in New England?
It is against the law in all of the six states to drink in public. This includes drinking at the beach. However, it's not uncommon to see a bottle of wine or two on the local picnic tables of an evening. Just keep in mind that if you're caught doing so, you could see yourself in trouble with the local police.
Are bonfires allowed on the beach?
Bonfires are only allowed in beaches that strictly permit it. There are a fair few dotted across the area. A simple google search should give you the full list of beaches that allow you to light up a fire. After all, it's a great way to mark the end of the summer.
Which New England Beaches can you drive on?
There are plenty of sandy beaches you can drive on in the area. Around Cape Cod, you can drive on Sandy Neck Beach, parts of Meadow Beach, Chapin Beach, and Race Point, to name but a few. We still recommend you research the rules before driving on them though, because many local laws are seasonal and subject to change at any time.