It's the heart of Summer, which means it's practically a given that a trip to some coastal waters must be made at least once before sweatshirt weather starts again. So what about a trip to Peru?

Does Peru have beaches? Yes! With Peru's two thousand four hundred kilometers worth of beaches, the options to choose from seem to be unlimited. With that much coastline, it's no wonder so many people travel to Peru for a beach holiday! Peru is more than just Machu Picchu, ponchos, and the purple corn drink, chicha morada though – there are plenty of other places to visit too. If you think you know about the beautiful beaches of Peru already, then hear this: there's more to the countries coastal scene than Cabo Blanco, the old haunt of Ernest Hemingway, Paul Newman, and Marilyn Monroe. The days of Cabo Blanco have long since passed, but there are new and exciting spots to visit instead!

Since the entire Western portion of Peru is bordered by the largest body of water in the world –  the Pacific Ocean – the country is not lacking in beach territory. The coastline spans all the way up to Ecuador, where there is a more tropical, drier, climate and back down to Chile, where it's a subtropical desert-type climate with limited rainfall. Peru has it all, weather and geography-wise! But here are some suggestions and travel tips to help you get the most out of your Peru travel experience, with a few destinations that won't be in your average travel guide! Today, we're talking about beaches.

There are a few details to consider when selecting the right beach or beaches for you.
Would you prefer white sandy beaches, or do you not mind the color of the sand so much? Is beach cleanliness important for you? Perhaps there are some activities you'd like to participate in such as renting a jet-ski, going paragliding, or renting a lounge chair to cozy up and read a book.
How far away is the beach from the airport? You may or may not have the energy to take a long bus after your flight. Maybe you really want to see a penguin or a whale. Gearing your decision toward these questions will benefit you in choosing the best places to visit to suit your needs.
Let's explore what the top ten beaches in Peru are:
10. Huanchaco Beach – Trujillo, Peru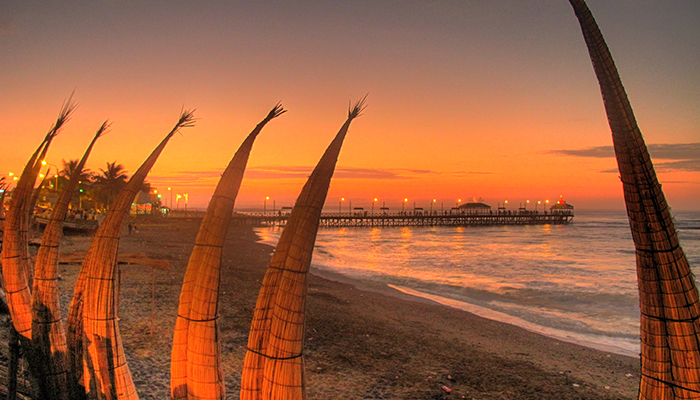 In this quiet, mellow and popular beach town for surfers, not far from many historical ruins, you're guaranteed to see traditional reed fishing boats that have been used for thousands of years, and a lovely evening sunset.
Locals and visitors alike enjoy spending time fishing, soaking up those rays, and surfing at this Peru beach. You can rent an umbrella and a chair to sprawl out in if you'd like.
Keep in mind it can tend to get crowded, particularly on weekends.
Huanchaco is the origin of ceviche, the famous Peruvian dish of seafood with lemon juice, chili pepper, and seaweed. Now, that'd be something to look forward to after a long flight of airplane food!
This area experienced significant flooding last year, so you'll see lots of driftwood. Yet, it remains a surfers paradise.
9. Pucusana Beach – Lima, Peru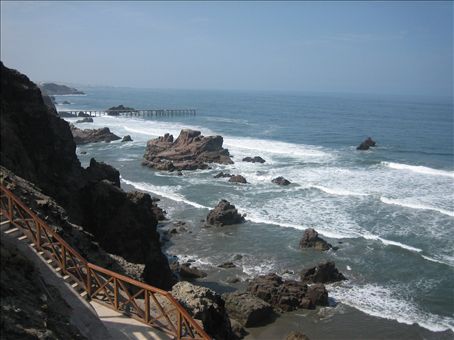 Nestled in an eye-catching, typical Peruvian fishing village, this top beach in Peru is a nice sandy alternative to otherwise jaggedy rock beaches in Lima. So, if you have children and don't want them to get injured while playing around sharp land formations, consider this golden sand Pucusana Beach.
There aren't too many beaches in Peru near Lima, but if you're looking for a quick escape from the capital, then try this one. It's only a short drive from Lima airport, but you'll be far enough out of the dense Lima fog to get a significant tan.
You can play volleyball here, take a tour on a boat, people-watch, and you can see how the locals catch their fish. Or, you can take a tour boat out to see the sea lions talking to each other on their rock stoops.
You can even rent a jet ski here, and take it wherever you please, all by your lonesome! Or, with someone else, if that's what you'd like.
It can sometimes get crowded here from January to March, so if you still want to go during that time and you're looking for seclusion, be the first to wake up with the sun. It shouldn't too crowded at that time of day.
8. Mancorá Beach – Piura, Peru

Tucked-away, Mancorá beach is nestled in a sleepy seaside town of fifteen thousand inhabitants, where you'll hear the sound of lulling waves, and smell the fresh seafood in the air. A fun tidbit about this coastal city is that the Pan-American Highway runs through the middle of this Peruvian beach.
When you arrive you won't have to depend on a car, as everything is within walking distance. You can always get a tuk-tuk taxi that won't set your wallet back in the slightest, if you need the luxury. If you do decide to walk everywhere, it's sunny year-round here, without the humidity, so you won't get soaked from rains or in sweat walking to pick up groceries
There are both cheap rentals and pricey resorts, alike.
If you're interested in diving or fishing, there is unique marine life to be seen here due to the El Niño and Humboldt currents. This beach is known for its excellent surfing waters and its swimming safety.
There are good local restaurants, as well as bars. If you were so excited to get to Peru, that you forgot your swimsuit or sarong, there are shops with beach attire and equipment. The famous Las Pocitas beach is also in the area, making it a great place to access a wide range of secret haunts.

7. Miraflores Beach – Lima, Peru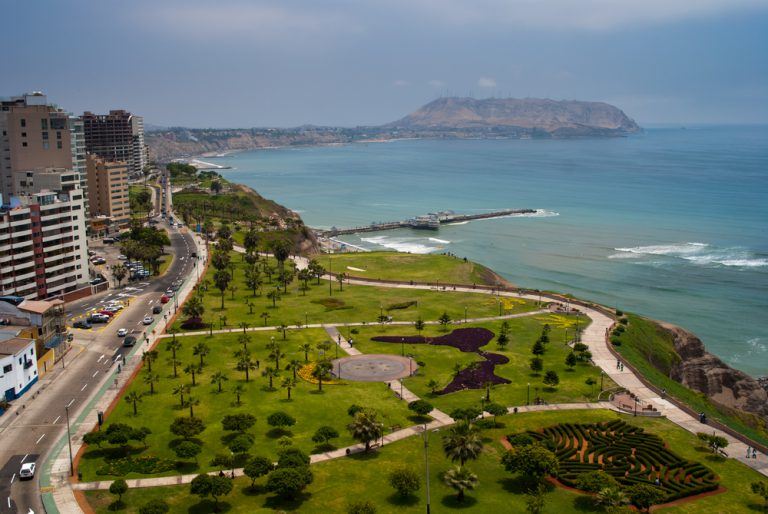 Next, as another wonderful Peruvian beach, Miraflores Beach is located in one of the most aesthetically pleasing neighborhoods of Lima. The architecture is romantically designed, and there are all sorts of fun shops and cafes, if you need some coffee for that little bit of work you might still have to do while on vacation, or a Peruvian ice cream cone to cool you down.
This best beach in Peru is encompassed by towering cliffs and green vegetation, with the smell of ceviche and sea salt in the air, and some apartment buildings sprinkled in between. You'll still have the "city-feel," of this beach, but you'll also be surrounded by nature.
You can even go for a water sports paragliding adventure here, if that's an adventure that appeals to you. Along the beach strip, you're likely to see folks roller-skating, surfers riding the waves, and an assortment of morning joggers.
6. Puerto Inca – Arequipa, Peru
If you're looking for beaches in Peru near Cusco, you're going to be out of luck. Cusco isn't particularly near the coast, but if you need to escape the city, Puerto Inca is probably your best bet.
Traditionally known for being the quickest distance between Cusco and the coast by the Incas, beautiful Puerto Inca Beach is located in the Northern part of Arequipa on the way to Puno, and has quite the tranquil waters. This was one of the most important beaches for the Incas, and was the port of their empire, with the Inca trail leading through here.
Puerto Inca provides both a historical and beachy ambiance, albeit the beach is smaller than most. It's a great family destination, where you can rent kayaks or paddle boards, and enjoy the clean sands if the kids want to build sandcastles. There is still fun to be had for surfers, as there are low waves, just not any crazy ones. You can also take a hike around the beach, or rent a kayak to meander around in.
It's most suitable to visit this beach between the months of December to March, as it's in the Southern part of Peru, where it can get a bit chilly.
This top Peruvian beach lies about three hours South of the Nazca lines (the geoglyphs in the coastal plains), if that's an excursion you're interested in. Three hours may sound like quite the distance, but in Peru that's pretty close. There are also nearby ruins called Quebrada de la Vaca, if you're looking for another historical adventure.
5. Punta Sal – Tumbes, Peru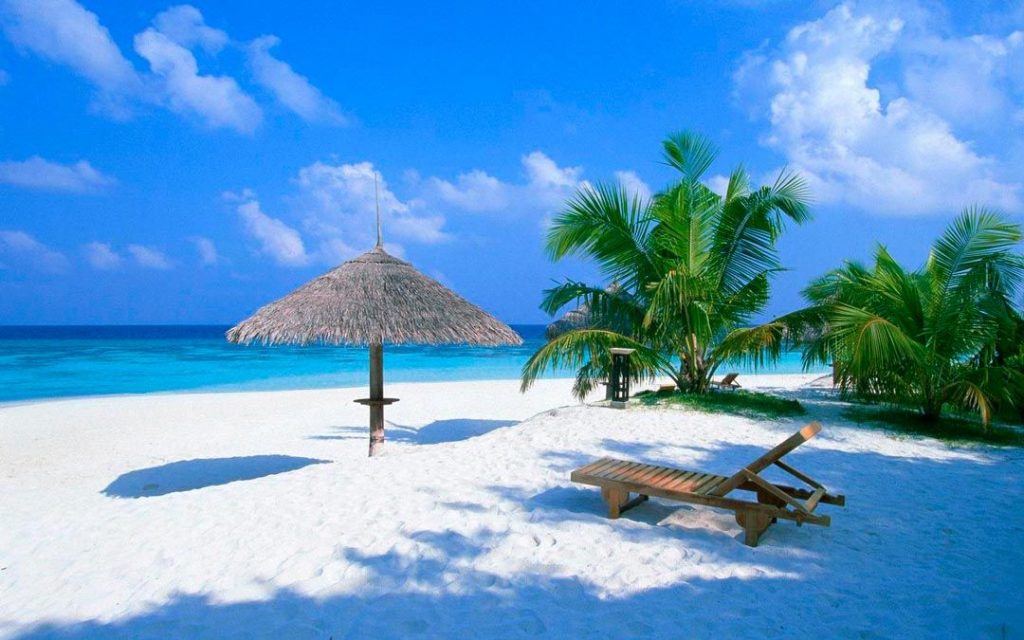 With warm pools of water for soaking, and snorkeling and scuba diving opportunities, the secluded beach town of Punta Sal in Northern Peru is a nice safe-haven to retreat into.
Most of the beach visitors that come choose to hang around the entrance area, but if you wander off down the coastline, you're likely to encounter a wonderful stretch of the Punta Sal beach all to yourself. After you pass a few vacation rentals, you'll eventually reach a point about a half hour out, where you see nothing but staggering cliffs and seawater.
It's noteworthy to know that when you arrive in Tumbes, you'll be asked to show your immigration card, so keep it handy!
If you don't want to take the bus ride from Lima to Tumbes, a one-hour and a half long flight from Lima is always an option.
4. Los Organos Beach – Mancorá, Peru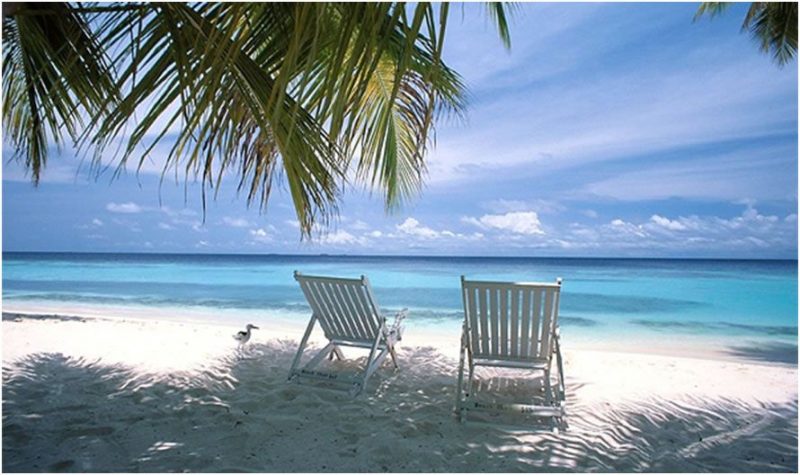 This immaculate beach is located in the heart of a fishing village with a population of 9,000 residents, called Los Organos. It's about fifteen minutes from Mancora along the coastline. You can imagine the quality of the restaurant selections with the fresh-caught seafood..
The neat tidbit about this warmer-water beach is that it's located close to a whale watching (Humpbacks do live here!) company called Pacifico Adventures run by biologists –  Marine life and giant sea turtles are not lacking here. You can even swim with them! Just remember that the tides can become unexpectedly high, very quickly. So, be aware of your surroundings.
Soleil Bungalows are a great housing option in this tranquil town – you won't find many, if any, partiers here, though. There are not any hostels available to rent, just hotels or private rooms in houses. You might want to consider booking your accommodation in advance, otherwise you might end up camping on the beach!
3. La Mina Beach – Ica, Peru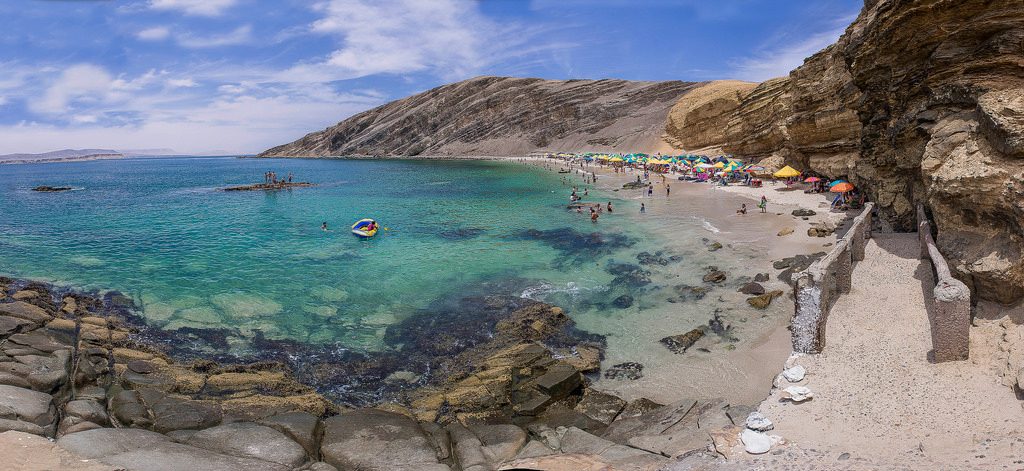 With breathtaking scenery and turquoise blue water, Playa de la Mina Beach is home to plenty of Pacific Ocean marine life such as penguins, sea lions, dolphins, and seagulls, where the waters are calm enough for a snorkel. It's pretty much a beach in the middle of a desert.
This top Peru white sand beach is considered part of the Paracas National Reserve, and is about four miles from town.
You can drink some coca tea or Inca Kola (typical Peruvian yellow soda)  while you're sitting in the sand watching the waves, and feeling the breeze on your face.
This National Park beach does get crowded on weekends, so plan ahead. Any other time of the week, though, it's secluded.
You can visit this Peru beach via dune buggy, car, or an ATV – just check out the local tour groups or forums for useful travel tips.

2. Los Lobitos Beach – Piura, Peru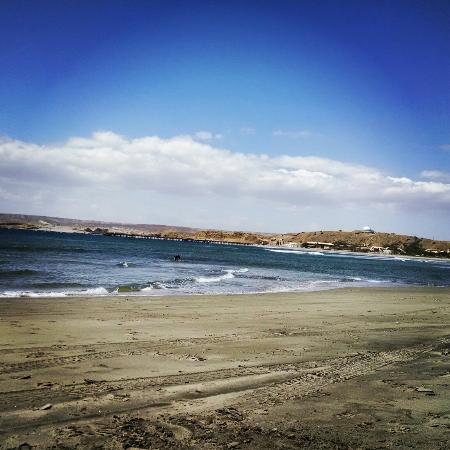 About one hundred miles North of Piura, and after passing through a pure desert landscape, you'll encounter Los Lobitos beach, which is located within a small surfing town. The temperature is cool here, as opposed to most other beaches, due to the Humboldt current bringing in strong winds. Many kite and windsurfers flock here to take advantage of these air currents.
Amicable locals inhabit this low-key beach town, and enjoy surfing just as much as the next person. If you're out in the water swimming when it's warm, surfing, or laying on the beach, you're guaranteed to see oil rigs in the distance. This was indeed once owned and occupied by a British Oil Company, but it now remains just a fishing town.
Visitors love the more isolated feel of this beach, as opposed to the more frequented beaches in Lima.
1.The Secret Beach – La Mina, Paracas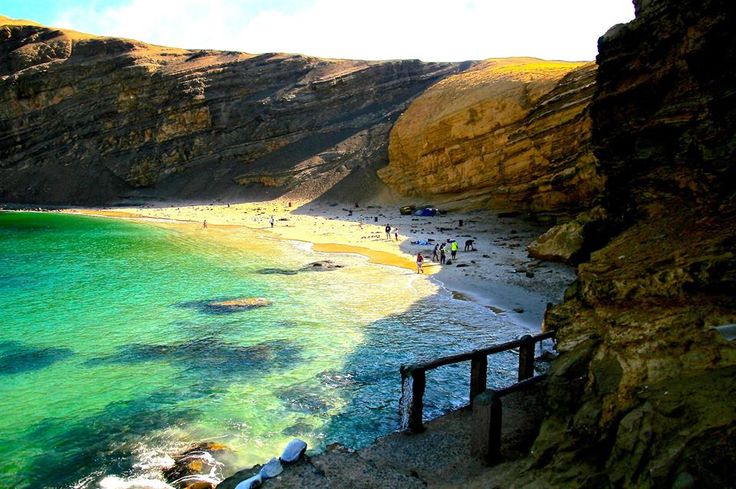 This is our pick for the best beach in Peru! The Secret Beach in Peru is named for its isolation from the city and is known for the grandeur of the surrounding sandy landscape that looks like it's straight out of a movie. Think of a desert backdrop (some of the driest deserts in the world), with cliffs, and glistening light blue waters, with feelings of being the only human in the world.
The Secret Beach is hidden deep in one of the world's largest protected desert reserves- Paracas National Reserve, that lays about one hundred and fifty miles south of Lima, where more than four hundred species of flora and fauna dwell. You can catch sight of exotic birds, mammals, and fish on your trek.
It might be extra refreshing to dip those toes in the cool water if they feel like hot potatoes from the scorching desert sand.
The sun is shining all year round here, so remember to bring your sun hat and cold water bottles. If you're looking for a beautiful beach, then this should be one of your top beaches in Peru to visit.

Peru Beaches FAQ
What should I bring with me to the beach?
Surely, you'll want to bring sunscreen for the intense sun, a light sweater for the evening, plenty of water (keep up on 2-3 liters a day), and maybe a bag to collect any garbage you might have, as there are not typically trash cans available. Lastly, bring your sunglasses because the tropical sun can be more powerful than you'd think.
Are there dangerous sea creatures I should be aware of?
In Peru's Northern beaches, there are stingrays seen on occasion. Shuffle your feet when walking out to the water, as the sand will fog up the water and scare them away. If you do get stung, wash the affected area with soapy water, and soak it in warm water to relieve the pain. You shouldn't need to see a doctor unless a stingray barb is in your foot. Refer to your Peru Travel guide for more information on dangerous flora and fauna, and what numbers to call in an emergency!

Is camping an option?
There are many areas in which to camp. If you see other tents, it's a good indicator that it's okay to pitch your tent. Fisherman's coves are always a viable option, as you'll have the freshest of seafood, and options of coastal activities, such as boating. If you have any doubts, just ask a local – if you speak Spanish or Quechua.
Which beach should I go to if I want to escape the city noise?
The warm, Northern coastline near Tumbes, Piura, and La Libertad are tucked away from the hustle and bustle of city life. You won't have to listen to motorcycles or tuk-tuks driving around- instead, you'll be listening to the peaceful waves.
Where can I find white sand beaches?
In the city of Tumbes to the North, white sand beaches are able to be visited, as well as in the city of Ica, in the South.
What beaches are ideal if I want cold water in Peru?
Any of the central coastal beaches will generally have colder water. If you go to the South, the waters will a little colder.
Are there any beaches in Peru near Machu Picchu?
Not really. The Machu Picchu UNESCO World Heritage Site is located in the mountains near Cusco. However, the nearest beach to both places is the Puerto Inca beach, in northern Arequipa near Puno. Alternatively, if you can handle freshwater instead of salt water, you can always go for a swim in Lake Titicaca instead!
Can I expect to get wifi at the beach?
Generally, services are available in most Peruvian cities, but you may not always have a signal near the more isolated beaches. Most hotels in Peru have wifi, and use it when you're there, but it probably won't stretch to the beach (unless you're at an oceanfront beach resort). It also just depends on your quality of phone service.
Which beaches are surfer-friendly?
There are plenty of great Peru beaches for surfing! Huanchaco and Los Lobitos are where many local and tourist surfers go for downtime. It's chill, and has yummy fresh seafood. Playa Chicama boasts the world's longest left-breaking waves, and Mancora beach offers famously consistent surf.

Check with local surf forums for the best surf and travel tips though, just so you get an idea of what to expect!

How have the heavy rains and floods of 2017 affected the beaches?
There has been slight infrastructure damage, and occasional delayed transportation, but overall, the beaches remain unaffected. Trujillo, Tumbes, and Piura were largely affected, as well as the areas around Lima. Time has now passed and it's geographically safe, it's just the economics that is still recovering.
How long should my passport be valid for if I want to come to Peru?
Your passport should not expire for at least six months upon arrival. It's good to ensure you have your return flight ticket printed out to show to the airport attendants when you arrive, as there is a chance they'll ask for proof of onward travel.
How can I stay safe while on the beach?
Keep an eye out for waves that might unexpectedly surge. And, leave any valuables you have in your hostel or hotel. Exercise caution with overly friendly tourists or natives that may strike up a conversation with you. Keep an eye on your bag for those purse-snatchers that may be lurking around, too. Generally, if you're not worried about losing anything, nothing will be lost.
Can I drink alcohol on the beaches?
In theory, you can drink on the beaches. There is not much enforcement, unless you're doing obscene activities or acting too wild. The drinking age is eighteen in Peru. You can guess that the enforcement of this is variable, too.
Final Thoughts
You can't go wrong with choosing one of these top Peruvian beaches that will make your vacation worth every penny. Whether you prefer a populated city-like beach area such as Miraflores, an isolated area such as the Secret Beach in La Mina, or the unrivaled tranquility of Las Pocitas on Mancorá beach, the perfect beach for you will call your name. Just listen!
It would be wise to only pack half of what you think you'll need for your beach trip. You'll appreciate a lighter pack, and you'll have extra space to bring a traditional tapestry or some Peruvian snacks home.
Things don't always run on time in South America, in regards to bus arrivals and departures, but going with the flow and valuing the precious moments make the few extra minutes you had to wait worthwhile.
A beach vacation is a rarity for most, so the more prepared you are, the more you're going to be able to enjoy yourself when you land. There's more to Peru than Machu Picchu, so get ready for that Peruvian sunshine to shine some light into your life, and into your next vacation photo!