Walking the planet and swimming around in its oceans for the last five million years, otters are believed to be some of the most skilled and intelligent critters in the world.
How did this second-smallest marine mammal get so lucky to be endowed with both smarts and good looks?
I mean, otters hold hands – you can't really reach a higher level of cute! Just look at those little otter hands!
Otters are a keystone species for the environment, which translates to them playing a significant role in the cycle of life, compared to other species that may not play as large of a part.
Otters spend most of their time on land, contrary to the popular notion that they mainly live in the water. The sea otter, however, does spend most of its life in the ocean.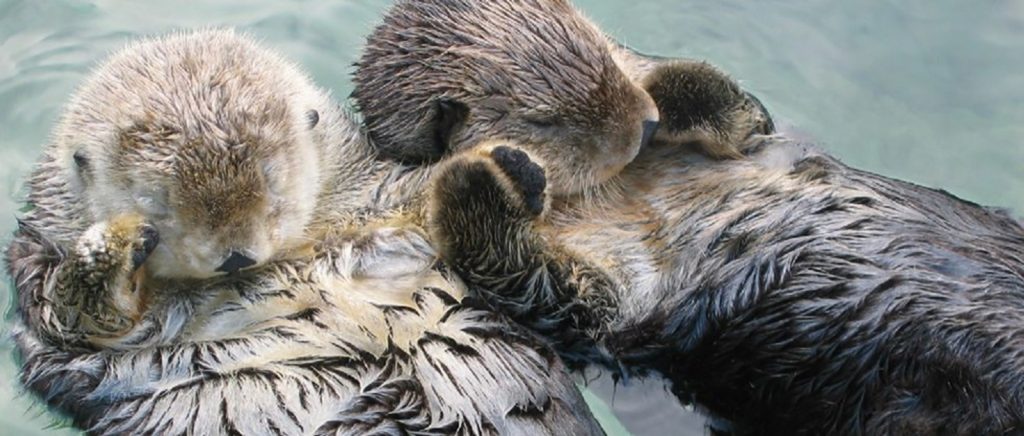 If you've been looking for some of the best places to swim with otters, this list of otter locales from San Diego to Florida will be helpful to assist you in pinpointing the perfect spot for you to enjoy your fun excursion with these creatures.
5. Kayaking with Sea Otters – Canada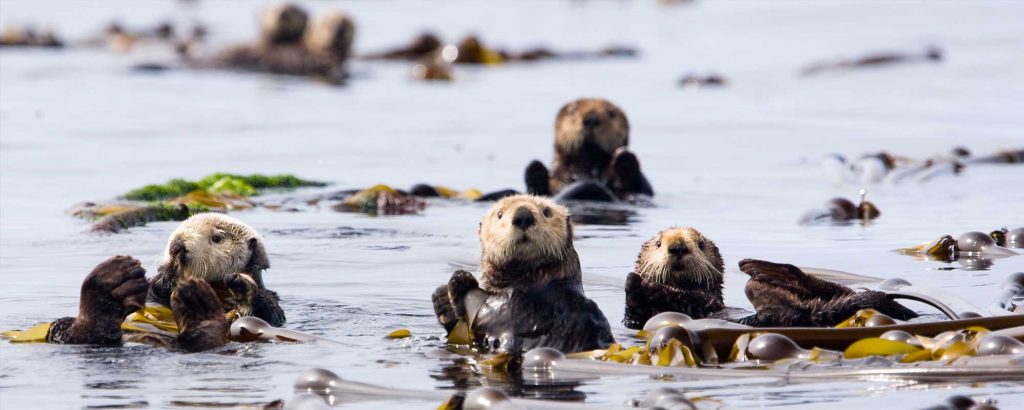 West Coast Expeditions, located on Vancouver Island offers a 5-day kayaking expedition with sea otters tour.
This is as close as you can get to swimming with otters in Canada, for those that dream of swimming with otters.
Awaken slowly on your high fibreglass kayak (or on a stand-up paddle board, if you prefer) to the morning mew of the playful otters near the calm, kelpy waters. Next, take a deep whiff of your freshly brewed morning cup of coffee (or tea) provided by the tour, and revel in the pristine scenery.
Prepare to listen to the talkative sea lions, watch the humpback and grey whales, bald eagles, and black bears, observe the leaping salmon, and admire the scenic sunsets and sunrises, and natural beauty of the shell beaches and Sitka spruce trees.
Interactive marine or rainforest oriented programs are available for you to participate in, and also a resource library of reading material with information about the coast.
Come sunset, prepare for a dinner with an indigenous First Nations Family, that's prepared around a traditional fire.
4. Discovery Cove – Florida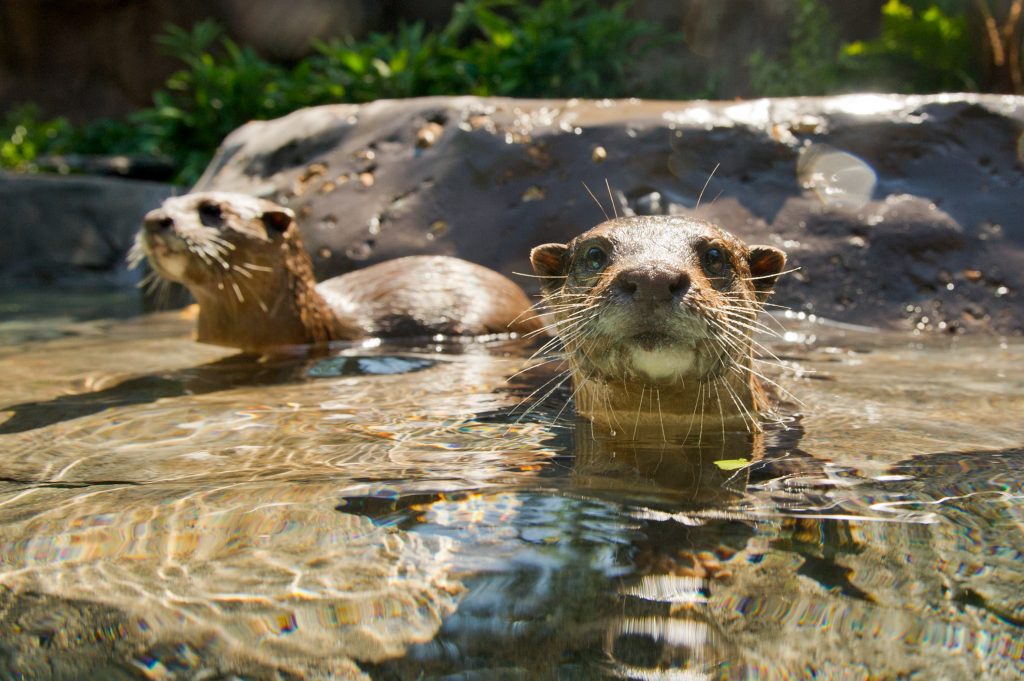 For those of you that have been wondering "Where can I swim with otters in Florida?", Orlando, Florida does not disappoint – consider the unique possibility to spend time in the water with the otters at Discovery Cove, which facilitates face-to-face meetings with both otters and marmosets. This is a great place to bring the family, however, this experience is not quite swimming with them, but involves swimming with them in the figurative sense that your spirit is alongside theirs when you're at the cove.
3. North Georgia Zoo & Farm – Georgia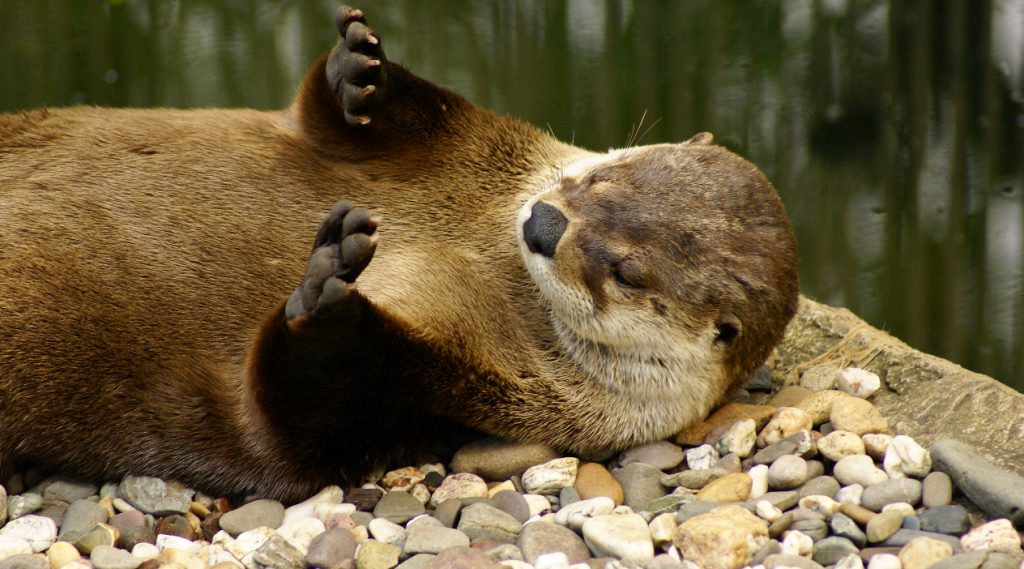 The Otter Splash and Experience schedule at the North Georgia Zoo and Farm is a one-of-a-kind adventure. In fact, this is the only hands-on and interactive otter experience in the state of Georgia that you'll be able to find.
If you opt for an 'encounter' with the otters – it lasts ten minutes, whereas an 'experience' with them lasts forty-five minutes, for those wanting to do the more in-depth option. So, think about the amount of time you truly want to spend with the otters and make your decision. If you have a family, perhaps your younger child would bore quicker of the otters, whereas your teen might appreciate an extended otter swim with them.
If you're looking for a memorable rendezvous with some otters, the North Georgia Zoo & Farm is the place to go. It's the only place in the state that offers these special and unique animal encounters.
Note the minimum age to participate is eight years old.
2. Dade City's Wild Things Zoo – Florida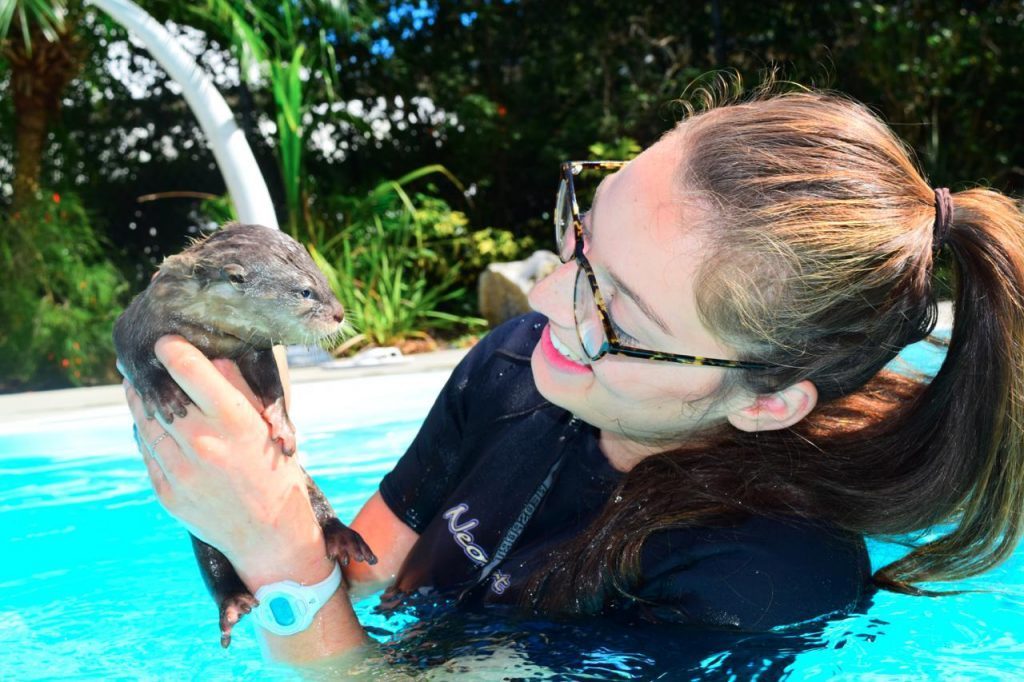 Where can you swim with otters in Florida, might you ask?
Well, not your run-of-the-mill animal park, Dade City's Wild Things zoo is quite the gem for those of you that are looking for a day spent with these enchanting animals.
This menagerie experience offers you fifteen minutes of playtime on land with the otters and fifteen minutes of playtime in the water, this way you can see how they behave between the different environments and inspect how they swim in the water.
If you are in Florida and would like to otter swim, Tampa (about an hour North of the city) is where you can find Dade City's Wild Things. If you'd like a truly novel wedding, you can even get married in the botanical garden or pavilion section of the zoo.
One of the best places to swim with the otters, this swim with otters San Diego cove is a fun weekend outing for the family, and goes above and beyond as far as options to do once you arrive are concerned.
1. Nurtured by Nature – California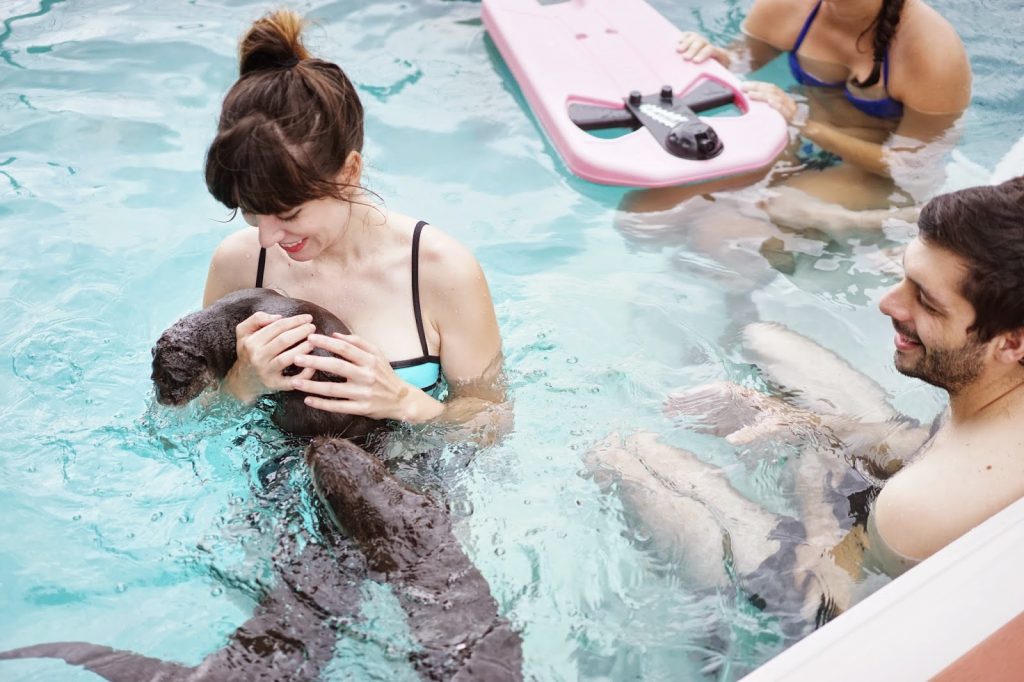 An excellent non-profit organization that is sure to inspire and provide you with a once-in-a-lifetime experience, Nurtured by Nature in San Diego offers a variety of otter swim schedules – with an average of eight spots available for each program.
The available otter swim packages involve a 3-4 hour guided tour, one fun-filled hour in the pool with the Asian small-clawed otters, and further opportunities for encounters with different creatures like sloths, lemurs and foxes. You will be able to learn about the animals, their habitats, the importance of recycling and how our behavior shapes their lives.
The San Diego organization also presents terminally ill and traumatized children with the ability to heal, by providing the animals in which they can spend time and bonding with, while also giving donations from guests to those in need.
Co-owner of Nurtured by Nature in Valley Center San Diego, Kevin Yates, and his wife, Wendy, are delighted to be able to educate the community by promoting the utmost respect and humane treatment for the otters, at a locale where they aren't trained to perform special tricks or anything of the like. All of the animals are allowed to simply lead their normal lives, and are never forced to interact with guests – they do so on their own accord.
If you've been thinking "Where can I swim with otters in California?" and are interested in the chance to otter swim in San Diego can provide an unforgettable experience. Do know that the reservation-only spots book up very quickly – months, sometimes even years in advance.
So, if you've been looking to go swimming with otters in Southern California, you might want to consider this esteemed San Diego location, but with a little bit of forethought as to when you want to schedule it.
You may even receive a kiss from one of the baby otters here if you're lucky enough!
Some would say a day spent with the lively otters is otterly amazing. So, carpe diem, if you feel so inclined.
FAQs:
How do sea otters swim?
The sea otters chosen method is to swim is mainly on its back, floating on the surface of the water at a leisurely rate. It's in no hurry to get anywhere, in fact, it moves at about two miles per hour, swimming on its back, paddling with its back feet and tails.
Also, an interesting tidbit is they sleep while floating on their backs, but by procuring themselves first with kelp, for self-preservation. That way, they stay put and don't start sailing away to the sea as they sleep.
Sometimes, mother otters also hold hand with their pups to ensure they don't drift away during the night, for safe measure.
Where can I spend time in the water with otters near me?
This depends on where in the world you live! Re-read this article, or do some further research online to see if there are any facilities that may offer this rare opportunity.
How far can sea otters swim?
Depth-wise, otters can dive up to three hundred feet in search of food.
Can you otter swim in Australia?
Currently, there aren't any opportunities to get up close and personal with any Aussie otters at the moment. If you're looking for other exciting aquatic animal encounters Down Under, we recommend a snorkeling adventure along the Ningaloo Reef in Western Australia, which becomes an exciting
playground for whale sharks during the months between April and July.
Where am I able to wade around with otters in Texas?
Well, if you're in cowboy territory and would like to otter swim, Texas State Aquarium houses North American River otters, but doesn't quite allow you the option to swim with them in the sense that you're up close and personal with them. It's more along the lines of you get to watch them swim, and observe them scope out their environment, problem-solve with puzzles, play with frisbees, and lay out in the sunshine.
How old are otters when they learn how to swim?
An otter pup's (baby) fur is too dense for it to swim safely underwater, so it must wait until its adult fur grows in. They actually have the densest fur in the animal kingdom, which gives them insulation.
Otters learn how to swim at different ages, according to the species.
For example, clawless otters start to swim at nine weeks old, whereas sea otter pups may begin to swim at just four weeks.
If you're curious to swim with baby otters, know that otter swim encounters with the pups are possible. It's just a matter of finding an otter swim encounter that has had a recent litter – each litter contains between one and six young.
What is the sea otter population like?
As of today, there are just over one hundred thousand that remain in the wild, with over three thousand sea otters located in California.
Due to the fur trade, the large number of swimming otters that had historically reached over a million had plummeted down to the thousands in the 1900's.
Where are the majority of sea otters found?
Sea otters are mainly found in Canada, Russia, California, Japan, and Washington, but the majority of wild sea otters are located in Alaska.
How long can a sea otter stay under water?
A sea otter can stay underneath ocean waters for up to five minutes. For those of you that dream of swimming with otters, get on your bathing suit and get ready to hold your breath long enough to stay under with the playful otters!