Straddling the equator, and nuzzled beneath Colombia and above Peru, Ecuador is the second smallest country in South America, but offers more biodiversity than almost any country in the world.
Ecuador has an oasis of terrain varieties ranging from the Amazon rainforest, to the Cotopaxi volcano, or from white sand coastal beaches, cloud forests, to impressive colonial architecture, with a melting pot of people.
This is the land where roasted guinea pigs are a delicacy, guayusa tea is drunk as an energy boost, and where it takes a little longer than you would think to get from Point A to Point B, but hey – life's all about the journey, not the destination, right? For those searching for adventure, Ecuador is one of the best places to visit! But what are the best places to visit in Ecuador?
13. End of the Earth Swing – Baños, Ecuador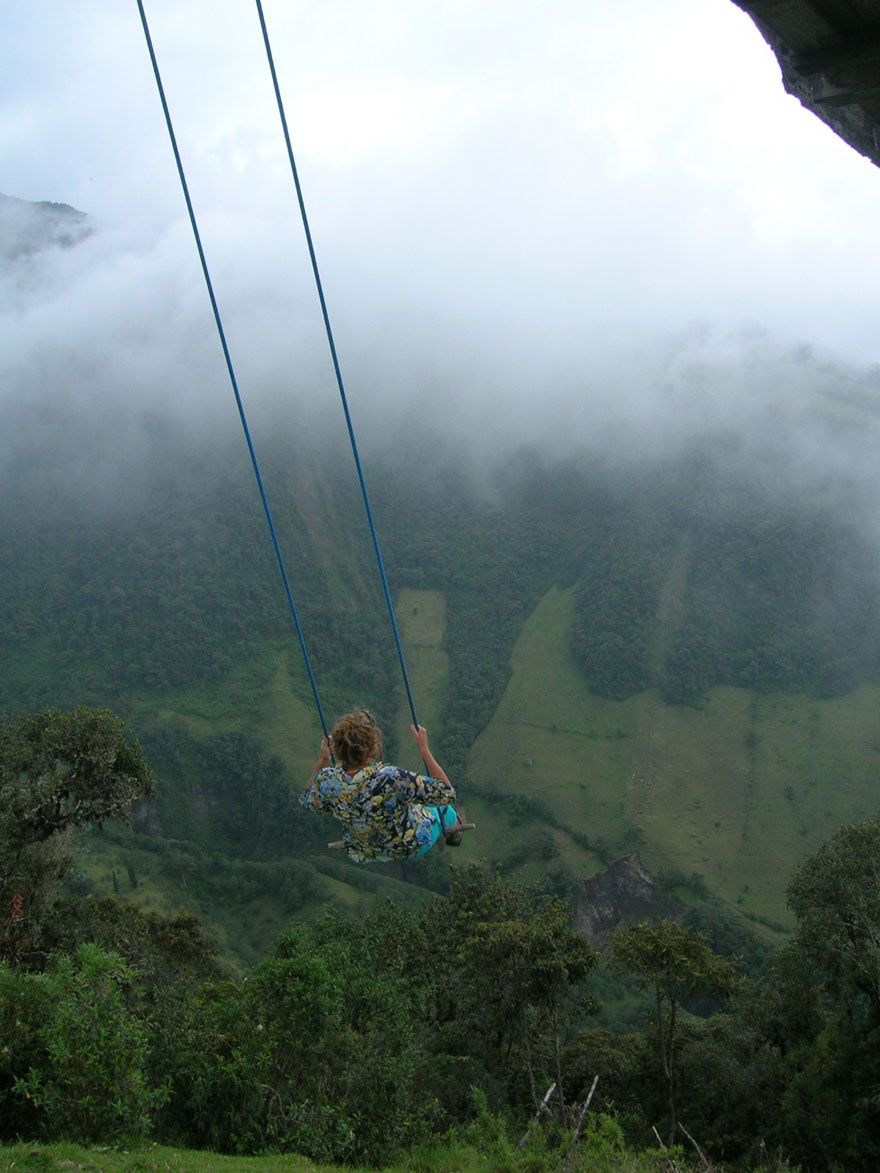 Located at La Casa del Arbol (The Treehouse) in Baños, Ecuador, this activity is one for true thrill-seekers. This top thing to do in Ecuador involves a long swing at the height of a steep drop-off with both a lovely mountain scene and a view of the Tungurahua volcano.
Try your luck and experience the rush of adrenaline and liberations that accompanies the swaying into the open air, oh-so-high-up!
If you were to fall from the swing, a death sentence would probably ensue, but that doesn't seem to stop true adventure-seekers.
If you feel like swinging is too big of a risk, you can opt to hike around the area and soak in the beautiful views of nature's majesty.
12. Isla de la Plata – Puerto Lopez, Ecuador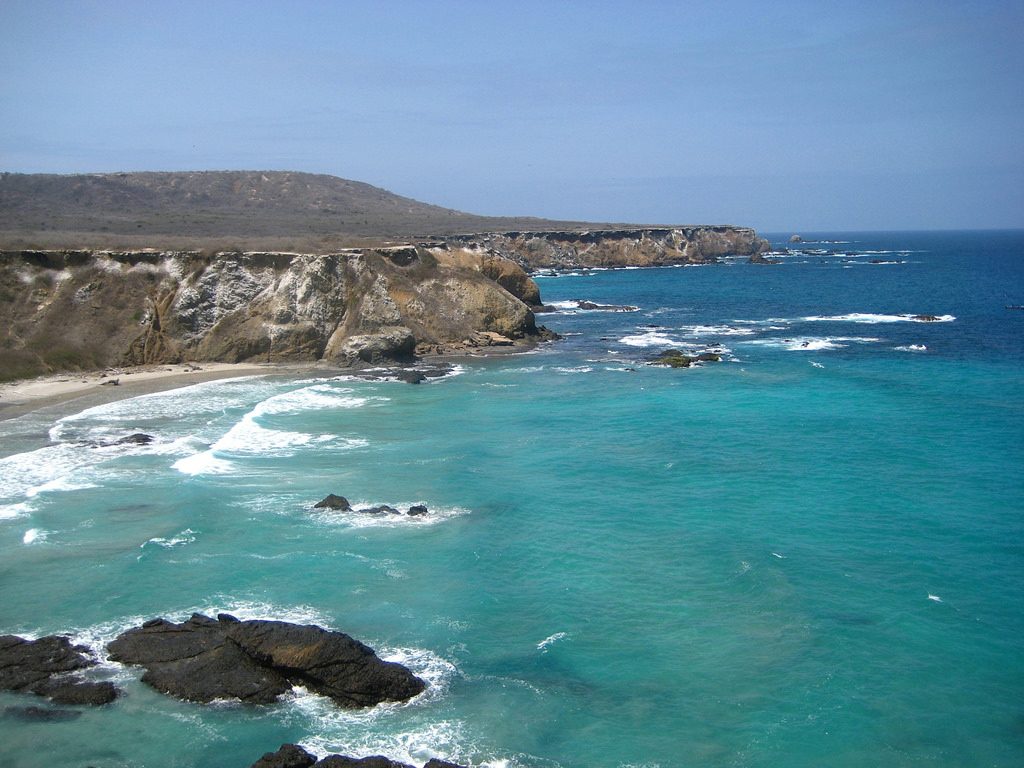 This hidden small island Northwest off the coast of Puerto Lopez that's known as the poor man's Galapagos, Isla de la Plata is a gem.
You can see many species that can be found on the Galapagos like the blue and red-footed boobies, pelicans, albatrosses, and terns.
Boat tours to the island from Puerto Lopez are a day trip option, where a lunch, hike, and snorkeling in the coral reefs is typically offered as part of a package available for purchase.
From mid-June until October, humpback whales can be found mating in these ocean waters, with as many as ten at a time able to be spotted in an area at once. Dolphins are also numerous in this fascinating cove of the world, making this an activity that's enjoyable for the family.
This is a great alternative to the Galapagos, as you don't have to fork over quite as much, and you're still guaranteed to receive a rich experience.
Just remember to bring your sunhat, as there are no shady expanses here.
11. See the Waterfall at Pailon del Diablo – Baños, Ecuador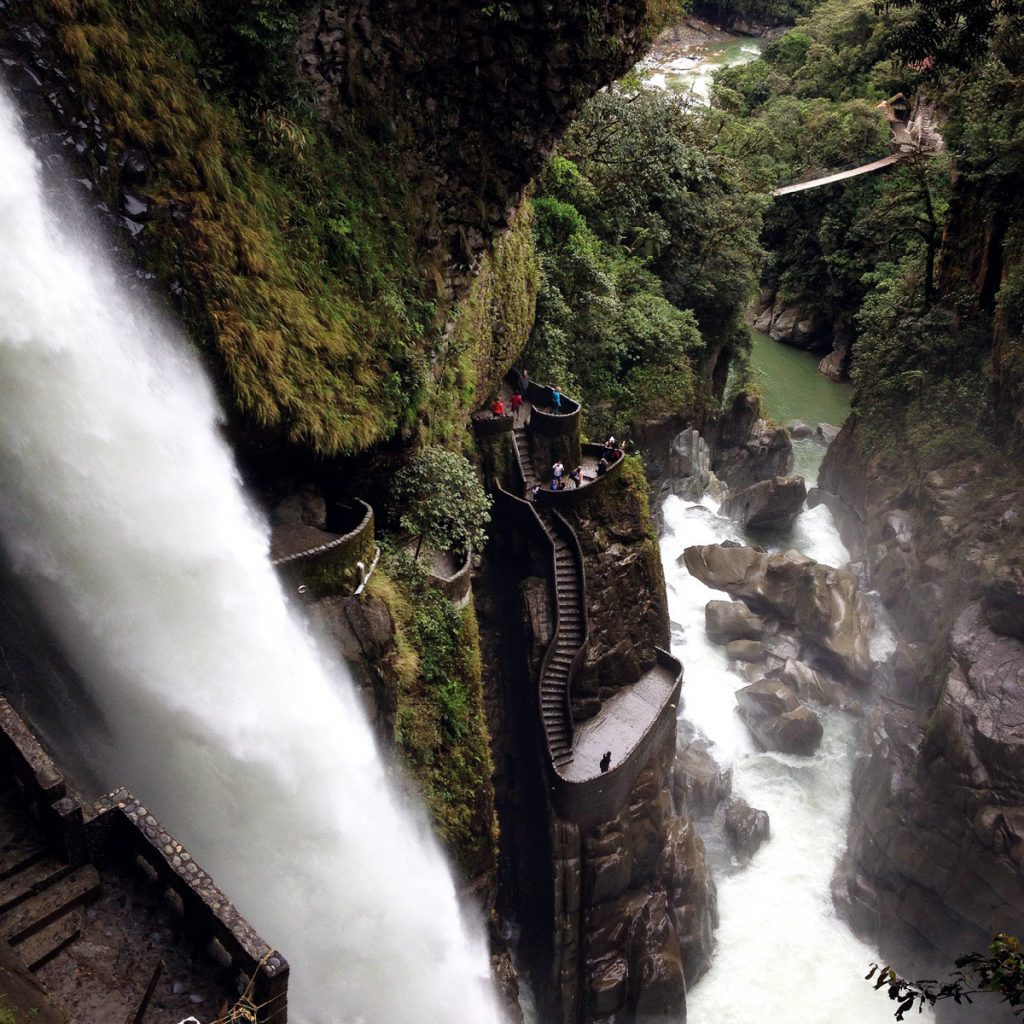 This best thing to do in Ecuador with lively jungle scenery outpouring from all directions, is to visit Pailon del Diablo on the Pastaza River- a large waterfall found thirty minutes away from Baños and just past the town of Santa Inez, otherwise known as the Gateway to the Amazon.
If you elect to view it from the suspension bridge, there is no charge to see this massive cascade. Or, you can pay a very small fee to walk the twenty-minute jungle path to view it up close.
This is a bird-watchers paradise, where you are sure to spot ducks, seagulls, Andean condors, curiquingue, and hummingbirds, to name just a few of the avian species.
It's also likely you'll be able to see wildlife such as the jaguar, puma, hedgehog, bear, and tapir.
Exotic flowers like the heliconia, mosses, ferns, and grasses abound in this sultry paradise.
If you want a picture directly in front of the falls, bring a poncho or chance getting soaked.
Most of the activities that go on in Baños carry on rain or shine, so no need to be too concerned with what time of year you come for this particular excursion, or any other adventures you may do in this Ecuador city.
10. El Chato Tortoise Reserve – Santa Cruz, Galapagos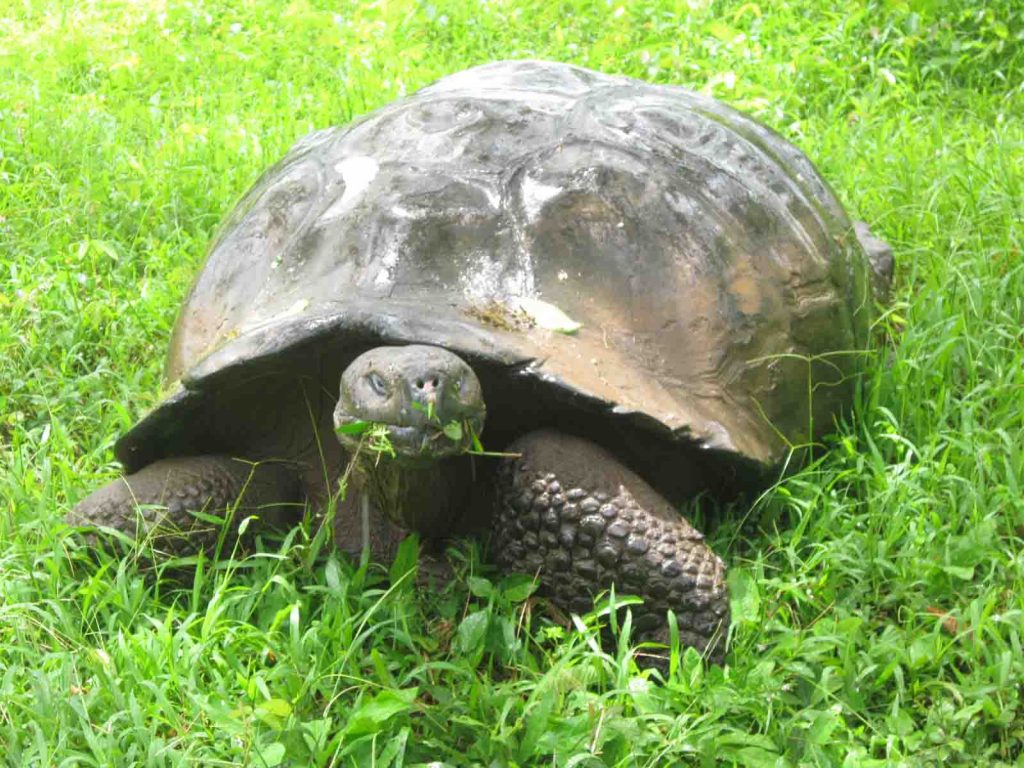 Located South of Santa Rosa, El Chato Tortoise Reserve is a prime spot to see tortoises freely roaming in the wild.
Exotic wildlife such as short-eared owls, Charles Darwin's famed finches, Galapagos rails, and paint-billed crakes, and of course, the endangered Galapagos turtles – the largest species of turtle in the world (some weighing in at more than five hundred pounds) reside here.
This island has lush vegetation that the turtles love, and features a wet ground with many ponds that they enjoy bathing in. If you're concerned about your shoes getting wet, there are rubber boots available for rent.
If a turtle comes close to you, try your best not to scare it. If it becomes weary, it will go inside of its shell to retreat.
If you do decide to go, a guide is recommended, but not required.
El Chato is a little over twenty kilometers from Puerto Ayora, which you can reach via taxi or bike.
9. Explore Quito for the day – Quito, Ecuador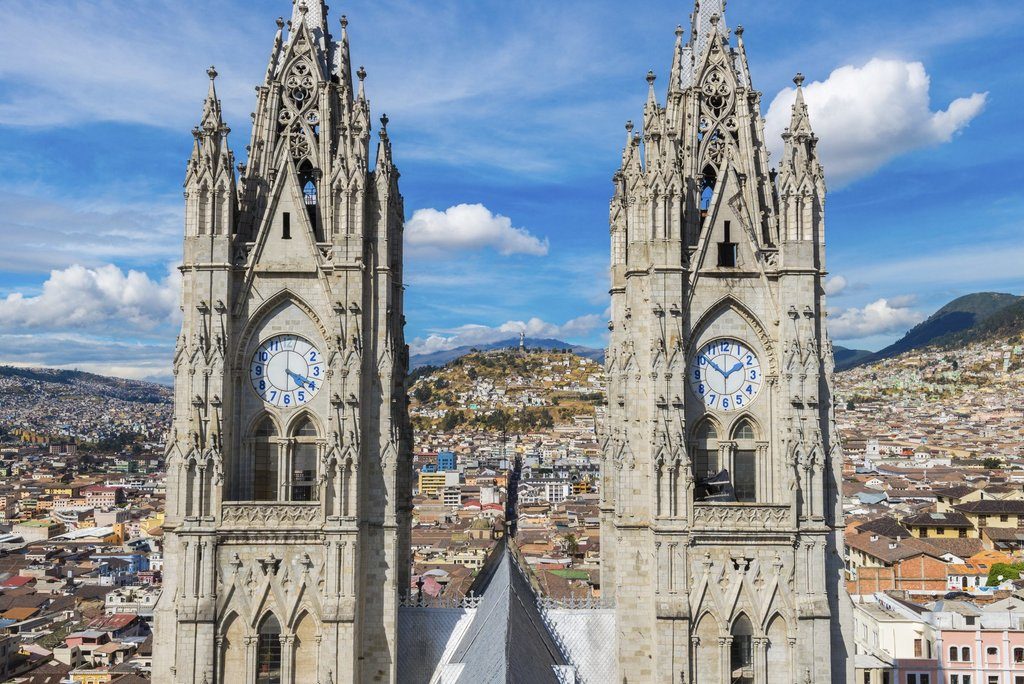 In terms of Ecuador tourist attractions, the city of Quito has much to offer, with impressive architecture and unique activities to do around the clock in this bustling capital city. Designated as a UNESCO World Heritage site, the city of Quito is full of wonder.
On top of El Panecillo, you can see the statue of the Virgin of Quito that's constructed from more than seven thousand bits of aluminum. From the top of the hill, you can see a spectacular view of the entire city, with snow-capped mountains in the background.
Luckily, Quito boasts a top notch cable car for those looking for breathtaking views without having to break a sweat, which extends from the east side of the Pichincha Volcano up to Cruz Loma. As far as photo quality is concerned, pictures are said to turn out better during sunrise as opposed to sunset. The cable car stops running at 20:00 though, so take care not to miss it!
If you'd like a chance to stand on the equator, Ecuador is one of the thirteen countries on the planet in which you can do this. Less than an hours drive from Quito, Mitad del Mundo (middle of the world) is where you can do so. The Mitad del Mundo features an interesting Ecuador attractions such as a museum, park, and monument – there are also shops and eating joints in the complex too.
Now, if you're a chocolate lover, El Quetzal is a café that specializes in everything chocolate, with chocolate trees growing on the property. You can learn about the bean to bar process on a one-hour chocolate tour, and enjoy a delicious brunch afterward.
Since religion plays a major role in the lives of many Quiteños (Ecuadorians that live in Quito), some of the most remarkable structures are the churches. In front of the Presidential Palace at the Plaza Grande, there is a church literally in every direction. So, twirl around in a circle to see multiple at one time!
You can enter most of Ecuador's churches for a small fee, and a tour will generally be included in that price.
For you adventure-seekers, you might want to zip-line through the small cloud-forest town of Mindo, where you'll speed past all the lush greenery and likely see many hummingbirds, as this region of Ecuador provides a nice shelter for them.
8. Galapagos Islands Tour – Galapagos, Ecuador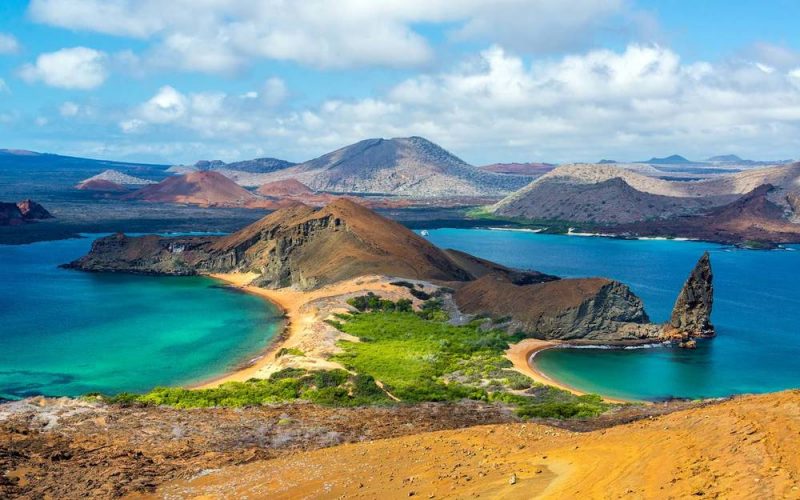 An archipelago of nineteen islands, the Galapagos Islands are absolute paradise for wildlife enthusiasts, bird-watchers, and scientists alike, and are a sort of walking museum, if you will. Made famous by Charles Darwin, this is one of the top things to see in Ecuador.
The most economical way to see the Galapagos is to book a day trip or even a last minute cruise trip from Puerto Ayora, or you might want to splurge and go on a multi-day cruise.
Some of the more popular islands to visit are Santa Cruz (where you can see huge turtles in their natural habitat), breathtaking Bartolome, Española, where you can see lava lizards and waved albatross, and Santa Fe, which is a great refuge for divers.
The islands are home to many animal species, such as Darwin's finches, the Blue-footed Boobie, majestic frigatebirds, Galapagos penguins, and tortoises, of course as well as various species of marine iguanas.
If you happen to be in Ecuador during May, one of the most interesting things to see is the unusual mating dance of the blue-footed boobie.
You'll want to bring a waterproof camera, a sunhat, and some sunscreen for all of your adventures on these islands.
Any time during the year is an excellent time to visit these amazing islands. However, the warmer season is from December to May, with the busy season being June to August.
Upon arrival, there is a one hundred dollar entrance fee.
7. See Cuicocha Lake – Otavalo, Ecuador

A two-mile-wide majestic crater lake found in the Ecuadorian Andes at the foot of Cotacachi volcano, Cuicocha Lake glistens with native flora and azure waters.
Rooted from the indigenous Kichwa language, Cuicocha could mean 'rainbow lake' or 'lake of the guinea pigs' due to the islands being in the shape of a guinea pig, which is what it's most often referred to.
Situated fifteen miles from Otavalo in Northern Ecuador, the lake sits inside of a caldera that resulted from an eruption over three thousand years ago. Since, the volcano has been dormant- so, no need to worry about lava flow spewing onto the trail in the middle of your hike! Anyhow, since the last eruption, the whole surrounding area is covered in very fertile soil, which is phenomenal for the surrounding plant life.
One thing you can do that will definitely burn some calories, is to hike the trail that begins at the visitors center that is roughly a  five to seven-hour trek along the rim, or you can opt for one of the shorter hikes.
Some suggest to complete the hike in a clockwise fashion- as you can knock out the steepest part in the beginning, and smooth sail the rest of the way. If you go this route, you'll finish the trek at the visitor's center and walk a few steps to the entrance, where taxis are typically parked.
To reach the lagoon, take the bus from Otavalo to Cotacachi, and then take a taxi the rest of the way. Here's an idea: if you're in the area, check out the Otavalo market. The Otavalo market is the largest outdoor market in South America, and definitely worth seeing. It's one of the most memorable day trips you can make!
6. Visit Quilotoa Lagoon – Ecuador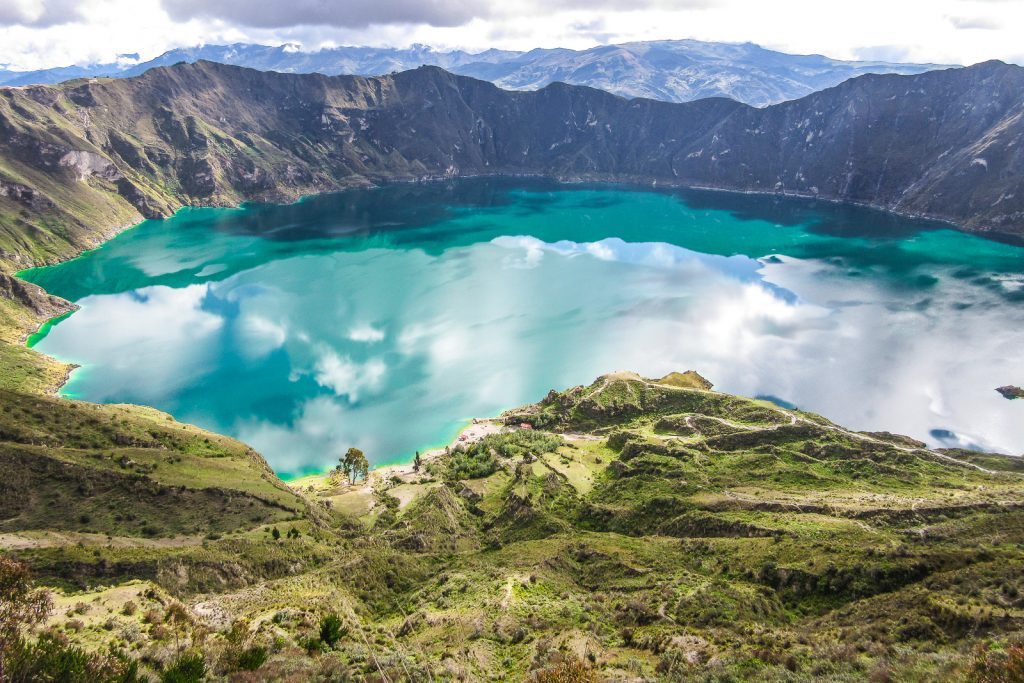 With a peak of over twelve thousand feet, Quilotoa Lagoon (or Laguna Quilotoa) is a jade colored lake inside of an enormous volcanic crater, that was formed over eight hundred years ago during an eruption in which the volcano's summit collapsed.
This natural wonder is two and a half hours South of Quito.
The volcano is dormant today, and a charming hiking trail wraps around the alluring blue-green, mineral-rich waters of the lagoon.
You have a few options when it comes to hiking this trail. You could take a bus to Chuchilán, spend the night, and wake up early to do the six-hour hike to the lake the next day. Or, you could spend a full three to five days hiking the loop. It's one of the more intense Ecuador points of interest.
If you aren't up for any intense hiking, you can catch a bus from Latacunga to Quilotoa for a day adventure. As there are limited signs leading the way, expect to get lost at least once. It might be a good idea to ask your hostel for an extra map.
A recommended hostel for its whopper of a breakfast and tasty three-course dinner that's covered in the nightly rate, the Cloud Forest in Chugchilán will make your stay memorable.
On Thursdays and Sundays, markets are held here where you can purchase items typical of the area.
Do bring enough layers and warm clothes with you, as the temperatures can starkly drop here at night.
Note that there are no ATM's here, so bring some extra cash. And, don't expect much of a wi-fi connection.
5. Try the food in Old Town Quito – Quito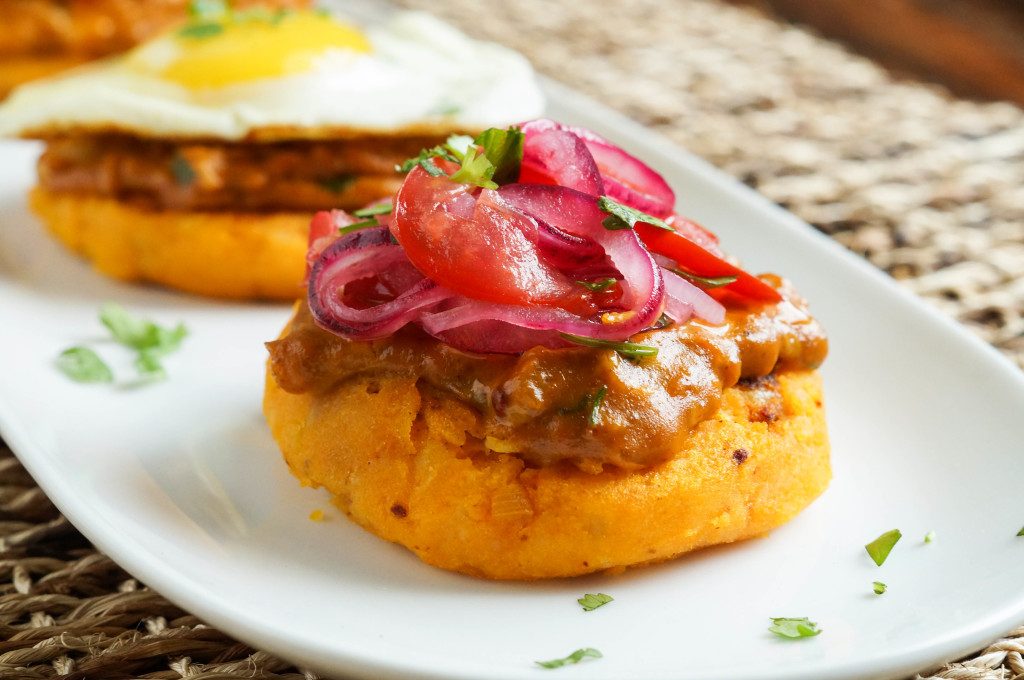 Once you've had your fill of Ecuador scenery, it's time to eat! One of the things to do in Quito, Ecuador is to dabble into some of the many different styles of food that abound.
Try exploring the Mercado Central in Quito Old Town- if you go around lunchtime, you'll see an assortment of stalls set up that feature different dishes and specialties of the day. You'll see menu items like potato tortillas, beet salad, llapingachos (a potato omelette topped with a fried egg, avocado, salad, chorizo, and perhaps some salsa on the side), seabass with potatoes, and green mango with salt.
There is a foodie walking tour on Fridays that provides a glimpse into Ecuador's culture from the various neighboring regions of the country. The tour begins at the Community Adventures Headquarters and ends in La Ronda, a scenic street in the historic center where you can end the night by experiencing Quito's nightlife and cuisine.
For a restaurant in Old Town with a beautiful view, check out Vista Hermosa Café Mirador- an ideal place to dine for a romantic night out, or for an evening with friends. Their menu features traditional items, as well as pasta and lasagna, with a fair amount of dessert and drink options.
For those of you that are vegetarians, La Cuchara de San Marcos is a bit detached from the main plazas in Quito, which contributes to the peaceful atmosphere of this restaurant. There are live jazz nights, with menu items such as soy empanadas, quinoa salad, locro (corn) soup, soy chorizo, and carnivore options are offered as well, if that's what you're in the mood for. They also offer coffees, IPA beers, and cocktails. and on occasion, cooking classes.
If you would like to dine at a fancy gourmet restaurant, you'll find La Belle Epoque near Plaza Grande in Quito, with yummy french food, and a live opera to listen to during dinner.
4. León Dormido – Galapagos
León Dormido, also known as Kicker Rock, is a monument comprised of two volcanic rocks that tower over one hundred and forty meters tall in the Galapagos Islands.
One of the most moving landmarks in the islands, this rock formation that extends up from the sea is a nesting site for the famed blue-footed boobie, and many other native birds.
When it's viewed from the South, the formation appears to look like a sleeping lion, which is Spanish for león dormido, while from the other direction, it looks like a boot- hence the other name for this landmark, Kicker Rock.
The mild currents and pristine waters make this location an excellent diving site.
There is a channel between the two volcanic rocks that plummets nineteen meters down to the seabed and pulls in many different shark species, colorful tropical fish, and the Spotted Eagle Ray. If you're interested in seeing the Galapagos shark, this is one of the best places to see it! You may choose to go diving, but also know that you can see a lot of marine life snorkeling, too!
From Puerto Ayora via boat, the journey will take a little over two hours.
3. Explore Guayaquil for the day – Guayaquil, Ecuador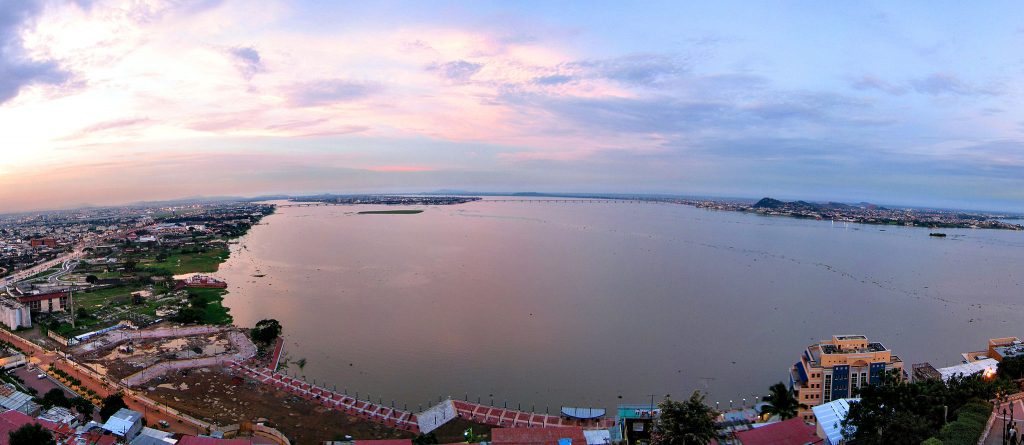 One of the top things to do in the country is to explore the largest city in the nation – Guayaquil, that is host to a perfect blend of culture, nature, history, and wildlife.
In the center of downtown Guayaquil is Parque Seminario, an attraction for locals and tourists that's home to a surprising number of land iguanas.
Outside of Parque Seminario lies Catedral Metropolitana, an immaculately-built, neoclassical style church that was built in the early twentieth century and is admired for its design.
If you have children that might delight in seeing parrots and macaws, check out the small zoo in the Historic Park of Guayaquil, where you'll see them perched near the walkways.
One of the things to do in Guayaquil, Ecuador, is to pay homage to the Presley Norton Museum, which houses the best collections of Pre-Colombian artifacts from the Valdivia culture- who once lived along the coast of Ecuador. These remnants give us slight insight as to how life may have been like for them.
If you would like to take some colorful photographs home, check out Las Peñas neighborhood, which features many brightly colored homes, and provides a lovely background for a photo during the early morning time and at sunset. Come nightfall, a just as colorful bar scene emerges.
2. The Devil's Nose Train – Ecuador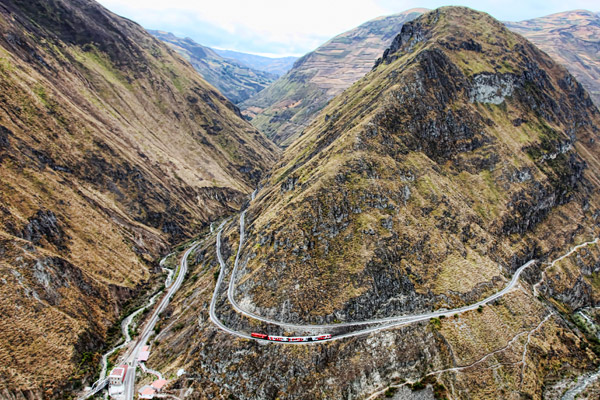 Built in 1908, Ecuador's first constructed railway linked coastal Guayaquil with the highland city of Quito for the first time in history.
Upon production of the railroad, the most trying obstacle was the 'Devil's Nose,' which was a vertical wall of rock. The only option was to cut zig-zags out of the wall for the train to squeeze into.
This zig-zag railroad climbs over five hundred meters in less than twelve kilometers with stark ascents and descents, and when you're riding the train, you can feel that it wasn't exactly built in a straight line. It would have nearly been impossible.
If you decide to ride the Devil's Nose train for a tour of the Andean landscape, it's about two and a half hours round-trip. Get your camera out as you chug through the rocky gorges and cascading creeks, canyons, and curvy mountains of one of the world's most novel railroads.
On a route that runs from Alausi to Simbambe, the Devil's Nose Train uses a portion of the Trans-Andean railroad, and is one of the most complicated railroads to have ever been built.
With the purchase of a train ticket from the company Tren Ecuador, you receive direction throughout the journey, the view of the narrow river Chanchan out the window, the opportunity to visit the local museum and see a live presentation of a folk dance upon arrival in Sibambe.
Trains depart every day of the week, but Monday, from Alausi. Alausi is about five hours away from Quito.
It's estimated that two thousand people died while building this railroad, so take a moment to silently give thanks if you do decide to do this excursion.
1. Visit Yasuni National Park – Amazon Basin, Ecuador
Located in Northern Ecuador and considered part of the Amazon Basin, Yasuni National Park, Ecuador's largest park on the mainland, is where you can find some of the oldest and largest trees in South America, and is home to millions of plant, bird, animal, mammals, and insect species.
With nearly one thousand square kilometers of marshes, swamps, wetlands, lakes, rivers, and rainforests, this national park may be teeming with more species of life than anywhere else on the planet.
This is one of the things to do in Ecuador where you can see wildlife like jaguars, toucans, pumas, caimans, tapirs, and hairy tarantulas. This is believed to be the result of the high amounts of yearly rainfall or the low contrast in overall temperatures.
Once at Yasuni National Park, you can hike the Amarun Nambi trail that leads to the interpretation center, which also has a museum featuring historical tidbits about the park and information about the flora and fauna. There are even women that give cultural cooking demonstrations, and a souvenir store at the end if you would like to bring a jungle-themed memento to someone.
Within the park, there is a loop trail that has the Big Ceibos tree in the middle of it, with a base of over five meters wide and a height of more than fifty meters tall. There are 'rooms' you can hop into that are snuggled within its massive root system, which would be fun for kids to explore. Along this same trail is the Pink Boa Tree, with enormous pink roots that wind through the  ground like a boa constrictor.
You'll thank yourself for bringing along insect repellant, as the mosquitos can be gnarly at times.
This park was designated a UNESCO Biosphere Reserve in 1989.
What to do in Ecuador: FAQs
What is typical food like in Ecuador?
Traditionally speaking, meat, potatoes, corn, rice, fresh seafood, and soups are the most common food staples in Ecuadorian cuisine.
Ceviche is a local favorite that consists of freshly caught fish drizzled with citrus juice, usually lime.
Other popular foods are corn, grilled steak, and potato cakes.
There are a variety of vegetarian options, just not as many as there are for meat-eaters, of course.
When is an ideal time of year to travel to Ecuador?
Any time of the year is a good time to travel to Ecuador. Since this South American country is situated on the equator, there is not much of a season change when it comes to Summer versus Winter. Although, some Ecuadorians would say that it's possible to endure all four seasons in a single day.
Quito boasts agreeable temperatures all year, while the jungle regions are hot and humid, with a slightly wetter season from April to June.
If you find yourself in the Andean region of Ecuador, remember that the mountains can become quite brisk in the mornings and at night.
During school vacation season, Ecuador can be a bit more crowded than usual, so you might want to plan in advance.
Do I need any vaccinations to travel to Ecuador?
There are no requirements as far as immunizations are concerned with traveling to Ecuador.
If you're traveling to the Ecuadorian Amazon, it's advised to have a Yellow Fever vaccine, but only that. There haven't been any reported cases of Yellow Fever in Ecuador in the last twenty years, but the Ministry of Health mandated this requirement in 2008.
A recent Typhoid fever and Hepatitis A shot are recommended. It's also suggested to bring anti-malaria medication.
What time zone is Ecuador in?
Ecuador is five hours behind GMT, and the country does not observe Daylight Savings Time. So, from April to October, Ecuador is on CST. If you're traveling to the Galapagos, you'll be one hour behind the time on the mainland.
What's the weather like in the Galapagos Islands?
Since the weather is typically warm in the Galapagos year-round, it's suggested to pack a lightweight shirt, and a few comfortable pairs of shorts. Pack a light sweater for when the slight breeze picks up in the evenings.
You might want to consider bringing a pair of water shoes if you plan on spending a lot of time in the water, a pair of binoculars, a daypack, insect repellent, a windbreaker, and supportive shoes.
Anything that you happen to forget, you can likely pick up when you arrive.
What is the best way to withdraw the local currency?
Since the turn of the century, Ecuador has used the U.S. Dollar as its currency. You'll receive an international fee on your card when you withdraw money, but some banks do reimburse this.
If you're going to bring U.S. Dollars from your home country, it's suggested that they are crisp and not ripped in any way, as torn money is not accepted.
The Departure Fee and the Galapagos National Park Fee is required to be paid before leaving the country, and can only be paid in cash. It costs one hundred dollars.
Note that most stores accept major credit cards.
What can you do in Ecuador?
What is there not to do in Ecuador? Try Ecuadorian food, take a hike through the jungle, surf the coastal waters, explore the Galapagos archipelago, hike around the Cotopaxi volcano, take a trip to El Cajas National Park, soak in the natural beauty, take day trips out of Quito, sit at a plaza and watch the world go by, or try having a conversation with one of the locals for fun!
What are the languages spoken in Ecuador?
Latin American Spanish is the most widely spoken language in Ecuador, but any form of Spanish will be understood.
Most of the indigenous population (over ninety percent) speaks Quechua.
The main tourist areas are where you will find a small percentage of people that speak English, and an even smaller portion of those that speak French and German.
Do I need a visa to travel to Ecuador?
If you're not planning on staying longer than ninety days, chances are you will not need a visa to travel to Ecuador- though it does depend on what country you are arriving from.
You will need a passport that will remain valid for at least six months past your arrival date in the country.
How can I make sure I stay healthy while in Ecuador?
Pay special attention to the food and drink you consume. It's advised to only drink bottled water, and to use discretion when you're served water from any other source. This applies to rinsing your fruits and vegetables with purified water, too! No one wants any icky parasites, especially while on holiday.
To avoid any itchy mosquito bites, wear long sleeves and insect repellant if you go on any jungle hikes.
If you're having any trouble acclimating to the altitude, keep up on your water intake and take it easy. For any heart conditions, you may want to consult with your healthcare practitioner prior to traveling to Ecuador.
Lastly, to prevent sun damage from the intense equatorial sun, wear sunscreen, or coconut oil (it has a natural SPF of thirty!) to protect your skin.
How is the overall safety in Ecuador?
Generally speaking, it is no more or less safe in Ecuador than in any other country.
If you're going to be out touring the city for the day, leave your valuables at the hotel, or at least keep them in a safe spot at the hotel. And, don't keep any more money on you than necessary- only enough to give you some peace of mind.
It's ideal to phone for a cab instead of hailing a random one on the street. You can request them at hotels or restaurants, and oftentimes your accommodation is happy to arrange one for you.
It's always a good idea to keep a copy of your passport in your wallet, and maybe even another extra one- you never know when you'll need it!
It's advised not to take pictures of locals without their permission, as sometimes this can ruffle feathers. It's a respect thing.
How can I reach the Galapagos Islands?
The only airports that offer service to the Galapagos are the Guayaquil and Quito Airports.
Or, you can opt to reach the islands via a private yacht, which would be a bit more costly.