Thailand's beautiful white sand beaches, blue sea waters, tasty Thai food, dazzling temples, and lively city of Bangkok, make it the number one tourist spot in Southeast Asia, and a dream destination for many around the world.
Known as 'The Land of Smiles,' Thailand is home to many smiling faces, friendly hearts, and down to earth people.
With so many attractions and endless things to do in Thailand, planning your itinerary can take time, so take time to weigh your options, and take as long as you can to explore this cultural wonder. Scoff on street food whilst watching a fierce Muay Thai boxing match, or admire the majestic beauty of Wat Po's reclining Buddha before taking a day trip to the bridge on the River Kwai – whatever you're searching for, you can find in Thailand.
Regardless of which parts of this country you actually end up seeing on vacation, you will have a wonderful time.
Check out our travel tips that rank the best things to see in Thailand, and decide for yourself what destinations speak to you.
10. Talad Neon Night Market – Bangkok, Thailand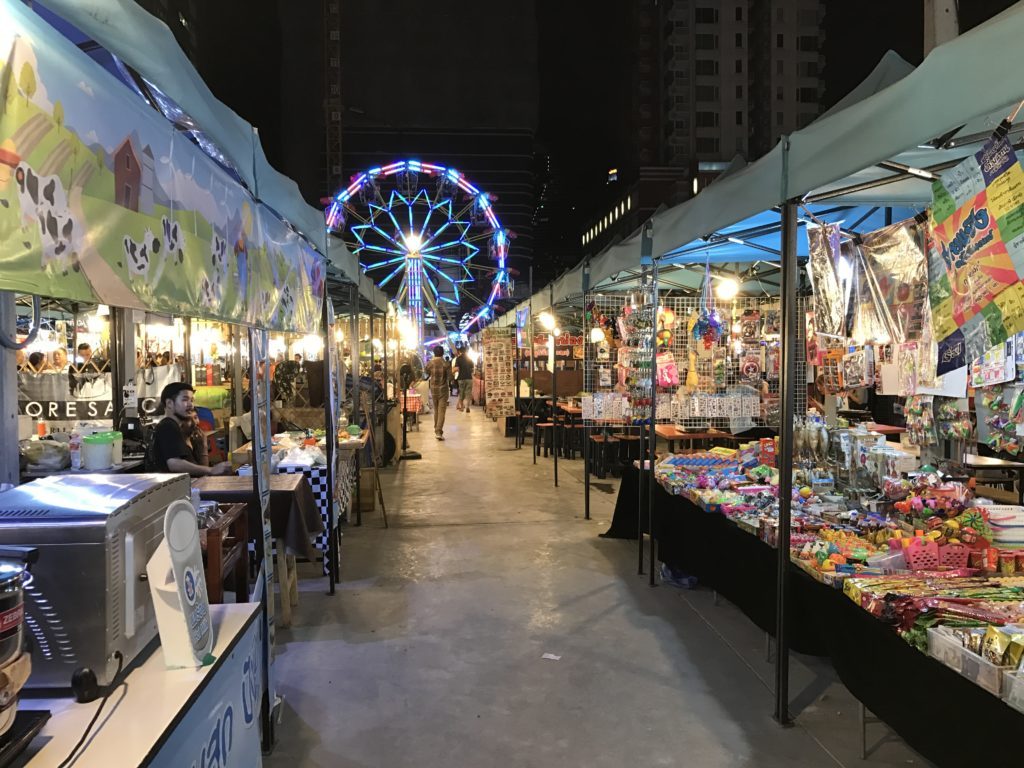 Also known as the Downtown Night Market, Talad Neon Night Market, is a visually stimulating night market wonderland found in a central location, that's close to shopping in downtown Pratunam, and convenient for those staying in the Bangkok districts of Sukhumvit or Siam.
Among the glimmering lights and rows upon rows of colorful tents, you'll see many vendors offering food, drinks, fashion clothing, and haircuts, souvenir stalls, bars selling jello shots, and an arcade section.
Food vendors offer menu items such as baked potatoes, charcoal waffles, giant octopus takoyaki, enormous seafood dishes, and there is a stall that serves everything with cheese. There's also one that serves drinks out of lightbulbs.
If you have children, they might love to ride the Ferris wheel and carousel, explore the bouncing castle, or see the mini zoo exhibit (depending on the time of year), where you can see animals such as snakes, pigs, horses, rabbits, and goats.
This night market is open Wednesday through Sunday from four in the afternoon until midnight.
9. White Temple – Chiang Rai, Thailand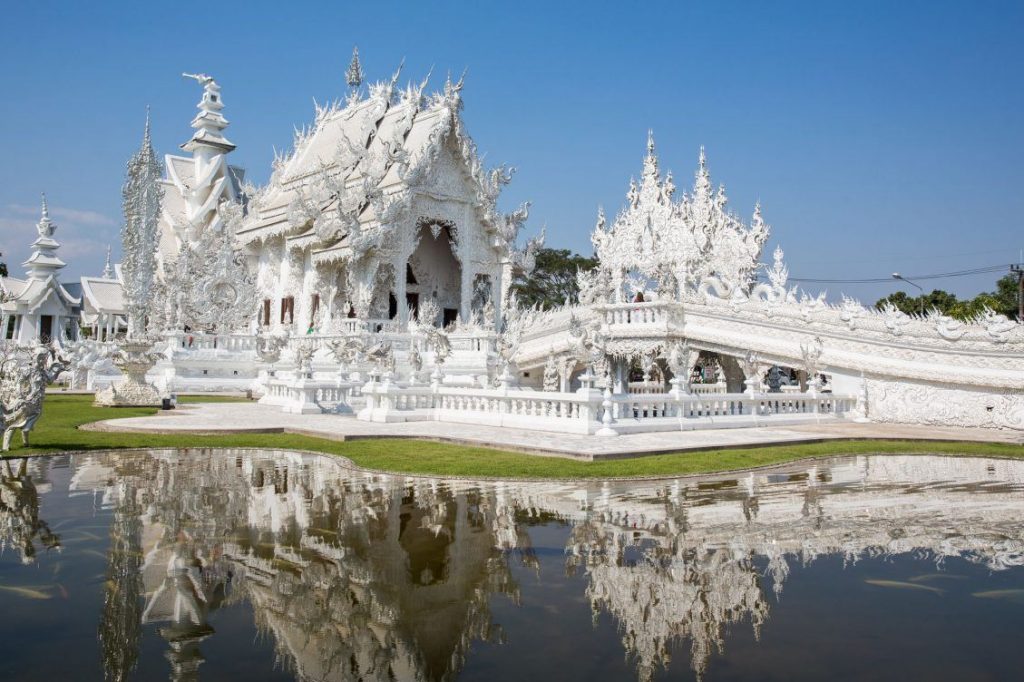 The northern province of Chiang Rai has many exciting points of interest, but there's one that you musn't miss on your Thailand travel itinerary. Wat Rong Khun, or White Temple is a bizarre temple created by the Thai artist, Ajarn Kositpipat, that features an interesting combination of Buddha and Western pop culture murals, portraying visions of orange flames, Harry Potter, Hello Kitty, Michael Jackson, and images of nuclear warfare.
This Thai temple has a three-tiered roof that's engraved with Naga serpents, and it's believed that these mythical creatures, in addition to the deities edified on the exterior, indicate some sort of religious significance to the temple.
One of more than thirty thousand temples in Thailand, Wat Rong Khun's all white exterior, represents Buddha's purity, and mirrored trimming signifies self-reflection, while underneath the bridge to the entrance you'll see a sea of arm statues reaching up from Hell.
This Thai relic is open every day from six thirty in the morning until six in the evening- plan for the tour to take at least an hour.
If you decide to take the tour, you will also see the 'Black Temple,' which is another version of a Thai temple with a darker, more ominous facet.
Due to the religious significance of these temples, it's required to wear clothing that covers up skin that's any more exposed than it needs to be.
Photography of the interior of the White Temple isn't permitted, but viewing it is a Thailand must see!
8. Spend the day with elephants – Chiang Mai, Thailand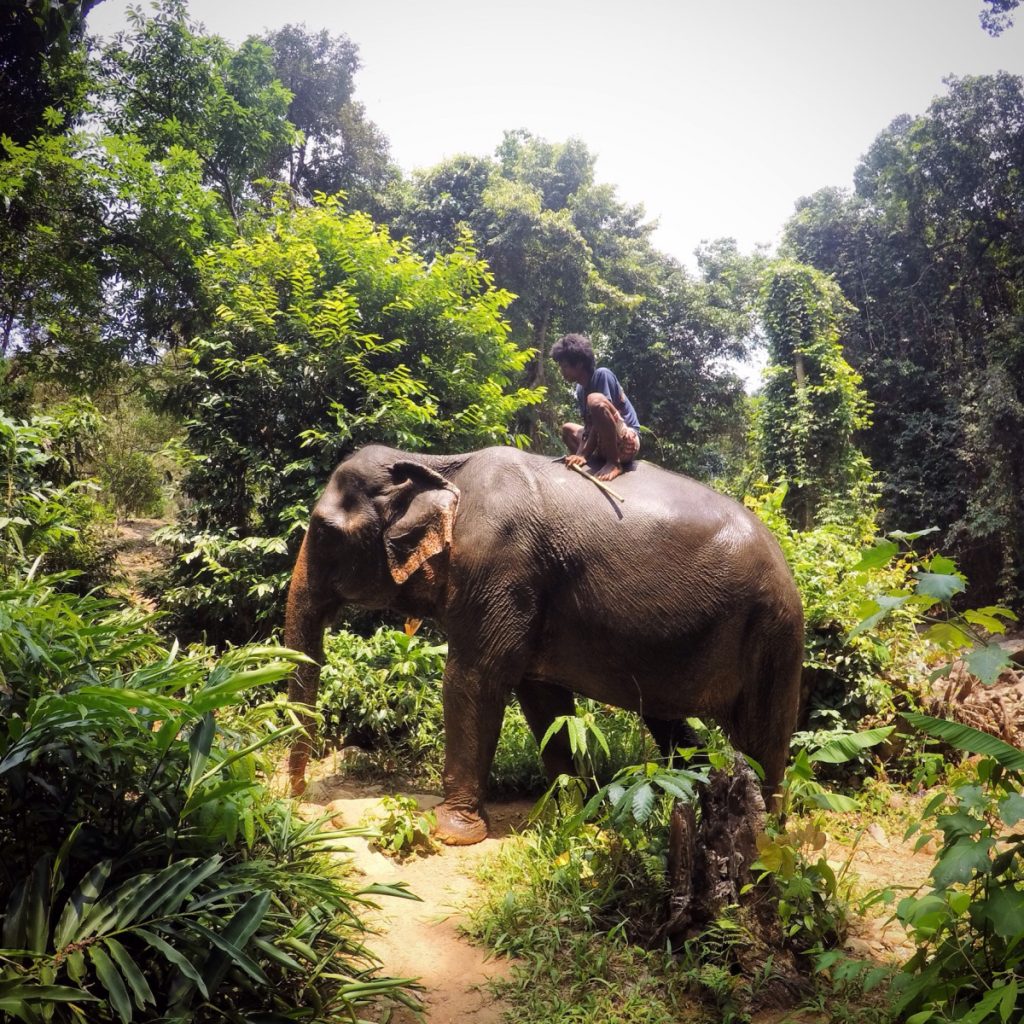 In Chiang Mai (not be confused with the above mentioned Chiang Rai), Hug Elephant Sanctuary, founded by a group of people that wanted to improve the quality of life for elephants that had been rescued from all over the county, is an organization concerned with the sustainable practice of mingling with elephants without riding them.
It's actually one of the best things to do in Thailand with kids. If you stick around in the afternoon you'll be able to feed them bananas and sugarcane and watch the elephants take a bath. Your kids will love it!
Now, if you are insistent on riding the elephants, Thai Elephant Home offers a tour where you can not only ride with them, but you can swim with them, feed them, and learn how to give them commands.
If you're curious to learn about elephants behavior, would like to walk through the jungles with them, and wouldn't mind the experience of giving them a mud bath, check out Maerim Elephant Sanctuary in the Northern countryside of Chiang Mai. You can choose to do a half or full day tour.
7. Ayutthaya National Park – Thailand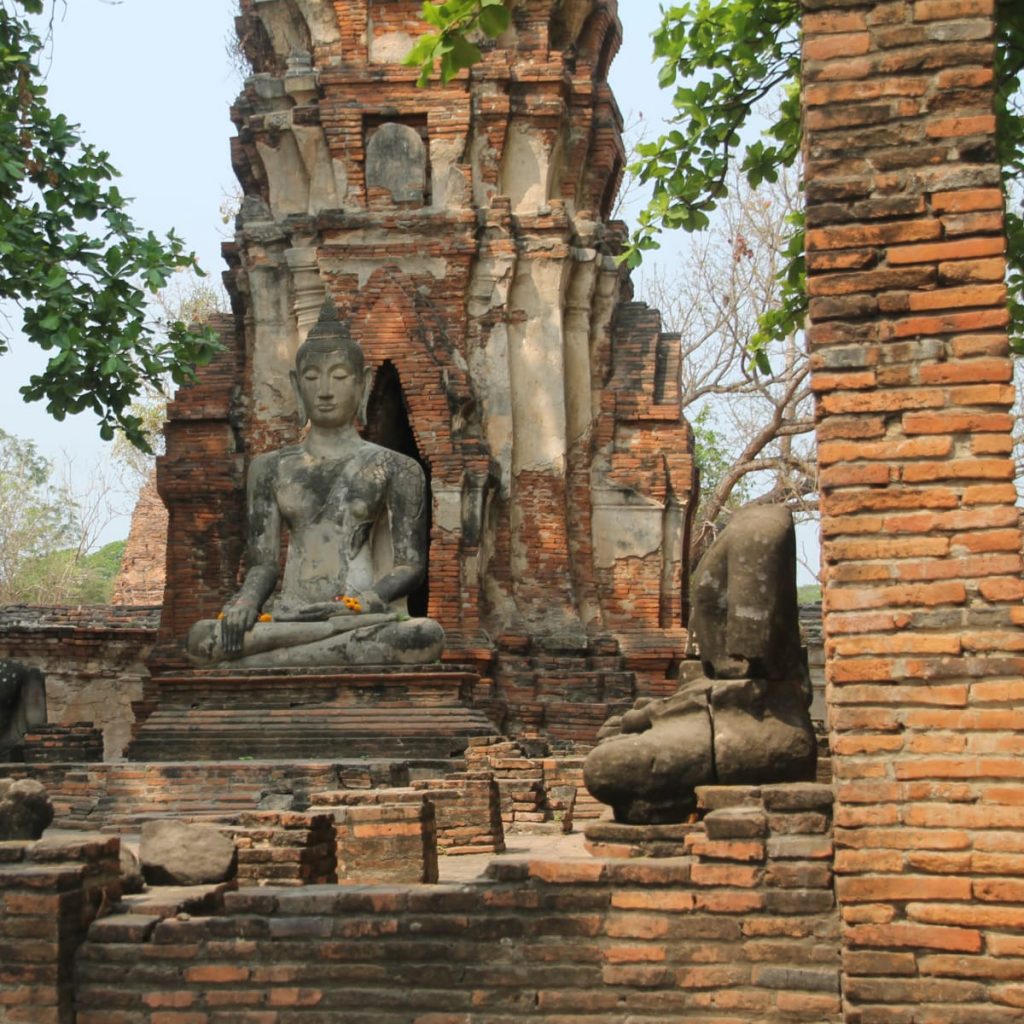 Established where the old capital of Thailand once was, Ayutthaya National Park is surrounded by rivers on all three sides, and is situated eighty kilometers North of Bangkok, dotted with ruins and grand temples of the ancient Ayutthaya empire.
This complex has a total of sixty-seven temples and ruins. Over time, many of the temples had begun to fall apart, thus were repaired by the Thai Fine Arts Department.
There are multiple wats to be explored within Ayutthaya, one of which being Wat Ratburana that was constructed in 1424. It features a three headed naga (serpent) and the central prang, built Cambodian style. From the central prang, you can descend a flight of hidden stairs that lead to antiquated, original pictures of Buddha.
Another embellished wat and also the largest one in the park, Wat Phra Si Sanphet, also known as the Grand Palace (not to be confused with the King's Palace), features a row of three large pagodas, and also has an area where you can ascend a flight of stairs for a panoramic view.
Afterward, if you are still temple-hungry, check out the giant golden Buddha statue at Wihaan Phra Mongkhon Bophi, where Thais regularly come to worship.
To navigate around the park, consider hiring a tuk-tuk driver, especially if you are here during the hot days of Summer.
If you're arriving from Bangkok, a minivan is the quickest way to arrive here, and they depart from Khao San Road and Mo Chit Bus Terminal. You'll get dropped off at the Ayutthaya Southern Bus Terminal, which is a five-minute taxi or tuk-tuk drive to the National Park. Many tour packages combine Ayutthaya with a trip to the infamous bridge on the River Kwai.
The park is open from eight in the morning until six in the evening
6. Damnoen Saduak Floating Market – Thailand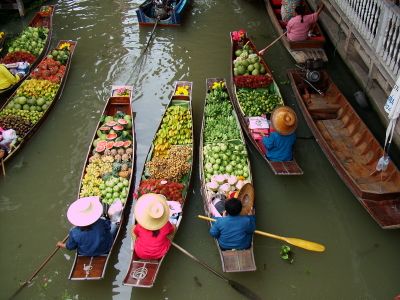 Another 'must do' in Thailand is to visit the lively and bustling world-famous floating markets of Damnoen Saduak outside of Bangkok, a significant part of local Thai culture, and a place where natives and tourists alike shop for food, clothes, souvenirs, and fresh produce. There are many floating markets in the region, but this one is the one to visit.
You can experience the market on a traditional Thai long-tail boat, but if you want to avoid boat traffic, you might want to consider arriving early.
Come with an appetite, as coconut pancakes, spring rolls, fresh fruit, and stir-fried dishes are just some of the traditional food items that are served here.
For those of you traveling from Bangkok, there are buses that run from the Bangkok Bus Terminal to Damnoen Saduak Floating Market every day. The drive takes about an hour and a half.
Bring your camera to snap a timeless shot of this classic Thai scene of exchanging goods, and plenty of money if you want to make some purchases. Visiting the market is a must do in Thailand!
5. Attend the Loy Krathong Festival – Sukhothai, Thailand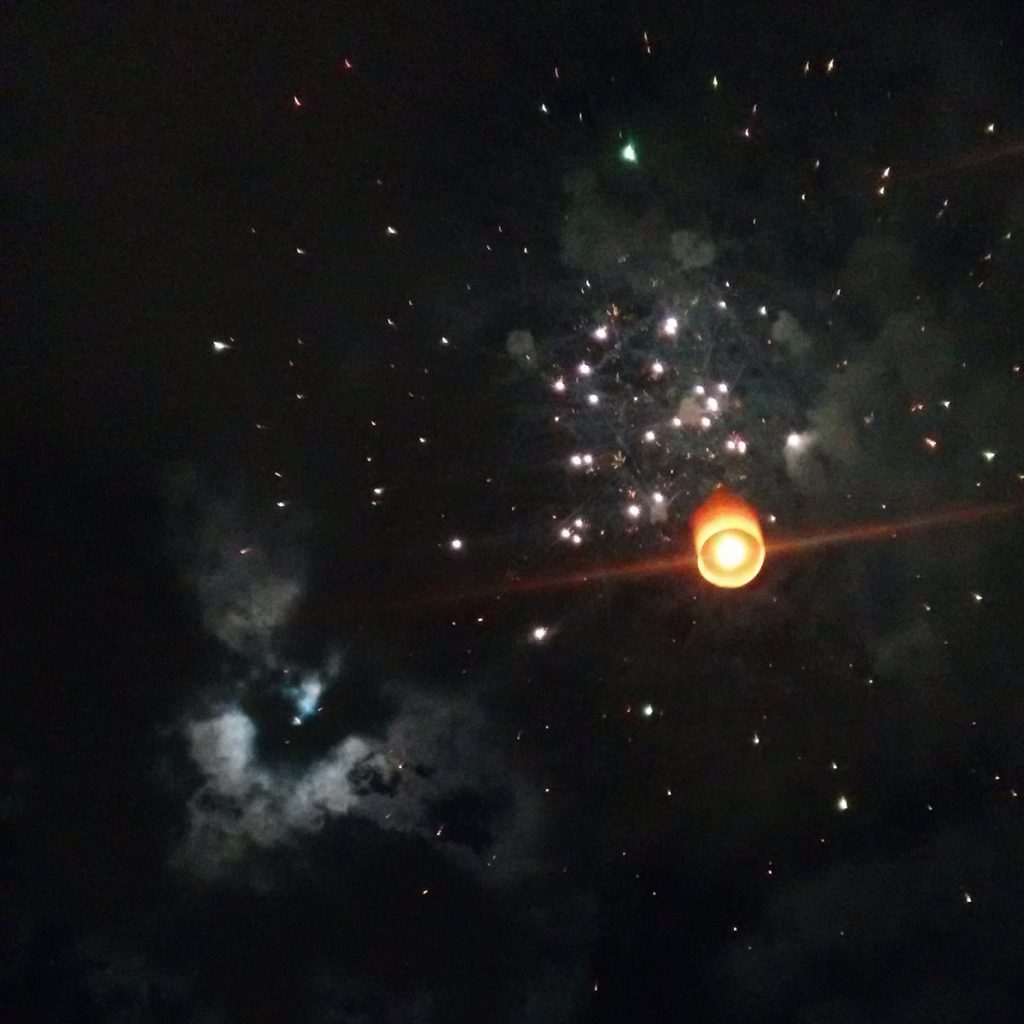 Considered to be Thailand's most beautiful and exquisite festival, the Loy Krathong Festival is one of the things to do if you're visiting in November that illuminates the mainland and the waters with flickering, colorful lights after sunset.
Loy means floating and krathong refer to small baskets, that are typically made from banana leaves or bark from the banana tree. The krathongs will commonly have a  candle, incense, or flowers placed inside of them. The person that floats the basket down the water will add a snippet of hair or a piece of a cut fingernail along with the other items in the basket. The act of setting the krathong free out onto the water is believed to send away any bad luck, and initiate a new beginning.
This festival is celebrated all throughout the country, so if in doubt of where to see it, just twirl around, and chances are there will be a celebration somewhere in your bird's eye view.
One of the things to do in Bangkok, Thailand when this festival is held is to visit the river Chao Phraya, which is the main focal point for the celebration, where you'll see decking out bridges and bright lights for this special occasion. Look up into the night sky and see it twinkling with sky lanterns!
And, if you find yourself on a Thailand beach during this particular time, you'll see many Thais floating their pagodas out onto the water, starting their new chapters and releasing the old that no longer serves them.
4. Prasat Hin Phimai Historical Park – Phimai, Thailand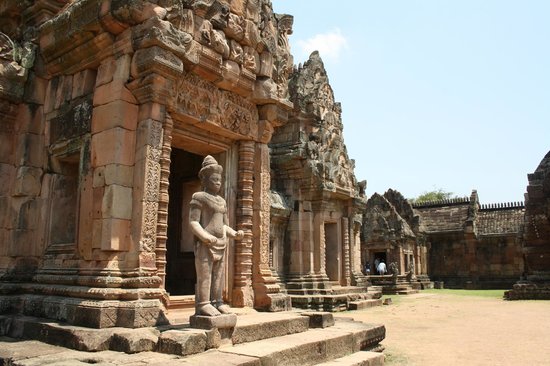 The largest of all Khmer temples (Cambodian-style), and over one thousand meters long and about six hundred wide, Prasat Hin Phimai, or stone castle, is a historical temple complex, with most of the buildings dating back to the late eleventh and early twelfth centuries.
Built on the ancient highway that connects with Angkor Wat in Cambodia, these ruins have the highest main pagoda (tiered tower) construction in Thailand, and can be found in the center of Phimai city in Thailand.
There was a heavy Khmer influence in the architecture using traditional bricks, laterite, and sandstone (all of the buildings are giant sandstone blocks), with stone inscriptions inside the main tower that signify the very Buddhist origin of Phimai.
As one of Thailand's more unusual points of interest, these remains serve as a reminder that Thailand was once ruled by the Khmer before Thais even entered the territory. For example, architecture on the temple displays the Khmer worshiping Shiva.
These ruins were intended to represent the universe, with Mount Meru being the center of the galaxy, the surrounding walls representing the mountains that enclose them, and the ponds around the temples echoing the ocean.
This historical park is open every day from seven thirty in the morning until four in the afternoon.
Also, at the end of Phimai city, you can find the largest Banyan tree in the world, Sai Ngam, which occupies a full island in a small pond. This is significant, as the Buddha was believed to have become enlightened by sitting underneath this type of tree. You may see many folks picnicking near the tree, and multiple food vendors.
3. See Ko Phi-Phi – Thailand 
Off the Andaman coast and stretching down toward Malaysia, you'll find Thailands' island of Ko Phi-Phi (if you want to get technical, it's comprised of two islands- Ko Ph Phi Don and Ko Phi Phi Leh), surrounded by coral reefs and transparent, azure waters, and mountains coated in lush greenery.
From the mainland, the only way here is via boat.
Visitors to this exotic paradise enjoy endless beach activities such as snorkeling, dolphin spotting, and especially diving.
If you come during the evening, you may see the occasional moonlight fire show.
Hostels Ibiza House and Coma Hostel are known for their clean rooms and for being a great place to connect with fellow travelers. If you're feelin' fancy, Phi Phi Island Village Beach Resort has seventy acres of palm trees, gardens, and over a half mile of Andaman Sea coastline that has gourmet restaurants and bars.
Though Ko Phi-Phi has its fair share of partiers, there are many peaceful areas where noise can be evaded. Ko Phi-Phi has the best of both worlds- take your pick depending on your mood!
If you love mangoes, The Mango Garden is a wonderful spot to dine at if you've worked up an appetite. There are many restaurants offering Thai food, of course, but you can also find Indian, Middle Eastern, and Italian style eateries. And, of course, you'll never have a problem finding fresh seafood on the menu at many of Ko Phi Phis restaurants.
And if you wake up in the morning exhausted from the night before, coffee shops overflow the streets.
Ko Phi Phi is blessed with shining sun rays most all of the year, and basking under the sun at this retreat is surely one of the top places to visit in Thailand.
2. Visit the Grand Palace – Bangkok, Thailand
In the center of Bangkok along the Chao Praya River, the King's home for one hundred and fifty years, the Grand Palace is one of the top things to do in Thailand, and features impressive architecture of gold-tipped series of intricate constructions, over two hundred thousand square meters of residences, Buddhist temples, government offices, and many works of art.
It was actually home to not only the King, but also the Court, the full government of Thailand, and the Royal Mint.
If you'd like to fully see the temple for what it is, you could spend as long as three hours exploring the grounds.
The upper terrace features a miniature version of Angor Wat and the Royal Pantheon that has statues of past rulers from the Chakri dynasty. While another addition worth checking out in the Grand Palace is the Royal Monastery of the Emerald Buddha.
There is a stern dress code policy in place here, so don't choose to wear your sarong on the day you do this tour. Women should cover their shoulders and men should avoid wearing bro-tops.
If you want to put a romantic twist on your vacation, go during nighttime, as the Palace is illuminated, and the crowds won't be as much of a battle.
If you do go here, you might want to check out the largest reclining Buddha in the country that's located next to the Palace. The reclining Buddha at Wat Po, is one of the country's most famous sights. If you were wondering what to see in Thailand – this is one of the countries most iconic landmarks.
1. Snorkel in Koh Tao – Koh Tao, Thailand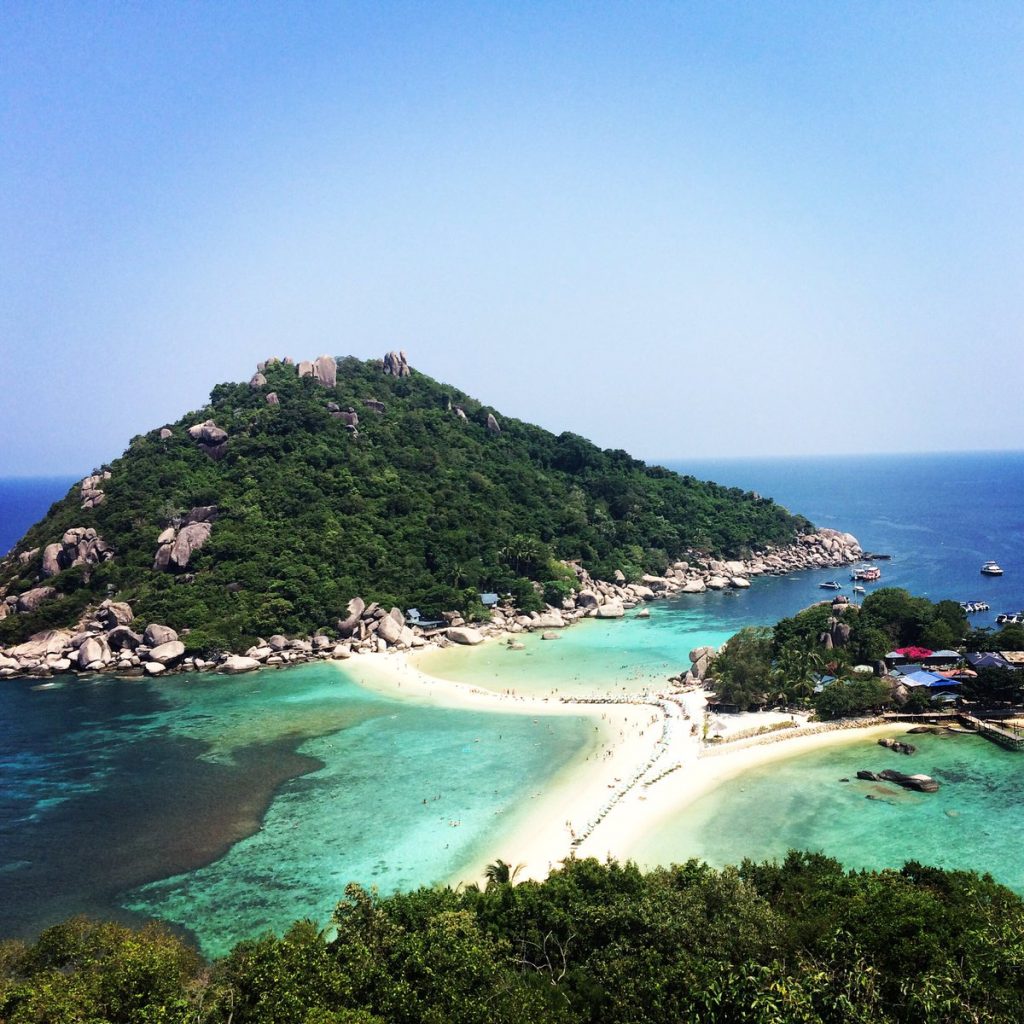 Located in the Gulf region of Thailand, Koh Tao has twenty kilometers of stunning coastline, with transparent and sparkling, calm, cerulean blue shallow waters, making this one of the things to do in Thailand that's suitable for both adults and children.
Koh Tao is home to many captivating fish species like parrotfish, angelfish, triggerfish, blue spotted rays, and you might even have the chance to spot sea turtles at certain sites.
If you'd like to spend the day seeing these fish face-to-face, there is an 'Around Island' snorkeling trip that's operated by about ten companies, all providing essentially the same services- so, take your pick.
These snorkeling boat trips will typically visit Koh Nang Yuan, Aow Leuk, Mango Bay, Hin Wong Bay, and Shark Bay.
Insurance, English speaking guide, snorkel gear, transport, lunch, fresh fruit, and water are included in the fares, and you can opt to do a half day or a full day trip.
Note that the weather conditions are favorable year-round in Koh Tao.
Things to Do in Thailand FAQs:
What is the climate like in Thailand?
There are three different 'seasons' in Thailand, with an overall tropical climate in Thailand.
The warmest season runs from March until June, while the monsoon or the 'rainy' season runs from July to November.
And, the cool season or 'Winter' runs from November until February. So, for those of you that don't like the heat, travel during this time, when temperatures are usually an agreeable seventy degrees Fahrenheit
How safe is the drinking water in Thailand?
As opposed to drinking tap water, bottled water is instead widely used by locals and travelers alike.
Remember that boiling water does not remove toxic chemicals, and neither does freezing- so exercise caution with ice cubes that may be placed into the drinks you order.
Brushing your teeth with tap water is deemed safe in Thailand- if you're one of those people that swallows a little bit when brushing, you might want to use a purified water source.
Be careful with street vendors, as the degree of cleanliness can be questionable.
What languages are spoken in Thailand?
The official language in Thailand is Thai.
According to what region you travel to in Thailand, you'll hear different dialects and forms of speaking.
English is the most common second language in this magical country. Many Thais have studied English in their school career at some point, or have at least met an English speaker to be able to practice with.
Are there any cultural taboos or traditions to know about when traveling to Thailand?
Thai culture is very polite, with etiquette underlying all behavior.
Seeing as how the society is non-confrontational, it would be best to respect that and avoid confrontations, never losing patience.
If you're invited to someone's home or are about to enter a temple, remove your shoes before you enter.
If you mess up, just smile, or give a wai (traditional bow), and chances are, you'll be pardoned.
Also, Thais like to dress neatly and professionally, without revealing too much skin. You might want to do the same if you travel to Thailand.
What is the electricity voltage used in Thailand?
The electricity in Thailand is two hundred and twenty volts.
Most outlets have two prongs, without a third at the bottom. However, some newer buildings do have the three-pronged kind.
What are some things to do when in Thailand?
From Muay Thai boxing to Thai cooking classes, Thai cultural festivals, street food adventures, homestays with the locals, and meditation courses, there is no shortage of activities to do while in Thailand.
Nature enthusiasts will love bird-watching, sailing, yachting, white water rafting, diving, or snorkeling. You might also opt to go kayaking around Mu Ang Thong Marine National Park.
If your body needs some attention and nurturing, start your day with a Thai massage, or do some yoga.
Krabi and Phang Nga are prime spots to rock climb in Thailand, if you want to stay active on your vacation.
Since this is a Buddhist country, temples play a large role in the topography of the land. So, even picking a day to go temple-exploring would be fun on your trip to Thailand.
Do I need a visa to enter the country?
If you are a tourist arriving by air or land, you are able to spend up to thirty days in Thailand without a visa. If you plan on staying longer, you must obtain a visa before traveling.
If you overstay your visa, you'll be charged five hundred Baht each day.
If you don't have proof on an onward ticket, there is always the chance that you could be denied entry. So, better to be safe than sorry and purchase a return ticket home or to extend your stay somewhere else.
What is there to do in Thailand?
If you're ever wondering what to do in Thailand, then just head out of your hotel because there's always excitement and adventure to be found. Whether you're strolling through the local markets or taking a tuk-tuk ride, Thailand will come alive for you.
What is the currency in Thailand?
Thai Baht is the local currency.
There are many ATM's to withdraw from in Thailand for any concerns.
There aren't any fees to exchange currency into Thai Baht in Thailand, so you might not want to even bother with exchanging prior to arrival- just a thought!
Where are the top beaches in Thailand?
Thailand has a long coastline that extends along the Andaman Sea and the Gulf of Thailand.
Ko Phi Phi Don is renowned for its beautiful landscape of white sand and limestone peaks.
Nestled in the Gulf of Thailand, Ko Samui is said to have some of the most beautiful beaches in the country, in particular, Chaweng and Lamai are exquisite.
On the Western side of Thailand, you'll find Phuket, which has beaches to please everyone. Whether you want a quiet, isolated stretch of sand, or a bustline shoreline with watersport options, Phuket has much variety.
How should I dress while in Thailand?
You will earn a good deal of respect by Thais if you are more on the conservative end with your attire.
For example, you might want to ensure your skirt or dress at least meets the knees, or even further down.
Do I need any vaccinations to travel to Thailand?
It's recommended to have Hepatitis A shot and typhoid vaccines, but it's not required. Also, a rabies vaccine is optional but not required.
You may want to use mosquito repellent to prevent any potential Dengue or Malaria.