How many districts are there in Tokyo?
Well, Tokyo has a total of 47 main centers, with each being like a small city. Tokyo is like a whole other world in itself, really.
Before departing for Tokyo Japan, hopefully this nifty travel guide will prepare you for your endeavors in the land of colorful Geishas, ramen, and lanterns.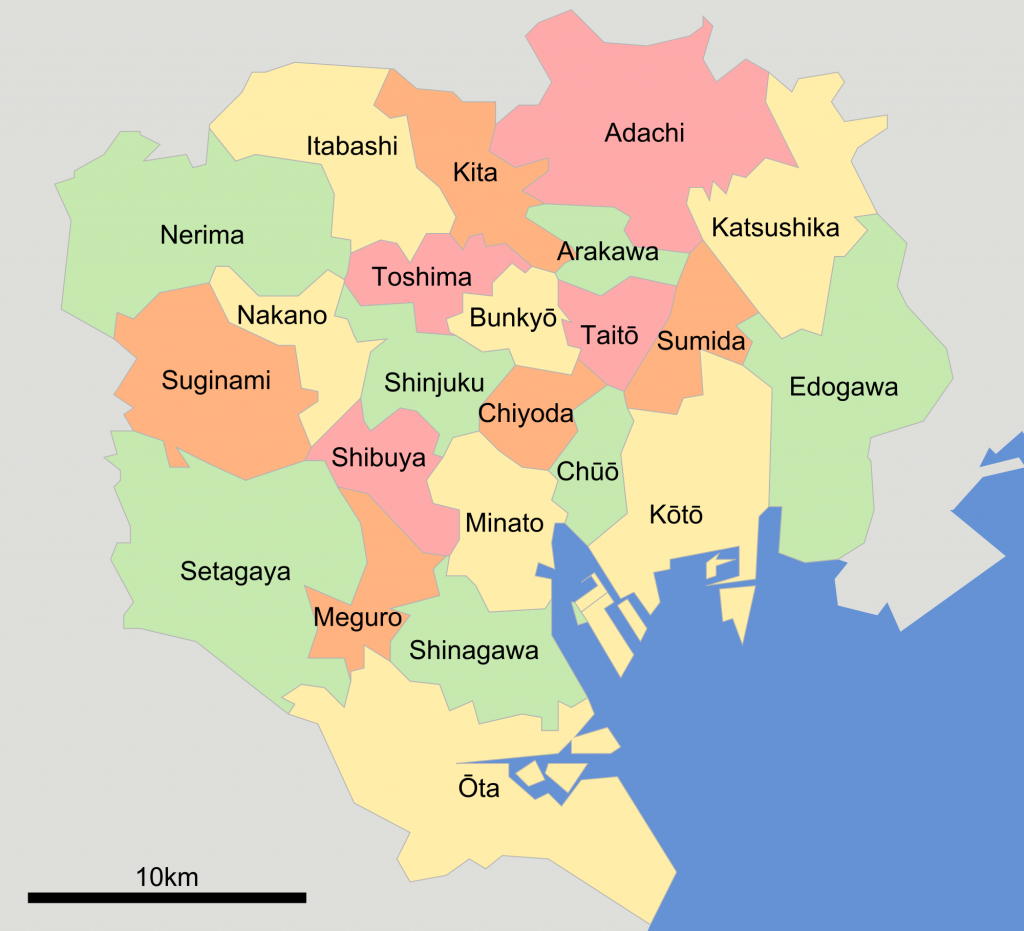 Here are some of the Tokyo districts that you might consider adding to your bucket list:
Imperial Palace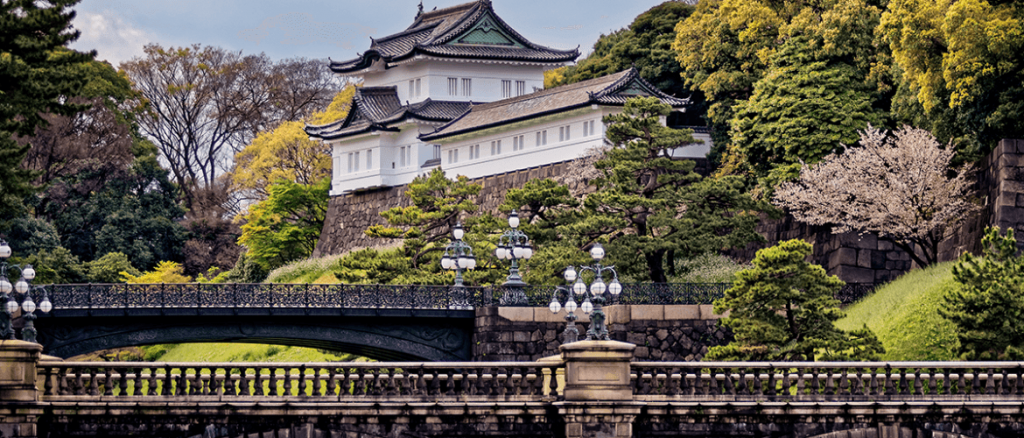 Located ten minutes from Tokyo Station, the famous Imperial Palace spans 1.3 miles with an immaculate series of well-manicured gardens (that even still have remnants of ruins within them), and hanami (cherry blossom) trees to get lost in.
This is the main residence of the emperor of Japan, and there are certain days when you can have the chance to see the Emporer himself.
This elegant building has many an art gallery to be viewed, with complimentary tour options available. If a guided tour doesn't interest you, be your own travel guide and perhaps download the free Imperial Palace audio guide app on your phone.
Oh, and if you happen to be at the Imperial Palace on December 23rd (also a National holiday), the Emporer and his family will make 3 physical appearances at the Chowaden hall balcony, if you're set on seeing him this trip.
One of the main places to visit while you're in Tokyo Japan, there is much cultural history to be absorbed here, and plenty of nature that waits to be explored around the Palace. There's no need for a tour guide, just bring your waterbottle and camera for the shots of Mother Nature.
Kitanomaru Park, which was at one point a garden of medicinal plants, is now unrestrictedly open to the public, where you can opt to walk the Chidorigafuchi walking path. The cool part about it is that, to this day, it's encompassed by a moat. If you're lucky enough to be here in Spring, you'll see cherry blossoms galore. That sounds like a picture-perfect outing to me!
This park houses the National Museum of Modern Art, too, a place to visit in Tokyo if you're looking for more artistic inspiration.
Tsukiji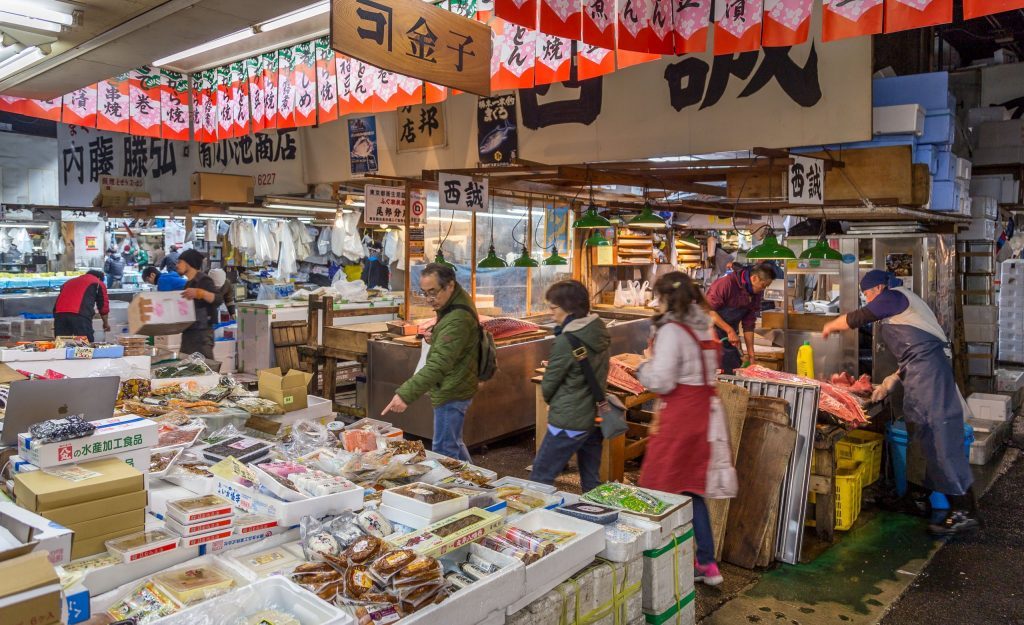 One of the places to visit in the electric city of Tokyo, Tsujiki is the shopping district where you can get your hands on both fresh and processed seafood, if that's on your bucket list.
Tsukiji Outer Market is a blend of Tokyo shopping and yummy eating spots. If you're up at the crack of dawn, the market opens at five in the morning! This market is a quick walk from the Tsukiji Shijo Station. No need for a travel guide – you can easily walk this bazaar on your own.
Another newer, more tourist-y type shopping area, the Toyosu Market is a three-building place to visit if you're looking to get some shopping done. One building is dedicated to seafood, and the other two are dedicated to fruits and vegetables, with each being connected to the Shijo-mae station for ease of travel.
Akihabara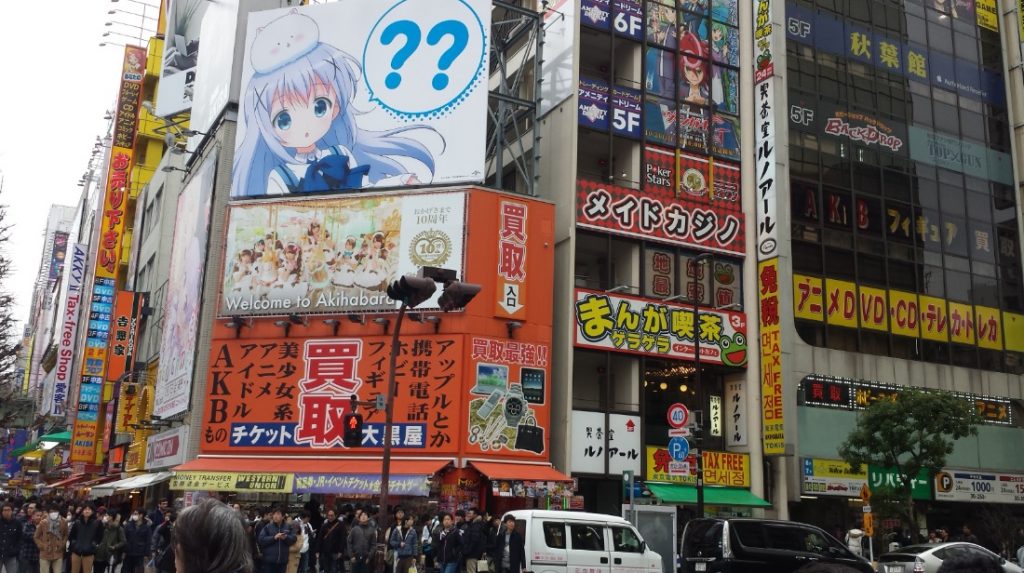 Anime District Tokyo is the district of the gamer.
One of the Tokyo districts to visit with cultural anime establishments, feel free to check out the manga café if you find yourself in need of a quick internet connection. Or, better yet, when you work up an appetite, enter into a maid café, where you can have the experience of being served by waiters and waitresses dressed up as anime characters and maids.
Referred to as the "otaku" district, Akihabara is known for its manga, card game, and anime nerds, with otaku meaning those who are obsessed or seemingly devoted to one certain thing.
Akihabara also being referred to as the Tokyo electronics district, this city to visit in Tokyo is also well-known for its electronics shops, with one of the newly constructed buildings being the popular Yodobashi electronics store, while small business-type shops can be found on the side streets.
If you end up buying electronics, pay attention to the voltage, as sometimes certain devices won't work in other countries. Some shops feature evidently international models that are obviously able to be used anywhere in the world, whereas with other things you may have to do a double-take, or hope there are instructions printed in English somewhere.
*Note: Many of these electronics shops offer tax-free goods to tourists.
Taito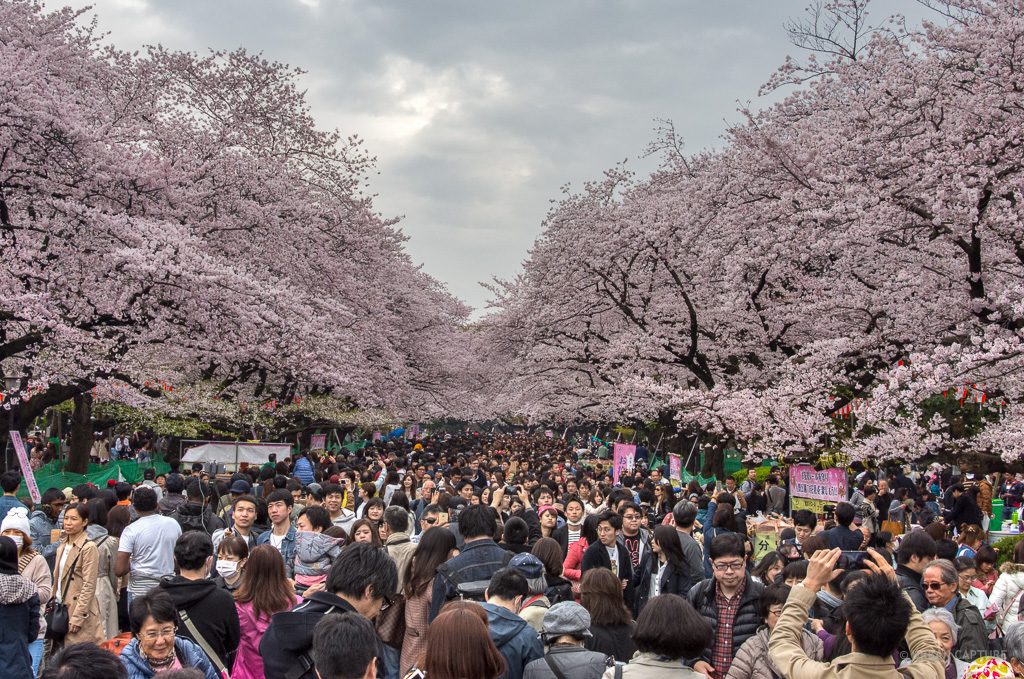 Taito district Tokyo is the smallest of them all, and is one of the places to visit in Tokyo with nature and travel testers galore.
One of the Tokyo Japan districts where there is no shortage of nature, Ueno Park is the biggest public park in all of Tokyo. It has a Buddhist temple in the center of Shinobazu Pond, along with some Shinto shrines that can be seen on the mainland if you want to get a workout in with some lovely scenery.
Near this park is the Tokyo National Museum, the oldest government-funded museum in the nation, and also one of the largest art museums in the world.
You might also consider checking out the Sumida Riverside Park – it has good jogging trails, and a nice view when sunset approaches of the brightly illuminated Tokyo Skytree, across from the river.
Also, there is a little shopping district within Taito called Ame-Yoko Market, an outdoor bazaar where you can find modestly priced souvenirs, candy, and clothes.
Asakusa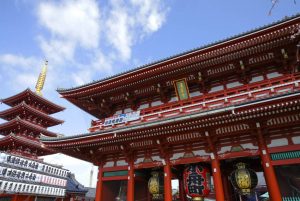 Think Old Tokyo.
One of the places to visit in Tokyo with a history that lives on in the aesthetics, Asakusa's story is still told through its magnificent architecture.
For those of you considering travel to the Asakusa district of Tokyo, you can finally fulfill that bucket list goal of witnessing a live sumo wrestling match (a sport akin to what soccer is for those that live in South America.)
A fun fact about these wrestlers is that they don't eat breakfast, but they do manage to scarf down 20,000 calories between lunch and dinner. Hard to believe they can shovel that many calories down at once!
Asakusa is where the brightly colored 6th century constructed Senso-ji temple is located, one of the most antiquated temples in Tokyo Japan, where you can have the unique chance to draw a fortune telling strip (an omikuji) if you choose to enter.
Senso-ji temple is open from 6 am (or 6:30 am depending on the season) until 5 pm, and there is no charge to access it.
A little more than five minutes from Senso-ji temple, at 634 meters tall, the Tokyo Sky Tree (Tokyo's latest attraction) can be found here – an observation tower that overlooks all of the city.
It can get crowded at times, so you might want to wake up at sunrise for this attraction, for a stellar view without the other tourists.
While the Tokyo Sky Tree isn't quite the tallest building in the world, it's worth the incredible once-in-a-lifetime view.
Oh, and buy your tickets the same day for the best price.
Minato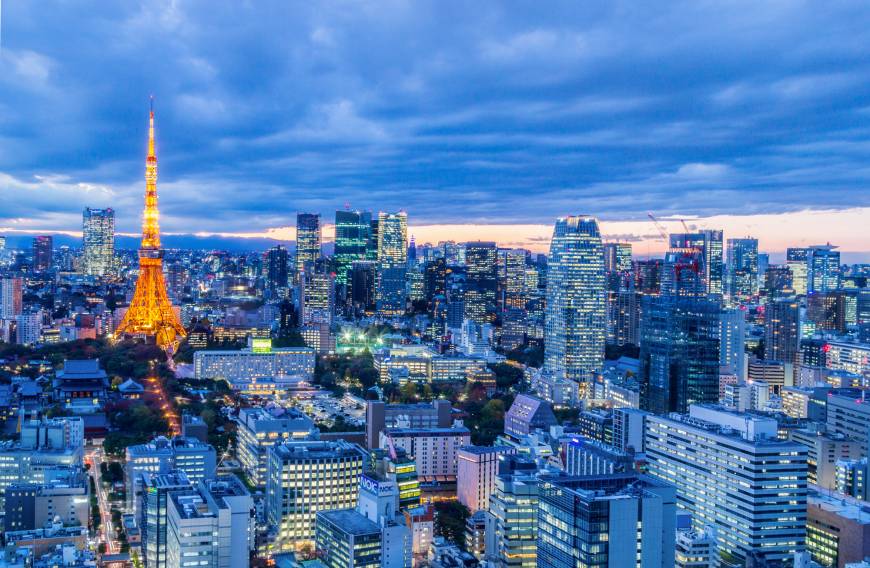 One of the places to visit in Tokyo with historic landmarks and art museums, Minato is a district to visit while on vacation in Japan, with added bonuses being the Eiffel Tower-like Tokyo Tower, the zojo-ji Buddhist temple, and the vast Tokyo Midtown shopping complex.
Tokyo Tower is a place to visit if you'd like a central view of the city from a bird's eye view, coming in at 333 meters tall, it's the worlds tallest steel-supported tower. Today, it's a symbol of Japan's post-war time restoration as a crucial economic power in the world, and an observation tower that doubles as a tourist attraction. It's also a broadcast antenna!
You can reach the main deck of Tokyo Tower up at 150 meters, where Mt. Fuji and the Tokyo Skytree can sometimes be seen off in the distance. If the beautiful view of Tokyo Japan has you salivating, there's a café downstairs.
Tokyo Tower is open from 9 am until 10:30 at night every day, and there's no need to have a travel guide for this one.
Check out the Tokyo shopping area for a travel tester to bring home with you, whether it be some Japanese candies or a perfume sample.
Ginza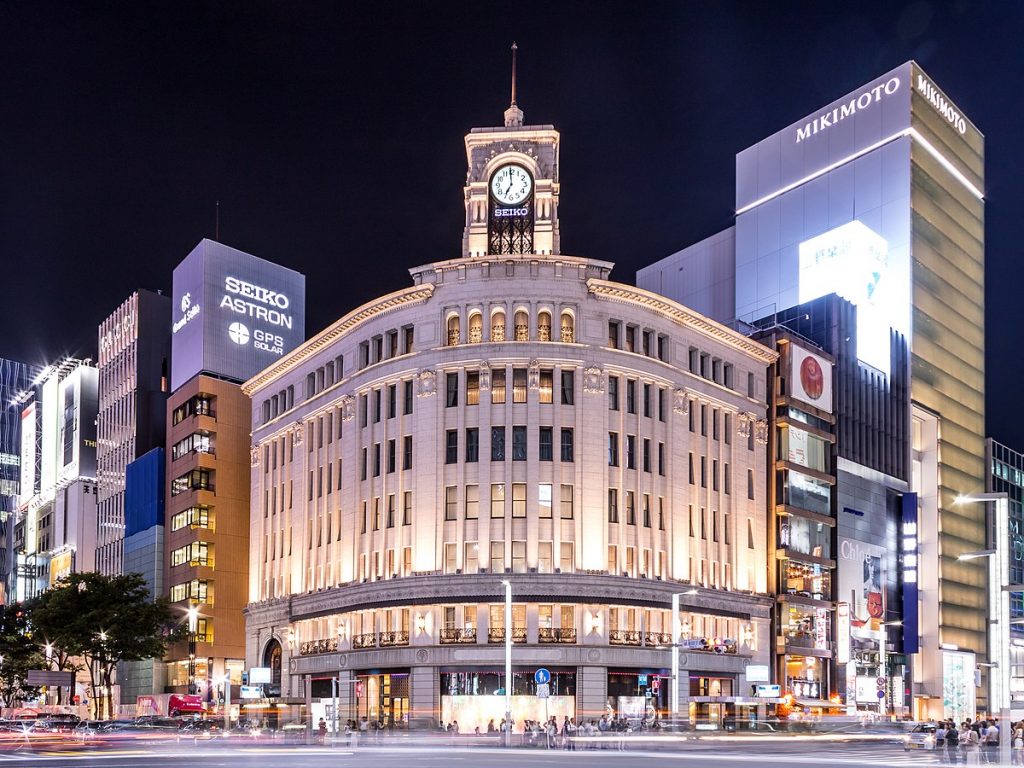 Just a few kilometers from Tokyo Tower, Ginza District Tokyo has it all – from museums to endless shopping, to bathhouses for a real cultural experience, to the Hamarikyu Gardens, this nook is both a business and high-fashion shopping district.
One of the main highlights of Ginza Tokyo shopping is its wide couture fashion clothing availability. Even if you're set on not spending a penny, it's fun just to peruse the windows as you stroll past them.
This being one of the famous districts in Tokyo that sell the quintessential Japanese matcha tea, it might be worth stopping somewhere for a cup, or at a store to take some home with you to share with your friends.
If you're a fan of fresh seafood, consider the Tsukiji Jougai area in Ginza, where tuna and sea urchin are brought in on the daily. There are also many places that sell sushi, tempura, and rice dishes.
You might also be interested in trying a tasty treat called anpan, a bread filled with red bean paste that has been part of Japanese culture since 1874.
Being one of the Tokyo nightlife districts with many fun options for things to do, restaurants, bars, tokyo shopping, and dance clubs abound.
For a chance to see some of Ginza, Tokyo's best-dressed humans, the Genius club is where the magic happens.
Shinjuku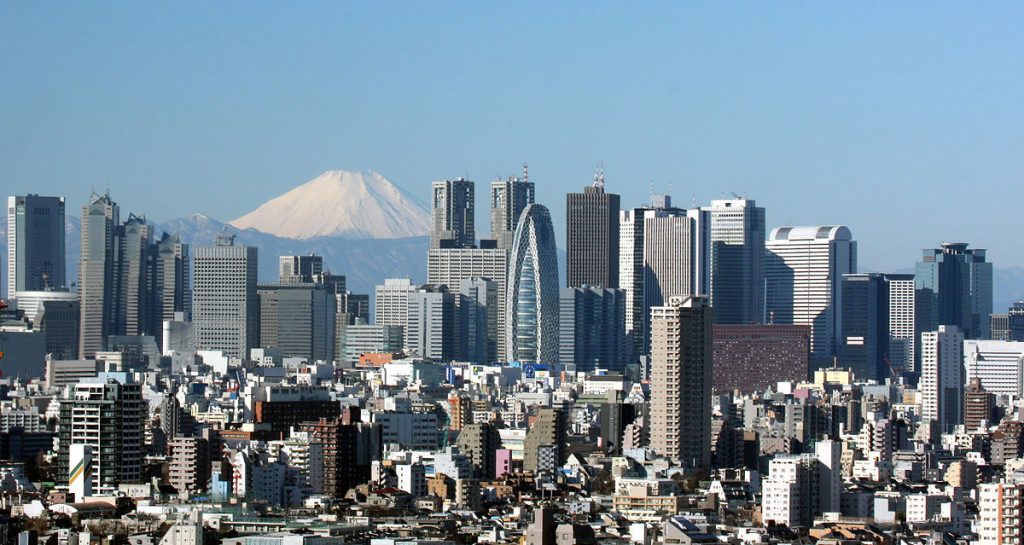 Out of the Tokyo districts, this is the largest one in Tokyo – Shinjuku Tokyo, a vibrant slice of the world that's popular for its Tokyo shopping districts, parks, places to eat, and uniquely designed buildings.
From the train station to the city hall, to endless amounts of Tokyo shopping, a hoppin' nightlife, and the Japanese food availabilities on Ramen Road – this district has it all.
Shinjuku Tokyo is home to Kabukicho, the largest Tokyo red light district of the world with its sheer size and success rate. If you're coming from the Shinjuku Station (one of the busiest stations in the world), you'll start to see bars and clubs, and karaoke clubs, which is the cue that you've reached Kabukicho.
Since not all countries have these sorts of provocative districts, it might be worth checking out one just this once.
Know that it's pretty normal to see riot police sauntering the streets here, as this can one of the Tokyo dangerous areas. They are just around to take care of any gangsters or troublemakers in this red district Tokyo. There are normally koban (mini police stations) in the Tokyo districts too, so they're able to be found if you ever need them.
If you end up having a tough time pinpointing anything on a Shinjuku Tokyo districts map, the staff at the train station, as well as the locals, are typically very happy to help.
This is one of the best Tokyo districts, for Shinjuku Goyen Park is located here, one of the biggest parks in the city where you could spend the entire morning on a juicy walk if you wanted.  It'd be a place to visit to start the day with fresh air in your lungs – Be your own travel guide while having the chance to commune with the beautiful gardens and even check out the greenhouse while in Shinjuku Tokyo.
Lastly, if you find yourself in Western Tokyo, consider an outing to the Ghibli Museum – it's essentially a mansion with all kinds of neat bamboozles like teeny tiny doors, winding staircases, with artwork and exhibition rooms throughout the building.
Shibuya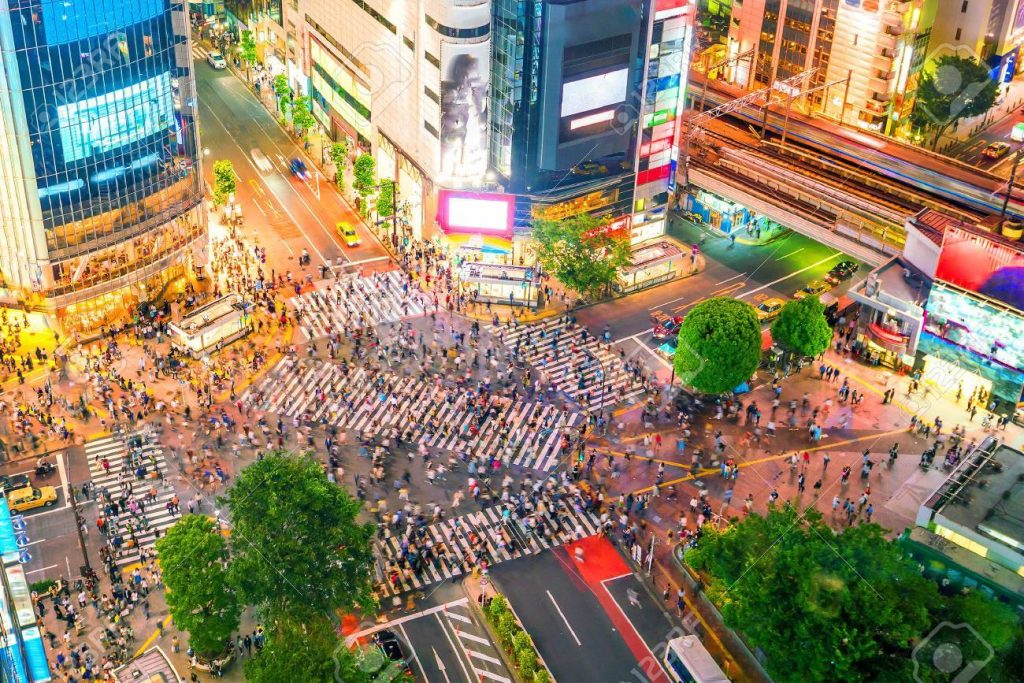 Think typical Japan – flashing neon lights, youth dressed in eccentric clothing, giant department stores, and many, many people.
Known for being a Tokyo fashion district, shopping and people watching are more entertaining than you might think.
In between all of your shopping, perhaps a bowl of nourishing ichiran (ramen) will suit your fancy! It's about time you cross having a bowl of ramen in Japan off of your bucket list!
The Bunkamura Museum of Art that features 19th and 20th-century European art on display is a cool spot to check out, too, while in Tokyo Japan!
Known as the trippiest restaurant in Tokyo, Monster Café opened as a result of a collaboration between the artist, Sebastian Masuda and Diamond Dining – company that opens eccentric-themed eating joints like this one. A cool feature of this spot is that you have four options when it comes to choosing what room you'd like to dine in, ranging from a mushroom disco to a milk stand themed room. There is a cake shaped merry-go-round in the middle of the restaurant, adding to the excitement! Now that you know about this, if it wasn't on your bucket list before, this is one of the places to visit that will make for some great photo ops. Menu options include dishes like rainbow spaghetti, chicken and waffles, and poison parfaits.
*Note: Tokyo has two main airports: the Narita Airport (manages most international flights) is situated about 60 km outside of Tokyo, and the Haneda Airport that handles most domestic flights.
One of the places to visit on the globe with an array of transportation methods,  Tokyo has trains, subways, buses, marked pedestrian crossings, and planes, so you shouldn't have too much of a problem getting from Point A to Point B.
**Note: Whether you go to Shinjuku Tokyo or decide to completely change your travel plans and go to South America, and whether you have a travel guide or not – as long as you're following your heart, that's all that matters!