Panama is one of the most visited countries in Latin America. But it's not just the discounts and tax breaks that foreigners and expats get when they visit the country that attracts millions. While the nightlife, arts, culture, and real estate of Panama City are huge draws, it's the natural beauty of the country that's the main selling point, enchanting even the most well-traveled tourists.
Although Panama is a relatively small and narrow country, its size doesn't matter. Don't let yourself think that the country has less to offer just because it's not as large as other Latin American countries. In fact, it's the fact that the country has so many miles of coast that makes it one of the best beach destinations in Central America.
When you go to Panama you'll have to choose which coast to visit: the Caribbean side or the Pacific coast side. The top beaches around Panama are spread out across these two coasts, and you can even visit both! Why not go on some cross-country road trips to explore what the Pacific and Caribbean have to offer?
Panama is one of the richest countries in the world in terms of biodiversity. Because it makes the connections between South America and North America, it's an important migration point for many species. That, coupled with the thick vegetation and humid weather of the region, makes Panama one of the coolest animal and plant sanctuaries in the world.
There are more than 10.000 unique species of plants in Panama, 255 species of mammals, and 972 indigenous tropical bird species. It's no wonder biologists and fans of nature flock to Panama each year!
On top of all that, Panama has breath-taking landscapes and natural formations that are rivaled by none other – though many will argue that Costa Rica boast the most breathtaking beauty in the region, Panama has plenty of surprises.
The entire country is covered in lush forestation that goes up and down steep mountains, mangrove wetlands, and rainforests. The exception is the many miles of the coast of Panama. Panama beaches are some of the best in Central America. The Caribbean coast and the Pacific side boast warm, crystalline waters and fine sand, surfing hotspots, snorkeling beaches, and much more.
To find the greatest beaches in Panama, you'll have to do some research and decide what you want to do on your vacation. Do you want to ride some waves? Kick back and relax under the blazing sun? Whatever the answer is, we know you'll discover a perfect Panama beach to suit your needs.
1. Carenero Beach, Bocas del Toro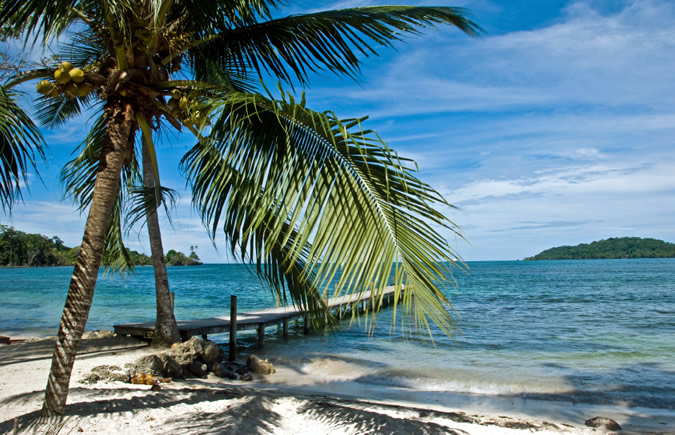 You'll see Bocas del Toro on any Panama travel guide. But did you know that Playa Carenero is, hands down, one of the best (if not the best) beach in the archipelago?
The powdery white sand is what you will notice first. It feels so fine and sugar-like on your hands and toes. You'll want to roll around in it or go for long walks on the beach.
The turquoise-colored sea is also a main attraction. It's mostly calm and without currents or waves and so perfect for a swim. Just what you'll be craving after you spend some hours relaxing on your blanket or towel on the sand.
Because the water is so clear, snorkeling and scuba diving are both highly encouraged. Playa Carenero has some of the most stunning underwater life we've ever come across.
If you get hungry, you can go to upscale restaurants and beach bars that, surprisingly, don't make this beach packed. But we recommend going to a beach that sells mouthwatering burgers you'll want to try.
After your meal, to work it off, why not go on a walk through the cut-out hiking trails? They guide you through the untouched and pristine wilderness the province has to offer.
Something we should add is that the stunning Playa Carenero is incredibly easy to reach. All it takes is a 10-minute boat taxi ride from the bustling Bocas Town and you're here! If you're looking for more great beautiful beaches in the region, Red Frog beach on Isla Bastimentos is definitely worth investigating.
2. Isla Perro, San Blas Islands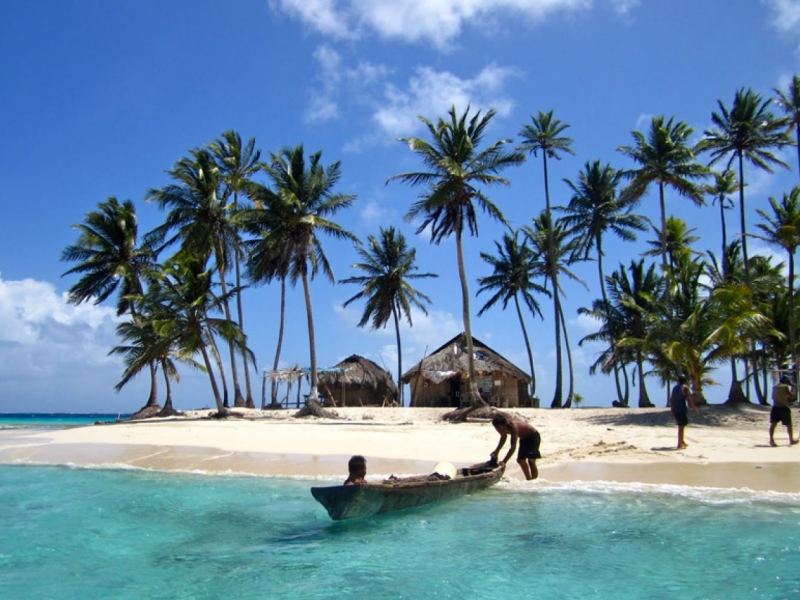 Going to the San Blas islands is a once-in-a-lifetime experience. This archipelago was made an indigenous people reserve and has been left untouched by commercial tourism. If you go to San Blas, you'll experience life like the Guna tribes of Panama have for centuries.
San Blas is the quintessential paradisiac remote beach vacation most of us dream of. There are no large resorts, no hordes of disrespectful tourists, and no "Americanization" of the people. Coming to San Blas means living what the Caribbean life is all about.
With over one hundred islands, most of them deserted, San Blas is picture-perfect. The sand is white and very fine, the water is turquoise and crystalline, and the palm trees that line the beach finish off that coveted Caribbean paradise image.
We've chosen Isla Perro Beach as our favorite in the island for one simple reason: it's not too crowded and the natural beauty you see there is unparalleled. One of the most interesting and odd snorkeling sites in Panama is a short swim away. The shipwrecked gunboat is now home to several species of underwater animals. From colorful fish to corals to seaweed and small sharks, there's nothing you'll be left wishing you'd seen here.
The beach itself is also pretty epic. The sand is powdery white, the waters are warm and a beautiful jade hue and the calmness of the beach (despite it being the most popular in the islands) can't be found anywhere else.
We're certain that if there's a heavenly place here on earth, Isla Perro Beach is it.
3. Pearl Islands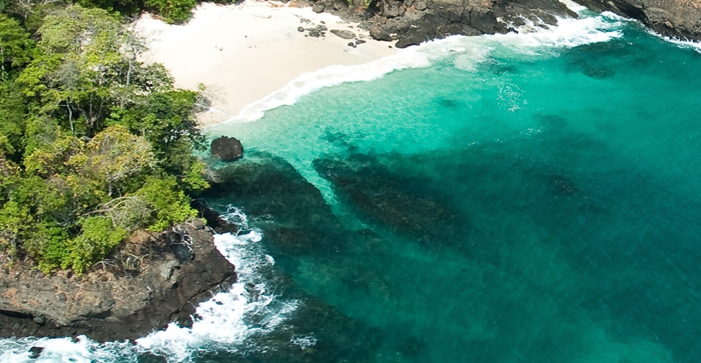 Once known for its abundance of pearls in the 16th century, the Pearl Islands are now a vacation destination for lovers of the beach and of untouched nature. Located a short ferry ride from Panama City, it's a local's favorite.
The Pearl Islands archipelago is made up of 250 islands, most of which are completely deserted. Although they no longer have the precious pearls the conquistadores went crazy for, their beautiful beaches are what dazzles visitors nowadays.
But the one that has stolen our hearts is Playa Caracol. Snail Beach, in English, is located on the small island of Contadora. It's the place to be if you want a beautiful Las Perlas Island beach that's not crowded. Stretching out for 1.5 miles in total, it has unforgettable vistas of the vast blue sea.
The sand here is, unsurprisingly, fine and white — perfect for walks on the beach or for laying on a blanket enjoying the Panamanian sun. The waters are calm, idylic, and a beautiful shade of jade.
There's so much hiding under the surface that snorkeling and diving on this beach is a fun activity. The marine life thrives here and calls the rocky cliffs home. But be careful! The sea bottom is dotted with some rocks here and there, so be careful not to step of them and hurt your feet!
One of the most interesting aspects of this beach is the amount of tiny shellfish and even smaller empty hulls you can find here at Playa Caracol.
We can safely say that if you're coming to Las Perlas Islands, or need a break or change of pace from Panama City, you should not pass out on visiting Playa Caracol.
4. Playa Las Lajas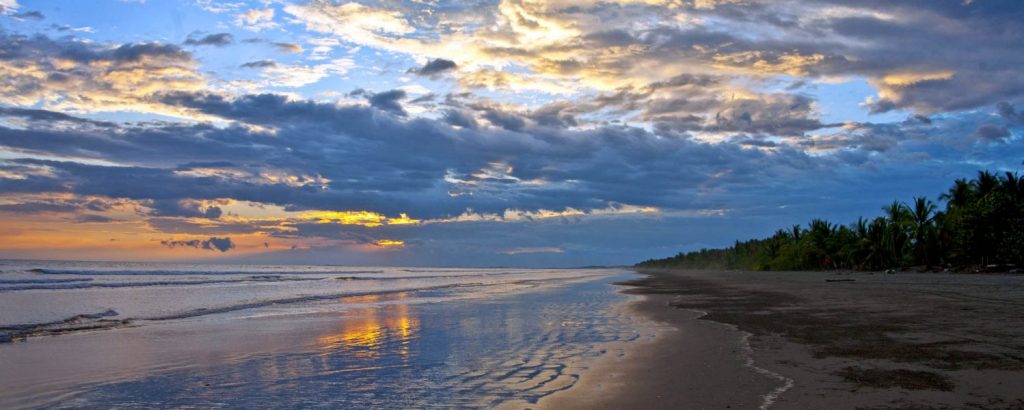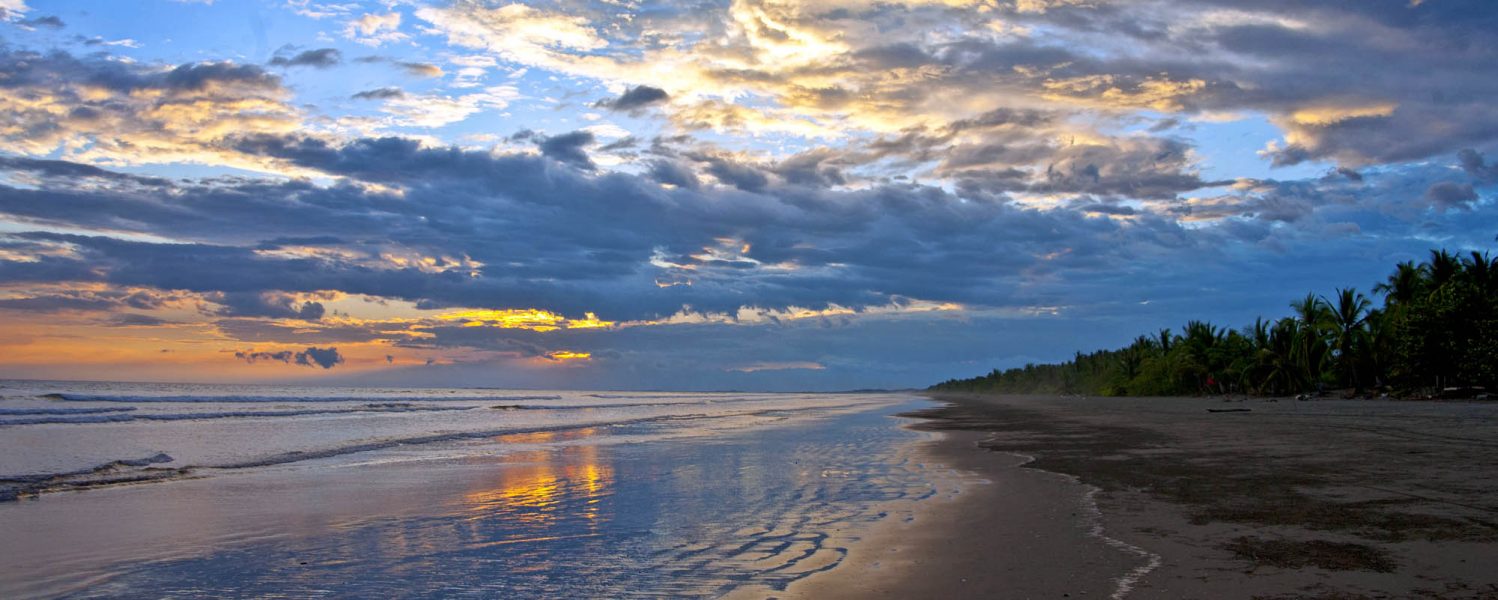 Located on the Pacific Coast, Playa Las Lajas is one of the most famous beaches in Panama, especially among locals. Since it's near to the major city of David, in Chiriqui province, it can get pretty crowded on weekends. Nonetheless, it's a well-kept beach that is not only convenient but also a place to have fun.
The sand in Playa Las Lajas varies in color, between shades of brown and grey. While it may not be as beautiful as other, more paradisiac beaches, Playa Las Lajas still has its own charm. It faces the Pacific Ocean and the water has marvelous tones of blue and green.
Beachgoers who hate to think of going to the beach and not swimming at least once are in luck. Playa Las Lajas is a great spot to swim. It's safe, doesn't have any major currents, and the waves aren't high. But that isn't to say that surfing is completely off limits. During certain times of the year, the tides will change in a way that surfers will be delighted by the height and shape of the waves.
But even if you don't like getting into the water, you'll discover that Playa Las Lajas is a great place to hang out. You can lay in the shade of one of the many palms that line the beach or, alternatively, rent a rancho (a hut) and relax on the beach.
There are even some activities available for those who like to stay active during their vacation. You can do horseback riding on the beach, body boarding, fishing, and even exploring the beach on foot. After all, spanning over 12 kilometers, you're bound to find this long walk on the beach interesting. You can even people-watch the locals and try to learn some Spanish from (politely) eavesdropping!
If you get bored of being in the sun or get hungry, don't worry. There is a number of bars and restaurants where you can sip cocktails and taste local, authentic food. Playa Las Lajas is definitely a good place to spend a day in the sun.
5. Granito de Oro Beach, Isla Coiba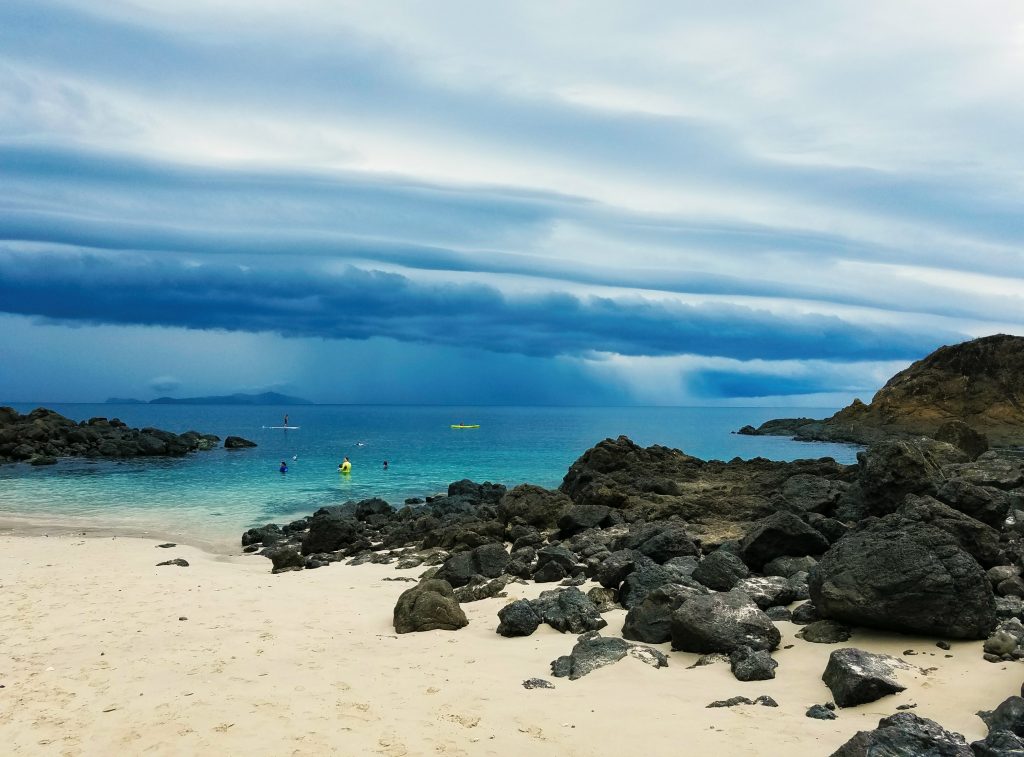 The story of Isla Coiba (or Coiba Island) is a funny and odd one. The 38 islands that make up the archipelago served, for almost a century, as a prison where the most dangerous criminals from Panama were sent. Nowadays, it's hard to think of the island's dark past, as it boasts one of the world's most diverse natural park and reserve.
A few years ago, Isla Coiba shed its past as a penal colony where no one escaped from and won the title of UNESCO World Heritage Site. The 38 islands are home to thousands of animal species, ranging from snakes to sharks. It comes as no surprise that biologists are teeming to visit Isla Coiba! After all, 80% of the rainforest that covers the islands is virgin and untouched.
This leads us to Granito de Oro. This is a very small islet that has a pristine white-sand beach. It's a hotspot for lovers of diving and snorkeling and surely a must-see on many travelers' lists.
We suggest spending the morning taking in the beautiful sea vistas and relaxing on the beach. After a picnic lunch, we recommend heading east and following the rocky formations that lead all around the beach to the west. This is where you'll find the best snorkeling sites.
It goes without saying that the Gulf of Chiquiri, which bathes this beach, is the largest marine preserve off the coast of Panama. The crystal-clear baby blue waters are bursting at the seams with life and wow all visitors. You can spot pufferfish, surgeonfish, blue-barred parrotfish, big-eye-jacks, angelfish, eels, and even turtles.
Granite de Oro beach should 100% get into your travel bucket list if you dream of deserted beaches, lively underwater worlds, and stunning rock formations.
6. La Punta, Santa Catalina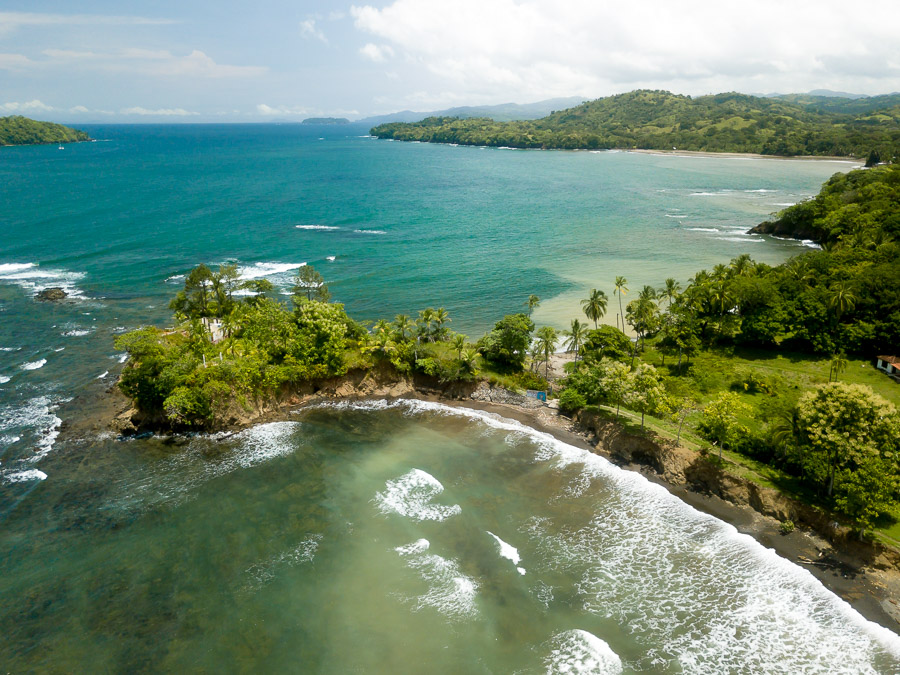 Very close to Coiba Island is the Island of Santa Catarina with its gorgeous surfer-friendly beaches. But the best one, in our opinion, is by far La Punta.
While it's still far from becoming the next Tamarindo Beach (the most famous Costa Rican surf beach), La Punta is just as good. Between April and October, the top beaches in the country break here.
Because the tide recedes a lot, surfers wait until the water level has risen to get on their boards and paddle towards this hidden beach. Once they're there, it's time to put on a show for every surf enthusiast who watches from the nearby hotel or promenade.
Even kayakers and paddle-boarders will love spending the day here. The sea at La Punta is challenging enough to put you through a workout without it ever stopping the fun.
A cool feature of this beach is its black sand that can be seen at low tide. Because of the now-extinct volcanos, the sand here isn't the sugar-white you may have been used to in Panama. But this isn't to say that the beach isn't a show-stopper. It's precisely the black sand that amps up La Punta's charm.
7. Playa Los Destiladeros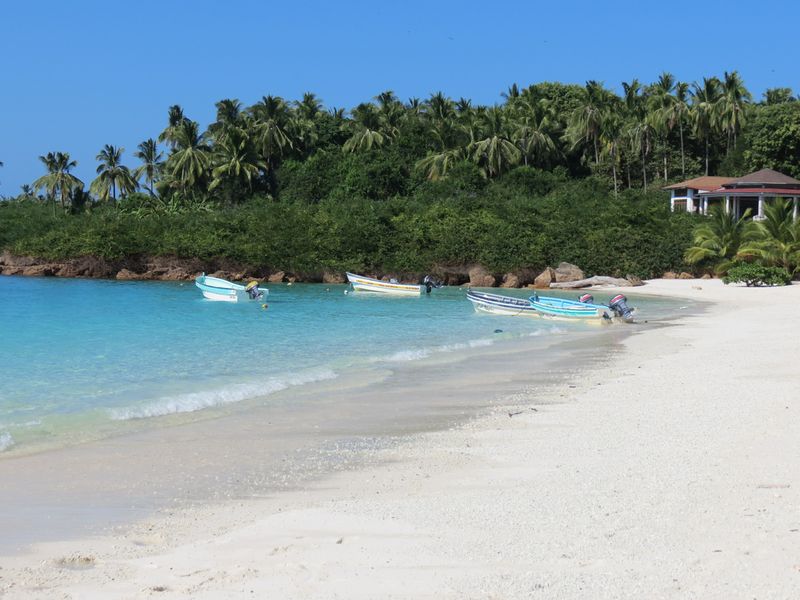 To close off our list of the top beaches in Panama, we've chosen a true hidden Panamanian gem. Playa Los Destiladeros is located in the Azuero Peninsula and it's nowhere as well-known and busy as other neighboring beaches. Come and visit this stunning beach while the cat is still in the bag!
Lying just outside of Pedasí, Playa Los Destiladeros is washed by a particularly calm and inviting section of the Pacific Ocean. Unlike many beaches on the Pacific side of the country, swimming here is not dangerous. You won't spot another swimmer anywhere on the horizon, so it definitely feels like you own the beautiful blue and deep ocean.
The dark yellow and light brown sand, along with the palm trees that line the beach, are what the few visitors who make their way here will see first. There aren't a lot of bars, restaurants, or hotels taking up space in this lovely remote beach. The few visitors who do come are couples on their honeymoon, yogis, and other travelers who like to get off the beaten path.
While there aren't many amenities nearby, that doesn't have to mean you'll be bored out of your mind. If you get tired of laying in the sun getting a tan, there's a lot you can do in the Azuero Peninsula. It truly is a unique place in the country. Panamanians even call it "the heartland." The Azuero Peninsula has culture and history to spare. From the beautiful little towns and villages such as Las Tablas, to the annual celebrations of Carnaval, Azuero is a unique place that must be visited. Plus, it's home to amazing beaches that aren't as touristy!
8. Isla Zapatilla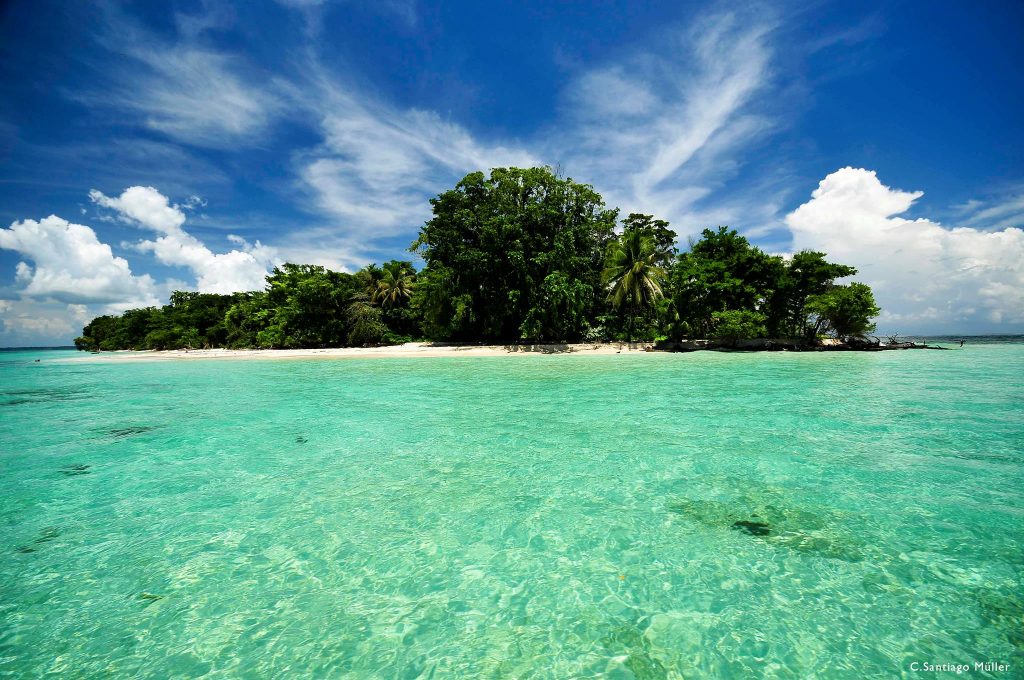 Another to-die-for spot in the stunning Bocas del Toro is Isla Zapatilla. Despite having "island" in the name, this is actually a deserted oval-shaped island that has miles of white, pristine sand.
If you want to get away from the crowds that gather in Bocas, take the thirty-minute boat ride from Isla Colon and moor here. You'll get the castaway feeling when you step foot on the powdery white beach.
Being a part of the Bastimentos National Marine Park, this beach has been largely untouched by large-scale tourism. Isla Zapatilla beach emerges from the turquoise and crystalline sea as a natural gem of Panama. The surrounding colorful coral reef adds a stunning touch of color to the blue ocean.
Despite being a small beach, Isla Zapatillas gives travelers lots to do. If you're a fan of marine wildlife, you'll love the fact that you can snorkel and scuba dive here. In fact, it's one of the best places in the country to do so. You'll see schools of bright and tropical-looking fish swimming about the coral reef they call home. The fact that the water here is so clean and peaceful makes diving all the more amazing! That's the real beauty of this national park beach.
Isla Zapatillas is the perfect beach destination for honeymooners, those seeking solitude, and really anyone who wants to ditch the crowds and see a piece of heaven on earth with their own eyes.
9. Morro Negrito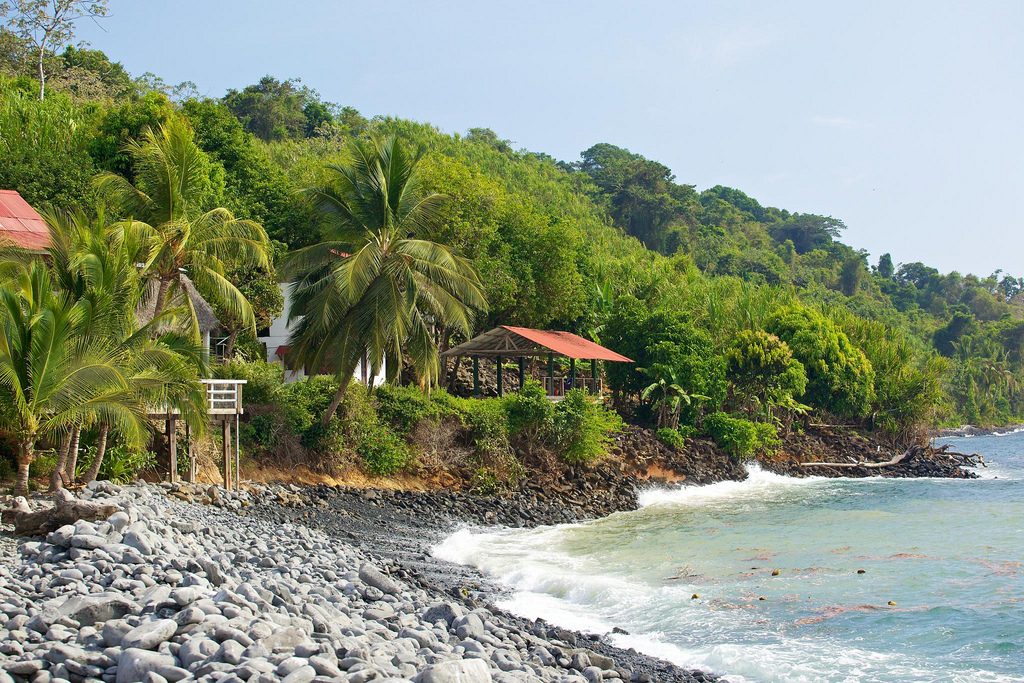 Surfers, listen up: you need to visit Morro Negrito if you're traveling to Panama. It has one of the best surfer communities in the country and nothing can beat the natural beauty of this place.
Morro Negrito is a welcoming black-sand beach favored by surfers from all over the world, but mainly from Panama. Different parts of the beach are ideal for different kinds of surfers. Whether you're a beginner or a pro surfer, you'll surely find a way to ride the waves in Morro Negrito.
Even if you're not the biggest surfer around, Morro Negrito has plenty to offer. Some of the activities available for eager tourists here are horseback riding, long walks on the beach, seashell collecting, fishing, snorkeling, and hiking. They're a great way to stay entertained if you're traveling with an avid surfer but aren't such a lover of the sport.
Come for the deserted-beach feel and the stunning black sand and pebbles and stay for the thrill of the waves and the tight-knit surfer community. Morro Negrito is a special place, without a doubt.
10. Playa Cambutal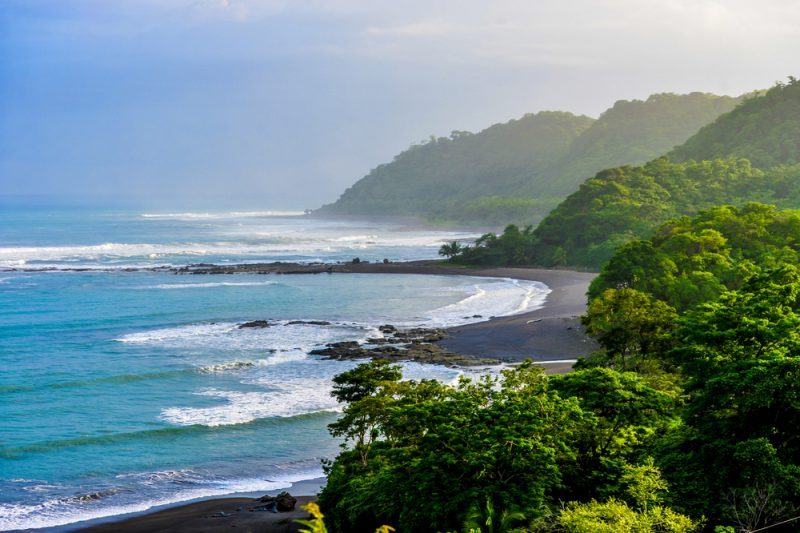 The last item on our list is another surfer-friendly beach in mainland Panama. But this one has an extra selling point: it's surrounded by mountains and stunning nature as far as the eye can see.
Located in the Azuero peninsula, Playa Cambutal is a beach like no other. Imagine being on a beach surrounded by thick forests, imposing mountains, bustling animal wildlife (such as birds and monkeys), and magical sunsets. Can you picture it? Well, you're picturing Playa Cambutal, then!
Bordering the Pacific means that the waters here are a little rougher than in other Panama beaches. This means surfers usually come here to ride the best waves in the region. You'll see a friendly, skilled, and curious community gathering at sunrise and sunset at Playa Cambutal.
Because it's not near a luxury-resort hub, Playa Cambutal is still largely unknown. You can ditch the crowds and enjoy your beach holiday here on your own or with a special someone.
Seize this opportunity to be close to alone on a breathtakingly beautiful Panama beach while you still can! We don't know how long it will stay a secret…
Panama Beaches (Central America): FAQ

Does Panama have nice beaches?
Most definitely! Panama is so beautiful that millions of tourists visit the country every single year. In fact, Panama and its beaches are so beautiful that it makes United States citizens stay behind after their vacation and become expats!
From beaches on the Caribbean coast, to beaches on the Pacific side of the country, to the beautifully deserted islands in the Caribbean Sea, Panama is one of the most stunning beach destinations in Central America. Often overlooked compared with the likes of Costa Rica, Panama has plenty of natural wonders and beautiful sights to keep all types of traveler interested.
You'll also find that the beaches around Panama are very diverse. You can find fine, white-sand beaches in the Caribbean Sea and then see black-sand or gray-sand beaches on the Pacific coast.
It's a no-brainer that Panama has lovely beaches. Just read our article and look at the photos above to find out for yourself!
Are Panama beaches open to the public?
The overwhelming majority of Panama;s beaches are public. It's actually pretty easy to get to most of the best beaches using public transport. From the Panama City to the remotest desert island, most of Panama's nicest beaches are totally accessible.
You'll also find that in a lot of famous Panama beaches there are public restrooms and public shower stalls. Talk about convenience and ease when traveling!
Where to go in Panama for beaches?
This all depends on what you want to do during your stay in Panama. What is your lifestyle like? Who are you traveling with? These are all important questions to ask yourself to know which Panama beach to choose.
Are you an avid surfer looking to ride the Panamanian waves? If so, consider going to Santa Catalina. But if you're more interested in the wildlife and love finding out more about the underwater world, the top beach in Panama for you would probably be one in Bocas Del Toro, the Red Frog beach on Isla Bastimentos, or in Isla Coiba.
As you can tell, it's all about what you want out of your vacation.
Is there a Panama City beach?
While the capital city is located on the coast, you'd think that a Panama City beach would be a logical thing to have. You certainly can find places that might resemble a Panama City beach, but we recommend getting out of the metropolis for your sunbathing and swimming exploits. And while you're planning your holiday, don't mix up the Panama City beach in Florida, with a Panama City beach in Central America – It's easily done!
Are Panama beaches safe to swim?
The Pacific coast, in particular, has a big reputation as being dangerous for swimmers. There are some hidden currents that can drag even the most experienced of surfers far into the ocean. So be careful! Watch out for any no-swimming warnings and, when in doubt, don't risk it.
Are Panama beaches safe?
Panama is, in general, a safe country to travel to. While crime does still happen like it does in any other country, travelers shouldn't be too worried about it if they use their street smarts. Tips such as not carrying too much money in the same pocket, or not going to remote places at night are always advised when traveling. And going to Panama is no exception!
Panama's beaches are usually much safer than the big cities. So, if you're visiting one of the splendorous beaches, don't sweat it and enjoy your vacation!
When should I visit the beaches in Panama?
Panama is located very close to the Equator, which means that the temperatures are usually high, as well as humidity. Most travelers choose to travel during the dry season, which we highly recommend. While it does come at a more expensive price, you won't be bothered by rain or winds.
The months from December to April are the Panamanian summer months. You can count on the sun shining day in and day out and the skies to be a beautiful blue color.