With more than 70 sunny miles of coastlines bordering the vast, blue Pacific Ocean, it comes as no surprise that San Diego is a regular vacation destination for a lot of families. From couples with kids, all the way to surfers, San Diego beaches are some of the most loved in California.
Located in southern California, San Diego is one of those places that does not know what bad weather feels like. Even during the winter, the weather is so good that you'll still see some beachgoers relaxing on the beach. How many places in the United States can say that for themselves?
But San Diego isn't just a surf town — far from it. Not only does it have a very active and present beach community, but it's also dotted with restaurants to please all taste buds, museums, shops, and much more. When you go to San Diego, you know you won't just be spending your time being lazy on the beach.
Precisely because there are so many beaches in the area, it can be hard to choose the right ones for you. To save you the hassle of spending hours looking for the perfect beach for your vacation, we've come up with a list of the best beaches in San Diego.

1. Pacific Beach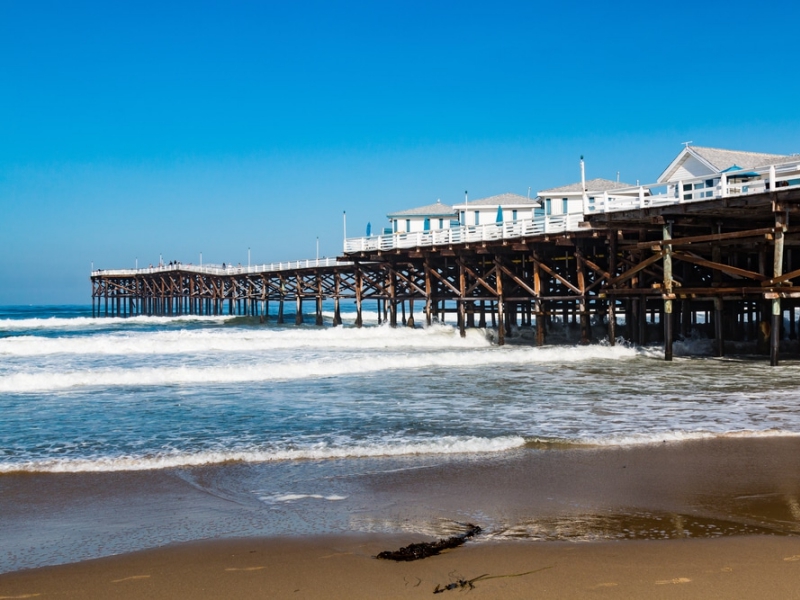 Pacific Beach is the incarnation of the typical dream-like Californian beach. The sun setting in the distance, the light sand being washed by the calm Pacific Ocean, and the pier venturing into the sea.
If you're looking for a quintessential SoCal beach experience, then Pacific Beach is the place where you should go. Not only is it picturesque and looks like it's been pulled out of a movie, but it's also a surprisingly lively small beach town.
Pacific Beach draws in a lot of crowds and is especially popular among younger people. The beach stretches out for just two miles, however, it's everything but boring. The wooden Crystal Pier, built in 1927, marks one end of the beach. You've probably seen pictures of it on social media, but what it's really famous for is the hotel cottages that are perched atop it. The place where the city meets the beach is marked by a 3.5-mile-long boardwalk where you can find plenty of restaurants, bars, and hip stores.
This San Diego beach is also known as "The Strand" and very famous for being a good strolling destination, making it one of the best San Diego beaches for families. Talking of which,  you'll see a lot of families with children and couples head to Pacific Beach at sunset to get some amazing photos and walk alongside the shore of the Pacific.
You can also rent some equipment on the beach and ride some waves in one of the designated surfing spots or even scuba dive.
2. Coronado Beach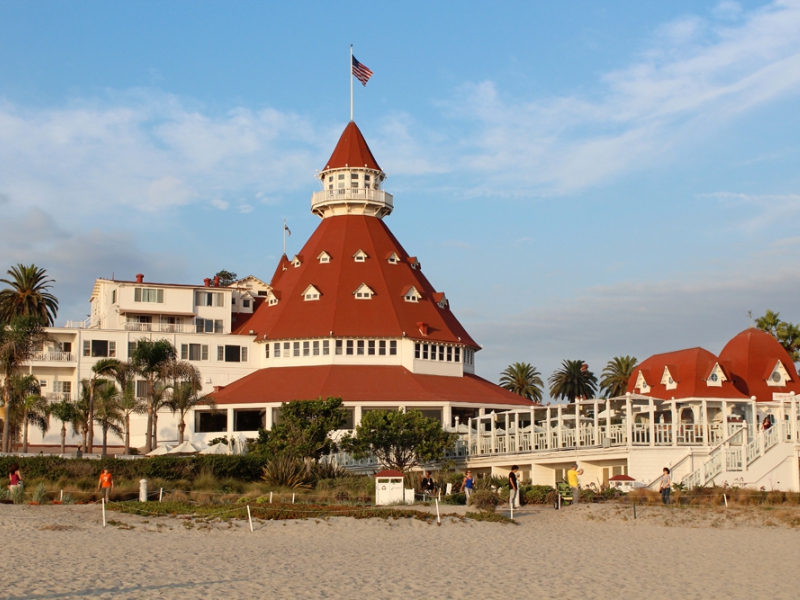 Crossing a bridge on San Diego Bay will lead visitors to the beautiful Coronado Island. This pristine, white sand beach is, in reality, a bundle of four of the regions best beaches. While the one that stands out the most for its beauty is Coronado Beach, they're all worth visiting.
This is one of the best San Diego beaches out there, according to travelers who have given their two cents on online forums. And we can perfectly see why they'd think that. From the powdery white sand to the picturesque Victorian-era Hotel del Coronado, this stretch stands out from your typical southern California coastline.
Coronado has four different beaches: Coronado City Beach, Glorietta Bay Park, Tidelands Park, and Centennial Park. They're all unique in their own different ways, but Coronado City Beach is by far the one that attracts the most visitors out of all four. In fact, the four beaches are also known for having been filming sites for some scenes in the movie "Some Like It Hot," in which Marilyn Monroe starred. The historic Hotel del Coronado is a must-visit place for film buffs!
Movie facts aside, this beach is easily accessible but still very much feels like worlds apart from the rest of San Diego. Everyone is welcome here, as there are plenty of things you can do while you get some much-deserved sun. Coronado is a great swimming destination, with low waves and weak currents making it one of the best swimming beaches in San Diego. You can also lay out in the fine sand and get your tan on.
But if you're a fan of more action, you won't be disappointed by Coronado Beach. Here, you can fly kites, run on the beach, and even let your dog run off-leash on the northern side of the beach. During low tide, if you pay attention, you might even see a sunken ship or two that have been stuck there for ages now!
In short, this stretch of coast is the perfect San Diego beach for families looking to spend some time together in the sun. We're sure that between running around on the beach, going for swims, and relaxing on the sand, wonderful memories will be made.
3. La Jolla Shores and La Jolla Cove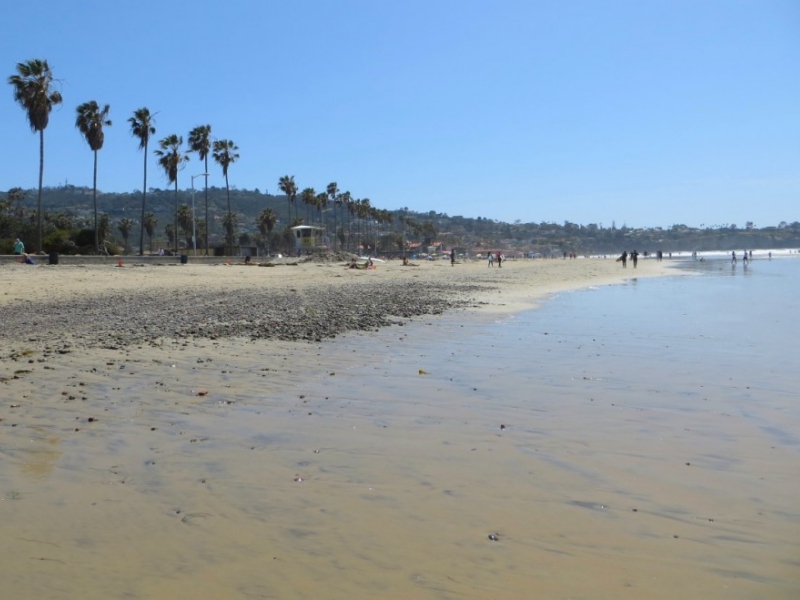 Another great family-friendly beach is La Jolla Shores. Attracting both locals and tourists, it gets its very own spot in the list of best beaches near San Diego.
Stretching for just one mile from end to end, La Jolla Shores and La Jolla Cove are a well-known spot for scuba diving aficionados of all skill levels. Regardless of whether or not you've already done it before, the La Jolla Underwater Park and Ecological Reserve draws in huge crowds of visitors.
If exploring underwater canyons and sea caves sounds interesting to you, why not go on a kayak tour or rent some scuba diving equipment to explore the best beaches in La Jolla? Even if you're not experienced in diving, there will be experts there to help you make the most of your trip.
During the summertime, you can often spot harmless leopard sharks swimming about in the waters. Although they're very harmless and will not hurt humans, they're fascinating to look at. You may also spot orange Garibaldi Fish that call the Underwater Park home. So, if you're around the La Jolla area in the summer, definitely make a trip to see these two species and many more!
Two other fun activities you can do in La Jolla Shores are paddle boarding and surfing. This beach is especially good for beginner surfers, as the waves and currents aren't as tricky as they are in other beaches in the area. Just keep in mind that fishing isn't allowed, as this is a protected area.
Lastly, it's quite common to see people have picnics at the end of the day and light up bonfires when the sun sets. What's best than lighting a fire and sitting around talking to your friends and family while looking at the Pacific Ocean? It'd be the perfect end to any fun day on the beach.
4. Mission Beach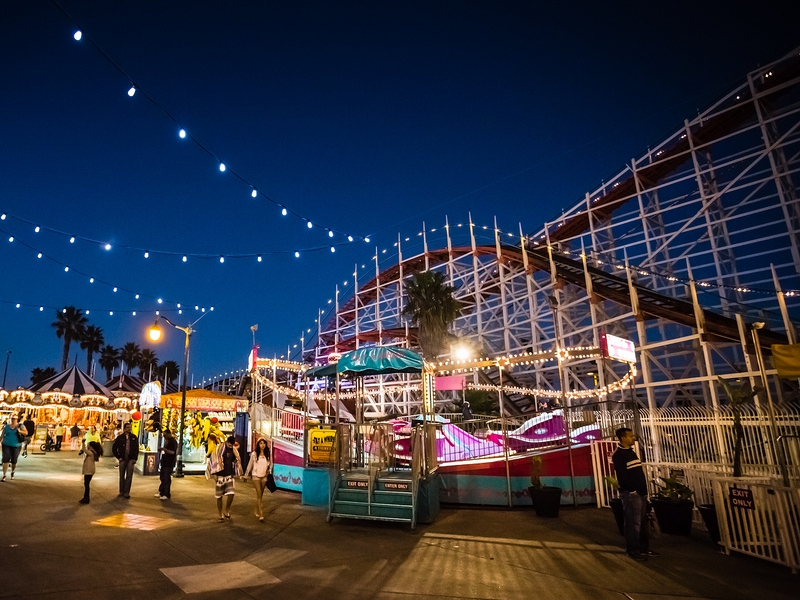 The prize of "one of the most crowded beaches in San Diego" goes to Mission Beach, hands down. With breathtakingly beautiful views of the Pacific Ocean and premium location, Mission Beach is an unforgettable beach all San Diego locals and visitors should visit at least once.
This beautiful beach stretches out for a mile, boasting a beautiful mile-long strip of sand and waters perfect for surfing. This is the main reason why it draws so many surfers from all over the country. But another reason why this is one of the most crowded beaches in southern California is the boardwalk.
Opened in 1927, Belmont Park is an insanely popular boardwalk. If the beautiful beach isn't enough to bring you here, the vintage-looking boardwalk and amusement park surely will. When you visit, you can ride a wooden 1920s rollercoaster called the Giant Dipper and eat fair food right there on the beach.
But this place isn't stuck in the past. Mixed in with the Jazz-Age-era attractions, there are modern street food carts, stores, and other attractions such as a simulated surfing platform with never-ending waves!
The beach's biggest selling point is how action-packed a day here feels. From water sports to long walks on the beach to having fun on the pier and eating hot dogs on the sand, no day at Mission is boring. If you've been dreaming of a fun- and sun-filled day on one of the best beaches in southern California, then this beach is perfect for you.
5. Ocean Beach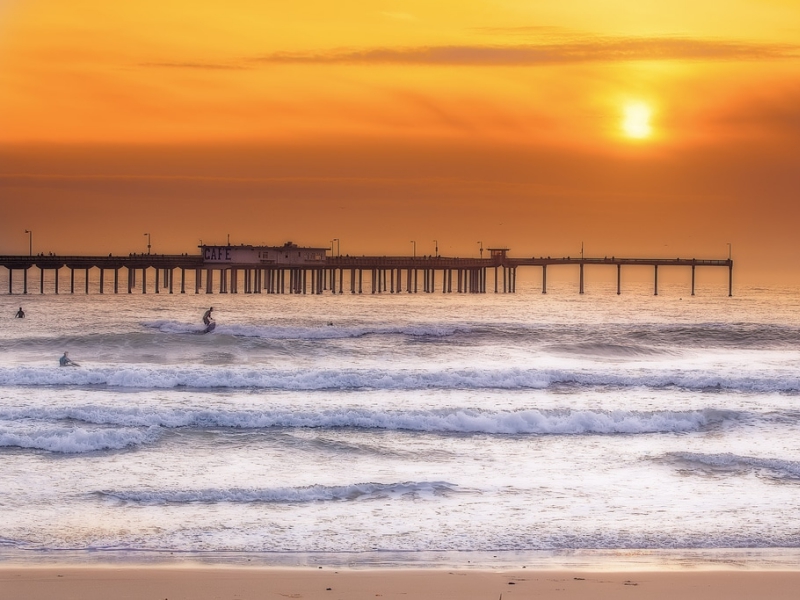 A few miles south of Pacific Beach, this lovely and less rowdy beach town is great for any beachgoers who want to bring their pet along on the adventure.
The main attraction in Ocean Beach is the miles and miles of peaceful beachfront. Ocean Beach isn't nearly as crowded and well-known as other beaches in the area but it has its own charm. The community here is very much tight-knit and it takes pride in the beautiful beach that puts the neighborhood on the map. The glistening yellow sand and the beautiful blue Pacific Ocean are the community's pride and joy.
Besides the well-kept and marvelous beach, Ocean Beach boasts the longest pier in the entire West Coast. You can take a nice walk from one end of the pier to the other and take in the beautiful sight of the sea — and maybe even some pictures for social media!
Another thing that draws visitors from all over to Ocean Beach is fishing. Unlike a lot of the region's beaches, you don't need a California fishing license to fish here. Simply walk down the pier, throw your hook into the sea, and patiently wait for something to bite. If you're lucky, at the end of the day you'll end up with a delicious feast for you and your friends and family straight from the Pacific Ocean.
Dog owners and lovers are also in luck. Ocean Beach is an animal-friendly beach where you can let your pup run free off their leash. The northern side of the beach is fully dedicated to our four-legged friends so that they can enjoy their day at the beach just as much as we do.
While the blue waters of the Pacific might seem inviting for a swim, stay cautious. There are a lot of invisible currents that can make swimming very dangerous. In any way, you should only do it close to the lifeguards. If you're a surfer, however, there are areas of the beach dedicated to the sport. Make sure to stay within those areas and live the SoCal surfing lifestyle to the max!
6. Tourmaline Surfing Park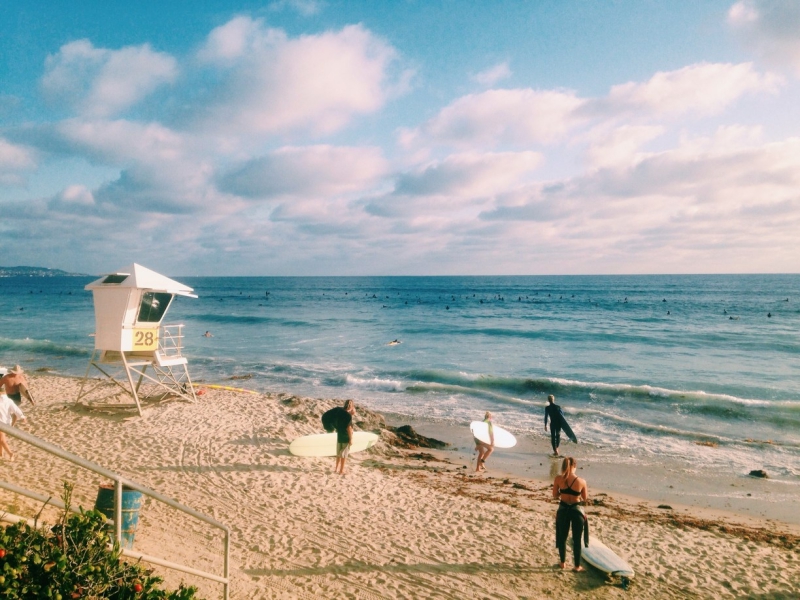 Located in North Pacific Beach, the Tourmaline Surfing Park is, in reality, only half of the bigger beach it sits on. While the other half is completely dedicated to swimmers, Tourmaline is a surfing hotspot and haven.
This hidden gem of San Diego is nestled between 75-feet-high cliffs that make the beach look dramatic and cozy. There aren't a lot of tourists visiting this beach, so if you come here it will probably be just you, your surfboard, the waves, and fellow surf enthusiasts.
Surfers will find that the surfing community in Tourmaline is tight-knit and welcoming. It truly values what it has and all the surfers who have spent years coming down here and riding the waves. In fact, there is even a memorial located on the beach that reads "Surf well, spread Aloha, share without judgment." It has been dedicated to the most active members of the community, whether they were famous or just amateurs.
But Tourmaline Surfing Park isn't just a mecca for surfers. Because of how great the waves and the winds are, windsurfers and kiteboarders love Tourmaline. If you want to practice either sports or just have an interest in watching professionals do it, then definitely head down here.
The community in Tourmaline Surfing Park is just as much of an attraction as the sea is. Here, you'll meet a lot of interesting people from different backgrounds who all have one thing in common: their love for the waves.
7. Imperial Beach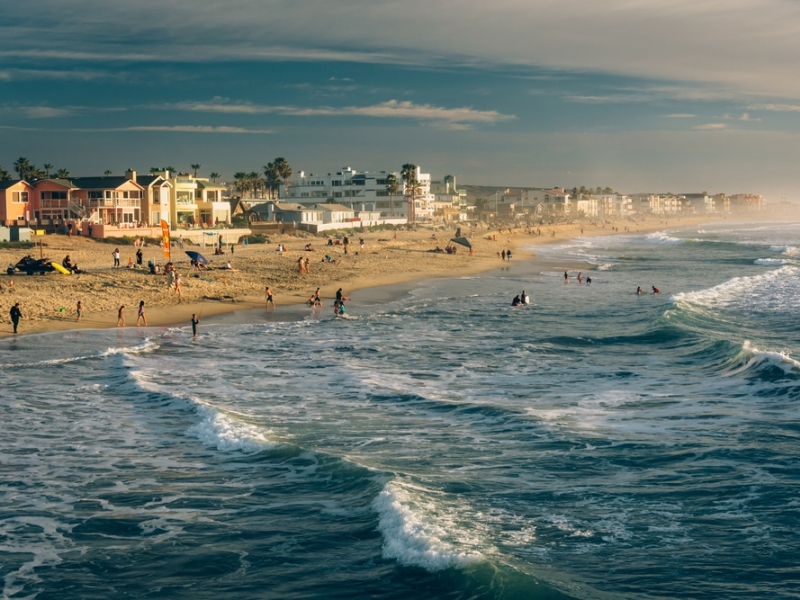 Imperial Beach sits just a few minutes away from the Mexican border. It's the southernmost beach town in the West Coast and it has been dazzling more and more visitors in recent years.
The first thing that you'll find out about Imperial Beach when researching it online is that it has deep ties to surf. Not only will you spot surfers of all skill levels riding the waves here, but there are even museums and monuments dedicated to the sport. The Surfboard Museum is located just a short walk away, and the colorful "Surfhenge" site greets beachgoers as they enter the beach.
Besides being a great surfing spot, Imperial Beach is any animal lover's dream. There are more than 300 species of birds that call the Imperial Beach area home. This is also an important point in the migratory routes of those birds. If you like bird spotting, bring your binoculars, a chair, your camera, and take in the beauty of Southern California's wildlife.
Finally, if you're a fan of long walks on the beach, you're in luck. Imperial Beach stretches out far and wide and invites everyone to take off their shoes, dip their toes in the water, and walk from one end of the beach to the other. If you'd rather not get sand on your feet and still want to explore Imperial Beach, you can hike on any of the existing trails. You'll see nature all around you and have amazing views of the Los Coronados islands.
This young and multicultural beach would be the perfect ending to a road trip down SoCal's coastline.
8. Torrey Pines State Beach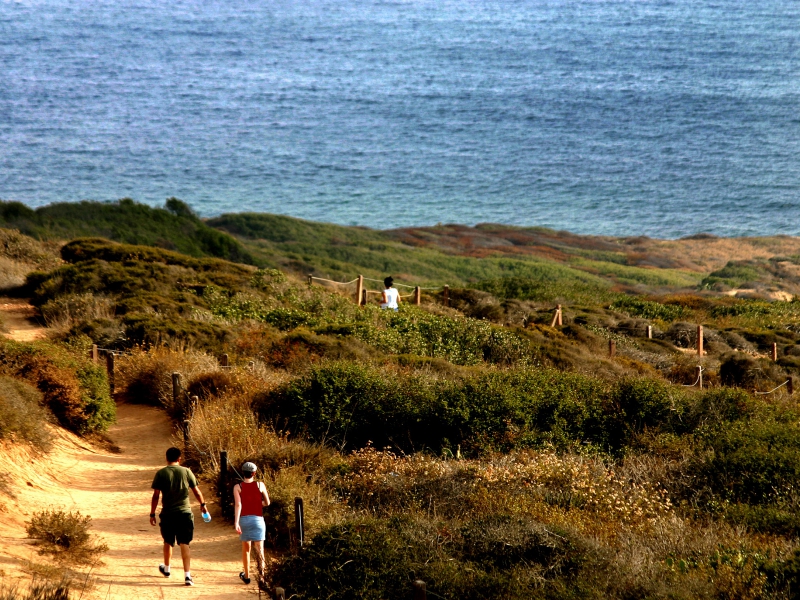 One of the top beaches in San Diego is, hands down, Torrey Pines State Beach. Nestled between La Jolla and Del Mar, Torrey Pines is the beach to visit if you want the perfect mix between a vacation on the beach and untouched natural beauty.
What makes this incredible beach stand out the most is its beautifully dramatic cliffs. They shape up the scenery and make it look dramatic. There's no doubt about it that it makes the beach memorable and a sight not to be missed.
This beach is brilliant for getting your tan on. The sand is fine and golden, and the weather is here fantastic. Bring your towel, kick back, and relax in the sun with a magnificent view of the blue Pacific Ocean in the background.
If you like going to the beach in your birthday clothes, look no further than Black's Beach. This beach is located on the southern end of the State Beach and is perfect for the most unconventional beachgoers. Nudists and surfers are more than welcomed into this small section of Torrey Beach, located just a short from the University of California San Diego.
Fans of hiking will be thrilled to know that Torrey Pines State Beach is great for this activity. There are trails that run through the thick National Reserve Park that will surely knock your breath away: not only because they're challenging physically, but also because the views from there are to die for!
If you're arriving by car, especially if you go down the historical Highway 101, you can leave it in the parking lot. The access to all areas of this best is well-kept and there shouldn't be any obstacles to your fun day at the beach.
Frequently Asked Questions about San Diego beaches
Which San Diego beaches have fire pits?
If you've seen a movie or two set in a southern California beach, you've probably seen people sitting around a fire pit on the beach. It looks really cool on camera and it's an awesome experience.
You can light up your own bonfire in any of the fire pits that are located on several beaches. Always keep in mind that lighting a fire outside of the pit is strictly prohibited.
So if you're looking to fire one up, head to Oceanside Harbor Beach, Mission Bay Park, Ocean Beach, or to Tourmaline Surfing Park Beach. There are many more beaches with fire pits, but these are top on our list.
Are there any San Diego beaches with seals?
Wild seals can be a common sight in the area. Some of the most likely places to spy them include Children's Pool Beach, La Jolla Cove, and the appropriately named Seal Rock!
Which San Diego beaches allow dogs?
There are plenty of dog-friendly beaches in San Diego. This is an area that wants puppies to have just as much fun as their owners. In some beaches, you don't even have to have them on a leash. You can just let them run around free.
Ocean Beach, Del Mar Beach, and Mission Bay allow dogs to roam off-leash. La Jolla, Imperial Beach, Oceanside, and Solana Beach (including Fletcher Cove) all let your four-legged companion enjoy the sun and sand on the leash. How is that for a dog-friendly place in California?
Different San Diego public beaches have different rules at different times of the year, so check in advance!
Are there any San Diego beaches with boardwalks?
There are indeed! Both Mission Beach and Pacific Beach are famous for their boardwalks.
Which San Diego beaches allow alcohol?
You're having a picnic or a bonfire with your friends and family and want to have a few beers. So you ask yourself, is it legal?
Unfortunately (or not, depending on your point of view), consuming alcohol on San Diego's coastline is absolutely forbidden. After years and years of problems with violent drunkards, a ban was put into place forbidding all alcoholic beverages from being served in any of the beaches.
Which San Diego beaches allow bonfires?
As we've mentioned, it's not allowed to have bonfires outside of the designated fire pits. Therefore, the only places where you can have a bonfire is on a beach that has a fire pit.
Also, keep in mind that if you're planning on throwing a big party and getting together more than 50 people, you will need a permit from the city of San Diego.
Are San Diego beaches cold?
While the air temperature is amazing year-round in San Diego, the same can't be said for the sea. The Pacific Ocean that bathes the San Diego beaches is very cold, but it shouldn't be a problem for the bravest swimmers. Just keep in mind that if you were expecting to encounter water as warm as that of Florida, you will probably be disappointed.
Are San Diego's beaches safe?
The Pacific Ocean has a long history of being somewhat unsafe for swimming. There are unpredictable rip currents that are invisible to the untrained eye that are dangerous for even experienced swimmers. Although there are lifeguards on the most popular beaches, it's best to be safe than sorry.
Surfers are allowed to practice the sport but should also be very careful, especially those who are just starting out!