With its stellar seafood, picturesque lighthouses that dot the coast, stunning national parks, and sand-lined shores, Maine is a tough place to avoid if you're looking for a great family vacation spot. While the weather here isn't the best year-round, the summer season is when this New England gem comes alive.
The Maine coast line stretches out for almost 300 miles in total. This means that the state is bursting at the seams with charming beaches, small and large, quiet and reserved. Besides the stunning beaches, Maine also has countless coves and other hidden landscapes.
Being the northern-most state in New England has its perks. Since it's still quite of a travel north of Boston, not as many people vacation here as in Martha's Vineyard or Cape Cod, for example. This means more untouched sandy stretches and more privacy.
Families especially love Maine. Something about the misty airs from the Atlantic Ocean or the smoothness of the sand has families with children coming back year after year. So many memories have been made here in Maine, and we have a feeling the visitors will keep coming religiously.
Even newlyweds will fall in love with the state! Who hasn't dreamed of having a honeymoon by the sea before? There's privacy, luxury resorts built a short walk away from the sand, and a lot of amazing, decadent food.
It's so hard to forget about Maine's beauty once you look at some photos and talk to some locals. If you're thinking of making this your next summer destination, we've come to help. To save you hours of online research, we've compiled a list of the best Maine beaches. In no time, you'll be eating lobster sitting at a restaurant with an awesome ocean vista and thanking us.
1. Crescent Beach State Park, Cape Elizabeth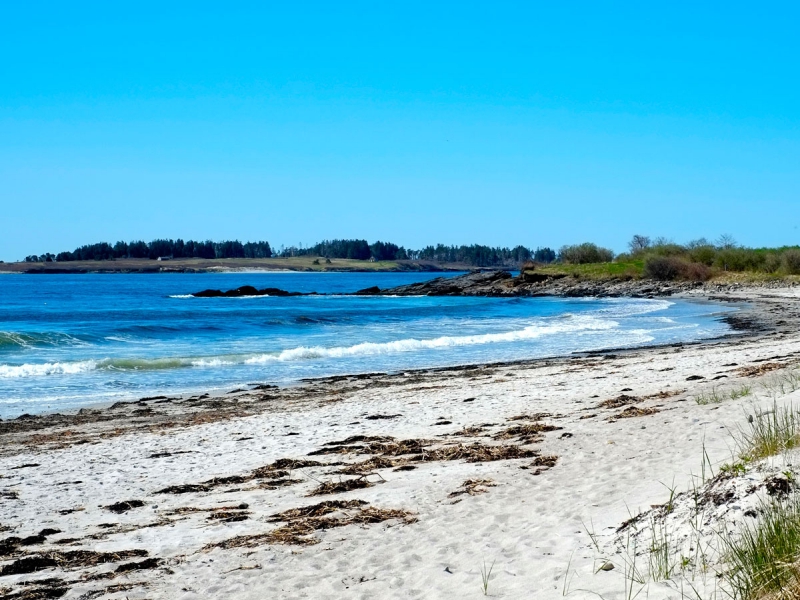 Crescent Beach, Maine is one of the most popular beaches in the state among young families. This mile-long white stretch of sand is constantly featured in travel guides and those who come usually return soon.
Located a mere twenty-minute drive south-east of Portland, Crescent Beach State Park sits on the immaculate Cape Elizabeth. Here, the seagulls, vegetation, sand, and ocean all meet to form a beautiful scenery that is picture-perfect.
Young families love this beach because of how many things you can do there. Beginner surfers can try their luck in the gentle Atlantic waves that break on the shore. Swimming is permitted since there are no strong and tricky currents. The water is slightly warmer than anywhere else in the state. And finally, there are lifeguards stationed here during the peak season.
People who like to fly kites and love long walks on the beach are also regulars here at Crescent Beach. Since the beach is long, throwing your kite in the wind and trying to pilot it isn't too hard. And a walk on the sand while your feet are licked by the breaking waves of the blue Atlantic is delightful.
Sitting on your towel, you'll have great views. In the distance, you can spot a 200-acre private island that'll make you daydream of winning the lottery and building your very own seaside paradise. You'll also be able to see colorful lobster-catching boats docked, swaying in the water. It'll make you hungry just thinking of the catch of the day!
If your stomach does start to beg you for food, you can either go to a beachside restaurant or have a picnic in the picnic area. There are picnic tables in the shade here, a favorite of young families looking to save some dollars by packing a lunch.
But if you're looking for a good place to eat an authentic meal, head out to the Inn by the Sea for lunch. You get there by walking up the boardwalk and taking in the views that by themselves will make your meal worth it.
Fans of sea life, watch out. When the tide goes down and the tidal pools are exposed, you'll be able to find starfish and crabs living their life in these tiny pools. And if you're really, really lucky, you might even spot some seals swimming by the coast!
2. Old Orchard Beach, York Harbor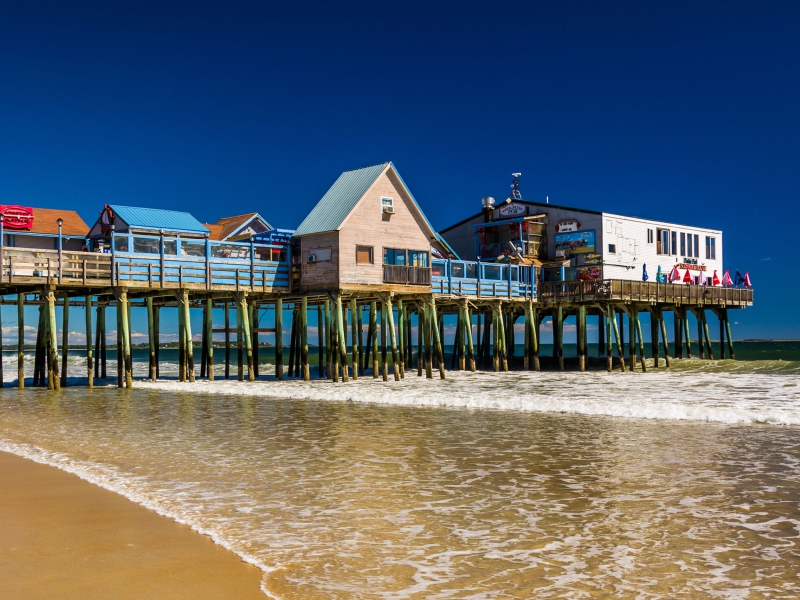 Let's cut to the chase — yes, Old Orchard Beach is very crowded, but once you see it for yourself you'll understand exactly why! Plus, boasting seven kilometers of sandy shores, Old Orchard Beach can still be a comfortable beach to spend the day in the sun.
Most people know of Old Orchard Beach for its famed pier. This long stretch of wooden boards known as the Old Orchard Pier dazzles even the most skeptical of beachgoers. It sits right in the middle of the beach and it has some of the most interesting beach attractions in the United States.
Here, you'll find your typical pier establishments: restaurants, food stalls selling Pier fries and other treats. But what makes Old Orchard Beach Pier all the more special is the fact that it has the Palace Playland amusement park built on it. There's even a Ferris wheel that looks out into the ocean! Do you see now why Old Orchard Beach is so popular with young kids and teenagers? Who doesn't love a day spent at a carnival?
But there's lots to do with your feet on the sand as well. The sand here is soft and free from broken seashells, so walking is a breeze. Young and old people alike walk by the water, enjoying the Atlantic views and people-watching (for many, an interesting beach activity!). Young kids and their parents can also be seen building sand castles here.
For those who like their beaches a little more isolated, the Ferry Beach State Park is only a short hop south by car. Ferry Beach offers a more chilled out vibe than Old Orchard, because the latter does boast more exciting nightlight than you'd expect.
Unlike some other Maine beaches, Old Orchard Beach has quite an active and boisterous night scene. The bars that sit on the pier are a famous meetup spot for young people vacationing (and living) in Maine. If you're looking to party, this is a great place to meet new, interesting people.
3. Ogunquit Beach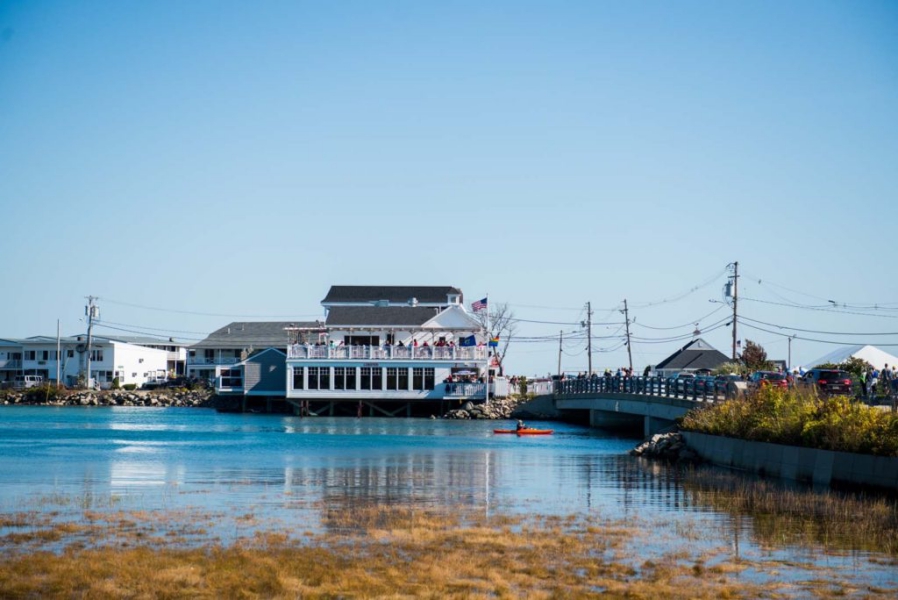 Ogunquit Beach, Maine has one of those words that only locals can pronounce correctly. The beach owes its name to the Abenaki indigenous people. In their language, the name literally means "beautiful place by the sea." We couldn't think of a more fitting name.
You can thank New England 19th-century artists for spreading the word about this beach. Back then, it was a well-kept secret only those who lived nearby knew of. But, thankfully, they decided this beach was too beautiful to remain locked away from the rest of the world.
Nowadays, people come from all over New England to this Maine beach to spend some days in the sun during the summer. It stretches out for three and a half miles total, so there's plenty of room for eager beachgoers to lay down their towel and blankets and relax.
Ogunquit Beach is a white- and yellow-sand beach bathed by the Atlantic Ocean. On one side of the beach are the calm ocean waters, gently breaking the waves onto the sand, and on the other are grass-covered sand dunes. They give this beach its ever-famous relaxed and chilled look.
But what makes this one of the beach choices is the tides. When the tides lower and the water recedes, small tidal pools carved into rock are exposed. It's a great time to explore the life that is teeming just under the surface. Some of the beings that call these rocks home are tiny fish and crabs.
Also at low tide, the small sandbars and smooth, shallow sandy sea bottom are exposed. They make Ogunquit Beach a great one for long walks on the beach and for children, as they can play safely in the water.
Since you're in the area, a quick visit to the neighboring fishing village of Perkins Cove. It's an old-timey quaint little town we're sure you won't forget anytime soon. Alternatively, you could also go up to Marginal Way, a hiking trail carved out on a cliff that offers jaw-dropping ocean vistas.
4. Higgins Beach, Scarborough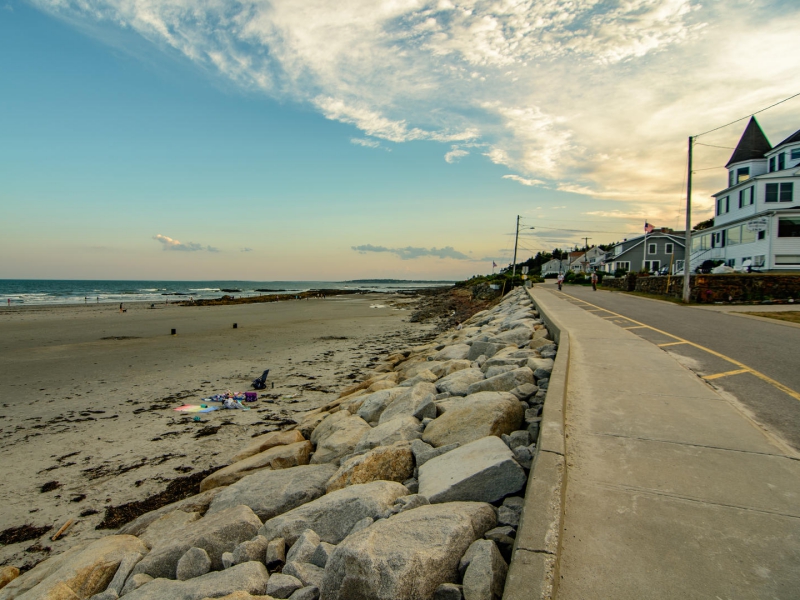 Located in a small and discreet seaside community a short drive away from South Portland, Higgins Beach is a lovely half-mile-long beach with a few secrets.
The most popular (and charming) accommodation options on Higgins Beach are the cottage rentals and inns close to the sand. While this beach wasn't all that popular until a few years ago, its close proximity to Spurwink River has made it famous among kayakers. Even surfers love coming here to ride the waves!
Higgins Beach offers many other activities to its visitors. Everyone is invited to lay down a towel and sunbathe. If action is more up your alley, then try some water sports. Kayaking and surfing are very popular here. Fly fishing in the nearby river is also a fun option for a day with the whole family.
But enough with the blue, somewhat warm water. The white powdery sand is also worth paying attention to. Even though this beach isn't very large, walks on the beach are always pleasant. As you walk, there's a very big chance you'll find beautiful shells you'll want to add to your home decor. And if you're lucky and pay close attention, you'll also find sand dollars!
If you're at the beach during low tide, look out for a shipwrecked vessel. Dating back to 1897, this ship draws the attention of all visitors and makes for some interesting photos to bring back home.
Higgins Beach is a formerly well-kept secret that is out in the open now. Not only is it one of the best beaches in Maine near Portland, but it's also perfect for families traveling with children.
5. Laudholm Beach, Wells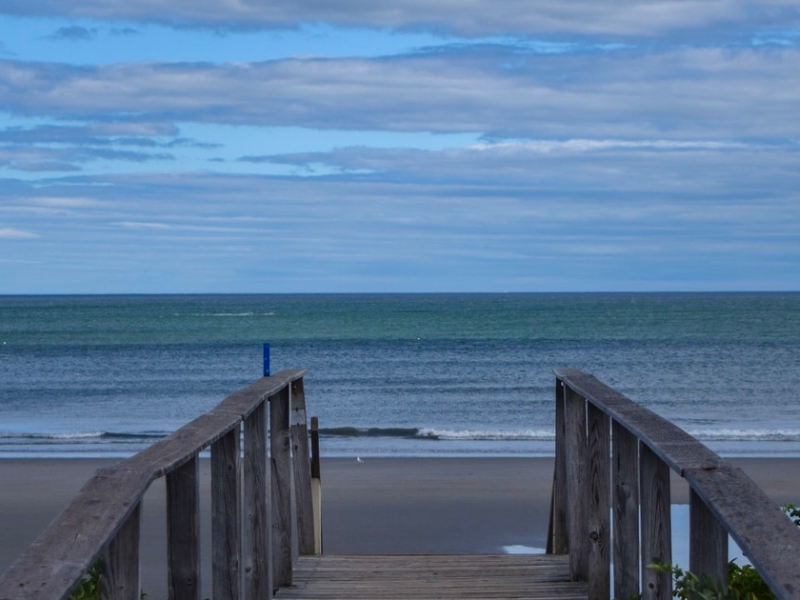 If you're looking for a Maine beach that's off the beaten path, then you've found the one for you. You can only access this sandy beach by hiking for a full mile through a carved-out trail. But it's worth it if you're looking for peace and quiet.
The saying "it's all about the journey, not the destination" almost fits this beach perfectly, but it ultimately doesn't. To get here, you have to go to the visitor center, housed in a former 19th-century farmhouse. There, you'll pick up your hiking trail map and set out on your adventure. The mile-long hike takes you on an amazing nature walk where you'll have to pass a maple swamp marsh. Eventually, you'll reach the remote Laudholm Beach.
It's safe to say that this is the least popular of all of Wells beaches. Despite this (or maybe because of it), Laudholm is a powdery-white-sand beach that has been left largely untouched. It's lined by beautiful majestic sand dunes where dozens of small crustaceous species live.
When you turn north on the beach, you'll reach the mouth of Little River. Here, you'll be able to see some barrier beaches and the neighboring Rachel Carson National Wildlife Reserve.
If you're a bird-watching enthusiast, don't forget to pack your binoculars and camera. Laudholm Beach is an important stopping point for many species that every year make their migratory journey up and down the United States.
6. Sand Beach, Acadia National Park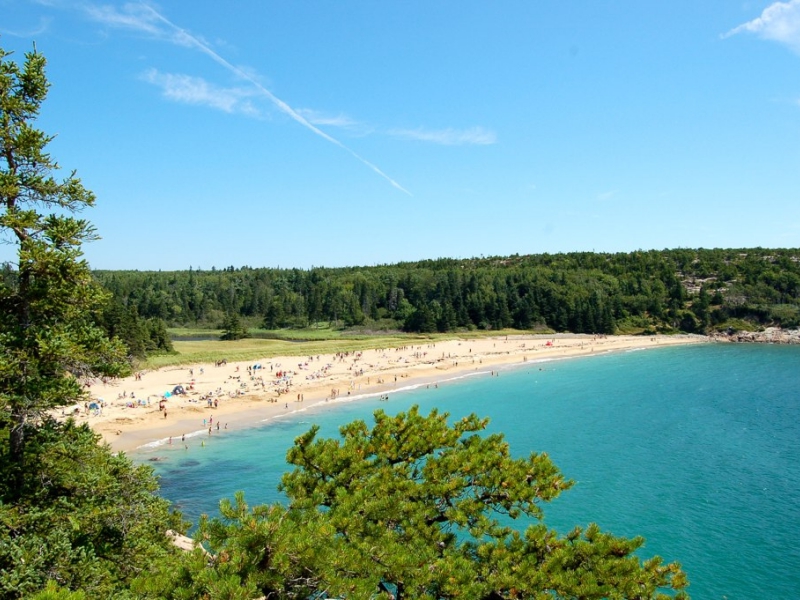 This stretch of sandy shores is tucked away between granite mountains and the roughly-cut rocky shores of Mount Desert Island. Those who care to look for it and get to it are pleasantly surprised by the Sand Beach beauty. This is one of the top beaches in Maine with sea glass – so keep your eyes peeled for the treasure!
You can't visit Sand Beach without also checking out Acadia National Park. It's literally impossible, since that the beach is located inside this national park. Established in 1916 by President Woodrow Wilson, this park is a sight to be seen. The rocky mountains, coniferous forests, rich biodiversity, the sun, and the sea all come together to showcase the best that Maine has to offer.
Despite it only being 300 yards in length, the beauty you'll find here is one of a kind. The sand isn't your typical yellow or golden. It's white with large streaks of pink thrown in for the mix. The existence of this unparalleled natural beauty is granted by the erosion of small seashells over centuries.
Now, you can enjoy a relaxing day at the beach in this small gem of the Atlantic northeast. While dipping your toes in the water and going for a swim might seem appealing, the water temperature barely goes past 55 degrees. If you're brave enough, by all means, go for a swim! There are even lifeguards on duty at the beach.
7. Popham Beach, Phippsburg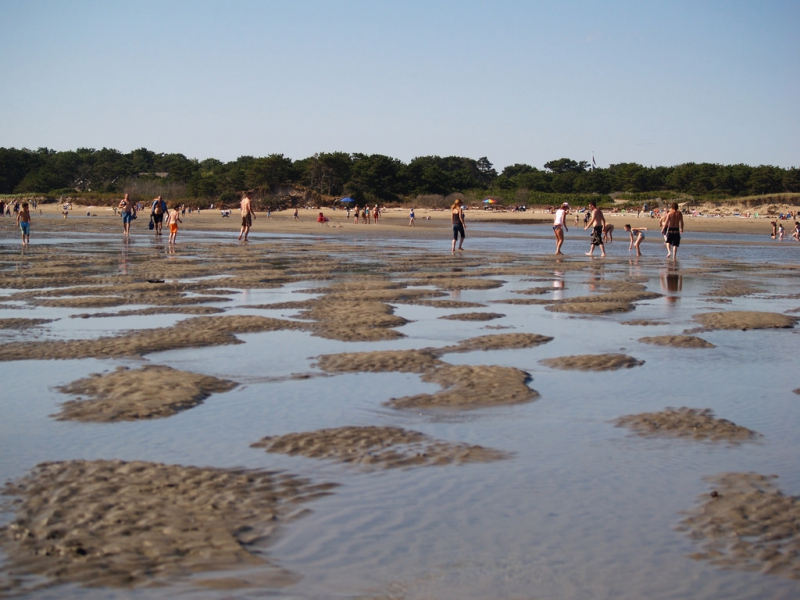 Mother nature can be quite ruthless sometimes, and it didn't go easy on Popham Beach. Sitting at the mouth of the Kennebec River and near a 19th-century military fort, Popham Beach, Maine goes by unnoticed during high tide.
If we had to name a beach that has been hit hard by storms in recent years in the northeast of the United States, we'd name this one. Storm after storm means that the once treasured sand dunes and sand were all eaten away by the waves of the choppy Atlantic.
During high tide, this means that the beach looks like a deserted wasteland. There is no sand at all in sight. But as soon as the tide starts to recede, the waters reveal the amazing beach world they'd been hiding. The water goes back so far that you can walk miles and miles on the beach. You'll see a rocky bottom with tidal pools carved out. It's in these tiny pools that dozens of marine creatures live, from small crabs to seagrass.
Alternatively, you can also hike to the Fox Island, a neighboring rocky island. But don't forget to check the times at which the tide lowers and rises, or risk getting stranded along the way.
If you want, you can see how you fare at sea. Bring your surfing board with you and see if your skills are any match for the Atlantic waves because this is one of the best beaches in Maine with big waves for surfing!
Popham Beach is, undoubtedly, one of the most beautiful Maine beaches and by far one of the less spoilt.
8. Goose Rocks Beach, Kennebunkport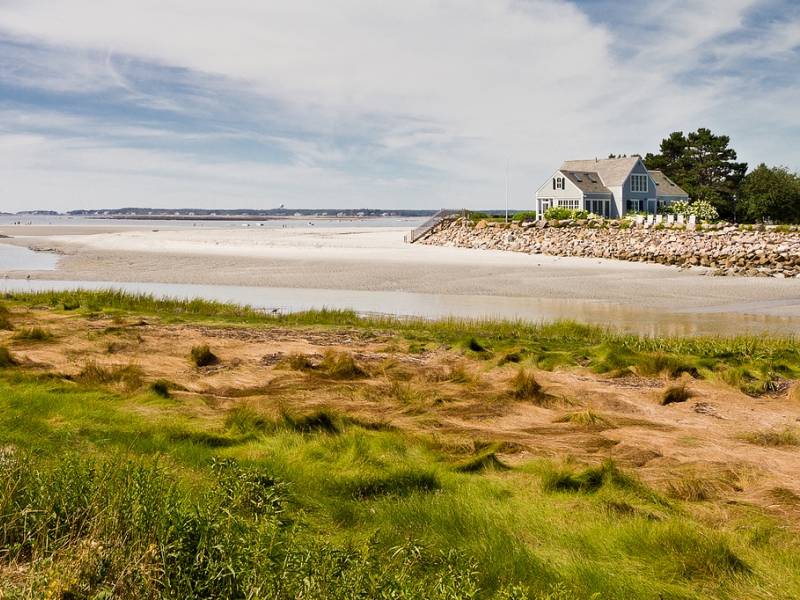 With limited parking and few public facilities, Goose Rocks Beach can, for some reason, still win the heart of its visitors every single summer.
Goose Rocks Beach is bordered by Granite Point and by Cape Porpoise. Located in a small and quaint seaside village, this gem is bathed by the Goosefare Bay. Once you get here, you'll see why people associate it with the classical New-England-style beach. Everything from the grass-covered sand dunes to the peaceful-looking gracious houses screams New England chic.
Getting here isn't an easy task. There is limited parking available and you'll need a permit to park your car. But we assure you it's worth the hassle. You'll have access to three miles worth of white-sand beach with views of the blue-ish green-ish waters.
Long walks on the beach have never been nicer than on this each. You can walk for miles and miles and still find interesting parts of the beach. During your walks, look out for seashells and for sand dollars — you'll be seeing these beautiful natural gems (almost literally) everywhere!
If you're an animal lover, you'll want to bring your binoculars. By looking into the distance, you can see seals sunbathing on the offshore rocks. How many beaches in the world offer this sight?
Tip: Make sure you don't mix this one up with Goose Rock Lighthouse – an isolated lighthouse in Penobscot Bay. Though if that's your thing, it can be rented out as accommodation.
9. Short Sands Beach, York Beach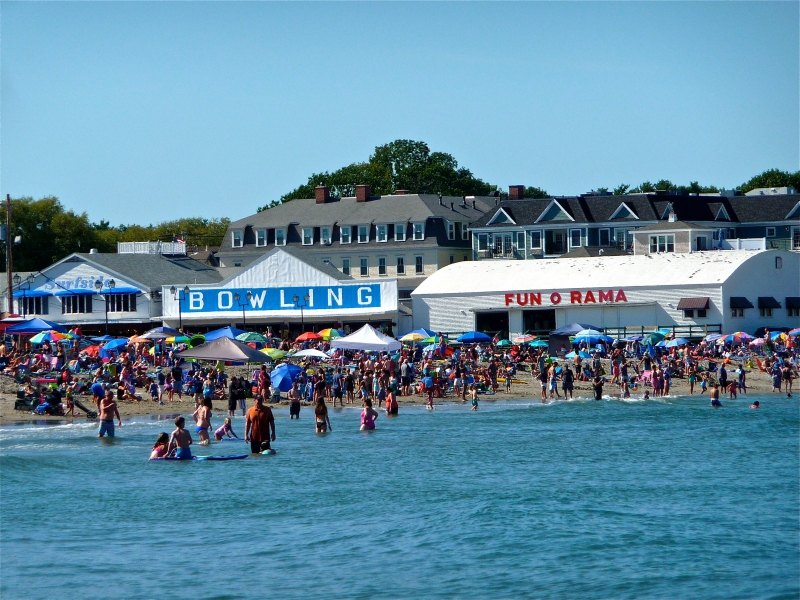 To end our list, we've picked the most family-friendly beach in Maine. This lovely beach is located in a small and quirky seaside town that has many attractions to entertain its visitors.
This beach is relatively short since it only stretches out across three-quarters of a mile. It's cradled between rocky cliffs, giving it a cozy and homey feeling. The waters of the Atlantic Ocean gently crash on the sand, amplifying the comfortable vibe the beach gives off.
Beginner surfers can practice the sport here. Since the waves aren't too high and there aren't any surprisingly dangerous currents, surfing is safe and even encouraged at Short Sands Beach.
But the best thing about coming here is how much every kid will love it. There's a basketball court right outside the beach and even a playground for the littlest ones. Talk about encouraging an active lifestyle!
If you get bored of the sand and the sea, you can head out into town and visit some places there. There are antique shops, souvenir shops, restaurants, cafes, a bowling alley, and even an amusement park and zoo! Surely you won't run out of things to do here…
Frequently Asked Questions About The Beaches In Maine

Does Maine have nice beaches?
Sure it does! While Maine beaches don't compare to the tropical ones in Florida or Hawaii, Maine beaches have their own charm and appeal. The look they're going for is not palm-trees-swaying-in-the-wind, but a more sand-dunes-and-cold-waters kind of vibe.
Can you swim in Maine's beaches?
Yes, you can — but not in all. Some beaches in the state have rocky bottoms and somewhat deceiving currents, so it's best to do your research and look into the best swimming beaches in Maine. Also, keep in mind that not all beaches have lifeguards on duty.
Are dogs allowed on Maine beaches?
Not all beaches allow dogs to enter. For example, Ferry Beach near Saco has seasonal rules on dog walking, with on-leash and off-leash hours too. Other beaches in Maine that allow dogs include: Long Sands Beach, Kennebunk Beach, and Willard Beach, to name a few. You'll want to check ahead of time whether the beach you're planning on visiting is dog-friendly or not.
Can you smoke on the beach in Maine?
Smoking is prohibited in Maine beaches. No matter what you're choosing to smoke (including electronic cigarettes—or vapes) know that you can't do it in any of the public beaches of Maine. The fine for breaking this law is $50.
Is drinking allowed on the beach?
According to Maine law, drinking alcohol in public is considered a class E crime. This means that being caught drinking anywhere in public (including at the beach) can carry a $1,000 fine and a six-month period in prison.
That being said, you're better off only drinking alcohol at bars and restaurants and other places where doing so is allowed.
Are Maine's beaches free?
Not all beaches are free in this state. In addition to most of them charging for parking spaces, some charge you a daily fee for entering the beach. There are discounts available, though, for youngsters, active military personnel, the elderly, and more.
Is the Maine coastline cold?
It being the northeast of the United States, Maine is bound to be colder than, say, Arizona. However, the summers here are very warm when compared to their winters.
Generally speaking, the weather during the summer months is quite pleasant in Maine. It's never too hot nor too cold — just right for a fun-filled day at the beach.