Uruguay beaches are breathtaking and have something to offer for everyone. It's a country in South America well known for it's beautiful coastline.
This country has a progressive, stable, and relatively safe, economic and political climate, sophisticated culture, and is a refuge where you can see wildlife like penguins, sea lions, and whales. The beautiful Atlantic coastline landforms range from alluring sand dunes in the backdrop, to lagoons and surfing spots that will have you drooling!
Montevideo, the capital, is gleaming with impressive architecture, lovely "playas" and is bustling with all kinds of activities. And, the world's longest carnival is held here- it lasts for six weeks and gives much color and liveliness to the streets. It's one of the most exciting cities in South America!
Punta del Este offers nightlife that will make your South American vacation memorable to the maximum!
Or, choose to navigate up through the Rio de Plata, where colonial towns are waiting to be explored and hot springs are asking to be hopped into.
Opposite from Buenos Aires is laid back Colonia Del Sacramento, located on the river banks of Rio de la Plata, which is a treasure, featuring eighteenth-century architectural remnants from the Portuguese, and enchanting cobblestone streets.
No one says you need to rush through Uruguay's attractions, take it easy and soak it all in, one breath of fresh air at a time. Lets get started on guiding to you an amazing Uruguay beach vacation.
10. Punta del Este – Uruguay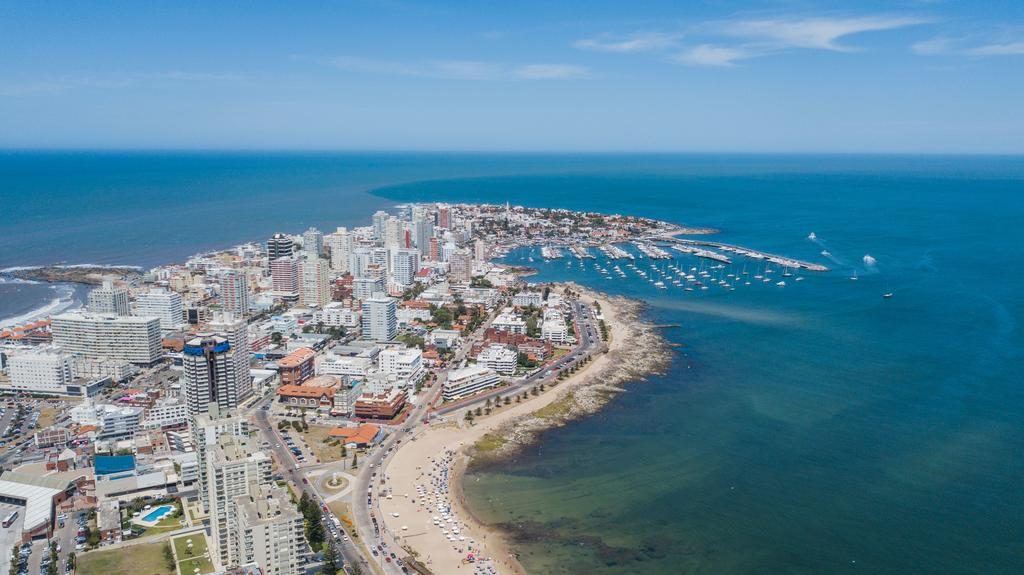 Situated in the South of Uruguay, many Argentinians, and Brazilians, and of course, Uruguayans, choose to spend their vacation in Punta del Este. Easily the most famous beach in Uruguay.
This peninsula has two different bodies of water facing each other, on one plane the peaceful waters of Río de la Plate, and the raging Atlantic on the other.
Get ready to shell out a little bit extra cash than you're accustomed to, as prices on Punta del Este can be up to fifty percent higher than anywhere else in Uruguay. Hey- it's nice to go big every once in a while!
You can find Playa Mansa on the side as the waters of Río de la Plata, where you can watch or participate in football or volleyball tournaments.
You'll want to stay seaside for the beautiful sunset that lights up the sand. Maybe you could snap those family photos you'be been trying to remember to take?
Nearby Playa Brava is a great spot for surfing, or if you just prefer more a more playful ocean. Always be aware of the tides and currents when swimming in rougher waters.
In February, every year the José Ignacio Film Festival is held, if you're interested in spending some time away from the sea.
For you nature lovers, Forest Park Arboretum Lussich is fifteen kilometers away from Punta del Este, where you can walk through the woods of almost two hundred hectares of native trees, by foot or by bike.
9. Punta del Diablo – Uruguay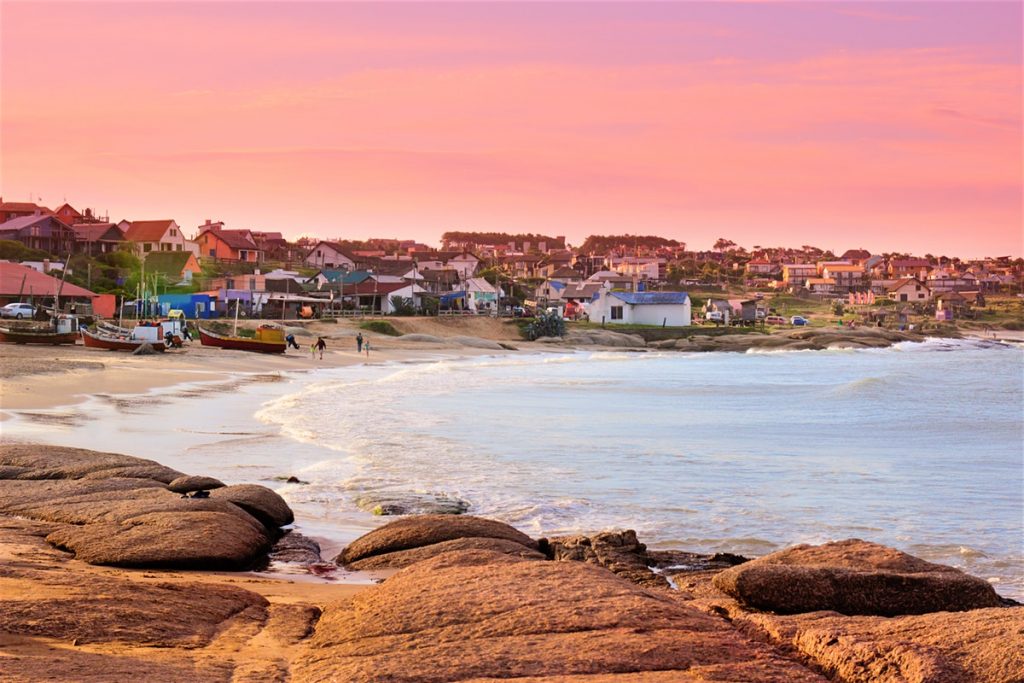 One of the top beaches in Uruguay, and forty kilometers from the Brazilian border, Punda del Diablo has over ten kilometers of coastline, and is a sleepy coastal town.
This fishing town has dirt roads, brightly colored buildings, and a peaceful ambiance.
Around a thousand people live here, most of whom are fishermen, crafts-oriented people, and backpackers or hippies. This number can skyrocket come January (for New Year's celebration) to over thirty thousand, when vacationers come to celebrate the New Year.
If you want to see Punta del Diablo for what it really is, you should come during the off-season, from March to Mid-December. High season, between December and February, is fun and exciting, but if crowds aren't your thing you might want to re-arrange your travel plans.
This is a fantastic spot for whale watching- they migrate between Argentina and Brazil, and you're able to see them right from the beach.
If you like surfing, you might want to book your vacation between April and November. And, if you're searching for a beach close to the heart of town, Playa de los Pescadores and Playa del Rivero are perfect options.
For accommodation, you can rent a house or a cabaña.
If you're arriving from Montevideo, the bus takes a little over four hours. Tres Cruces bus website has the details if this is a route you might want to take.
Remember there are no ATM's in Punta del Diablo.
8. Cabo Polonio- Uruguay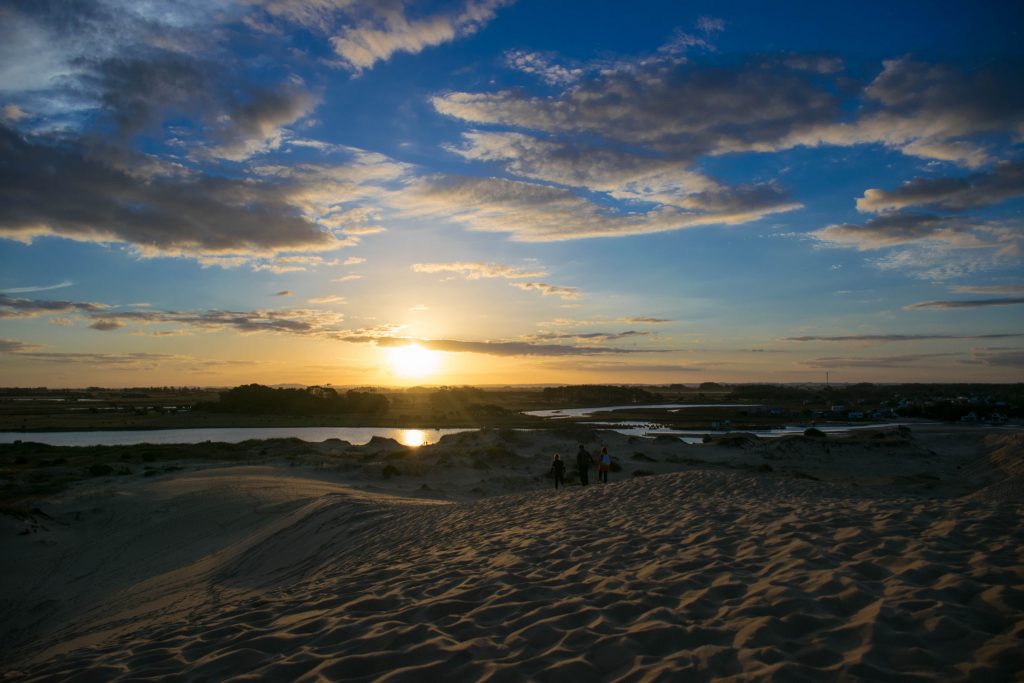 Northeast of La Paloma, the National Park Cabo Polonio is worth a visit- be ready to brave not having any running water or electricity (it's sustained on solar and wind power), only one shop (it's nearly always fully stocked), and having less than sparse wi-fi.
This Uruguay beach is home to the country's second largest sea lion colony, so bring your binoculars if you want to see them up even closer!
Accommodation is very basic here, and you still have to pay a fair amount for the cost of a room, so just expect that.
It's recommended to pack a headlamp with you or a flashlight of some sort for navigating your bedroom at night or anywhere at night for that matter, since there is no electricity.
From La Rocha or La Paloma, take a Rutas del Sol bus to the fork of Ruta ten for Cabo Polonio.
If you want to incorporate some more time in the water on your vacation, there is a surf school for lessons and surfboard rentals if you're interested in spending some time out on the water.
Beneath the lighthouse on Cabo Polonio, you can see the sea lions and the South American fur seals playing around on the rocks.
If you're looking for a great place for drinks, Lo de Joselo is a recommended spot.
There is no ATM on Cabo Polonio, so make sure to bring extra cash.
7. Atlantida – Uruguay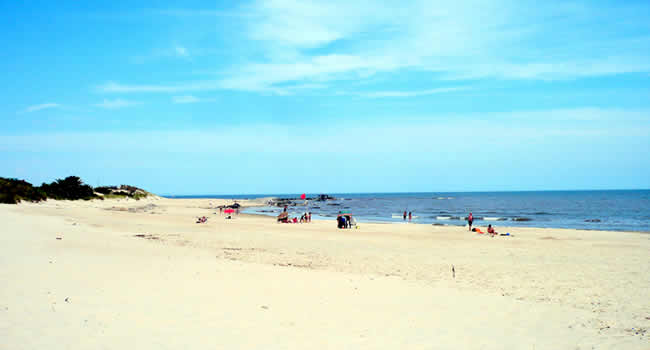 One of the best beach towns in Uruguay, Atlantida has wide sandy stretch and is a quick thirty minute drive from Montevideo.
Not many people come here in the Winter, so if you want the beach all to yourself, that's the time to come. Note that winter in Uruguay is June – September and the water will be too cold to swim in. This mostly locals beach was originally elected as a place that Uruguayan families wanted to designate for their summer homes, since it was so quiet. It remains peaceful to this day.
You might choose to spend the day lounging around the beach with the family during the day, simply enjoying the sand between your toes, and stay to watch the sunset. A walk along the pine tree lined coast at sunset would not disappoint.
If you're hungry and craving a delicious, authentic meal, check out Restaurante Don Vito, a restaurant that features grilled lamb and bife ancho, in addition to a selection of tasty desserts. The waiters are friendly, too.
Buses to Atlantida depart from Rio Branco station on the corner of Rio Branco and Galicia streets in downtown Montevideo.
There is a zoo in Atlantida with a wide assortment of jungle animals that children and adults alike will love.
Let all your worries melt away as you soak in the beauty of the cerulean blue waters and the natural landscape, whatever you decide to do.
6. La Pedrera – Uruguay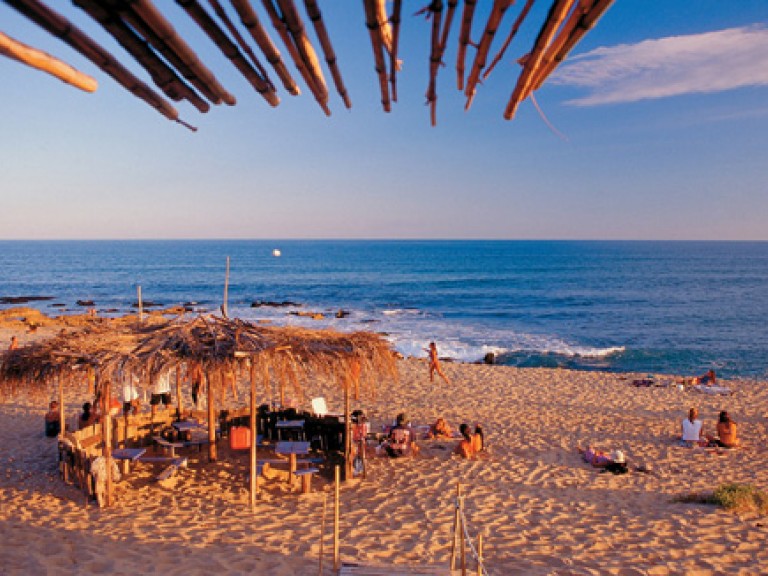 A seaside resort in Rocha, La Pedrera is snuggled on the Eastern coast of Uruguay, and is home to one of the top Uruguay beach resorts (and it's a little easier on the wallet than Punta del Este)!
La Pedrera received its name from the antique rocky formations by the coast which dates back to the Triassic period more than five hundred million years ago. Think back to those ancient times!
Summer attracts both Uruguay residents and tourists to this beaches refreshing waters, for good reason.
For you bird-lovers, you'll delight in seeing the native species ostreros, calandra larks, thrushes, and chiricotes flying about their daily business.
And, if you're here during Winter, you might be lucky enough to see some whales!
La Pedrera actually has two beaches, El Desplayado's flat, sandy beach makes an excellent playing field for a volleyball match, and is famous for that reason. Del Barco, situated on the Western side, attracts watersports enthusiasts and surfers for its waves.
If you're hungry, take a walk to the main street (Calle Principal), and dine at any of the restaurants. Oftentimes they'll have a fish of the day, or 'pesca del dia' on the menu.
For a memorable hostel experience, La Rubia is located on Ruta ten, and has nice showers, hammocks to relax in, a swimming pool and hangout area, and there's a kitchen if you like to cook your own food when you travel.
The closest airport is at Punta del Este, or you could get a flight from Montevideo. Or, if you're arriving via a ferry from Buenos Aires, Buquebus, Seacat, and Colonia Express run directly to Colonia del Sacremento and other cities throughout the country.
5. Pocitos Beach


A long and broad white sand beach, situated along Río de la Plata, Pocitos and is popular for people of all ages.
If you love swimming, this is a great spot, as the waters become fairly deep, and it's clean for being a city beach.
Apartment buildings sit on the coastline, and some of the tall structures provide nice shade from the hot ecuatorial sun.
In town, you'll find modern shopping malls, cafes, boutiques, and eating spots. You'll also see many food stands selling snacks and beverages for those afternoon pick-me-ups.
Many beach sports championship competitions are held here such as soccer, volleyball, and swimming ones, so there's never a dull moment here.
Note that this seashore is wheelchair accessible.
Some have commented that the sunset is one of the most majestic in the world here!
4. Piriapolis – Uruguay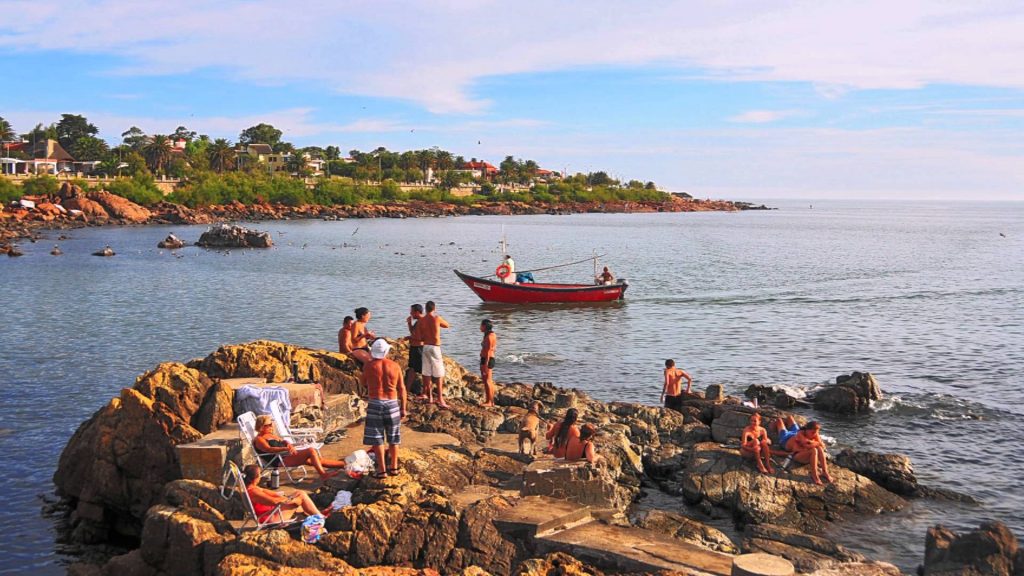 This Uruguay beach resort, Piririapolis is nestled in Southern Uruguay and features a colorful landscape with rolling hills (which are great for phototaking).
If you're looking to see some Italian heritage in addition to some Latin American- explore the Castle of Piria. It was constructed in 1897 by an Italian architect and its view overlooks Piriapolis, as its situated on a hill. The grounds of the castle are neat to explore- and are filled with terracotta statues.
There's a nearby nature reserve that's seven hectares, and is home to wild cats, pampas deer, and capybaras, among other animals.
You can choose to rent a bike and cycle around Piriapolis, too!
This is one of the seaside places in Uruguay where you can relax on your beach towel, wind down and breathe in the fresh sea air, and finish reading your favorite novel to end the night.
If you follow Route thirty-seven out of Piriapolis, you reach the main access to four hundred meter Sugar Loaf Mountain, which has a breathtaking view of the entire city engulfed by the azure coastal waters. There's also a local fauna breeding station at the top, which is fabulous for maintaining the diversity here.
3. Costa de Oro – Uruguay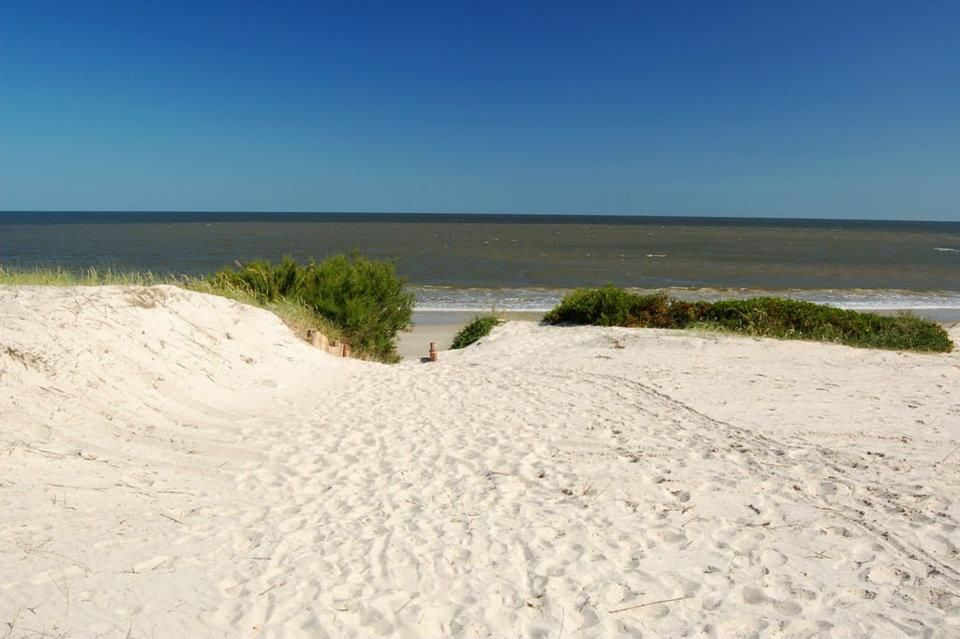 One of the best beaches in Uruguay, Costa de Oro (Gold Coast) is a coastal stretch of land measuring about forty-five kilometers long, that extends along many fine, white sand beaches and beachfront resorts from La Barra to Carrasco.
This was previously an area just for tree planting, and now offers fun activities for visitors, and infinite lovely waters.
You can choose to spend the day on the sand, closing your eyes and opening your ears wide open to the sound of the waves. Or, you can go fishing or boating- it's up to you.
From Montevideo, the drive here is easy- it's less than an hour away via the street las Avenida Giannattassio y la ruta Interalnearia to reach this prime ocean front area.
For an excellent lodging choice, Cabañas Aldea Marina is open year- round, with a complete kitchen, full bathrooms, a pool, cafeteria, and even a playroom if you have kiddos. They're located on kilometer seventy-two on Ruta Interbalnearia.
You could even choose to go Glamping in Costa de Oro, where there are a few tents set up that are available for rent, with showers, swimming pools, wi-fi, ice cream, and drinks for sale.
2. San Ignacio, Uruguay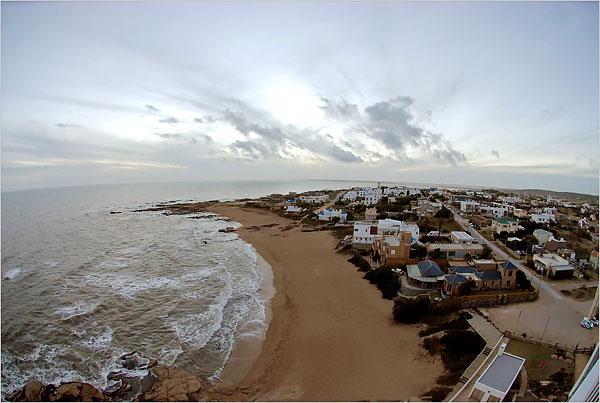 From November to February, San Ignacio, changes from a quiet fishing village to a bustling harbor for surfers and beachgoers.
With a lively and social atmosphere, San Ignacio also has its peaceful side. You can choose to engage and have extroverted, but it's also very possible to keep a low profile and stick to yourself.
Jose Ignacio is a section of land that's sandwiched between two beaches that you can surf, swim in, and marvel at, and where you'll find a lagoon that you can horseback ride, walk, or cycle to in order to catch the sunset.
The main landmark of Jose Ignacio is the lighthouse at the edge of the waters, constructed to caution incoming boats of the rocky surface. You can enter it and climb the helical staircase to see a panoramic view of the town from the balcony.
Also, Parador La Huella is an excellent dining option, and is one of the best restaurants in this town- their menu features items such as grilled octopus, milanesa, and fish of the day cooked on an open flame.
1. Playa Brava Beach – Punta del Este, Uruguay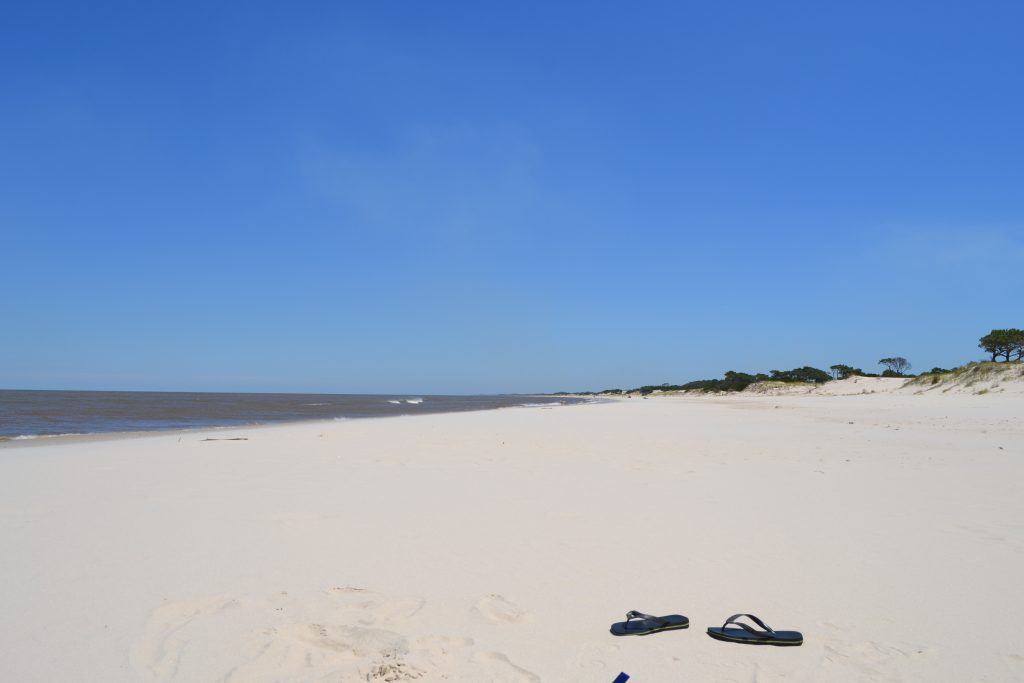 One of the beaches in Punta del Este, Uruguay with a unique artistic edge to it, Playa Brava features an enormous stone hand that a Chilean artist constructed in 1982, that has resisted time and battering from the sea, but hasn't evaded the fingers of graffiti. It was created to honor those lost at sea, and is now regarded as a prime photo-op spot.
You'll find strong waves here for surfing, although conditions range from very strong currents to calm waters, and there are just as many deep patches of water as there are shallow. It's the best of both worlds, really.
So, it can get windy, but the water stays pleasantly warm.
If you are lucky enough to catch the sunset, get ready for a color storm of pink, purple, red, and yellow tones. Take a long walk along the thick, warm, golden sand and gaze out at the picture-perfect sky.
The sheer beauty of this beach (especially at sunrise and sundown) is the heart of its charm.
Uruguay Beaches FAQs:
How is the climate in Uruguay?
Summer, and high season, in Uruguay lasts from December to February but temperatures are mild year-round. Since Uruguay is in South America, and the southern hemisphere, the seasons are opposite to what we experience in the north. For example, the coldest months are July through to September. Temperatures rarely ever get to freezing, so come in whatever month your heart desires. The temperatures can drop a little at night though, so bring a light sweater around with you, even during the Summer.
There can be the occasional Summer storm, so prepare for that. The night sky does look stellar lit up with lightning.
Do I need a visa to travel to Uruguay?
If you're planning on staying less than ninety days, you don't need a visa (as long as you have your tourist passport, at least).
Your passport should be valid for at least past the duration of your travels to Uruguay.
How is general safety in Uruguay?
Pick-pocketing and purse thefts are most common in bigger cities like Montevideo. It's always best to leave your most valuable possessions in the hotel when you are traveling in more densely populated areas, and don't openly wear flashy jewelry.
Also, if you do leave your car parked on the street at night, be aware of the possibility that it could always get broken into. And, when you do find yourself out at night, stay in well-lit areas, and keep away from abandoned areas.
Where is the main airport in Uruguay?
The major airport here is Carrasco International Airport, a bit outside of Montevideo.
Sixteen kilometers from Punta del Este lies Laguna del Sauce airport, where only commercial flights are inbound and outbound.
Travelers are required to pay an airport tax of twenty-nine dollars for international flights, and there is not a tax for domestic flights.
Are there any laws or customs I should be aware of?
Pharmacies have legalized the sale of marijuana for recreational use, however, tourists are not allowed to purchase any- it's only available to citizens that have a valid license.
Since 2013, same-sex marriage has also been legal here.
It's custom to see lots of inhabitants playing soccer, playing a card game called truco, or drinking yerba maté.
It's also part of the culture to stay out really late partying. Most nightclubs are open until four or five in the morning, and people are always just out about doing things.
What are the requirements for renting a car in Uruguay?
It's required to be over twenty-three and under seventy-five years of age to rent a car in this South American country.
It's also necessary to have a valid drivers license issued from the travelers home country that's been valid for at least two years preceding the vehicle rental date.
You also must have a credit card or a check to pay for the vehicle with.
Lastly, you'll need a current identification document or passport.
What is the currency used in Uruguay?
The Uruguayan peso is the unit of currency used in Uruguay.
It's usually ideal to convert your 'normal' money into smaller increments when you head to a smaller town, as there may not always be places to convert money. Some might even suggest exchanging your local currency to US Dollars before traveling and then exchange that upon arrival. Whatever is easiest for you!
How do Sundays operate in Uruguay?
The majority of shops close at around four in the afternoon.
Many restaurants and bars can also be shut down on Sundays. Perhaps a good idea is to get into the habit of venturing to outdoor places on Sundays instead of going to businesses.
Does Uruguay have nice beaches?
Each beach town offers something different- Punta del Esta is the most well-known beach resort in the country and is a wealthy man's paradise- think yachts peppering the dock and high-rise buildings, whereas fours hour away in a hippie town called Cabo Polonio, most of the accommodations are houses made with bits of wood, and no wi-fi, and has a very peaceful ambiance.
Overall, the beaches of Uruguay offer perfect waves for surfing, a great patch of sand to rest for the day, and abundant marine life.
Between June and November, you can have the opportunity to see whales migrating around the seashore of Uruguay.
Will I have a chance to see any wildlife?
There is an abundance of wildlife to be seen in the oceans and along the coastline of Uruguay. You can catch sea lions in Punta del Este, penguins in La Paloma, dolphins in Cabo Polonio, or you might choose to go horseriding through the Sierras where you can see native bird and insect species.
What type of food and drink is most common in Uruguay?
A staple of many Uruguayans' diets is beef. For those that live on the coast, seafood is a common meal item.
Desserts including dulce de leche (a creamy caramel sauce) are common.
Typical drinks of Uruguay include yerba maté (tea) and grappa con miel (grappa with honey).
Are there any immunizations that are required to enter the country?
You don't have to get any vaccines to enter Uruguay, although Hepatitis A and Typhoid are suggested. If you have any concerns, you can check out the Center for Disease Control's (CDC's) website for details and updates.