It's summertime which means it's basically mandatory to visit the beach at least once this season. Whether you enjoy swimming or surfing, playing a good ol' game of beach volleyball, or prefer to be a beach bum basking in the rays of the warm sunshine, the coast is a great place for everyone.
Usually when one thinks of the best U.S. beaches, California, Hawaii, and Florida often come to mind. However, would you believe me if I told you that there are some exceptional beaches in the Beaver state that you need to check out? It's true!
Let's check out what the top 10 best beaches in Oregon are:
10. China Beach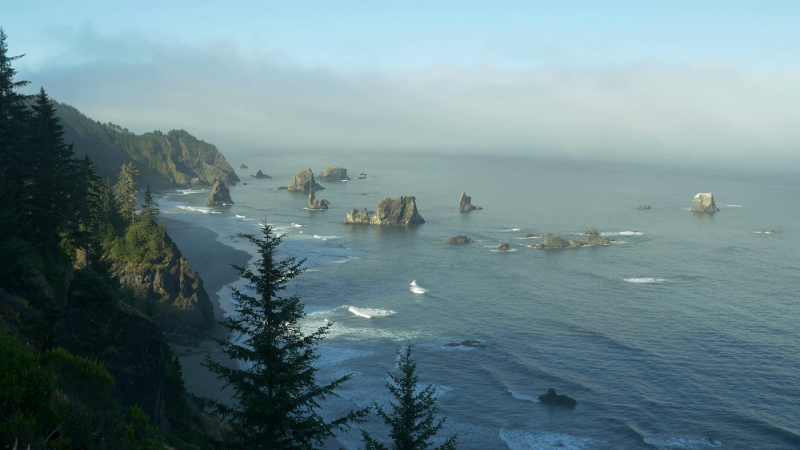 China Beach is one incredible beach near the city of Brookings. It's wide and open and showcases tree covered cliffs, driftwood and shells along the sand, and attractive sea stacks and arches. If anything, China Beach is one of the most underrated and secluded stretches making it one of the best places to visit on the Oregon coast.
However, due to the sharp stacks within the waters of China Beach, this isn't perhaps one of the best beaches to swim in. But China Beach, being able to be accessed from hiking trails, makes it attractive for hikers and anyone who loves great scenery.
Just beware as there are steep parts within China Beach, but you'll get a nice workout in the process of visiting!
9. Gearhart Beach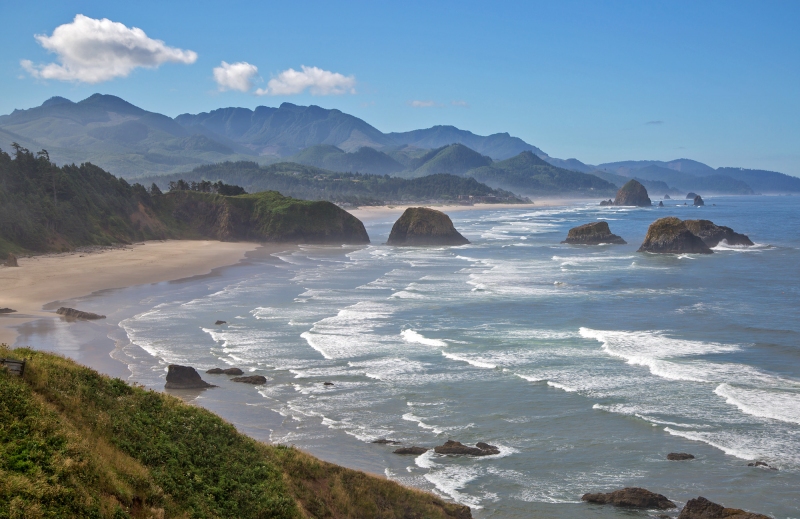 Gearhart Beach is another stunning beach worth seeing. Being three miles north of Seaside, the small city of Gearhart – with a population of just over a thousand – is peaceful and quiet, offering wide streets and no traffic lights.
Tiny but mighty, near Gearhart Beach are tasty eateries, picnic areas, public tennis courts, plenty of space for bike-riding throughout the town, and of course, a lengthy coastline where sunsets can't be beat.
While stunning with a lot to offer, Gearhart Beach is rarely congested and doesn't have a significant amount of amenities nearby. But being a very spacious and flat beach, you can guarantee yourself a great time jogging, walking the dog, playing sports, or flying a kite.
8. Harris Beach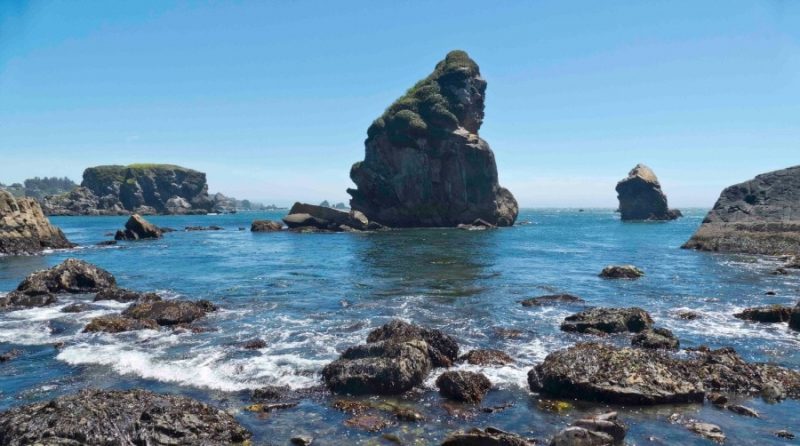 Located north of Brookings and right off Highway 101, Harris Beach is one lovely place to go if you love camping as it is near several Oregon coast RV parks. Also near Harris Beach are great picnic spots and tent sites. The area is also home to incredible wildlife such as the rare bird, the tufted puffin. In fact, did you know that Harris Beach is also a National Wildlife Refuge?
If you do opt to visit Harris Beach, do know that it is primarily visited for camping purposes. The beach itself has breathtaking views of the Pacific Ocean but only offers a narrow sandy strip. The campgrounds have great amenities and offer stunning hiking trails that head down to the coast.
Truly, Harris Beach is a great place for a family. It even offers a playground for the kiddos, fascinating tidal pools, and some of the best sea stacks in the area. Overall, Harris Beach is a fun yet tranquil beach to visit.
7. Sunset Beach
Next up is Sunset Beach, located in the Sunset Bay State Park in Coos Bay, where you will find nearby picnic areas and campsites featuring decent amenities with an easy walk to the beach, stunning sunsets, and minimal traffic within the region.
The coast of Sunset Beach itself is intriguing in that it offers a gulf-like view with land partially framing the scene. It makes watching sunsets that much better. Far off into the distance from your right when facing the Sunset Beach coast, you might just get a shot of the Cape Arago Lighthouse too!
If you're up for some more incredible scenery, I recommend you check out the gardens within Shore Acres, which is just 13 miles south of Coos Bay. (Be sure to bring your camera!)
6. Seal Rock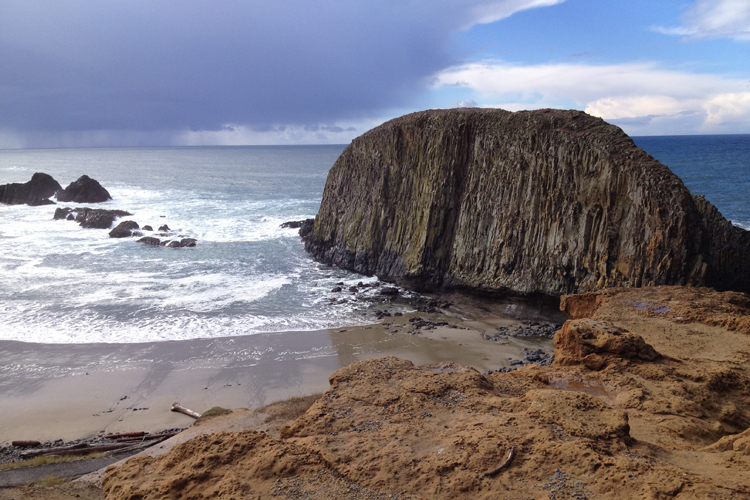 Again for camping lovers, you must check out Oregon's Seal Rock which is located near the Seal Rock State Recreation Site that is beloved by many. At the small coastal community of Seal Rock, expect to have a great time checking out tide pools, seeing old west architecture and sculptures, and enjoying small local businesses from gift stores to coffee shops.
Seal Rock is an Oregon coast worth seeing being that it is great for families and is fairly private. But because you must walk down a steep hill and over rocks when accessing the beach itself, however, this isn't perhaps the best beach for individuals with disabilities or older folks – but you can still achieve a stunning beach view from Seal Rock's wheel chair access view.
5. South Beach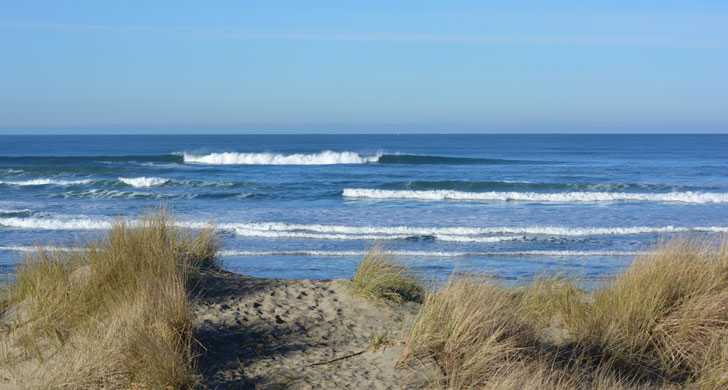 South Beach, located in Newport, is perhaps on the top of my personal list for the best beaches for families as it has a lot to offer. Just six minutes away from the center of South Beach, you'll come across the Oregon Coast Aquarium. Ten minutes from the aquarium, you'll come across the Hatfield Marine Science Center. (I also recommend you check out South Beach Fish Market – Delicious!)
While South Beach has a hefty selection of hotels and motels in the area, South Beach State Park – which is surrounded by marshes, fields, and hiking trails – is also available for campers.
Newport is one of the best Oregon beach towns, where you can find the Wilder Park Disc Golf Course, family-friendly escape rooms, incredible art galleries, and lovely tide pools. As for the beach itself, you will enjoy broad coastlines without large crowds of beach visitors, a great windsurfing experience, and fantastic dunes.
4. Cobble Beach
If sandy beaches aren't your thing, you'll fall in lovely quickly with Cobble Beach as it's covered with smooth, black cobblestones instead of sand. Like the last beach we've seen, this is also a Newport-area beach. However, Cobble Beach truly makes for a different beach experience, and not to mention, a relaxing experience as you hear and see the waters rush over the dark stones.
Cobble Beach also features beautiful tide pools, sea stacks, thousands of seabirds, and a short walk to the gorgeous Yaquina Head lighthouse which is open for tours, too. Additionally, this beautiful part of the Oregon coastal region offers a plethora of hiking trails for those with a craving for adventure and exploration.
3. Cape Kiwanda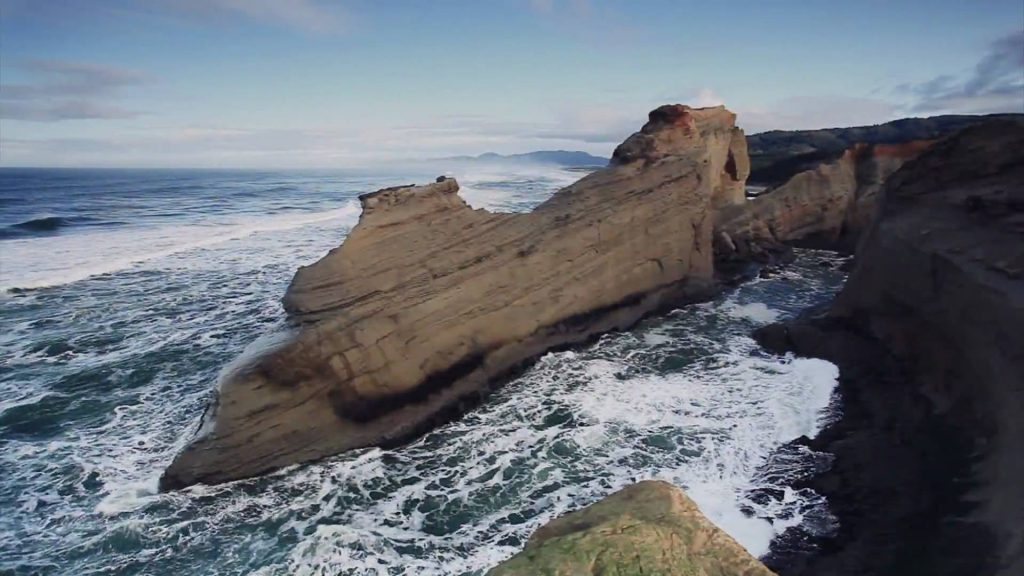 Here's another great beach housing some of the best campgrounds in the area. Cape Kiwanda can be found in Cloverdale. Cape Kiwanda State Natural Area features a variety of beautiful sea life, smooth and clean sand, eye-catching Oregon dunes, and scenic routes. Due to its beauty, this area is known to be a great place for photographers.
For those interested, this is one of the few beaches here that you can actually drive on. From the beach, you'll also be able to enjoy a view of the large sea stack known as the Haystack Rock – a protected wildlife refuge and state park – located off of Pacific City.
2. Rockaway Beach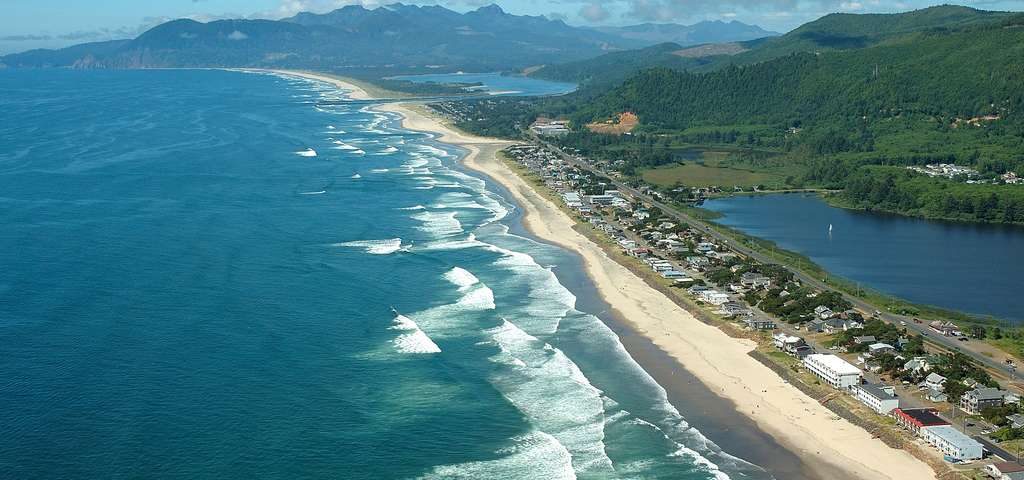 Rockaway Beach – not to be confused with the place of the same name in Queens, New York – is one of the best beaches near Portland and is pretty much just a straight, one hour and 45-minute drive. You can find this stretch in Oregon's Tillamook County, home to the famous Tillamook Creamy cheese factory.
This coastal town is home to a community of dairy farmer, oyster fishermen, forestry workers, and a growing of circle of creative artists and writers. While you're here, check out The Tillamook County Pioneer Museum, the Cape Meares Light House, Tillamook Farmers' Market, Munson Creek Falls, or the Bay Breeze Golf Course.
Best of all, Rockaway Beach offers an incredible seven miles of uninterrupted coastal views presenting uniquely-shaped sea stacks known as the Twin Rocks. The area also has an interesting history. Be on the lookout for Japanese glass fishing floats that may occasionally wash up on the shore! They're known as rare collectors' items.
1. Cannon Beach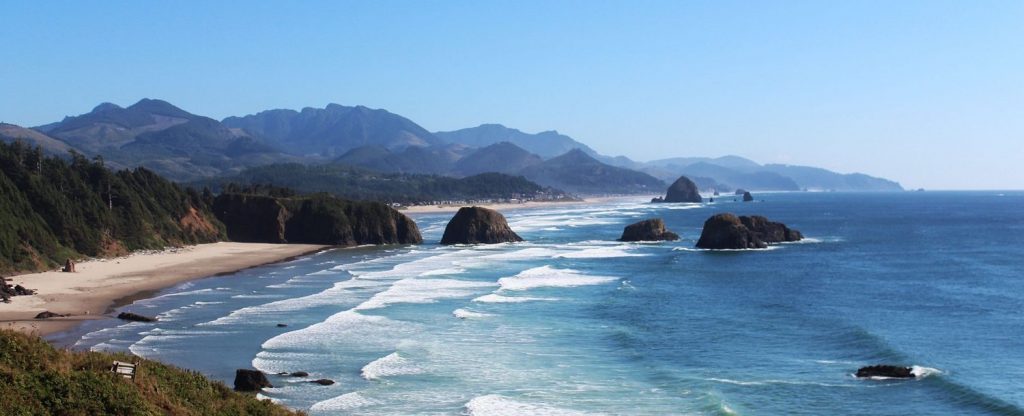 Ranked in first place as our number one beach on the top beaches in Oregon is Cannon Beach, which is a small seaside community that was founded in 1956. You can find Cannon Beach in northwest Oregon, making it a short drive from Portland or up from Lincoln City, and visitors will instantly recognize it for its close view of Haystack Rock housing tufted puffins, depending on the time of year. This beach is also loved for its tide pools, favorable picnic areas, sea caves, coves, and lighthouse.
The town of Cannon Beach alone makes it great for vacationing as it offers art galleries, fun boutiques, a wide selection of tasty restaurants and cafes, and amazing attractions from the Coaster Theatre Playhouse to the the local Escape Room. If you're feeling particularly adventurous, check out High Life Adventures for a zip-lining experience for the whole family!
In summary, this place is one of the best Oregon coast towns for people of all ages. It offers great hiking trails, picturesque areas for picnicking, and vibrant annual events including the Stormy Weather Art Festival and the Savor Cannon Beach Wine & Culinary Festival.
The Oregon Coast FAQ:
Can you camp on the Oregon Coast?
Overnight Oregon coast camping (including sleeping bags, tents, trailers, RVs, etc.) is only allowed in certain areas of the Oregon coast. Legal camping regions must not be near Oregon State Parks or within city limits of Gold Beach, Bandon, Cannon Beach, Seaside, New Port, Manzanita, Lincoln City, or Rockaway Beach.
Do your research to see what locations are legal to stay overnight at.
Can you swim here?
Yes, you can swim in the Pacific Ocean here. There is no law prohibiting such. However, Oregon waters are on the colder side, averaging about 55 degrees Fahrenheit.
Are campfires allowed on the beach?
You can build a campfire as long as you only bring pieces of small wood, not large logs (which are not allowed). It is also prohibited to build a fire anywhere on the state's beaches other than west of the vegetation line.
Do not build your fire near any plants or structures, and always put your fire out and clean up any remainders of your fire when you're finished.
Are dogs allowed on Oregon beaches?
Yes, you can bring dogs on the beach here. However, keep in mind that some Oregon beaches may require dogs to be kept on leashes.
Does the Oregon coast have sharks?
Yes, Oregon oceans do have sharks. Since 1900, there have been reports of 25 shark bites. Today, approximately one or two shark bites occur along the Oregon coast each year and are relatively rare.
Are there any private beaches?
According to the Oregon Beach Bill of 1967, all public and private beaches are accessible and cannot be restrained by the owner of the beach. However there is one exception: certain beaches are completely closed off by the State Park Service to preserve the Plover, a threatened bird.
Does this stretch of coast get snow?
In the winter, small amounts of snow may fall on the Oregon coast, specifically the central and northern coast. However, extreme temperatures are not a problem.
Which beaches can you drive on?
There are only a select number of coastal regions in Oregon state that you can drive on. Day-only, one-time use permits for driving on certain beaches can be retrieved from Fort Stevens State Park or at the Oregon State Police office at 2320 S.E. Dolphin Ave. You may also get a permit from the Cannon Beach Police Department. Lincoln City is one of the most popular beaches to drive on, but check with local Lincoln City boards for up-to-date information on that just to be safe.
Is smoking allowed on the beach?
As of right now, smoking is legal on Oregon beaches. However, in 2014, there was a proposed no-smoking ban that was dropped.
Is alcohol allowed on Oregon beaches?
Yes, it is legal to consume alcohol on all Oregon beaches for those 21 or older. (However, please pick up your cans, bottles, or glasses afterward!)
Is the Oregon coastline warm?
The beaches here are mild in temperature, and their waters are cold (~55 degrees Fahrenheit). The annual high temperature of the Oregon coast is 63.6 degrees Fahrenheit with the annual low being 42.4 degrees Fahrenheit.
Are fireworks legal on the beaches?
No, all fireworks are illegal on beaches and Oregon State Park premises. However, outside of these regions, fireworks are legal in Oregon, that is, if they are purchased from permitted firework stands or retailers.
But fireworks that are illegal anywhere in the beach state include those that explode higher than 12 inches or travel more than six feet on the ground. Bottle rockets, firecrackers, and Roman candles are also illegal.