Situated on the Northern coast of South America, and bordering Guyana to the East, Colombia to the West, and Brazil to the South, the paradise of Venezuela is comprised of a mainland territory, and also some islands off the coast of the Caribbean Sea.
Practically nuzzled right on the equator, this country experiences powerful sunshine and is a travel destination that is at the heart of pure adventure.
The Northern coastline of the country along the Caribbean Sea is the longest in the world, attracting millions of admiring tourists each year, with its fine sand, pleasant temperatures, and transparent waters. In fact, the coast is one of the most important Venezuela tourist attractions!
When you're craving a taste of city life, Caracas (the capital) has enticing nightclubs with salsa and rock music, sporting events like baseball games, festivals to attend, and many shops to check out, while Canaima Camp is home to the worlds tallest waterfall- Angel Falls, for when you're wanting an escape into the jungle.
In terms of geography, the most significant Venezuela attractions range from the Andes Mountains in the West, to the Amazon Rainforest in the South, Caribbean coast in the middle of the country, to the Orinoco River Delta in the East.
Venezuela has much biodiversity and is home to wildlife such as jaguars, monkeys, anteaters, iguanas, capybaras, and alligators, among other species. There are forty-three national parks in the country, so there's no shortage of Mother Nature in this Eden.
Well, with no further adieu, let's dive into the top ten beaches that Venezuela has to offer and see the charm of each!
10. Margarita Island – Venezuela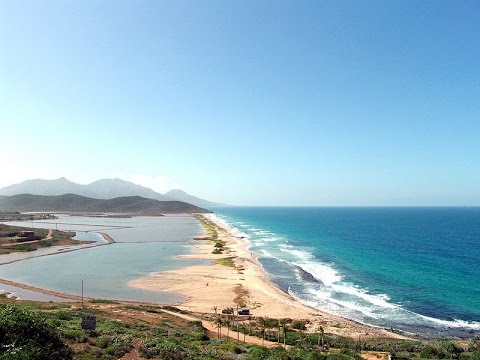 There's no shortage of beautiful beaches in the region, but one of the best beaches of Venezuela is on Margarita Island, also known as the "Pearl of the Caribbean," – an island off the coast, situated Northeast of Caracas.
You can horseback ride up the mountains, spend the day sunbathing on the island's beaches (it's sunny here almost every day of the year) or try your luck at one of the twenty-four-hour casinos.
You might want to snuggle up with your honey, or by your lonesome with a blanket in the sand, as there are gorgeous sunrises, sunsets, and moonrises that can be seen here.
When you get tired of the beach, there's an eighteen hole golf course at Hesperia Islan Margarita, a large scale manor with extensive grounds.
If you're interested in some cultural history, there are some traditional castles and churches that can be explored.
A major attraction of Margarita Island is the Lagoon of La Restinga National Park, where you can sit on a boat and sail through the mangroves until you reach an extensive beach. Do seize the opportunity to enjoy a meal of fresh seafood when you arrive.
In the far West of this island, Punta Arenas Beach is a very isolated one, if you're looking for some alone time.
Oh- all of the island's beaches are public.
9. Playa Colorada Mochima National Park – Venezuela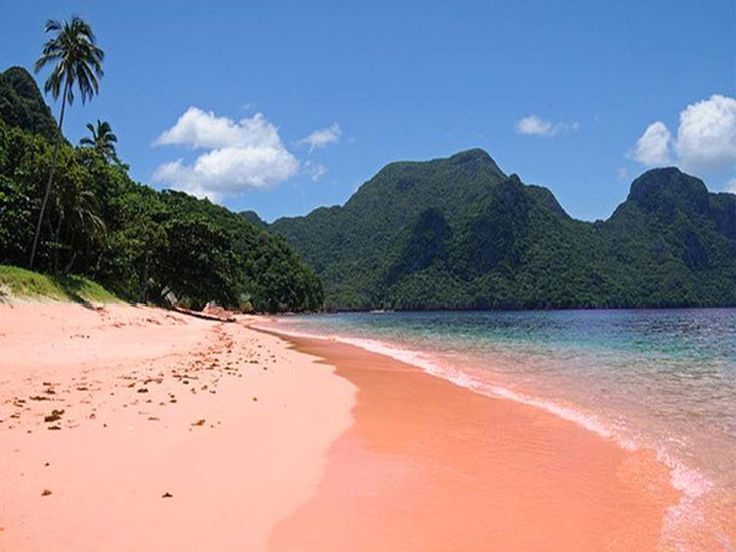 Nestled between Puerto La Cruz and Cumana, Playa Colorada (this means red in Spanish) can be found within Playa Colorada Mochima National Park, and remains virtually untouched. It's one of the best places to visit in Venezuela!
The grandeur of Mochima National Park is a result of the mountains that disappear into the sea, with the breathtaking scenery of the kaleidoscopic colors of the beach in the foreground, showing off the best Venezuela landscape in the country.
The color of the sand seems to transition throughout the day from a golden color to a reddish one, depending on the position of the sun.
You'll meet crystal clear waters with colorful reefs underneath, and see views of more islands offshore.
The tradewinds bring in a refreshing breeze from November to May, but it's generally nice and sunny year-round (but not overwhelmingly so).
Excursions you might be interested in include scuba diving, fishing, and nature hikes lush jungle vegetation, and there are many choices of tour operators.
Bed and breakfasts, hostels, and hotels are abundant on this Venezuela beach. And, being one of the Venezuela beaches where you can camp, this would be a great choice if you've been itchin' to spend time in nature
8. Los Roques – Venezuela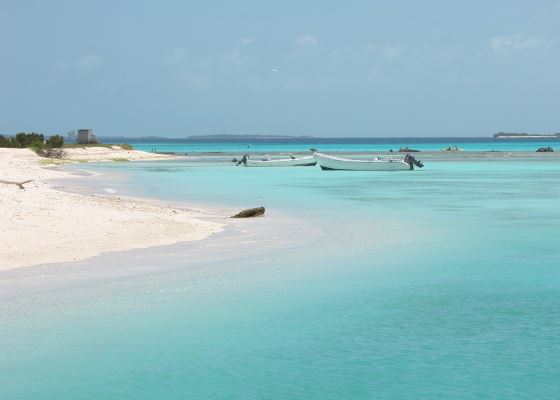 Situated about one hundred miles North of Caracas' port, Los Roques is an archipelago filled with white sand beaches and pristine waters, and has been declared a national park in 1972.
To reach Los Roques, you can take a flight from Caracas, Porlamar, or Maracaibo. Or, you can take a yacht if you know someone that has one.
You'll land or dock on the main island of Gran Roque, and choose to stay there, or take a catamaran or a boat to one of the other fifty islands in the archipelago. Some of the other significant islands include Francisqui, Nordisqui, Madrisqui, and Crasqui, but there are also many others to explore that are just as beautiful. Te Cayo de Aqua los Roques is a particular highlight.
All of the islands in the chain are encompassed by coral reefs, and most have special dive and snorkel spots.
Los Roques has calm, blue-green waters, lagoons, small isles, and white powder sand beaches that are home to corals, starfish, and small fish.
You might try some fun beach activities like windsurfing, kitesurfing, fishing, or snorkeling if you're feeling like incorporating some movement into your vacation.
If you're craving lobster, make sure to travel here from November to April when it's fresh as fresh can be!
Don't expect to find luxury hotels here, but you can find a wide variety of inns. The majority of the inns are located on Gran Roque, if you plan on staying the night. There are a few in Rasqui, too.
7. Cayo Sombrero – Morrocoy, Venezuela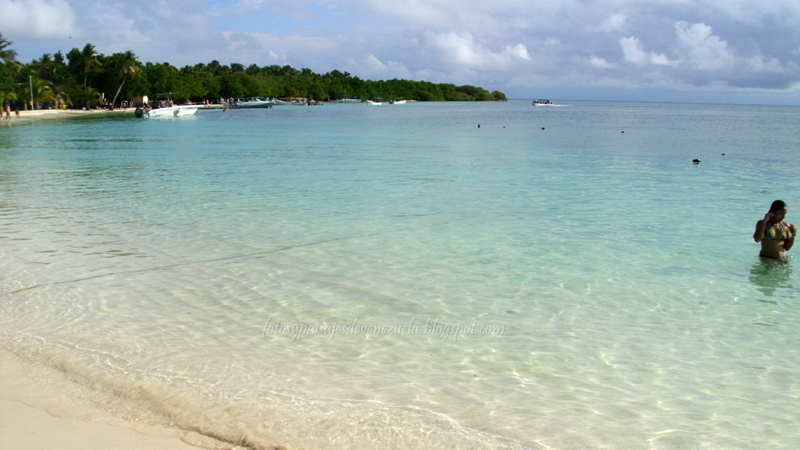 Shaded by palm trees, the island of Cayo Sombrero, also known as Key Hat, in the Morrocoy National Park is one of the beaches of Venezuela where you can easily snorkel (on one of the island's two beaches), and enjoy freshly caught, local seafood at the beachfront restaurants.
Some of the beachside restaurants serve oysters and other seafood dishes, and fresh coconut ice cream for dessert.
This cay is well frequented by travelers, yet is not overwhelmingly crowded. In fact, it actually seems to be quite secluded in most parts.
There are shade umbrellas and lounge chairs for rent, too, if you're feeling like you just want to lay and watch the day pass by in front of you.
If you decide you want to breathe in some fresh night air and are motivated to pitch a tent, you can do so on this Venezuela beach. you'll even see locals sleeping in hammocks.
Other beaches are available in the Morrocoy National Park area, and many travelers also seek out the Cayo Muerto for a relaxing experience too.
The closest hotel is on the mainland in Tucacas or Chichiriviche.
To arrive here, fly into Caracas International Airport (CCS) and travel via bus to Chichiriviche. Then, hop on a boat out to the island. It's also an option to travel by boat from Tucacas.
6. Medina Beach – Venezuela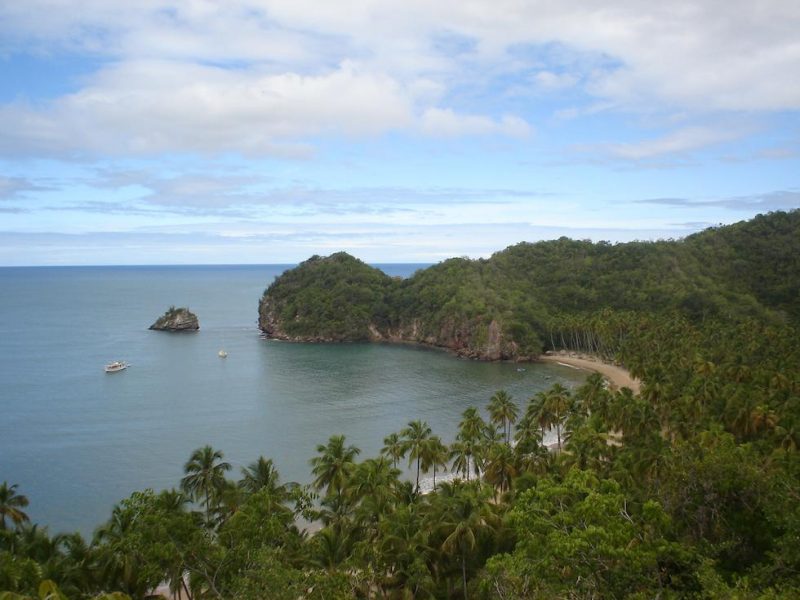 Known for its incomparable beauty to other beaches, and for being one of the top beaches in the country, Medina Beach is truly breathtaking, with coconut palm trees on the horizon and ocean as far as the eye can see, until it kisses the pink sand.
This is a great family beach, as the waters are very calm, and the beach is clean and free from any debris or garbage. A service fee is charged to use the parking lot, which goes toward helping keep the beach in satisfactory conditions.
There are even grassy areas that you can have a picnic in if you don't feel like having one in the sand.
Do keep in mind that neither campfires, camping, nor music is acceptable.
As far as accomodations, there are cabañas not too far from the beach.
To reach Playa Medina, take the route Río Caribe with Guiria, turn left at the crossing after Chacaracual. You'll see a sign that shows the route to the beach, and you'll be there shortly!
5. Cayo Madrisqui-  Los Roques, Venezuela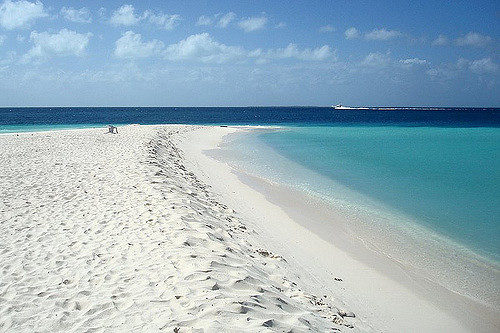 One of the best Venezuela beaches is the postcard-perfect looking beach of Cayo Madrisqui is located in Los Roques National Park, and is quite the marvel.
With a serene tide around the clock, the waters are pleasant and crystal clear, and hug the soft white sands.
Cayo Madrisqui is a good spot for flyfishing for those of you that want to catch some bonefish (there are lots!). It's all about the experience- even if you don't catch any!
Snorkeling or kitesurfing are also popular activities to be enjoyed here, if you're feeling like being active.
If you're feeling like splurging on a room for the night, there are exquisite inns that have a homey feel to them.
You might seriously want to consider trying lobster while you're here, as they are freshly caught and oh-so-delicious.
Cayo Madrisqui is located a quick fifteen minutes from Gran Roque.
4. Isla La Tortuga – Venezuela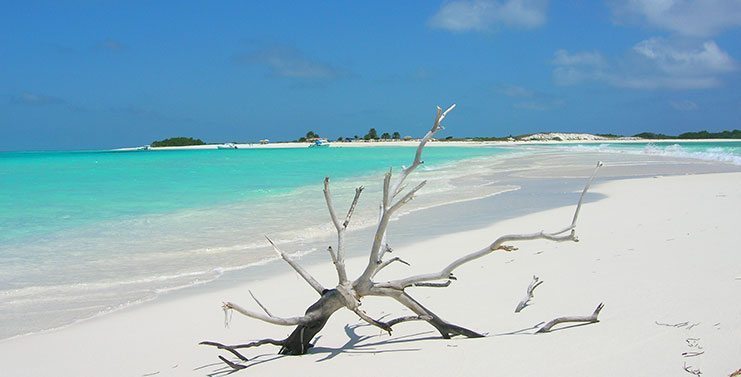 In the South of the Caribbean, and about one hundred and eighty kilometers from Caracas, Isla Tortuga has been formed by reefs, endless white sand, coconut palms, and is simply one of the best beaches in the country.
Think tropical and hot weather, white sand in between your toes, clear blue skies.
The peaceful waters are ideal for practically any type of water sport in this refuge, so take your pick.
Some of the unique native bird species include the ruby tucusito, the anteater hummingbird, and the dirty face parakeet.
Scientists from La Tortuga Research Foundation have been conducting research for the past few years on this Venezuela beach, and resultingly, the overall conditions on the island have been well preserved.
For a neat excursion, visit the stone museum of Isla Tortuga, where you can see a turtle that a fisherman constructed years ago from rocks.
In present-day, the only people that inhabit this island are the native fishermen, so it can feel desolate. Although, private tourist groups and yachts are starting to travel more and more to this paradise.
Bear in mind that there are no paved roads or airports here.
To make the journey to Isla La Tortuga, you must do so from the coast of Miranda State or the coast of Puerto La Cruz or Anzoetegui.
Also, tents are acceptable to pitch on this beach.
3. Orinoco Delta – Venezuela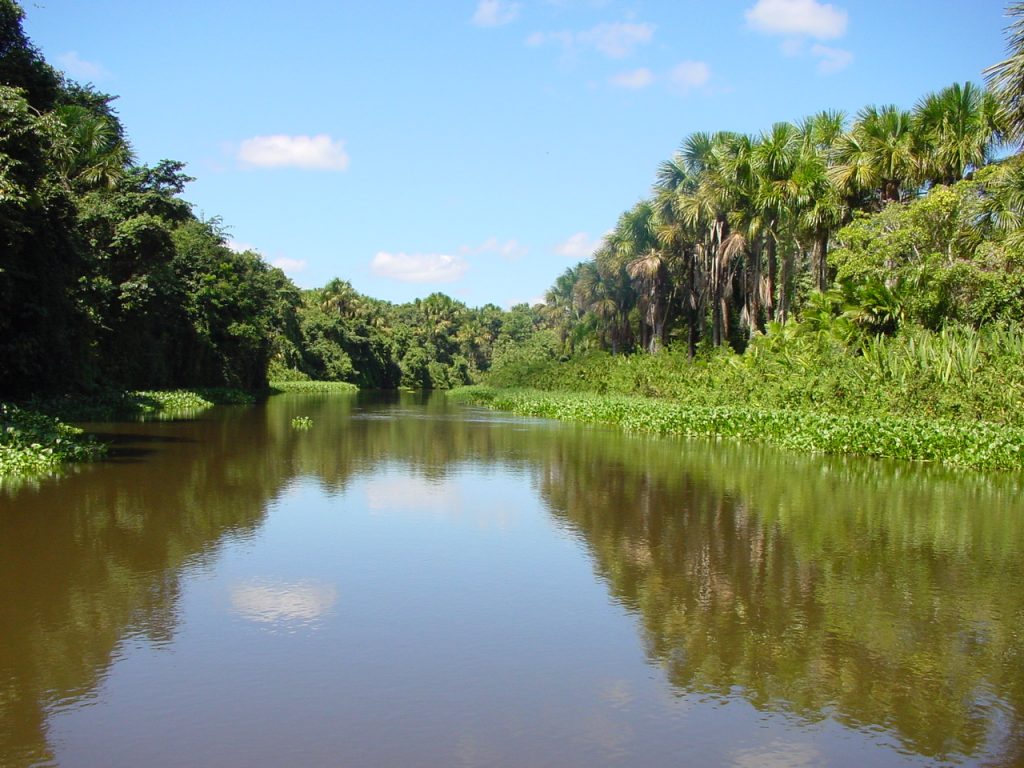 Orinoco River Delta, located in Eastern Venezuela, is one of the longest rivers in South America, and is teeming with wildlife, eventually branching off into sixty waterways. Birds from macaws, toucans, parrots, to horned screamers abound, in addition to howler monkeys, dolphins, giant river otters, the four-eyed fish, countless butterfly species.
Orinoco Delta Lodge is a recommended ecolodge that has been built on the riverbanks, with tons of additional cabins, too. Or you can stay in a locally owned guesthouse on the edges of the Warao Village (Warao referring to the second largest indigenous group that inhabits the country)- a fantastic relaxation nook. Most of the Waraos spend their lifetime fishing, hunting, and enjoying the ocean waters.
If you happen to visit between May and June, prepare for more mosquitos than normal by bringing some repellent or some lemon balm essential oil.
Angel-Eco tours offers two to three-day tours if you want to explore the delta in depth. You can choose to journey to a native village and have a cultural experience watching the indigenous weave baskets and hammocks, swim in the waters while birdwatching up above you, or take some nature snapshots.
This Venezuela sound is one of the biggest and unspoiled wetlands on Earth.
2. El Yaque Beach – Venezuela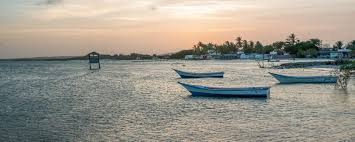 One of the top Venezuela resorts, El Yaque beach, is only five minutes away from the Margarita Airport, and is one of the top kitesurfing and water sports destinations on the globe.
This is truly a windsurfer and kitesurfers haven due to the reliable strong winds, year-round sun, and relative shallowness of the sea.
There are other activities to be enjoyed here, too, such as swimming in the refreshing waters, building sandcastles, lounging around on a floatie, or heading to a nearby café for a cup of coffee.
This beach is divided into two- an Eastern beach is great for families with children (it has no waves, and is very tranquil), and the opposing one that's great for adults and for those that might want to catch some waves.
It is windy but the waters remain calm- perhaps the swaying of the palm trees will lull you to sleep on your beach chair!
For accommodation, there are quaint inns, homes for rent, and hotels to stay in- most of which are relatively close to the beach (some are even beachfront).
1. Playa Punta Arenas – Margarita Island, Venezuela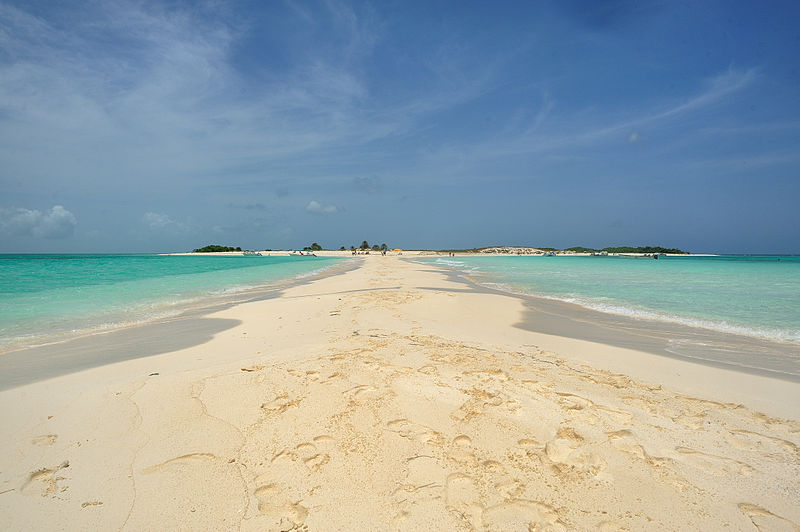 Situated on the Southwestern tip of the Macanao peninsula on Margarita Island, Playa Punta Arenas is essentially composed of two different beaches, side by side. The Southern facing beach is a fishing town and has amenities, whereas the one on the right is a bit more isolated.
Any Venezuela travel expert would agree that there's one beach that's more secluded than  the rest. As one of the best beaches in the country, Playa Punta Arenas is a nice and quiet spot and you won't find many tourists exploring it at all.
There are beach chair and shade umbrella rentals to escape the hot equatorial sun in the afternoons.
This Venezuela paradise has excellent waters for swimming in, and also decent sized waves for bodysurfing, if that sounds like your cup of tea.
TG restaurant and the La Gloria Bar y Restaurante are yummy food joints for when all of those beach activities start to wear you out.
Marine Museo (Marine Museum) is an attraction the whole family would enjoy – it's located in the peninsula of Macanao, near La Restinga. This museum features outdoor and indoor aquariums, where you can see Cat-sharks, Sea stars, Coral, fish varieties such as the yellow Corocoro, and the Black Cachama, with exhibition rooms to visit, too.
Punta Arenas is one hour away from Porlamar.
Make sure to stay until sundown for the spectacular sunset, when the sun makes its grand appearance over the sparkling waters.
Also, there's a Road Unlimited jeep safari tour that stops on this beach, if you're thinking you'd like to just pass through and not stay for an extended time.
Venezuela Beaches FAQs:
Do I need a visa to travel to Venezuela?
Most North American, European, Northern Asian, and Australian citizens do not require a visa to travel here, and can stay for up to ninety days with just a passport (that's valid for at least six months upon arrival). If you want to stay more than ninety days, you'll need a visa – even if you're from the United States.
If you're a citizen of any of the South American countries, you'll just need a passport or a national ID card.
You must have a valid return or onward ticket out of the country upon arrival.
What is the currency used in Venezuela?
The unit of currency is the Venezuelan Bolívar Fuerte (VEF).
ATM's do have fairly low cash withdrawal options- so it may not be a good idea to solely rely on ATM's for all of your cash needs.
Note that debit card transactions can sometimes be slow due to banknote shortages.
Keep close watch over your debit card when you use it, as fraudulent activity is sometimes known to occur.
What kind of electricity voltage does Venezuela run on?
The voltage that is used in Venezuela is one hundred and twenty volts and sixty hertz, and the electrical sockets are identical to those used in North America (type A and B power plugs).
If you don't feel like purchasing one before you arrive, you can always pick up a travel adapter at one of the local ferreterías (hardware store).
Will I need any vaccinations to enter the country?
There are no vaccination requirements in order to enter the country.
However, recommended vaccinations include Yellow fever, Hepatitis A, Hepatitis B, Rabies, Tetanus, Diptheria, and Typhoid fever. Also, if you are concerned about malaria, the risk is quite small.
What is the official language in Venezuela?
The declared language is Spanish, however, there are many indigenous dialects still used today. English is not very commonly spoken or understood here, but there are always travel guides and translators available for hire.
Are there internet cafés in Venezuela?
You'll likely see at least one internet café in every town, with a great connection and lower prices than you would find in Europe.
What should I pack for my trip?
For clothing, you should pack anything that you are comfortable in- keep in mind it's hot year round, so lightweight fabrics like silk or cotton are ideal.
You might want to pack some sunscreen or just pick some up when you arrive.
Rainy season is from May to July- so do expect rain if you travel then. Consider packing an umbrella and a light rain jacket.
Pack comfy shoes, and maybe even a water bottle with a built-in filter.
When choosing a taxi, how should I go about flagging one down in the safest way possible?
Seeing as how crimes involving taxis do at times occur, it's important to carefully consider the safety of your 'ride' situation. A licensed, pre-arranged taxi is the safest, and is even more trustworthy if your hotel has provided it for you.
It's not ideal to hail down taxis, but if that's a risk you're willing to take- by all means, go for it!
Are there any laws or cultural tidbits I should be aware of?
Of course, keep away from illicit drugs – it's considered a crime to handle them. And, Venezuelan jails are probably not something you want to experience, as the conditions are not excellent.
It's against the law to photograph military installations including the military airport and the Presidential Palace.
Are there any natural disasters that commonly occur?
From the beginning of June until the end of November, is the span of hurricane season. During these times, listen to the radio and tv weather forecasts and adhere to the recommendations of the stations.
There can be flooding during the rainy season, and thusly interruption with public transport services, so in these cases, it's important to go with the flow.
Venezuela is also susceptible to earthquakes. If one ever happens – drop, cover, then hold on. The Venezuela tourism authority recommends you to drop to the ground on your knees and cover your neck and head with your arms, while grabbing onto anything around you that's sturdy, if you can.
How is the political situation in Venezuela?
Roads and highways can at times be blocked due to political strain that results in demonstrations, and officials use tear gas to disband crowds, so be aware when incidents like this do arise.
You can always turn on the local media tv channel and see what's going on around the country if you're curious.
Protests are a regular occurrence throughout Venezuela, and have increased because of economic problems, and shortages of basic necessities and material goods. So, don't be too surprised when you see protests and demonstrations, and know it's a normal sight to see. If you visit Venezuela, nothing should impact your trip.
How are driving conditions if I'm thinking about renting a car?
Road conditions throughout the country are not the soundest. Car theft can also occur day or night, so remember to lock up and think twice about where you park your car.  There are frequent police stops across the country, so do stop at these when asked to do so.
Some drivers do drive under the influence of alcohol, particularly on weekends. So be aware of them and keep your distance. Also, watch out for locals running red lights.
Hitchhiking is not suggested.