Peru is a land filled with archaic ruins and wonder.
Nestled in the West of South America underneath Ecuador and above Chile and Bolivia, Peru is a land of sacred traditions and culture, and has a variety of terrain – ranging from the Andes mountains, dense jungles, coastal areas that are home to world-class surfing competitions, desert expanses, ancient villages, and of course, the thick and tropical Amazon jungle.
Peru is home to wildlife such as jaguars, pumas, anacondas, colorful parrots, and the endangered condor.
This enchanted land is where you can delight in the sights of the deep purple colored beverage of chicha morada (purple corn), the taste of ceviche (raw, fresh fish spritzed with lime juice), and the sounds of the Peruvian panflute meandering through the streets.
Naturally, the famous UNESCO World Heritage Site of Machu Picchu is ranked highest on our list of things to do in the area, but there's more to the country than the majestic ruins. The country is blessed with a myriad of breathtaking tourist attractions and adventurous and exciting day trips are easily organized.
With all that going on, what are the top things to do in Peru? Let's dive into some travel tips about fun and memorable things to do in Peru!
12. Visit the ruins of Sacsayhuaman – Cusco, Peru

Incan ruins are some of the top places to see in Peru. And there's lots of them! An awe-inspiring remnant of the Incas, Sacsayhuaman, Quechua for satisfied falcon, (as it was deemed a protector) is a fortress that's been composed of giant stone slabs that weigh between ninety and one hundred and twenty-five metric tons, fitting almost perfectly together. It's one of the best places in Peru to see Incan ruins away from Machu Picchu.
Two kilometers from Cusco, the ruins of Sacsayhuaman cover an area of over three thousand hectares, with mountains surrounding them, and hawks sometimes circling the sky.
The widely accepted theory is that this ceremonial site was primarily dedicated to sun worship.
There's still much evidence of the great water supply system- on the terraces that are highest up, you'll find a well that may have been a reservoir.
At one time, these ruins consisted of three main towers and a labyrinth of rooms that could have fit five thousand Incan soldiers at one time.
Sacsayhuaman is open every day of the week from seven in the morning until six in the evening.
To reach this sacred site, you can take any city tour that any travel agency offers from the Plaza de Armas in Cusco, which takes about fifteen minutes via bus. If you'd prefer to walk, opt for the steep climb via the Old Inca Road.
If you finish early with a tour of the ruins, you might want to visit the nearby city of Pisac, where you can shop for artisanal textiles, try some llama at Paz y Luz, or enjoy some chicha (traditional Peruvian beer fermented with spit) from one of the houses with the rainbow-colored Quechua flag hanging outside of it.
11. Archaeological Park Ollantaytambo – Ollantaytambo, Peru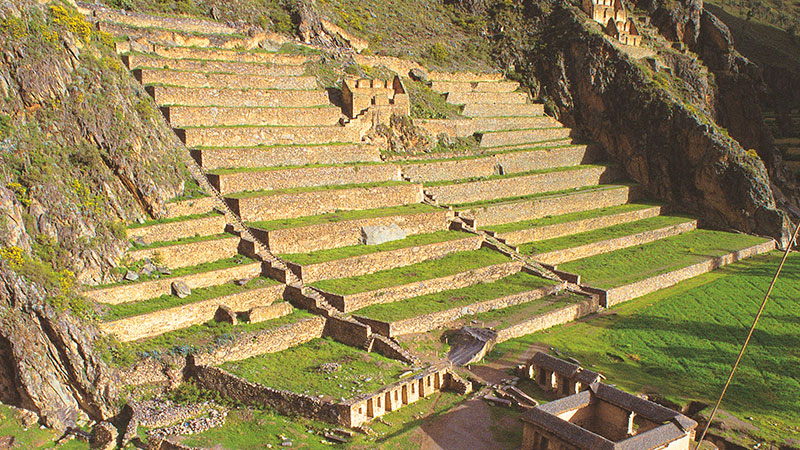 Ollantaytambo Archaeological Park, situated at the Northern end of the Sacred Valley, is a former administration hub of the Incas, that feature many terraces once used for farming, as well as an irrigation system.
The Sacred Valley itself is a long valley that stretches for around 60 kilometers through the Peruvian Andes, and is home to the famous sites of Cusco and Machu Picchu. The Sacred Valley is very much the heart of the ancient Incan Empire, and plays host to the best Incan sites on the trail, such as the Ollantaytambo Archaeological Park.
Originally built for spiritual purposes, and a major battle having taken place against the conquistadors where the Incas managed to defeat the Spanish, there is much history within these ancient stones, making it one of the highest rated places to visit in Peru.
The terraces are larger than meet the eye- some of which are taller than the average human! At the very top of this fortress is the military quarters, where Inca Manco (ruler of the Inca empire) and his men would keep an eye out for potential invaders.
Just below the military area is the entrance to the Temple of the Sun complex. This particular complex was especially used on the Winter and Summer solstices
Within it, you'll see six stones that were brought in from a quarry, The Wall of the Six Monoliths, with each stone weighing fifty tons! If you wish to visit the quarry where they were found, you can do so on the other side of the river, about six kilometers from town.
At the foot of the fortress is a ceremonial bath area that serves as a religious center and a ritual area. The Princess Bath, constructed from granite, is one of the most aesthetically impressive.
While you're at the terraces, take a look across the valley where you can catch a glimpse of the old storehouses used by the Incas that were used to store crops. If you look even closer, you'll see a face that's been carved into the rock that's believed to be that of Wiracocha – the Creator of all, according to Inca legend.
To enter, a tourist ticket is needed, which you can purchase in Cusco or online.
From Cusco, you can take a colectivo bus from Calle Grau, which is approximately ten minutes away from the Plaza de Armas
You can also catch the train to Aguas Calientes from here, if you plan on going to Machu Picchu. Ollantaytambo is a very popular spot for hopping on the Inca trail, too.
10. Visit the Uros floating Islands of Lake Titicaca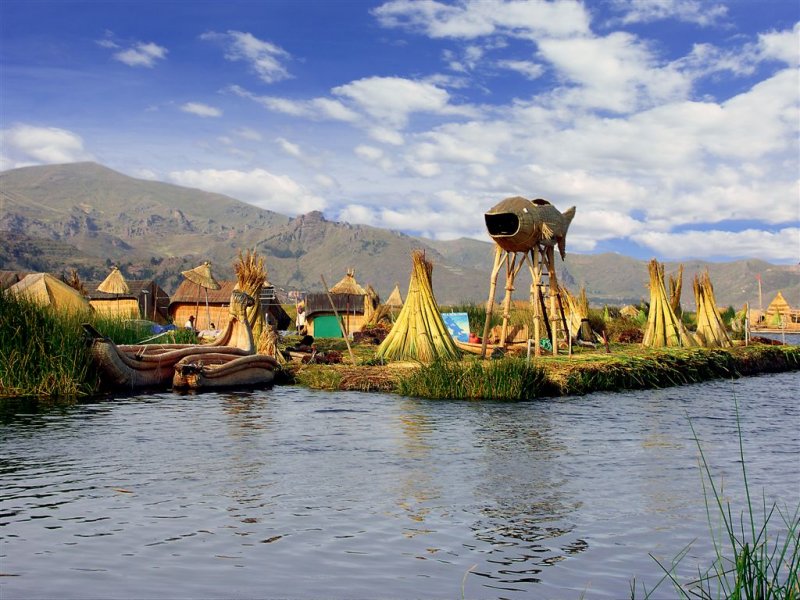 In the South of Peru on the border of Bolivia, you'll stumble across the small town of Puno, and the planets highest altitude navigable lake, Lake Titicaca, where you'll find the nearby floating city of Uros. Lake Titicaca should be a high priority on any Peru travel itinerary!
These islands are hand-woven from the stalks of the Totora (a native plant). Everything from the huts to the boats is constructed out of the material, in addition to using the roots as medicine and food.
The villagers (believed to be descendants from the earliest inhabitants of Lake Titicaca, have to keep replenishing the top layer of reeds on their floating islands – if not, they will disappear!
The Uros inhabitants subsist primarily on fishing, bird hunting, and as of the last few decades, tourism.
On the Bolivian side of the Lake, you can see the supposed birthplace of the Sun and Moon, Isla del Sol and Isla de la Luna.
You might choose to depart from Puno and take a half day tour to this floating 'city,'  and travel about a half hour by boat to the main archipelago.
Like many tourist attractions in Peru, you may have the opportunity to meet local families here at the Uros floating islands, navigate the reedy waters, and have the opportunity to take stellar photos of life happening around you. Or, perhaps you might entertain the experience of riding on a reed boat to a neighboring island.
There are even homestay options, where you can choose to spend a night with one of the resident families and see their unique ways of life.
9. Fly over the perplexing Nazca Lines – Peru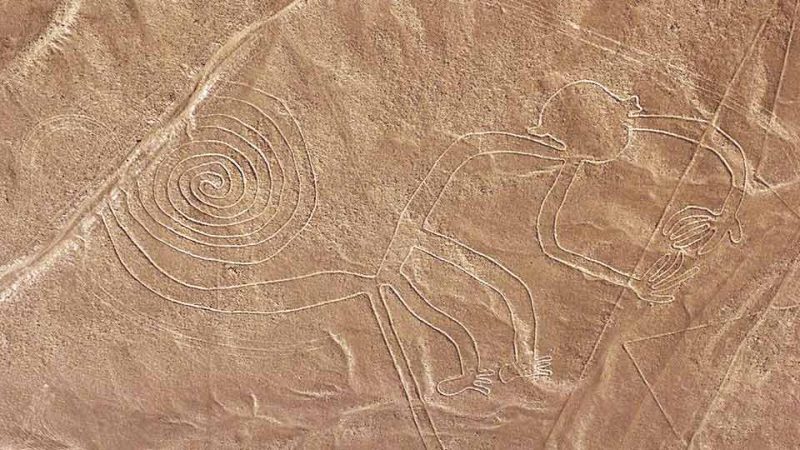 If you've got the time on your trip to Peru, gain some altitude! One of the top things to do in Peru that will make your trip memorable is visit the Nazca lines. These antiquated geoglyphs that have been carved into the Nazca desert can be found about two hundred miles southeast of Lima. They clock in at thirty-nine miles long and nine miles wide, and the themes range from designs of wildlife (think spiders and snakes) to geometric engravings, etched into a region where the climate is one of the driest on the globe.
The Nazca lines are about three hundred miles South of Lima, in a corner of the Western Andes. If you're wondering what to see in Peru, the Nazca lines should rate pretty highly on your Peru travel list!
From Lima, Ica, and Nazca, you can book airplane tours that fly over the lines for a nice aerial view. You can also just take a tour bus to them- check with the local agencies for the schedules.
There is an observation tower on the hillside twenty kilometers North of Nasca that overlooks the geoglyphs of the tree, the hands, and the lizard. Most travel tips suggest spending the sunset here or coming early in the morning to see how the sun rays slowly travel across the etchings, illuminating them but be warned, it's a bit of tough climb up a lot of stairs!
It's believed that these designs have lasted so long because of the dry conditions in the area.
8. Take a boat cruise through the Amazon Jungle – Peru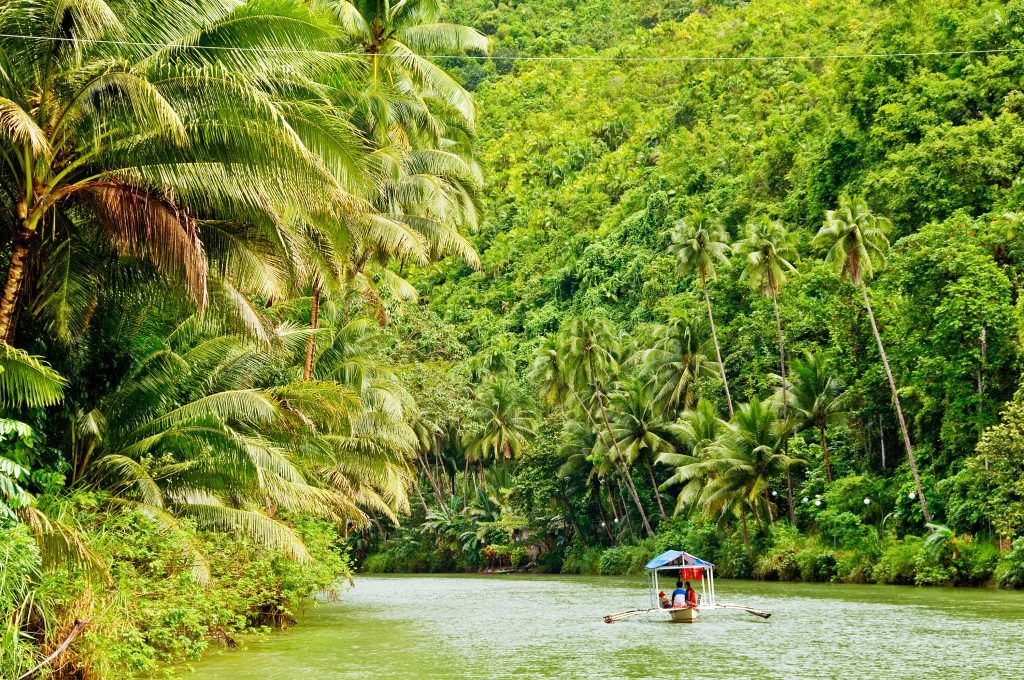 Believe it or not – over half of Peru's landscape is Amazon rainforest, the land where blue morpho butterflies the size of your hand will tantalizingly soar right in front of you, practically asking you to touch their wings. While Brazil usually hogs all the Amazon attention, no trip to Peru could be considered complete without a little taste of wild rainforest.
Pink dolphins can be spotted poking their noses out of the forest green waters, alongside West Indian manatees, monkeys playing around in the tree canopies, colorful parrot feathers, and elegant hummingbirds.
You might opt to do the boat tour of Río Alto Madre de Dios in the Parque Nacional Manú, where you'll see indigenous tribes quietly living in the jungle vegetation, as well as jaguars silently going about their day. Seeing as how this park is very protected, every riverboat is regulated, and passenger boats are not permitted to roam the waterways. So, the only way to see this part of Peru is to book a full tour. One of the most exciting places to hop on for a day trip is in Puerto Maldonado, the capital of the Madre de Dios region.
This river adventure takes you through three topographical zones- mountains, a cloud forest, and lastly, into the heart of it all- the jungle, where capybaras and giant river otters await, in addition to twenty percent of the world's birds. Allot at least a week to complete this tour if you are so inclined, as it takes a decent chunk of time to see it all!
There are, of course, other river routes you can take- just explore your options online to see what suits your fancy, or you can be last-minute about it and see what opportunities avail upon arrival to Peru.
However you decide to see this second largest river in the world, you can't go wrong.
7. Go surfing in Máncora – Máncora, Peru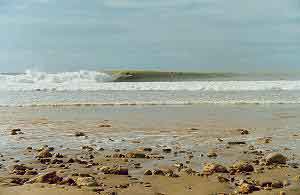 As far as things to do in Peru that involve its warm Pacific waters, surfing in Máncora provides perfect waves and pleasant year-round weather, with many locals and travelers alike gathering here.
Surfing is one of the main activities enjoyed at this Northwestern coastal town's waters.
If you don't know how to surf or would like to better your surfing skills, the surfing school called Inca Warriors is a recommended surf school, however, there are two other noteworthy ones as well.
For those of you that are interested in purchasing a surfboard, it's cheaper if you do so in Peru as opposed to Ecuador.
The ideal time to surf here is during mid or high tide, when potentially dangerous rocks are covered by the water. If you don't have much surfing experience, this could be difficult to navigate during the low tide.
Unless you're going to be surfing on the waters in the early morning hours, you won't need a wetsuit. You likely won't ever see the locals wearing one!
If all that surfing has you work up an appetite, ask for the menú del día at any of the local restaurants, and chances are there will be at least one option to have freshly caught fish. If you're feeling like you want to splurge, Sirena d'Juan is a Peruvian 'fusion' restaurant that offers ceviche and norteño style food, which is some of the best-tasting in the country!
6. Hike Colca Canyon – Chivay, Peru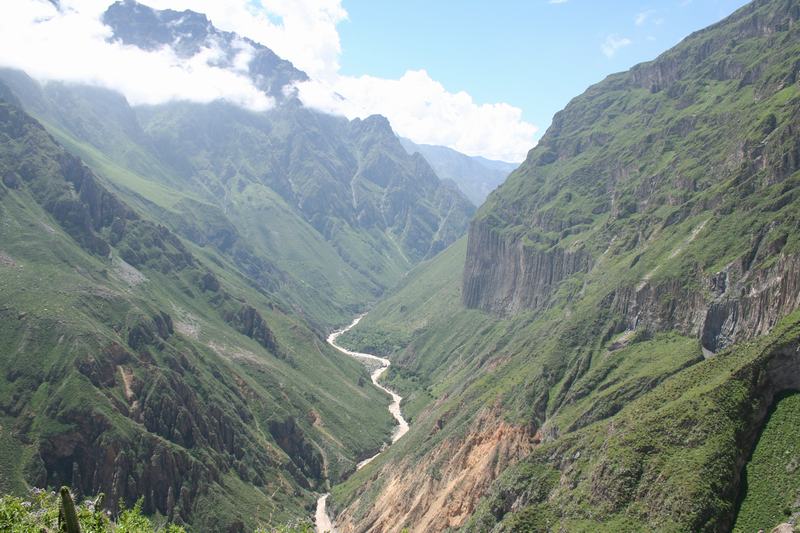 Nestled one hundred and sixty kilometers from the Southern Peruvian city of Arequipa, Colca Canyon is eleven thousand feet deep (that's double the depth of the Grand Canyon), and odds are you might be lucky enough to see at least one condor!
If you have enough time, there is a two night and three-day route that leads to the town of Sangalle that's very popular, full of enchanting trails and various areas to explore.
Or, try the three-mile trail Cabanaconde that will take you at least four hours, as there is a steep elevation increase of four thousand feet!
There is no need to carry a tent if you don't want to, as there are basic facilities in the villages. The lighter your hiking pack, the better- right?
Some recommended items you might want to pack along include a pair of great hiking boots (for the steep, sometimes rocky, terrain), and cash, as there are no ATM's.
Do remember to buy a boleto turistíco from the entrance station on the road. Once you purchase it, it's valid for a week. You might want to save the memento and keep it in your scrapbook.
If your muscles feel like gelatin afterward, check out the termales chacapi (hot springs), which are situated about a mile outside of the town of Yanque. Also, there are more hot springs near Chivay called Termales la Calera.
Hiking Colca Canyon is one of the fun things to do in Peru that will leave you in better shape than when you started, and is a great alternative to hiking the cliché Machu Pichu trails.
5. The Magic Water Circuit – Lima, Peru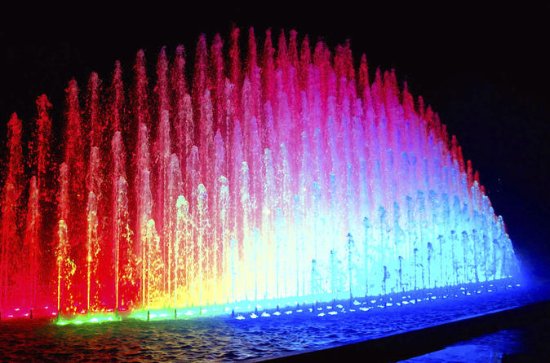 The Circuito Magicó de Agua, also known as the Magic Water Circuit, is a nineteen-acre park with thirteen illuminated fountains, some of which are interactive, and each fountain having a unique feature. While it might not appear to be as grand as some of the other places to see in Peru, this fountain network is pretty interesting!
This is the worlds largest fountain network in a public park (it's made it into the Guinness Book of World Records). One fountain gives off an impression of a rainbow, while another creates almost a forty yard long tunnel of water that you can walk through.
The Laberinto de Ensueño (Maze of the Dream) challenges you to see if you can walk through to the center of the circle through the upright walls of water unscathed. They unexpectedly shoot up and then subside back down. Go at your own risk, and place your camera in its waterproof bag!
One of the things to do in Lima, Peru at night, is to visit the most magnificent fountain of them all, the Fuente de la Fantasia (Fantasia Fountain) measuring in at one hundred and thirty-yards long, and features a show with music that's choreographed with the water and colorful lasers.
If you'd like to beat the crowds, it's best to arrive on a weekday. The park is open from Wednesday to Sunday from three in the afternoon until ten thirty at night.
If you're coming from Miraflores, you can take a taxi for about seven soles, or you can take the Lima Metropolitano bus to the Estadio Nacional stop for one sole, which is directly next to the park.
Also, the entrance charge is very reasonable.
4. Maras Salt Mines – Maras, Peru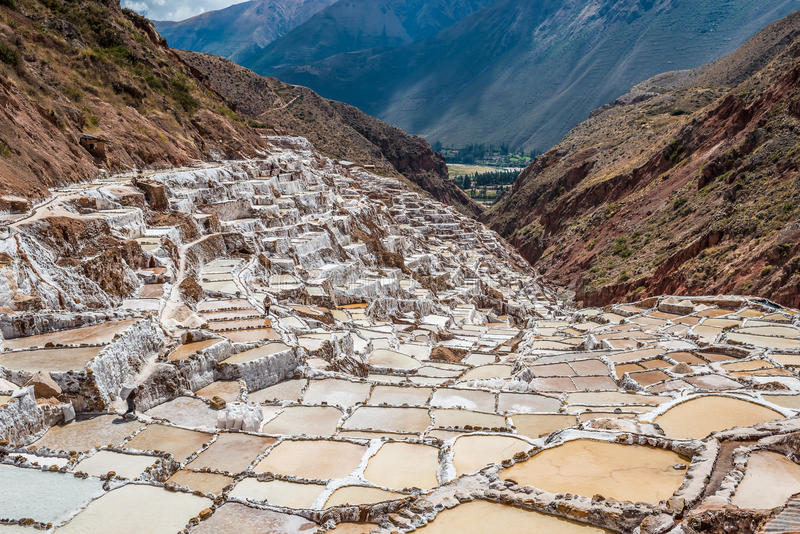 In the Sacred Valley of Peru between the cities of Maras and Urubamba, you can find the Maras Salt Mines believed to have been constructed by the Waris (who predated the Incas), which are thousands of sparkling manmade pools that have been dug into the mountainside, that fill with water that evaporates, and becomes crystallized salt.
When the water dries, the locals come to scrape the salt crystals from the pools by hand (no technology used here)! Once all of the crystals are removed, they naturally regenerate with time.
Over the course of millions of years, the tectonic plate movements have sunk the deposits deep beneath the mountains. Now, the water itself emanates from a subterranean spring that carries along silts and salts with it.
You can tour the salt pans on a guided walk and travel the paths out onto the salt terraces for a small fee.
If you decide to hike the salt mines, it will be about a half-hour long, strenuous hike (you'll feel the high altitude). The well-trodden trails are easy to navigate, and who knows- maybe you'll catch a glimpse of a Peruvian performing the harvest process.
If you manage to make it to the top of the hill, there are fresh salts available for sale, in addition to cups of coffee to supercharge you for the hike back down.
Bring some water, wear a pair of shoes with decent grip, and apply some sunscreen for that intense heat. It's a tough day trip, but totally worth it.
3. Piedra Sayhuite Ruins – Cusco, Peru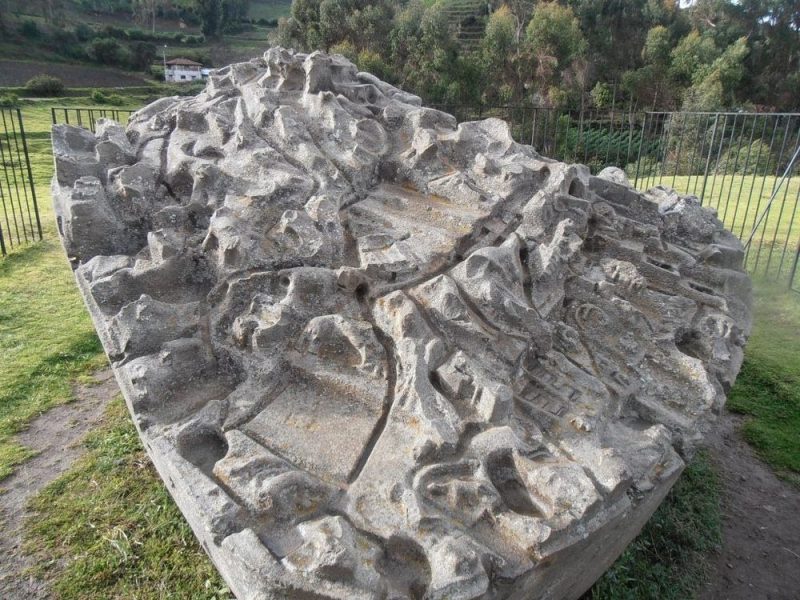 This interesting carved igneous rock, with over two hundred engravings ranging from monkeys to water channels, buildings, and portal-type figures, is somewhat of a mystery.
One theory of the significance of this rock is that it represents the design of the Inca irrigation system that was mastered by the Inca culture, featuring images of terraces, canals, ponds, and tunnels that would ideally channel water.
Another theory is that it serves to represent the three different zones of Peru, the jungle (for its monkey and lizard designs), the coast (crab, pelican, and octopus, and the mountains (condor and the mountain lion)
In addition to this mysterious carved rock, there is a rectangular altar that is believed to have been used for worshipping the sun and for observing the stars. Also, nine fountains can be found inside of the complex.
If you want to hire a taxi, it's a three-hour drive from Cusco and about an hour and a half from Abancay. Buses go as well, just inquire at the station and inform them of your destination.
Keep in mind that there are no accommodations or facilities here. So, bring your essentials.
Note that a small fee is charged at the park by a watchman.
2. Huacachina – Ica, Peru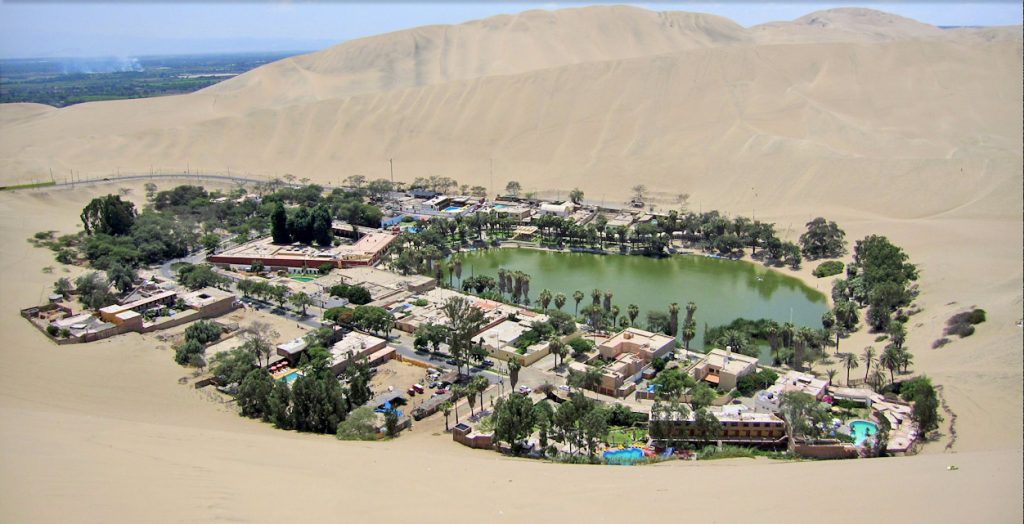 Huacachina is a settlement amongst rolling sand dunes that are situated around a desert oasis and palm trees in the Southwestern town of Ica, Peru, five hours South of Lima.
The legend of Huacachina is that a young woman named Huacay China became enamored with a warrior, and when, upon hearing of his death, began to cry. She went to the place where they had first met, and while looking in the mirror, caught a glimpse of her love. She became anxious and dropped the mirror, which then took the shape of the lagoon. She then dove in and became a mermaid.
In the 1960's, it was thought that bathing in these waters possessed healing powers, thus hotels and houses began to slowly pop up nearby over time.
A hot attraction for adventure seekers in Huacachina is the dune buggies, which you can rent at a certain rate per hour. Or, you can opt to do a group tour.
If you are a fan of surfing, you might enjoy dune-boarding- just know that it's not as easy as it seems when you're just watching!
Another option is to rent a boat to take sailing around the oasis- there are grass roofs on top, so you won't get too sunburned!
And, If you are craving a hike, you can hike some of the dunes for an ultra-workout!
Ending the day with a view of the sunset is a sight to see, and is a wonderful memory for the family.
If you like pisco (the national beverage of Peru made from grapes), you'll want to check out Tacama vineyard, where you can see how it's made and where it grows.
1. Hike Macchu Picchu – Aguas Calientes, Peru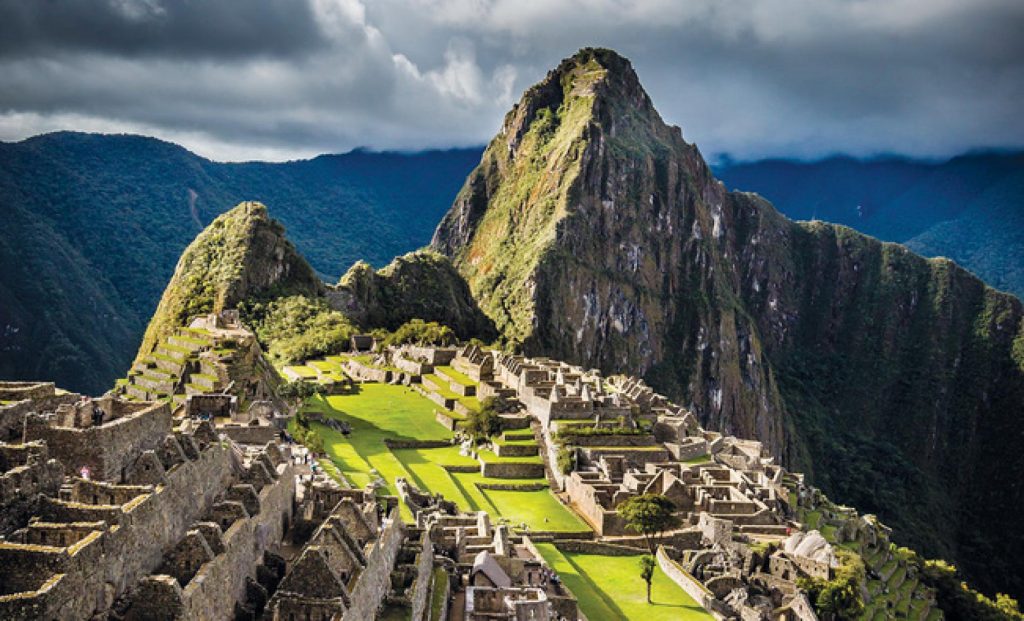 You have to visit Machu Picchu! It's an absolute Peru must see attraction! Machu Picchu is one of the most noteworthy legacies of the Inca empire and is also one of the most well-known tourist destinations on the planet. As a UNESCO World Heritage Site, Machu Picchu is one of the most important historical sites on the continent.
A very attractive way for tourists to reach Macchu Picchu is to hike the Inca trail, a four-day hike through the mountains and straight to the ruins. Only five hundred people are allowed to access this trail per day, and permits can sell out far in advance, so be mindful of that.
If you want to hike these ruins alone, you can choose to arrive in Aguas Calientes by train from Ollantaytambo or Cusco – with Peru Rail and Inca Rail being the two popular railway lines. You can also opt to take a twenty-minute bus up to Machu Picchu, or take a few hours to walk the steep trail.
It's important to note that it's required to buy your Machu Picchu entrance ticket in advance, as tickets are not sold at the site itself.  You can buy it through the government website or in the town of Aguas Calientes.
If you're feeling like making the most out of your trip to Macchu Picchu, there are two additional hiking areas within the complex that demand exclusive tickets to access – Huchuy Picchu and Huayna Picchu.
If you choose to hike to these peaks, expect a beautiful panoramic view of the ruins. Though Machu Picchu is higher than Huayna Picchu, the view remains exceptional.
Seeing as how the weather can change at the drop of a hat, be prepared by wearing layered clothing and having a poncho in your pack- you just never know!
June through August is the time where you may have to face crowds, but the weather will be pleasant- just book your ticket and tour in advance if you plan on traveling during that period.
Between January and March are when rainy downpours are at their peak, so you might want to bring an umbrella or plan to face a muddy trail.
Note the Inca trail is closed in February for maintenance, so check your Peru travel dates in advance to avoid disappointment.
Visiting Peru: FAQs
What is the best way to go about navigating public transportation options?
If you're looking for the cheapest route, opt to take the local bus. This is always a good option if you don't have to be somewhere at a particular time.
If you want to take a nicer and more reliable bus, companies like Cruz del Sur or Ormeño are great options. You'll have more peace of mind if you need to zip somewhere in a hurry. Also, meals are provided on board and there are functioning restrooms.
If you insist on taking a taxi, select a cab that looks like it's in good condition and has obvious taxi markings. In other words, if the taxi looks like it's been to Timbuktu and back, chances are you might not want to confide in it.
Do I need a visa to visit Peru?
If you're a citizen of an American or Western European country, generally speaking- you don't need a visa to enter Peru. You do need a passport, though.
For those of you that are citizens of Bolivia, Ecuador, and Chile, you don't need a visa or a passport to visit particular regions of Peru.
If you plan on traveling on a tourist visa, you'll be granted a total of ninety days in the country, and you can extend this as you wish with the immigration officials.
For more details, perhaps schedule to speak with a Peruvian diplomat in the country that you live in.
An onward ticket or proof that you have plans to exit Peru will be required upon arrival at the airport.
What is the weather like in Peru?
Depending on what region of the country you are in, the weather can drastically vary. From Peru's various altitudes to its jungles and towering Andes mountains, the weather is as diverse as its landforms.
If you're on the coast, you won't encounter much rainfall. But, this won't be the case if you find yourself in the mountains or the jungle, as it rains on and off fairly consistently.
From mid-November until March is when you can plan for the warmer season, and the cooler season runs from April to mid-November, when it can get to be quite humid!
The wet season runs from December until April, where showers happen at least three times a week that help maintain the lush green vegetation in the countryside, and prompts wildflowers galore to bloom!
Are there any health recommendations or vaccination requirements?
Bear in mind, especially if you're traveling to Cusco, that you might need to take it a little slower than normal to adjust to the altitude. Common symptoms might include a headache, feeling like your heart is beating faster than normal, and sheer tiredness. The local coca tea does help with this- which you can easily pick up at any local shop, and once you adapt, you'll get past those symptoms- it's just a matter of time until you adjust.
Also, it's recommended to only drink bottled water while you are in Peru, unless you bring along your own purifier.
There are no required immunizations, though a Yellow Fever vaccine is recommended if you're going to be near the Amazon tributaries. Vaccines such as typhoid fever, polio, tetanus, and Hepatitis A are suggested, but not required.
Where should I exchange currency in Peru?
It's ideal to land in Peru with U.S. Dollars in your wallet. Most any shop, restaurant, or hotel will accept U.S. currency, but be ready to receive Peruvian Soles as your change.
You'll find money exchange booths scattered throughout this South American country's cities, of whose rates are typically better than the National banks.
Keep in mind that businesses will not accept any Peruvian Soles that have been torn or ripped in any way, or that have writing of any sort on them.
Carry only as much money as you think you'll need for the day, so you don't have to worry about keeping up with it!
How is the overall street safety in Peru?
Remember that pedestrians do not have the right away when crossing streets here, and cars will even honk at you if you try to cross before they do.
Also, not many drivers use their turn signals, so exercise caution, especially at intersections. And, not all stop signs are abided by- so, just get ready for chaos when it comes to driving- but hey, it's organized chaos.
What kind of clothing and personal items should I pack for the Amazon jungle?
Any clothing that you pack should be both lightweight and able to drip-dry quickly.
A couple of pairs of long pants, a rain jacket or poncho (you can also buy one in Peru), hiking boots, sneakers, absorbent cotton socks, a hat, sunglasses, and some comfortable shirts would be fitting items to bring.
For personal items and handy items to have around, consider packing a pocketknife, mosquito repellent, binoculars, a water vessel, a flashlight, and of course, a copy or two of your passport.
What time zone is Peru in?
Peru doesn't observe Daylight Savings Time, and is five hours behind GMT. Thus, from April until October, the country is on CST.
Do I need an electrical converter to operate my electronics while in the country?
Peru operates on two hundred and twenty volts. If you have a one hundred and ten volt device, you'll need an electric converter. Usually, you'll encounter two-pronged flat plus, but they can sometimes be found rounded.
You can always get around this, and pack an extra pair of batteries if you don't want to have to be concerned with charging things.
You can either pick one up prior to boarding your flight to Peru, or at a local ferretería (hardware store).
How is the internet connection in Peru?
Compared to more developed countries, internet connection is a bit slower in Peru, but not by much!
You'll be able to have access to it in most all hotels and hostels. If you go out to lunch or dinner, oftentimes you can connect to the restaurant's wi-fi.
There are also tons of internet cafés that are open until ten at night.
Is travel insurance required to enter Peru?
Travel insurance is not mandatory, but it could be very important to have if something goes wrong.
Keep in mind that the cheapest insurance may not be sufficient to cover all of the costs if you are in a serious accident. You wouldn't want any sky-high medical bills!
What are the main airports of Peru?
There are two major airports in Peru- Jorge Chavez in Lima and Alejandro Velasco Astete International airport in Cusco.